Let's face it, life can be incredibly difficult at times, and it certainly isn't always fair. You will face painful trials and distresses. Life will demotivate you over and over again, leaving you with the uncomfortable impression that all hope is lost. 
During those difficult times, we can all make good use of something that encourages us to keep fighting. The problem, however, is finding something to keep you going when the going gets tough. That is where these 117 inspirational quotes about life and struggles come in quite handy.
To help you overcome whatever is holding you back, I have created the following selection of phrases never to give up. 
These are powerful phrases that will encourage you to stay strong and keep fighting no matter how bad things are.
If you study the biographies of successful people closely, you will notice something very remarkable. On the one hand, you will see that many of them do not come from wealthy families. 
A large percentage of them faced difficult circumstances during their childhood and youth. More importantly, you will notice from their biographies that life confronted them with many tough challenges.
Here we also recommend you watch this video on youtube and then start reading the post:
117 Inspirational quotes about life and struggles
1. "It doesn't matter how many times you get knocked down. All that matters is that you get up one more time and keep trying. " Roy T. Bennett
I say the word "one more time" is a necessary skill for success!
2. "If you're going through hell, keep going." Winston S. Churchill
Read this quote again and again and again.
3. "Many of life's failures are from people who didn't realize how close they were to success when they gave up." Thomas Edison
Consistency is the key, and doubt is the plague of success.
4. "Not to give up under any circumstances should be the motto of our life: we shall try again and again, and we are bound to succeed. There will be obstacles, but we have to defy them. So do not give up, do not give up! Continue, continue! The goal is ahead of you. If you do not give up, you are bound to reach your destined goal. " Sri Chinmoy
Read More:  Confidence is Key: How To Build It In 7 Psychological Steps
5. "Success is not final, failure is not fatal: it is the courage to continue that counts."

Winston S. Churchill

6. "Did you hear about the rose that grew from a crack in the concrete? Proving nature's laws wrong, it learned to walk without having feet. Funny, it seems to by keeping it's dreams; it learned to breathe fresh air. Long live the rose that grew from concrete when no one else even cared! " Tupac Shakur

7. "Success consists of going from failure to failure without loss of enthusiasm."

Winston S. Churchill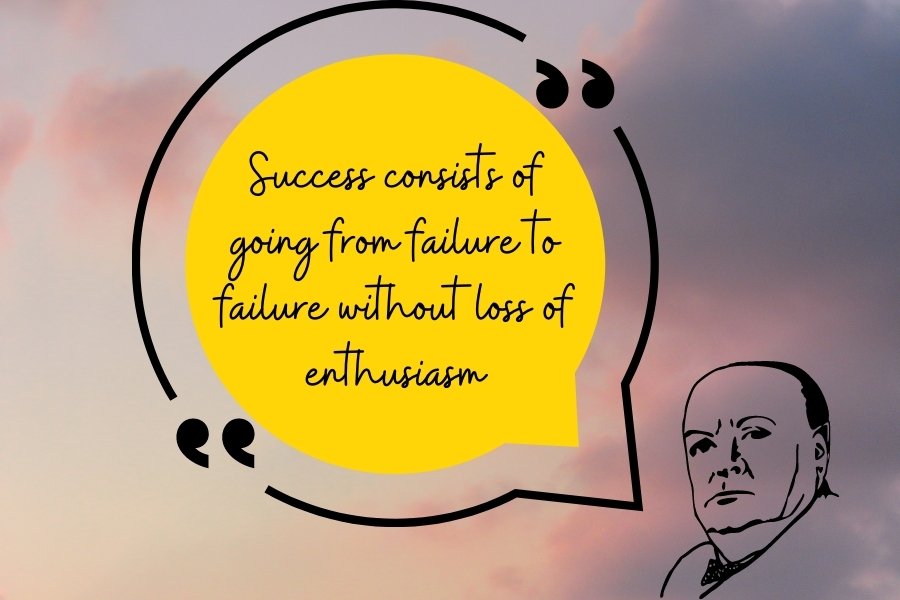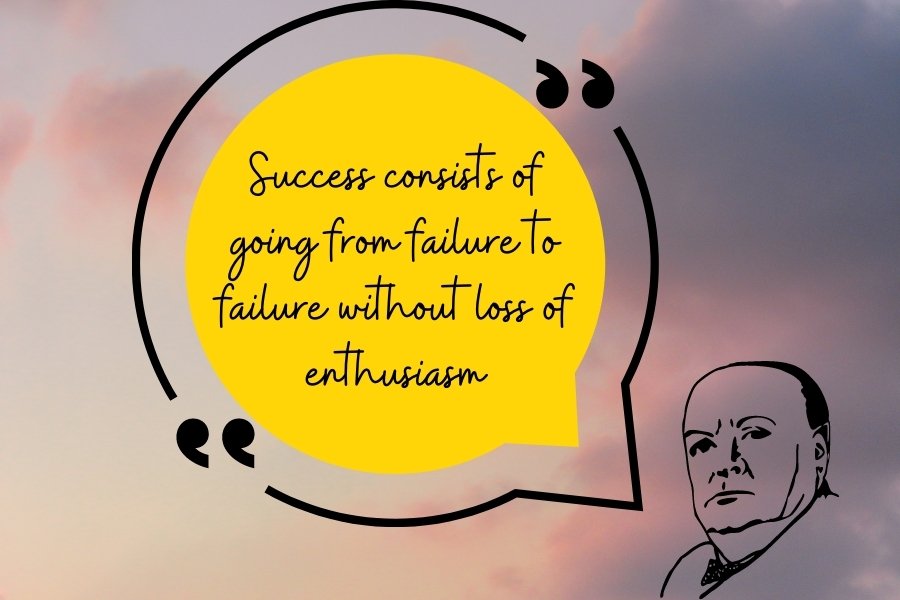 8. "Your hardest times often lead to the greatest moments of your life. Keep going. Tough situations build strong people in the end."

Roy T. Bennett

9. "When you get into a tight place and everything goes against you, till it seems as though you could not hang on a minute longer, never give up then, for that is just the place and time that the tide will turn."

Harriet Beecher Stowe

10. "You may be the only person left who believes in you, but it's enough. It takes just one star to pierce a universe of darkness. Never give up."

Richelle E. Goodrich

11. "Confront the dark parts of yourself, and work to banish them with illumination and forgiveness. Your willingness to wrestle with your demons will cause your angels to sing. "

August Wilson

12. "Courage is resistance to fear, mastery of fear-not absence of fear. Except a creature be part coward it is not a compliment to say it is brave; it is merely a loose missapplication of the word."
You might also enjoy: Top 50 Thankful Thursday Quotes To Inspire You (2023)
13. "The best way out is always through."

Robert Frost

14. "Knowing trees, I understand the meaning of patience. Knowing grass, I can appreciate persistence. "

Hal Borland

15. "Only in the darkness can you see the stars."

Martin Luther King Jr

16. "It does not matter how slowly you go as long as you do not stop."

17. "Your victory is right around the corner. Never give up."

Nicki Minaj
Read More: Create Your Personal Growth Plan
18. "If you fell yesterday, stand up today."

HG Wells

19. "Never give up. Do a task to the best of your abilities and go further. "

Debbie Reynolds

20. "Always keep in mind that your resolve to succeed is more important than any other."

Abraham Lincoln

21. "Nothing in the world can take the place of persistence. Talent won't; nothing is more common than talented, failed men. Genie will not; genius without reward is almost a proverb. Education will not; the world is full of educated slobs. Persistence and determination are omnipotent. "

Calvin Coolidge

22. "Survival can be summed up in three words; never give up. That is the heart of reality. Keep trying."

Bear Grylls

23. "When we are no longer able to change a situation, we are faced with the challenge of changing ourselves."

Viktor E. Frankl

24. "My advice would be to follow your dream. Most of my life, I was in second place before I got to first place. I hope that inspires people to never give up. "

Jackie Evancho
You might also enjoy: Top 30 Fake Family Quotes To Have A Healthy Life
25. "When the going gets tough, put one foot in front of the other and move on. Do not give up."

Roy T. Bennett

26. "Everyone has talent. What is rare is having the courage to follow him to the dark places where he drives. "

Erica Jong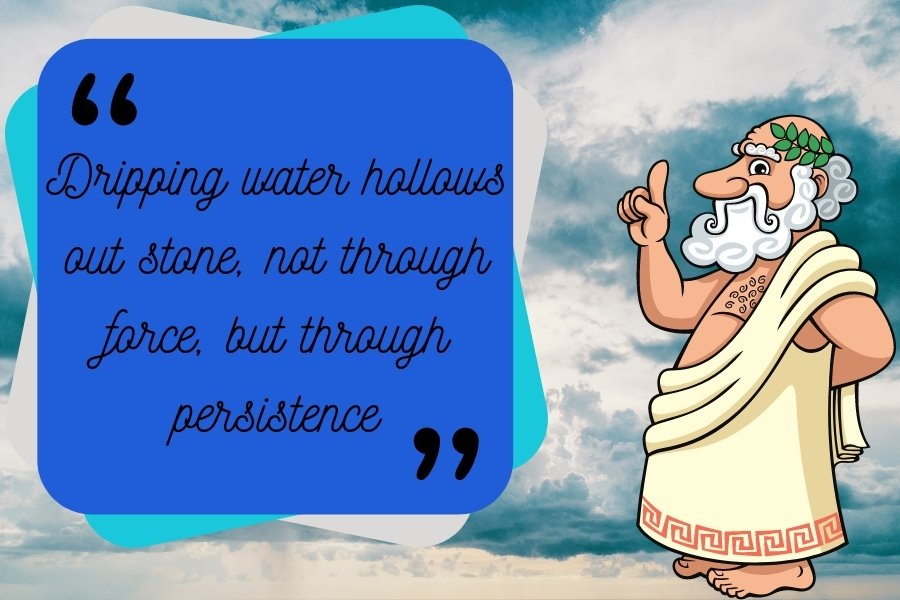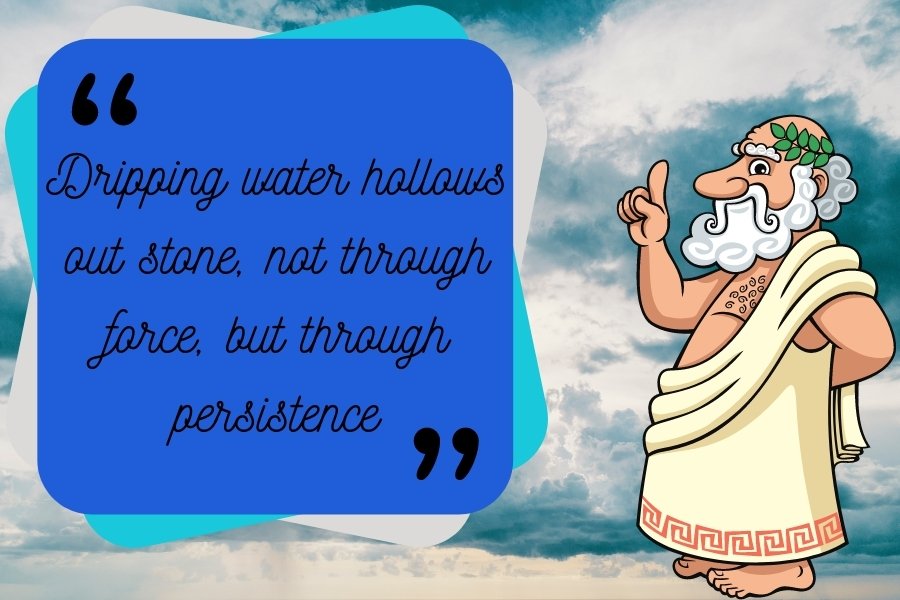 27. "Dripping water hollows out stone, not through force, but through persistence."

Ovid

28. "Never stop believing that you can continue to develop in life. Never give up. Don't deny the inner spirit that provides the impetus to achieve great things in life. "

Jon Huntsman

29. "Sometimes we will have defeats in life, but you can have defeats without being defeated, you can fail without being a failure. Winners see failures and losses as just part of the winning process. "

Maya Angelou

30. "Don't be afraid of your fears. They are not there to scare you. They are there to let you know that something is worthwhile. "

C. JoyBell C.

31. "My biggest point is my persistence. I never give up on a match. No matter how bad I am, I fight to the last ball. My list of matches shows that I have converted many of the so-called irrecoverable losses into victories. "

Bjorn Borg
Read More: How To Make A Home Business Successful In 15 Steps
32. "I like the night. Without darkness, we would never see the stars. "

Stephenie Meyer

33. "Never give up is the lesson I learned from boxing. As soon as you learn to never give up, you have to learn the power and wisdom of unconditional surrender and that one does not cancel the other. The wisdom of this comes as you get older. "

Kris Kristofferson

34. "You never give up no matter how difficult the challenges are and look at this world with a healthy dose of criticism and don't just follow the herd like someone else might."

Renny Harlin

35. "Never give up, have passion. Do not be afraid."

Barbara Broccoli

36. "All our dreams can come true if we have the courage to pursue them."

37. "When something really matters, you should never give up."

Gordon Brown

38. "Never give up and never give up."

Hubert H. Humphrey

39. "The difference between a successful person and others is not lack of strength, or lack of knowledge, but lack of will."

Vince Lombardi Jr.

40. "It always seems impossible until it's done."

41. "Stay true to yourself but always be open to learn. Work hard and never give up on your dreams, even when no one else thinks they can come true. These are not clichés but real tools that you need no matter what you do in life to stay focused on your path. "

Phillip Sweet
You might also enjoy: Best 40 You Are Worthy Quotes to Change Your Life in 2023
42. "Life contracts or expands in proportion to one's courage."

Anaïs Nin

43. "Never lose hope. Storms make people strong and never last forever."

Roy T. Bennett

44. "With the new day comes new strength and new thoughts."

Eleanor Roosevelt

45. "Character consists of what one does on the third or fourth attempt."

James A. Michener

46. ​​"A bad plan is better than no plan."

Frank marshall

47. "Never lose your childish wonder. Show gratitude… Don't complain; just work harder … never give up. "

Randy Pausch

48. "Never let your head hang. Never give up, sit back and cry. Find another way. And don't pray when it rains, pray when the sun shines. "

Richard M. Nixon

49. "The one who falls and gets up is stronger than the one who never tried. Don't fear failure but rather fear not trying. "

Roy T. Bennett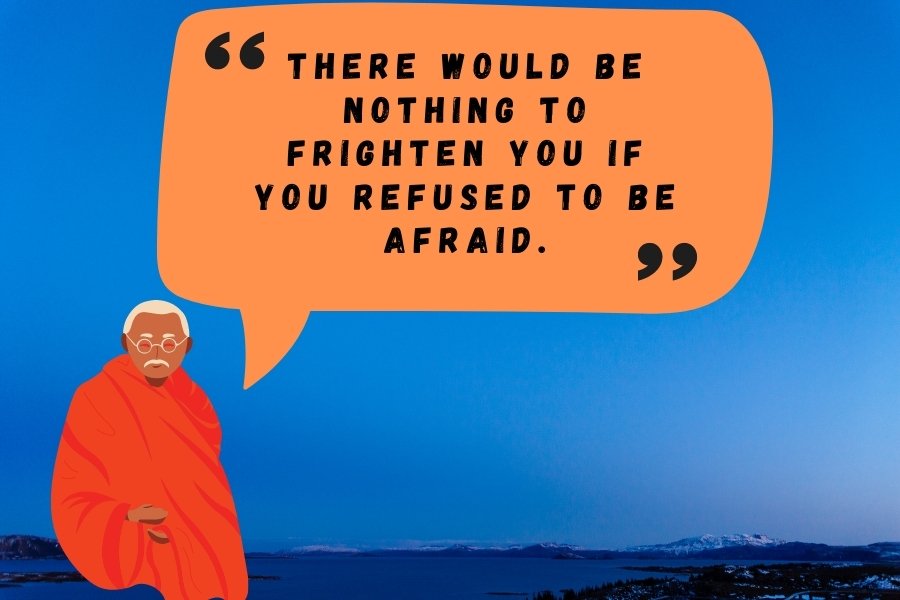 50. "There will be nothing that can scare you if you refuse to be afraid."

Gandhi

51. "You always failed. It does not matter. Try again. Fail again. Fail better. "

Samuel Beckett

52. "Failure will never catch up with me if my determination to succeed is strong enough."

Og Mandino

53. "I attribute my success to this: I never gave or took any excuses."

Florence Nightingale

54. "When you have lost hope, you have lost everything. And when you think that all is lost is when everything is horrible and gloomy, there is always hope. "

Pittacus Lore

55. "You are never too old to set another goal or to dream a new dream."

Les Brown
Read More: 18 Mindset Hacks That Can Change Your Life Forever
56. "You should never give up your inner self."

Clint Eastwood

57. "When you get to the end of your rope, tie a knot and wait."

Franklin D. Roosevelt

58. "What you do today can improve all your tomorrows."

Ralph Marston

59. "Every hit brings me closer to the next home run."

Babe Ruth
You might also enjoy: Top 50 Empath Quotes to Empower a Sensitive Personality in 2023
60. "I will keep smiling, be positive, and I will never give up! I will give 100 percent every time I play. These are always my goals and my attitude. "

Yani Tseng

61. "It is better to take many small steps in the right direction than to take one big leap forward only to stumble backward."

Louis Sachar

62. "I never give up when I encounter obstacles in my way. I keep going until I reach my professional goals. "

Henrikh Mkhitaryan

63. "I ran and ran and ran every day and acquired this sense of determination, this sense of spirit that I would never, never give up no matter what else happened."

Wilma Rudolph

64. "Accept challenges so you can feel the euphoria of victory."

George S. Patton

65. "The three great essential elements to achieve anything worthwhile are first, hard work; the second, attachment to life and the third, common sense. "

Thomas A. Edison

66. "Only those who dare to fail greatly can achieve much."

Robert F. Kennedy

67. "Don't be intimidated by the fears in your mind. Let yourself be carried away by the dreams of your heart. "

Roy T. Bennett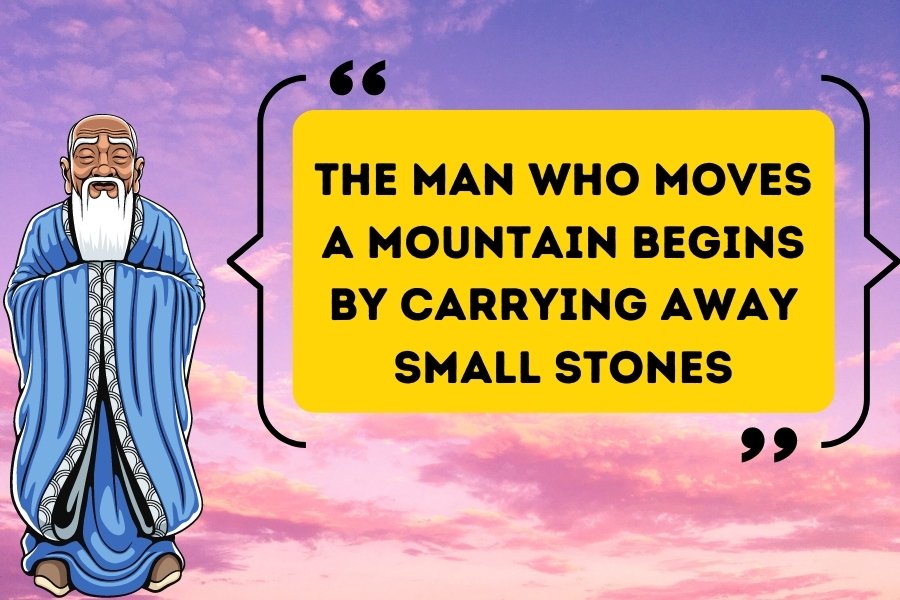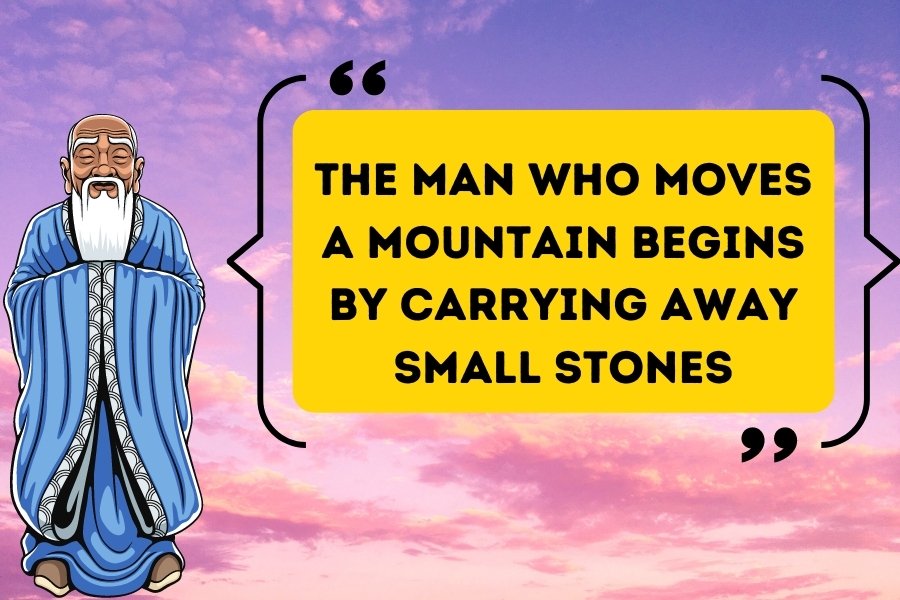 68. "The man who moves a mountain begins by carrying away small stones."

Confucius

69. "If you really believe in what you do, work hard, don't take anything personally, and if something blocks one route, find another."

Laurie Notaro

70. "Never give up on what you really want to do. The person with big dreams is more powerful than the one who knows everything. "

H. Jackson Brown, Jr.
You might also enjoy: The 15 Best Inspirational and Motivational Zootopia Quotes
71. "First, forget the inspiration. Discipline is the most reliable. Discipline will sustain you whether you are inspired or not. Discipline will finish and polish your stories. Discipline is perseverance put into practice. "

Octavia E. Butler

72. "Never mistake a single loss for a final loss."

73. "Don't give up. Never give up trying to build the world you can see, even if others can't see it. Listen to your drum and your drum only. It is the one that makes the sweetest sound. "

Simon Sinek

74. "Never give up on something you believe in."

Steve Scalise

75. "Never give up. You only get one life. Go for it!"

Richard E. Grant

76. "Loving someone deeply gives you courage."

Lao Tzu
Life is loving and being loved, and it is what gives us the strength to move on.
Read More: How Do Millionaires Think
77. "We are all made of meat and a miracle fiber called courage."

Mignon McLaughlin. "
An excellent way to express what willpower can mean.
78. "Happy are those who courageously dare to defend what they love." Ovid
It is not enough to preach what we want, we must defend it.
79- "Courage is not the absence of fear, but the judgment that something else is more important than fear. "

Ambrose Redmoon
The curious assertion about the meaning of fight and bravery.
80. "It takes a lot of courage to stand up against our enemies, but a lot more to stand up against our friends. "

JK Rowling
It is more difficult to fight the opponent from home.
81. "What counts is not the strength of the body, but the strength of the spirit. "

JRR Tolkien
You couldn't expect less from the Lord of the Rings writer.
82. "Few are those who have the courage to acknowledge their failures, or the resolve to repair them. "

Benjamin Franklin
Good reflection of one of the fathers of the United States of America.
83. "The greatest test of courage on earth is to overcome defeat without losing heart. "

Robert Green Ingersoll
Strength is expressed by getting up over and over again.
84. "Courage is being scared to death and standing up anyway. "

John Wayne
The famous American Western actor left us with this interesting aphorism.
85. "Courage is doing what you are afraid to do. "

Eddie Rickenbacker
Powerful phrase to describe what the concept of fighting meant for Rickenbacker.
86. "If you could muster the courage to start, you will have the courage to succeed. "

David Viscott
Things that start right end well.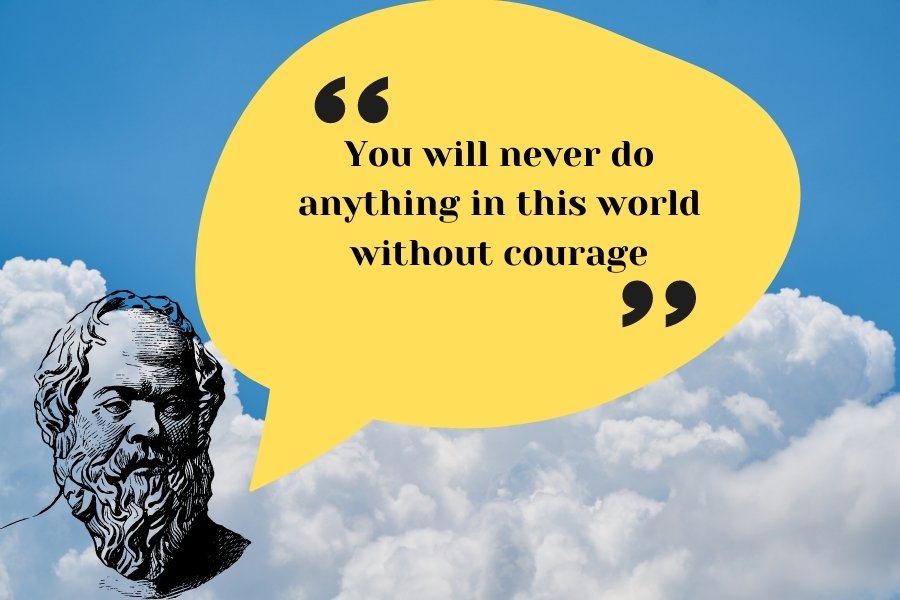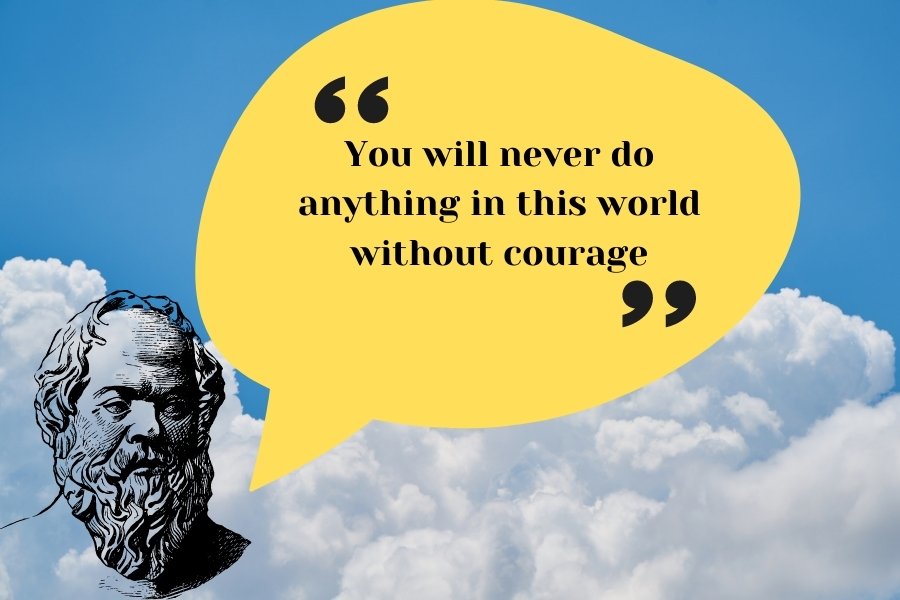 87- "You will never do anything in this world without courage. "

Aristotle
Quite a declaration of intent on the part of the Greek philosopher.
88. "A man with outward courage dares to die; a man with inner courage dares to live. "

Lao Tzu
The power of force is a quality of always going forward.
89. "What would life be like if we didn't have the courage to achieve anything? "

Vincent van Gogh
The Dutch artist did not only know how to paint pictures.
You might also enjoy: Top 20 Master Oogway Quotes to Inspire You
90. "Courage is the most important of the virtues, because without courage, you cannot practice any other virtue consistently. "

Maya Angelou
This phrase should serve as an example for any philosophy of life.
91. "All your dreams can come true if you have the courage to pursue them. "

Walt Disney
This is how the most famous cartoon author on the planet became successful.
92. "Life contracts or expands in proportion to one's courage. "

Anais Nin
According to the American writer, the struggle will determine the path of our life.
93. "He who does not have the courage to take risks will not achieve anything in life. "

Muhammad Ali
We all remember the motivational phrases associated with this elite athlete.
94. "The brave man is not the one who does not feel fear, but the one who conquers it. "

Nelson Mandela
This phrase about the fight kept Nelson Mandela alive while in prison.
Read More: Why Is It Important To Aim High To Success
95. "It takes courage to grow up and be who you really are. "

EE Cummings
Sometimes we do not accept ourselves as we want and that causes fear.
96. "Courage is resistance to fear, fear control, not the absence of fear. " Mark Twain
One can be fearful and brave at the same time, it is about putting one before the other.
97. "Success is not the end, failure is not fatal: it is the courage to continue that counts. "

Winston Churchill
Being one of the main actors in World War II, this politician dedicated himself, among other things to raise the morale of England.
98. "Courage is what it takes to get up and speak; Courage is what it takes to sit back and listen. "

Winston Churchill
The English politician will always be remembered for countless phrases referring to the struggle.
99. "Courage is discovering that you can not win, and trying when you know that you can lose. "

Tom Krause
An original way to describe what it means to be strong.
100. "Courage is the greatest of all virtues because, otherwise, one is not sure of preserving any other. "

Samuel Johnson
Without courage, we lack all other personal virtues.
101. "It takes more courage to suffer than to die. "

Napoleon Bonaparte
The powerful phrase from one of the most important emperors in the world.
102. "A man with courage is a majority. "

Thomas Jefferson
This phrase of force was declared in the Congress of the United States by one of its founders.
104. "Have the courage to live. Anyone can die. "

Robert Cody
One more phrase is that the vital thing to survive is to keep fighting.
105. Most of us have more courage than we ever dreamed we possess." Dale Carnegie
This phrase reflects an often-forgotten truism.
You might also enjoy: Top 30 Robert Kiyosaki Quotes That Can Change Your Life
106. Courage is fear sustained for one more minute. "

General George S. Patton
For Patton, the fight is tied to fear.
107. "Courage is the silent voice at the end of the day that says, "tomorrow I'll try again. "

Mary Anne Radmacher
This phrase about the struggle reminds us that every day we must strive to achieve our goals.
108. "Courage is not having the strength to continue, it is to continue when you don't have the strength. "

Napoleon Bonaparte
Another genius from this French strategist.
109. "Courage is grace under pressure. "

Ernest Hemingway
It is in the worst moments that one has to know how to resist.
110. "All happiness depends on courage and work. "

Honoré de Balzac
Without being brave we cannot be happy.
111. "If you want to conquer fear, do not sit at home and think about it. " Dale Carnegie
Constant doubt paralyzes the fight.
112. "The best protection any woman can have is courage. "

Elizabeth Cady Stanton
One of the most influential feminists reflects on the problems caused by gender inequality.
113. "Those who lack courage will find a philosophy to justify it. "

Albert Camus
Many people justify their cowardice to the limits of reason.
114. "The brave may not live forever, but the cautious do not live at all. " Ashley L
This phrase of strength sums up the essence of triumph in life.
115. "Courage Is Being Afraid But Going On Anyhow. "

Dan Rather
It is emphasized once again that fear and courage are not incompatible.
116. "There is no such thing as bravery, only degrees of fear. "

John Wainwright
This English novelist questioned concepts that many accept without further ado.
117. "A ship is safe in port, but that is not what ships are built for. "

William GT Shedd
A good metaphor to define what courage is.
In the end, we recommend you listen to the episode of Daily Inspirational Quotes podcast: