You must have heard the name of Zootopia animation, or maybe you have at least seen its funny posters. This animation was released in 2016 by Walt Disney Pictures and added to the list of the best Disney animations. Before reviewing the best Zootopia quotes, it is better to recall the story somewhat.
The story is about a rabbit named Judy Hops who passed the entrance exam of the police department. Due to its small size, the brave rabbit had been sent to the city only for a simple mission. With her braveness, she realized a suspicious problem in the city. In the continuation of his story, he meets a fox named Nick. Finally, with his help, they were able to solve the problem of the city.
One of the reasons for the attractiveness of this animation is its memorable characterization. The community of different animals in the city is very similar to the community of humans. Very interesting dialogues are exchanged in this animation.
At first glance, the Conversations may seem very simple, but more accurately, we can understand the importance of these inspirational and motivational discussions.
I am a fan of this animation. If you have seen it, you will agree with me. But for those who have not seen it yet, the first thing to do after reading this text will be to watch Zootopia. So what are we waiting for? Let's get a little motivated by the words of these funny characters.
Let's go from Mindsetopia to Zootopia!
The 15 Best Inspirational and Motivational Zootopia Quotes
1/15
1- Are you looking for a change? Look in the mirror!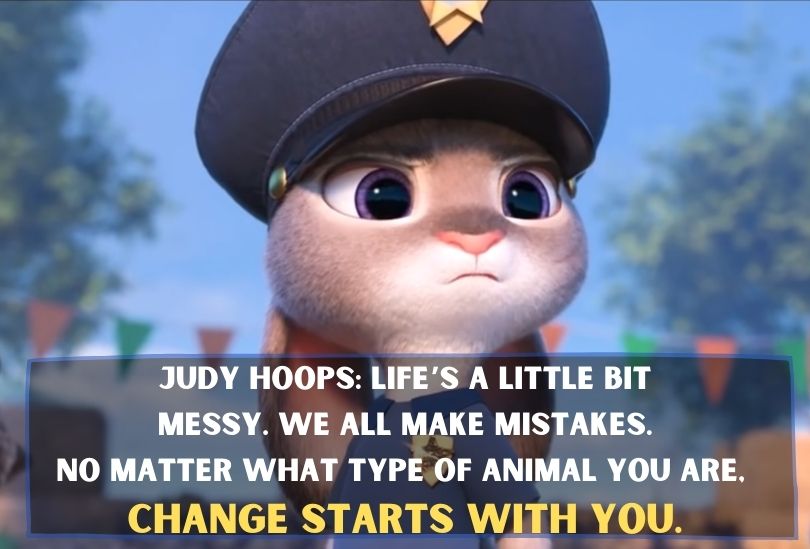 Judy Hoops: Life's a little bit messy. We all make mistakes. No matter what type of animal you are, change starts with you.
This is one of the best Zootopia quotes that you should remember. Judy has always been looking for a way to make the world a better place. This is why she precisely entered the police department exam. It can be said that she agreed with Albert Einstein in this way. As Einstein said: "The measure of intelligence is the ability to change."
Change is not something that starts from the outside environment but starts from within each person. It reminds me of a famous quote from Tolstoy: "Everyone thinks of changing the world, but no one thinks of changing himself."
We will have more Zootopia quotes the following. But we can say that this is the most inspiring sentence of this cartoon. Many people, including Oprah Winfrey, Jason Lambkin, Elizabeth Galbut, and … have also mentioned this sentence.
2/15
2- Are you scared? This is the end of the road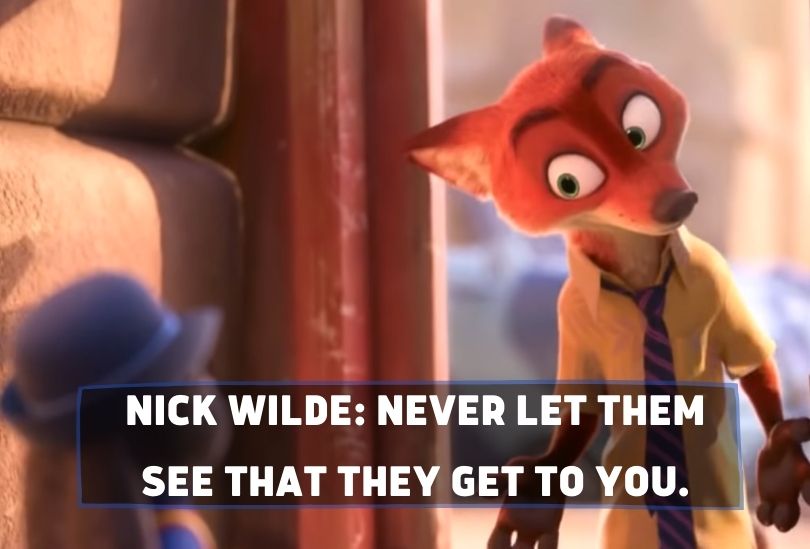 Nick Wilde: Never let them see that they get to you.
Sometimes all we need is a little courage, no matter how chaotic the environment. Of course, most of us have less courage to continue in the face of difficult circumstances. But as Vincent Van Gogh said: "What would life be if we had no courage to attempt anything?"
What was life really look like? Certainly, without any courage to progress, there would be no change in the world. This is another one of the best Zootopia quotes, which completes the first case.
Also, we suggest reading the best David Goggins Quotes after this quote.
3/15
3- Some more courage, please!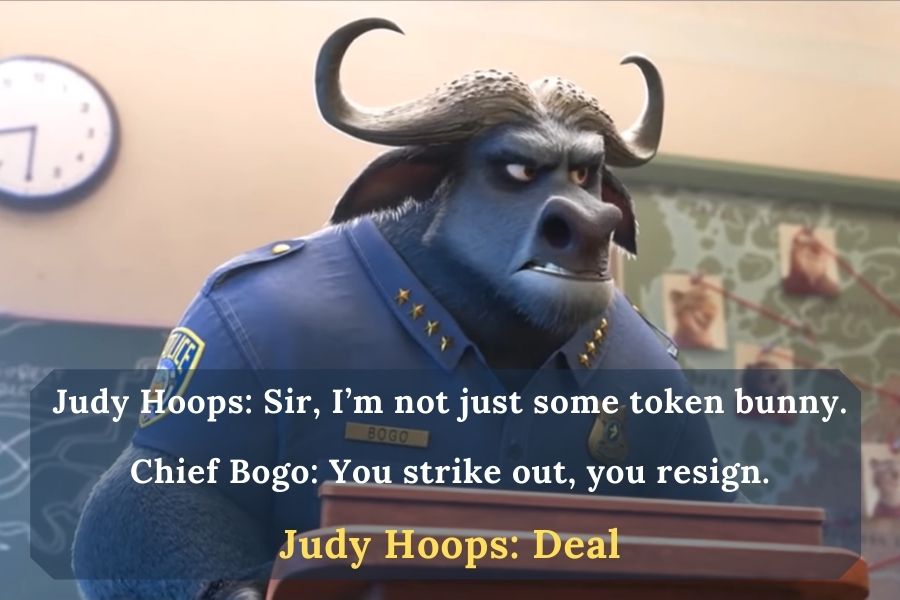 Judy Hoops: Sir, I'm not just some token bunny.
Chief Bogo: You strike out, you resign.
Judy Hoops: Deal.
Do whatever you have to do. If you do not take risks, success will not come to you. Opportunities are everywhere. All you need is a little more courage!
Richard Branson said an interesting thing about this: "If somebody offers you an amazing opportunity but you are not sure you can do it, say yes – then learn how to do it later!"
We all have to remember that a little courage can make us a big change! But don't forget, success doesn't happen overnight, it needs practice.
4/15
4- The mistake? Don't worry, Everyone Makes Mistakes.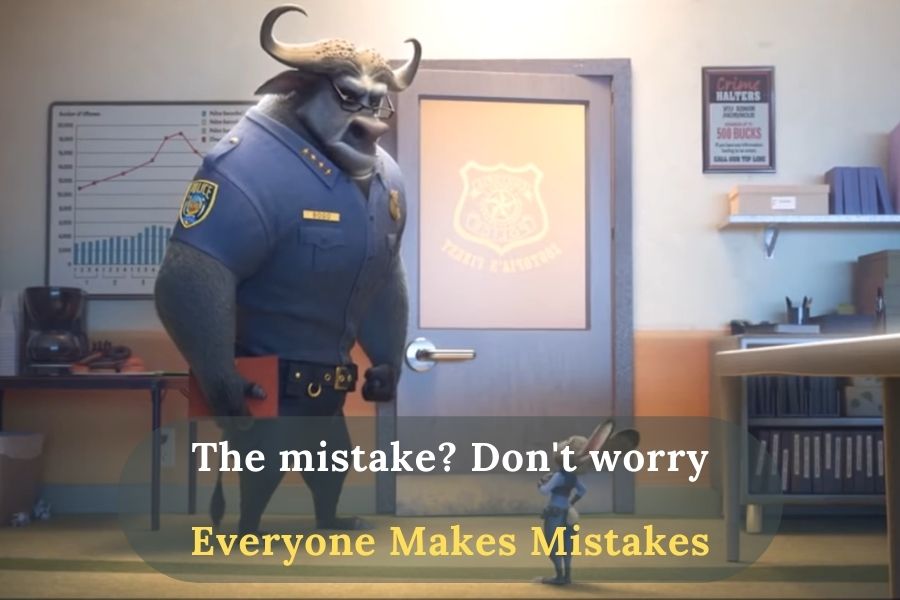 Judy Hoops: I came here to make the world a better place, but I think I broke it.
Chief Bogo: The world has always been broken. That's why we need good cops.
Zootopia quotes give a lot of courage. They remind you from a container that if you try very hard and fail, do not be disappointed. We all make mistakes because no one is perfect.
Just like Allen Iverson said: "I'm not perfect. But I am trying every day to concentrate on being better."
5/15
5- There are no restrictions. You can be whoever you want.
Nick Wilde: [in mock surprise] Are you saying that because he's a sloth he can't be fast? I thought in Zootopia, anyone could be anything.
There are no restrictions. You can be whoever you want.
In parts of the Zootopia cartoon, the fox reminds Judy of some significant things. One of these inspirational Zootopia quotes is given above.
We all have different abilities. Some may go slowly, but that does not mean that person will never succeed. We can all become who we want to be.
6/15
6- Not enough! Work harder!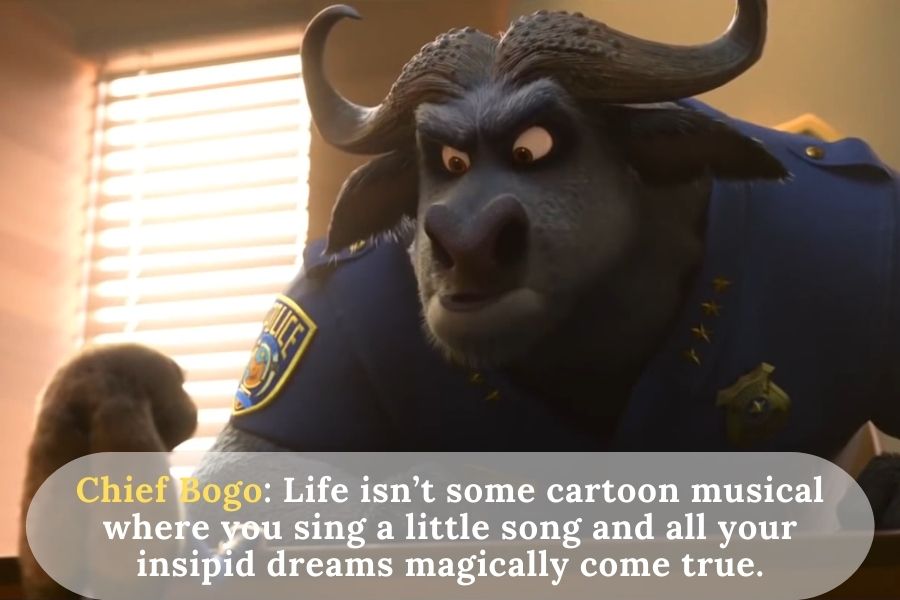 Chief Bogo: Life isn't some cartoon musical where you sing a little song and all your insipid dreams magically come true.
We have all heard many beautiful success stories. We think successful people are lucky ones because we don't see their 7/24 effort. Ralph Lauren has an inspirational sentence about it: "A lot of hard work is hidden behind nice things."
7/15
7- Begin again! Every day is a new day.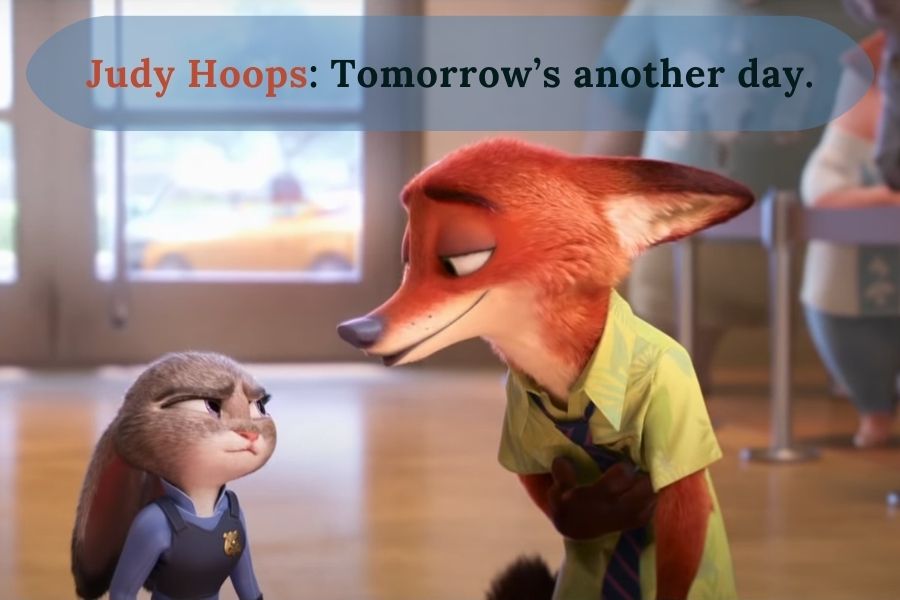 Judy Hoops: Tomorrow's another day.
We start doing things. Sometimes we get success, but sometimes we fail. All that matters is to try again and again and stay still motivated. Did you fail an exam? Did you mess up a job interview? Now they don't matter. Just don't get stuck in the past.
Zootopia's quotes remind me of Seneca's advice: "Every new beginning comes from some other beginning's end."
I really recommend reading Uncle Iroh Quotes to go to the next level.
8/15
8- Desire and effort. The greatest combination!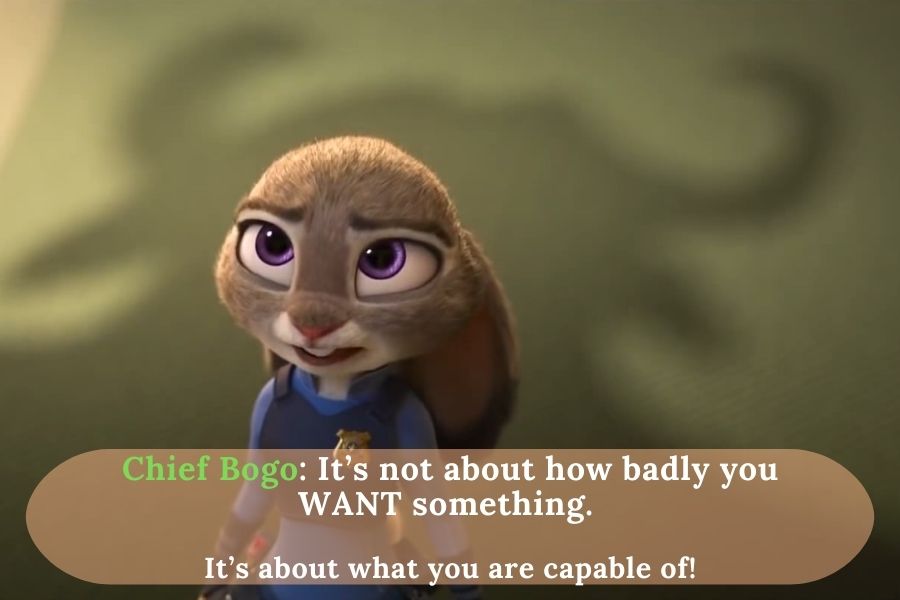 Chief Bogo: It's not about how badly you WANT something. It's about what you are capable of!
We all love to read motivational texts. These texts give us a lot of energy to achieve the goal. Reading such things is a good step, but it is not enough.
The next step to success depends solely on ourselves. To what extent we can maintain this motivation and do the necessary work to achieve our goal.
For this quote, I really recommend reading Why Is It Important To Aim High To Success blog too.
9/15
9- Being realistic does not mean being a pessimist.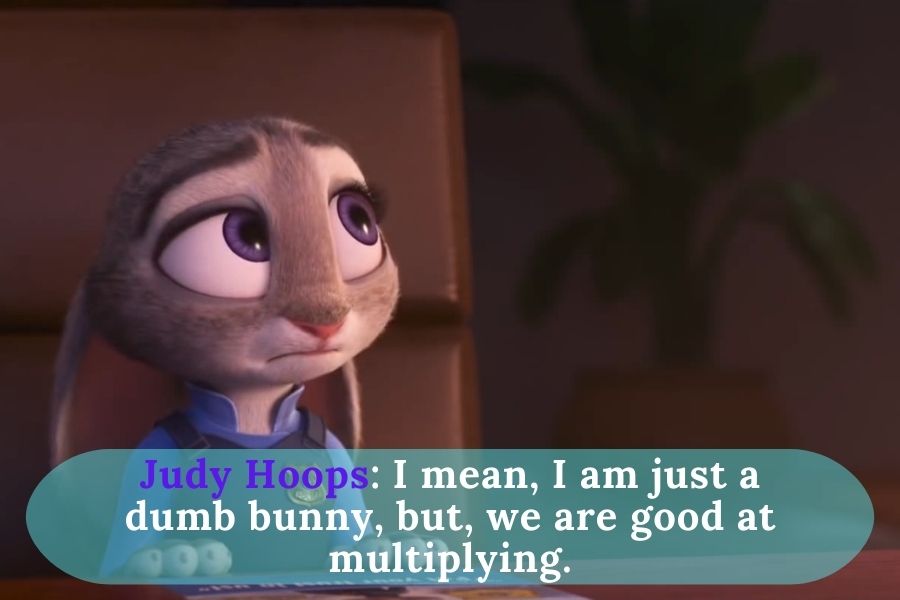 Judy Hoops: I mean, I am just a dumb bunny, but, we are good at multiplying.
It's one of the funniest Zootopia quotes, but you know, Judy is right. She looks at the issue very realistically and considers both its positive and negative aspects.
To succeed in any field, we need to consider the different dimensions of our abilities. Without despair, it is better to focus on the bright parts of every situation.
Let's see what Samuel Johnson has to say about this: "The habit of looking on the bright side of every event is worth more than a thousand pounds a year."
10/15
10- Don't let go! A key factor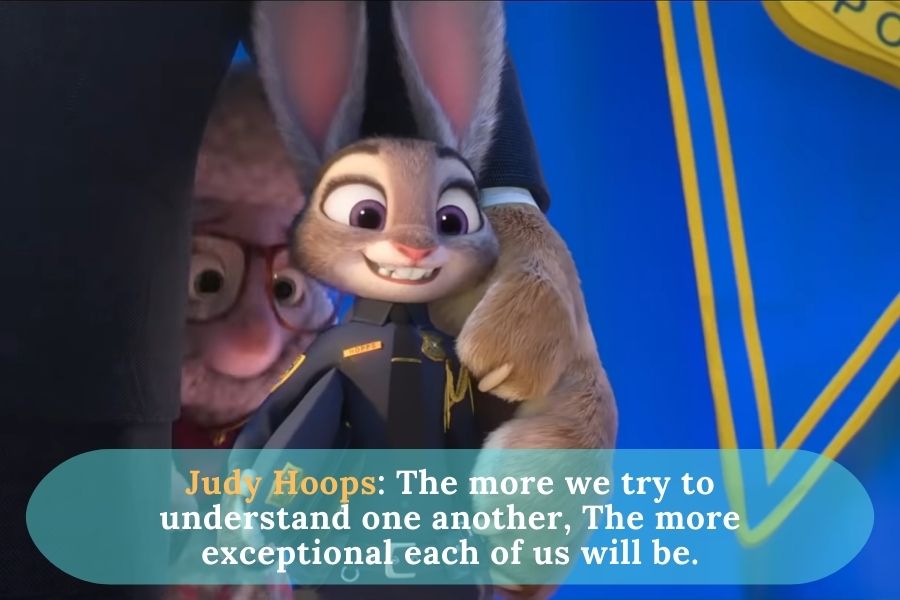 Nick Wilde: Rabbit, whatever you do, do not let go!
Sometimes in life, we need to let go of things to be successful. At the same time, we must not give up our constant effort. Of course, Nick knew the difference between the two before saying this dialogue.
For example, to be independent, we must leave the words of others and not listen to them. At the same time, we must stick to trying hard and leave the field before achieving success.
11/15
11- Do not judge anyone by their appearance!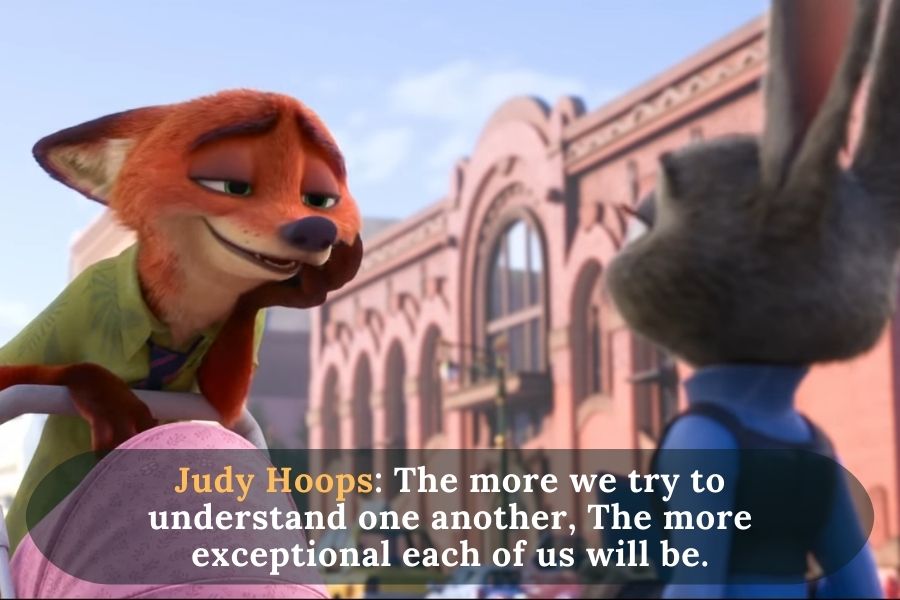 Judy Hoops: The more we try to understand one another, The more exceptional each of us will be.
At first glance, humans judge each other by their appearance and do not spend time getting to know each other. We all know this is wrong, but we may continue to do so as usual. There is a great quote from Abraham Lincoln about this: "I don't like that man. I must get to know him better."
12/15
12- Small steps create big successes.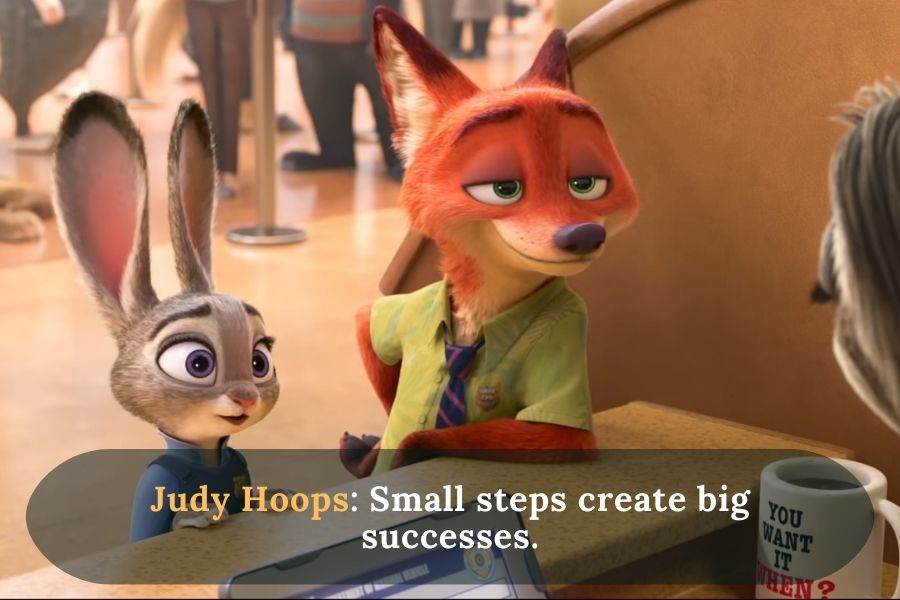 Stu Hoops: You want to talk about making the world a better place, no better way to do it than becoming a carrot farmer.
Bonnie Hoops: Yes! Your dad, me, your 275 brothers and sisters, we're changing the world.
Stu Hoops: Yeah.
Bonnie Hoops: One carrot at a time.
Stu Hoops: Amen to that.
Among Zootopia quotes, this is my favorite. It's what I did and got the result.
For example, if you read nine pages a day, you will finish about 12-15 medium-volume books a year. All you have to do is spend 20-30 minutes a day. There are many examples of small steps that lead us to great success.
Also, I recommend reading Success Is The Sum Of Small Efforts.
13/15
13- Little cute rabbits can't do anything.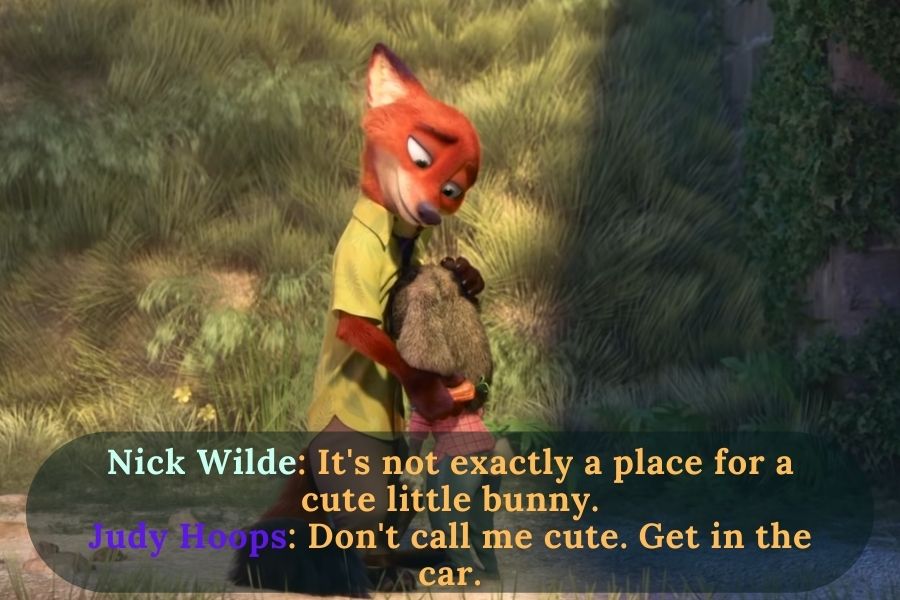 Nick Wilde: It's not exactly a place for a cute little bunny.
Judy Hoops: Don't call me cute. Get in the car.
This has something to do with apparent judgment. Some people accept opinions and give up everything because they do not have strong physical characteristics. This quote reminded me of those who say that girls cannot become soccer players.
14/15
14- Doing your best is the important part.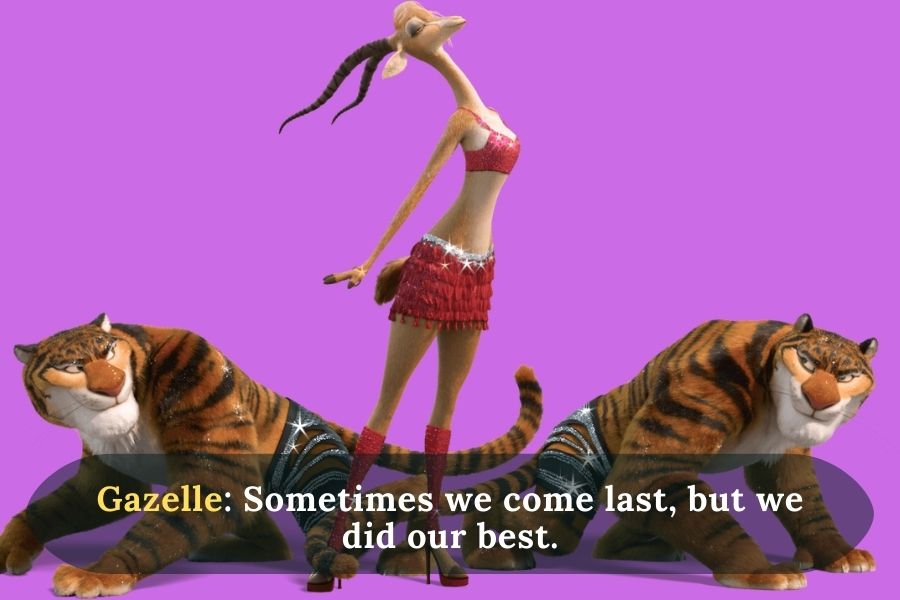 Gazelle: Sometimes we come last, but we did our best.
No matter who you are and what you do. Don't look around, own your business, do your best.
15/15
15- Do not leave the game, have a rest!
Gazelle: Look how far you've come
You filled your heart with love
Baby, you've done enough
Take a deep breath.
On the very long road to success, somewhere we all fall short. The most important point is that Banksy says: "If you get tired, learn to rest, not to quit!"
Conclusion
In the text above, we reviewed the best inspirational Zootopia quotes. We may all have read the above over and over again, but it is very interesting to review these valuable words in the language of funny cartoon characters.
Well, I'm sure those who have not seen this animation are now looking for it to watch.