What can be better than a rich and valuable source that helps you grow your business, be happier, have a great relationship with your partner, and move on against obstacles and problems? 
A free source that all you need to get is the internet, a device, a single click and then…boom! Welcome to a wide world of valuable and practical information.
Personal development blogs can be an endless gate toward inspiration, motivation and success, particularly if an expert person has written the content.
But here is the problem: there are too many of them, and most of us don't know about their writing style, content and working fields.
Also, there are thousands of posts in these blogs, and we may feel like "I am lost in the information."
But don't worry! In this post, Mindsetopia is going to introduce you to some of the most visiting (and best) personal development blogs. 
You may ask: "Do I have to read them all?" of course not! No one is going to take an exam about these blogs from you!
Each of these personal development blogs focuses on one specific topic. We suggest you to review them and pay attention to their style and subjects.
Some of them are story-driven and motivating, while others speak based on statistics. As a result, some can be useless and even frustrating for you.
That's why we suggest you to read this list of 21 top and best personal development blogs in the world and choose the best blogs among them.
We have collected these blogs based on the data and traffic statistics from the Ahref website. You can see the monthly traffic of these websites along with their homepage appearance.
Now ladies and gentlemen, let's dive into the top 21 Most Visiting (and best) personal development blogs. 
Top 21 Best Personal Development Blogs In 2022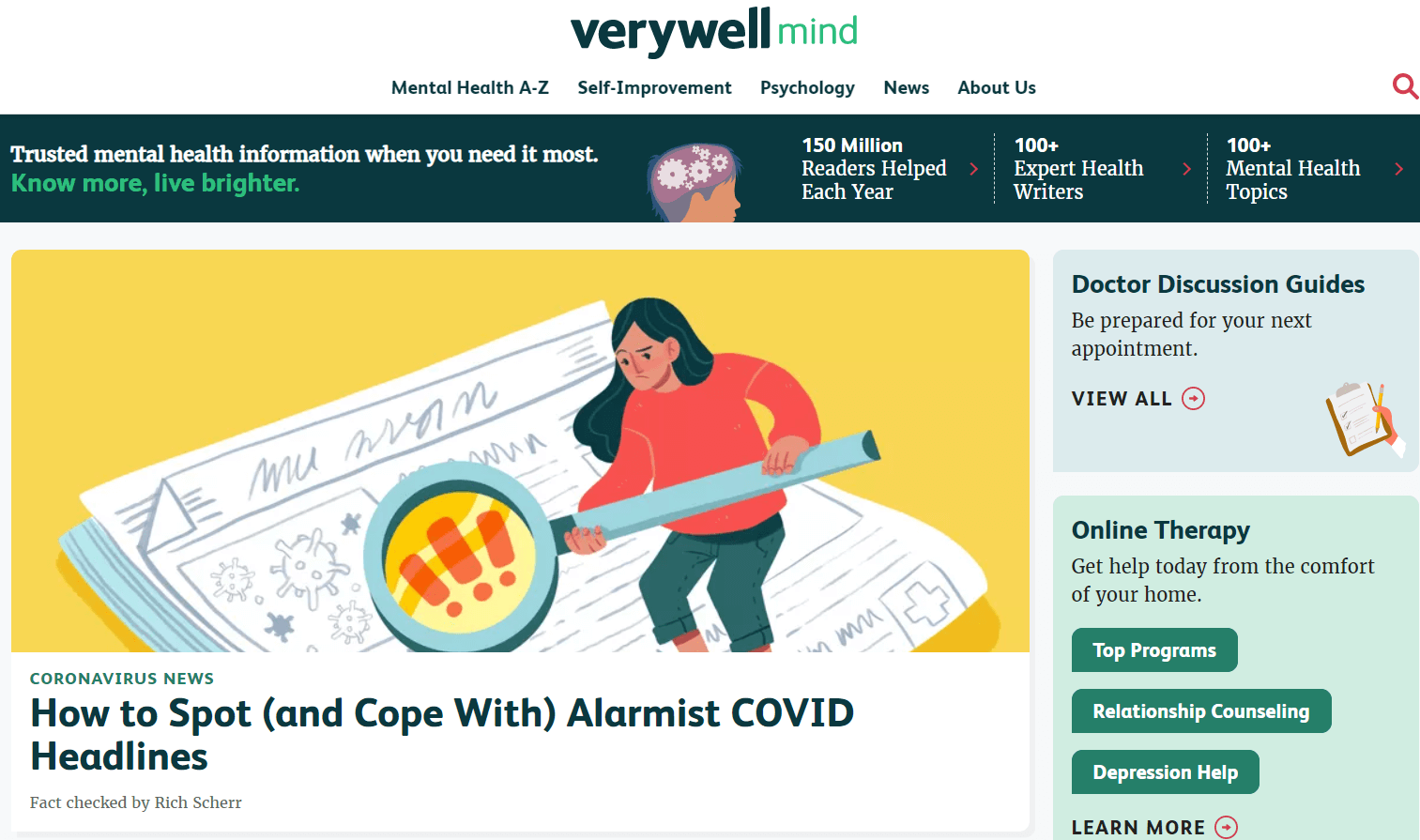 Monthly Trafic: 15,618,615 /month

Tagline: Know More. Live Brighter
When we talk about personal development, we have to talk about mental health and finding balance. 
Verywellmind is one of the most visiting and, of course, the best websites in personal development. What is really amazing about this website is that its contents have been written by experienced doctors, therapists, and social workers. 
This sentence is from their about us page:
"Our library of more than 4,000 pieces of content, created and refined over the past 20+ years, has been written by more than 100 healthcare professionals and industry experts including experienced doctors, therapists, and social workers, and then vetted by board-certified physicians. We give you the resources you need to feel happy and healthy."
They have valid and interesting information about mental health, and surely you can find a lot of helpful information there.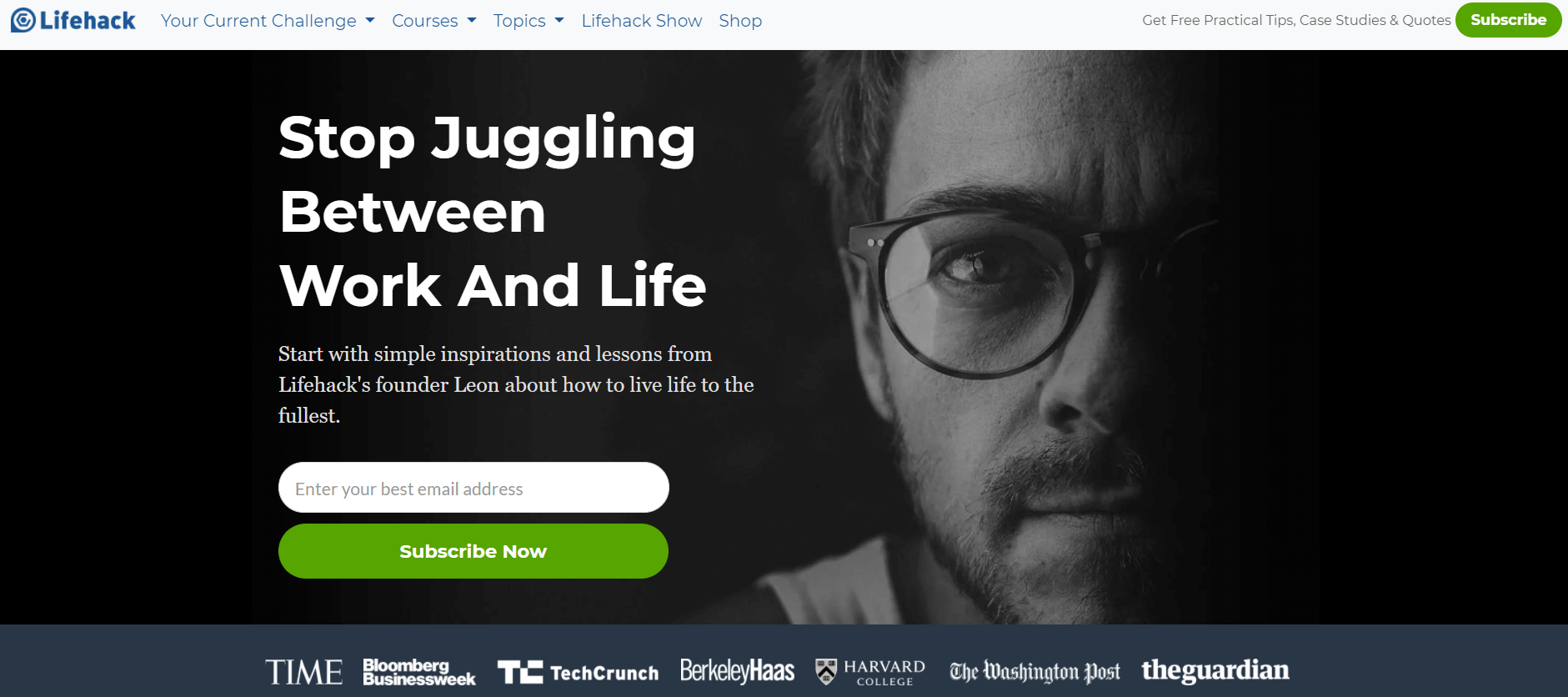 Monthly Trafic: 2,911,165 /month

Tagline: University of life
If you have questions such as: what is the purpose of my life? How can I live happily, or how to do things more efficiently and effectively? Then this blog would a perfect answer for you. 
In Lifehack, you can really find lifehacks! The blog is written by many lifehack specialists who will help you grow all the aspects of your life, including lifestyle, business, fitness, relations, performance and technology.
The founder of this website is Leon Ho, and here is a sentence from their about us page:
"What's My Life's Purpose? Countless people ponder this question… I certainly did. It took quite a bit of self-exploration, many months of research, and a lot of trial and error to help me arrive at a clear conclusion. But, it did happen; and when it finally clicked together, it was as though I found the secret to happiness.

My life became far more meaningful and fulfilling, and I enjoyed more free time as well as better overall health. And, you can experience this, too.

At Lifehack, we have helped millions of readers get to the root of their own life's purpose by taking the complicated and breaking it down into a simple process.

This is a place where you can find answers to all the questions in your life – answers that will actually help you overcome any limitations that are keeping you from your goals."

This video from the Life Hack youtube channel is a good introduction to their website:

https://youtu.be/EgHIz8HfKq0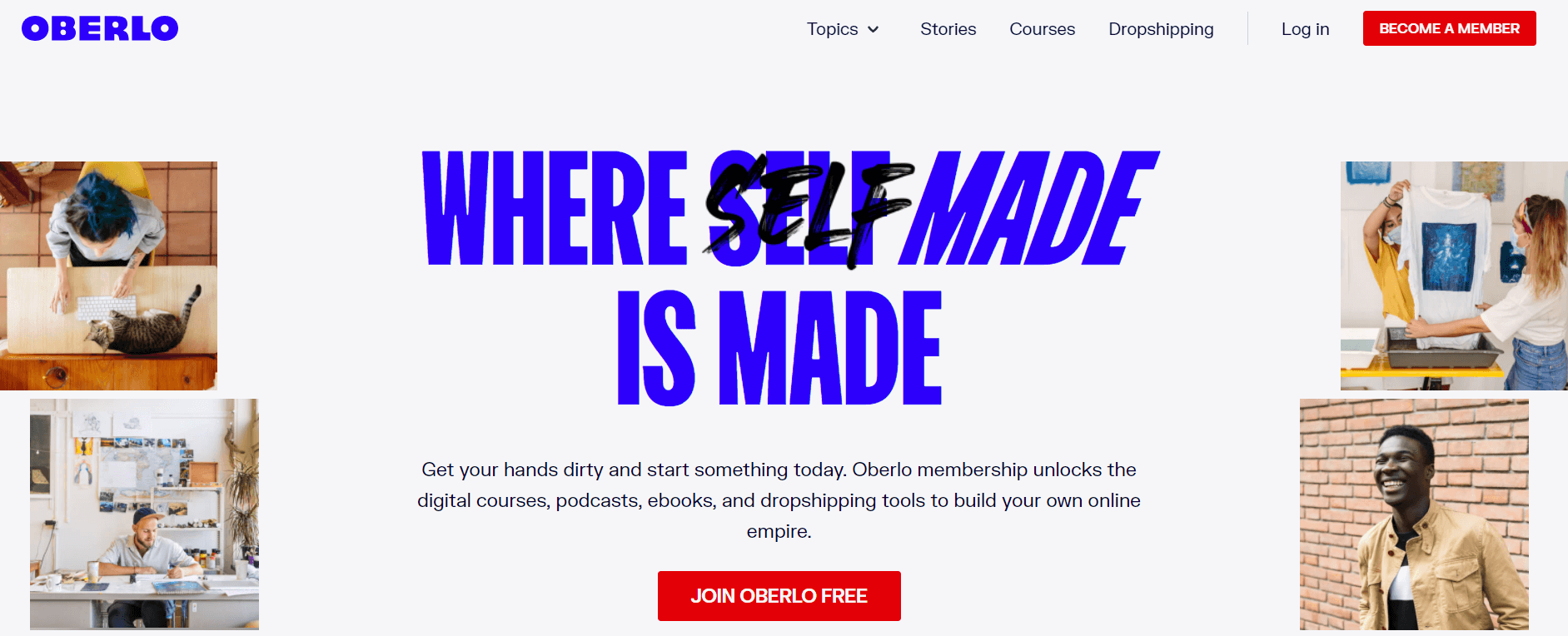 Monthly Trafic: 1,520,871 /month

Tagline: Where Self Made Is Made
Wait, isn't this a website for business and entrepreneurship? Yep, you are right! Then why on earth is it on the personal development blogs list?
Because how can we talk about personal development without talking about financial development?? they are bound together. 
Oberlo is a great website where you can learn about financial freedom, dropshipping and starting a new business. 
After all, people cant focus on personal development when they are struggling with finical problems. 
Now if you want to know more about starting a website to sell and dropshipping then this video from the Oberlo youtube channel can really help you: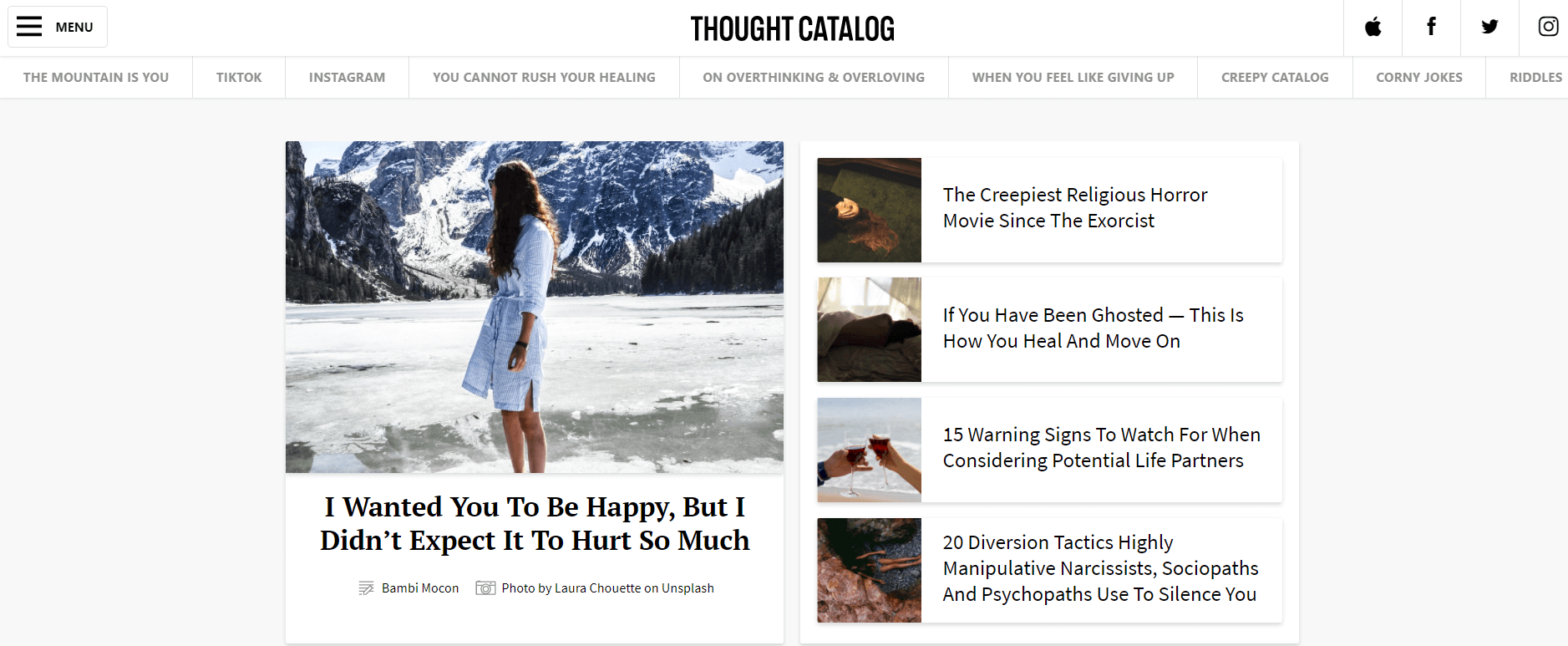 Monthly Trafic: 3,641,714 /month

Tagline: A place for the thoughtful coming of age storytelling
Thought Catalog is an online magazine with a creative writing style that can help people realize their artistic visions on their own terms.
This is a sentence from their about us page:
"Thought Catalog was founded in 2010, and its original mission still stands today: to empower creative people by helping them realize their artistic visions on their own terms. "
You can find many articles on this website about these topics: Psychology, Romance, Friendship, Self-Improvement, Family, Health and Inspiration. 
Also, they publish podcasts on different personal development topics.
This podcast is from the Thought Catalog Spotify channel which is called In Your Feelings: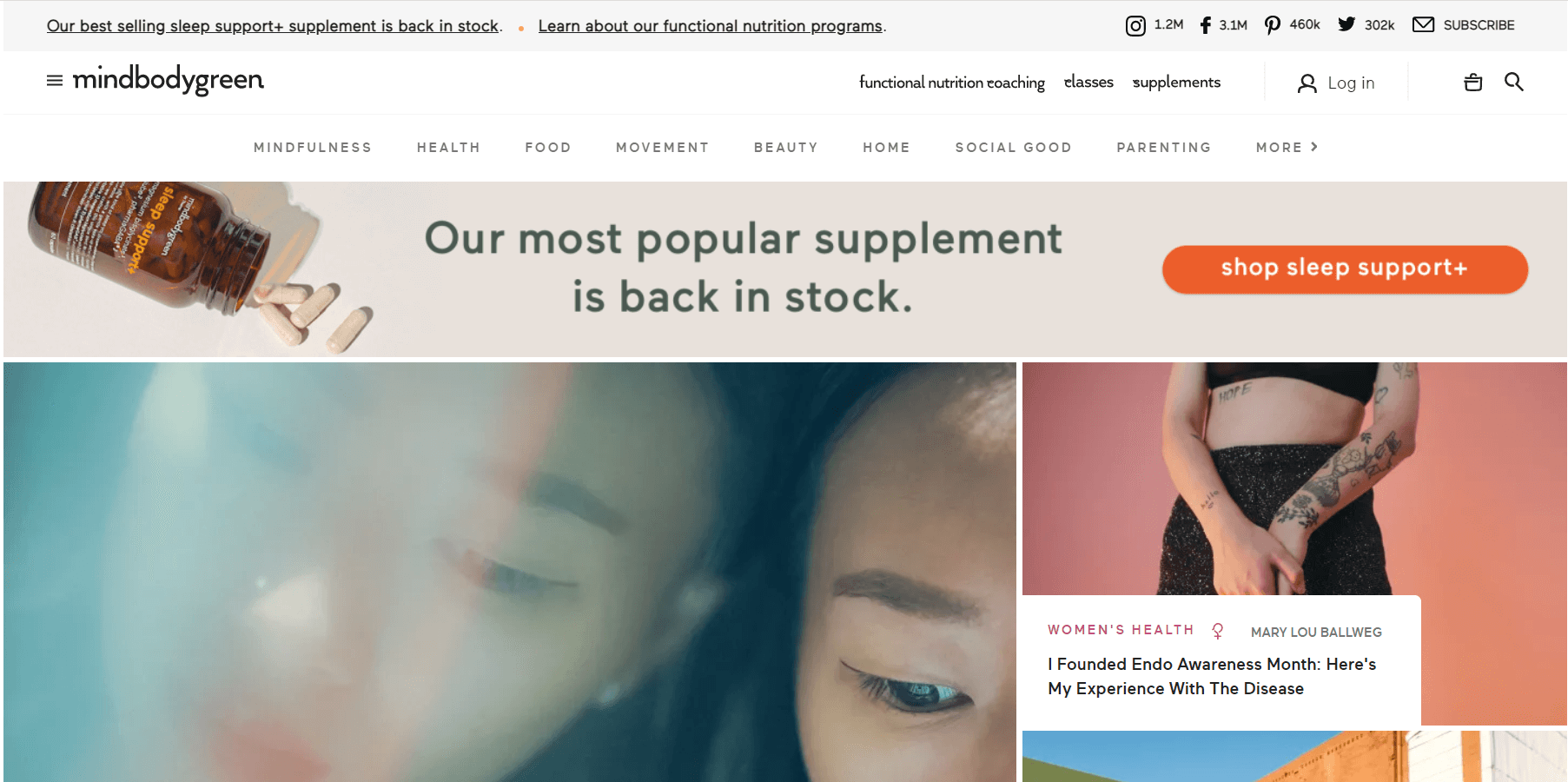 Monthly Trafic: 7,710,857 /month

Tagline: connectiong soul & science
Mindbodygreen has an excellent and holistic approach toward well-being. The primary mission is: "Moving, eating clean, breathing, connection, and purpose." 
They have many well-being experts, and we can say that experts and professionals write everything on their websites. 
If you want something more than blog posts, they have many courses in different fields such as "The Complete Guide to Tai Chi", "The seven-day Full Body Reboot," "The Ultimate Guide to Breathwork." 
You can purchase these classes from $50 to $250. Also, they are selling some products such as sleep support+, which is a medicine for sleeping better. 
Here is a sentence from their about us page:
"Here you'll find a 360-degree approach to wellness that weaves the mental, physical, spiritual, emotional, and environmental aspects of well-being together, because we believe that these pillars of health are all interconnected."
If you want to know more about this website then this Mindbodygreen youtube video from Jason Wachob the founder of this wellness website can help you: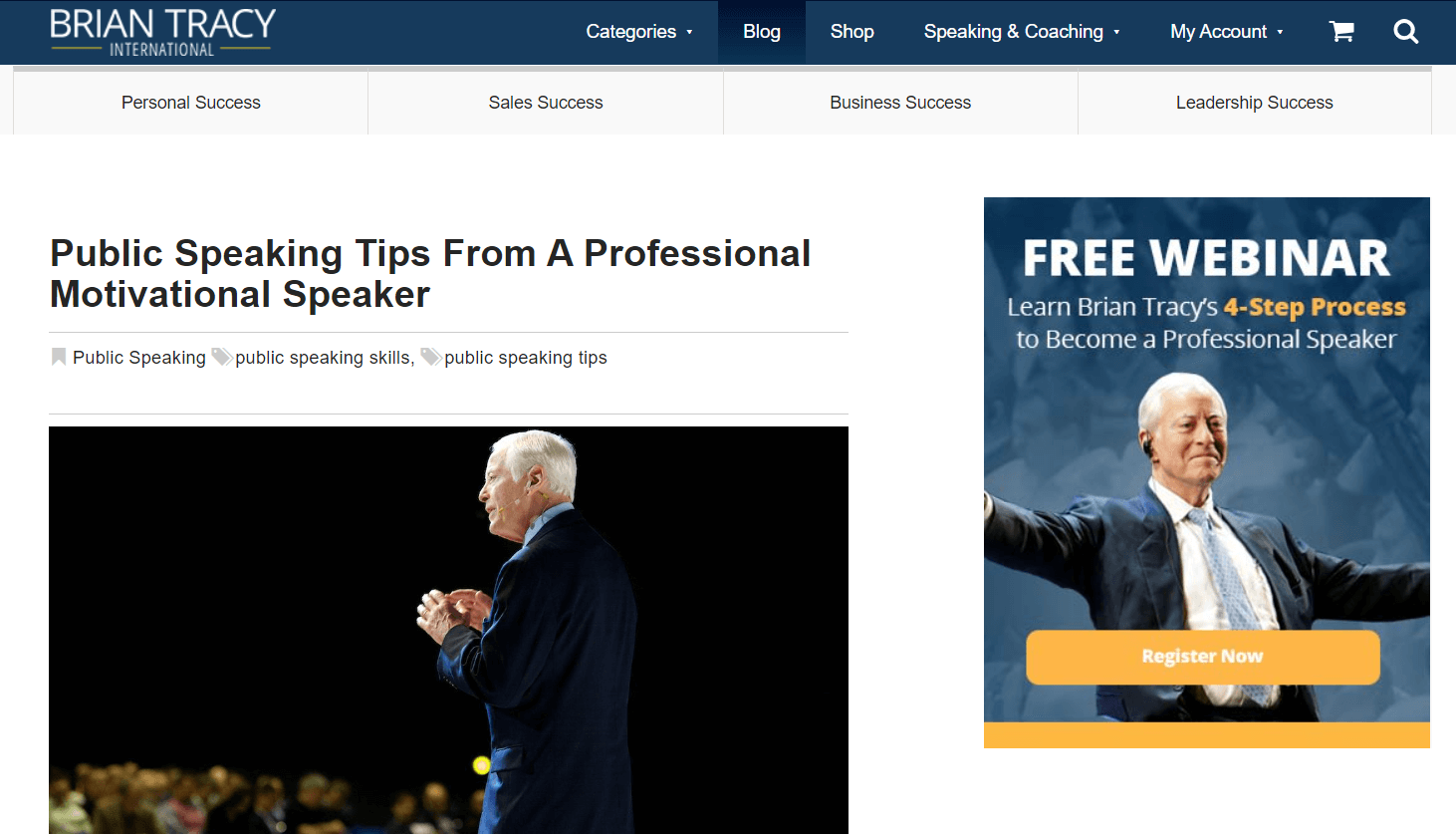 Monthly traffic: 340,916 /month

Tagline: self-improvement and personal development
When it comes to personal development Brain Tracy is a most known name.
Brian Tracy has published more than 70 books and has produced more than 500 audio and video learning programs on leadership, success, management and personal development.
He is recognized as one of the top personal success coaches in the world.
One of his legendary books called Eat That Frog has sold more than 1.5 million copies worldwide and translated into 42 languages. A true master!
Surly the blog of a successful person like him can help you a lot!
In his blog, Tracy gives you the necessary tips for achieving personal, professional and business purposes.
If you want to know more about Brain Tracy then this video from the Alux youtube channel can be very helpful: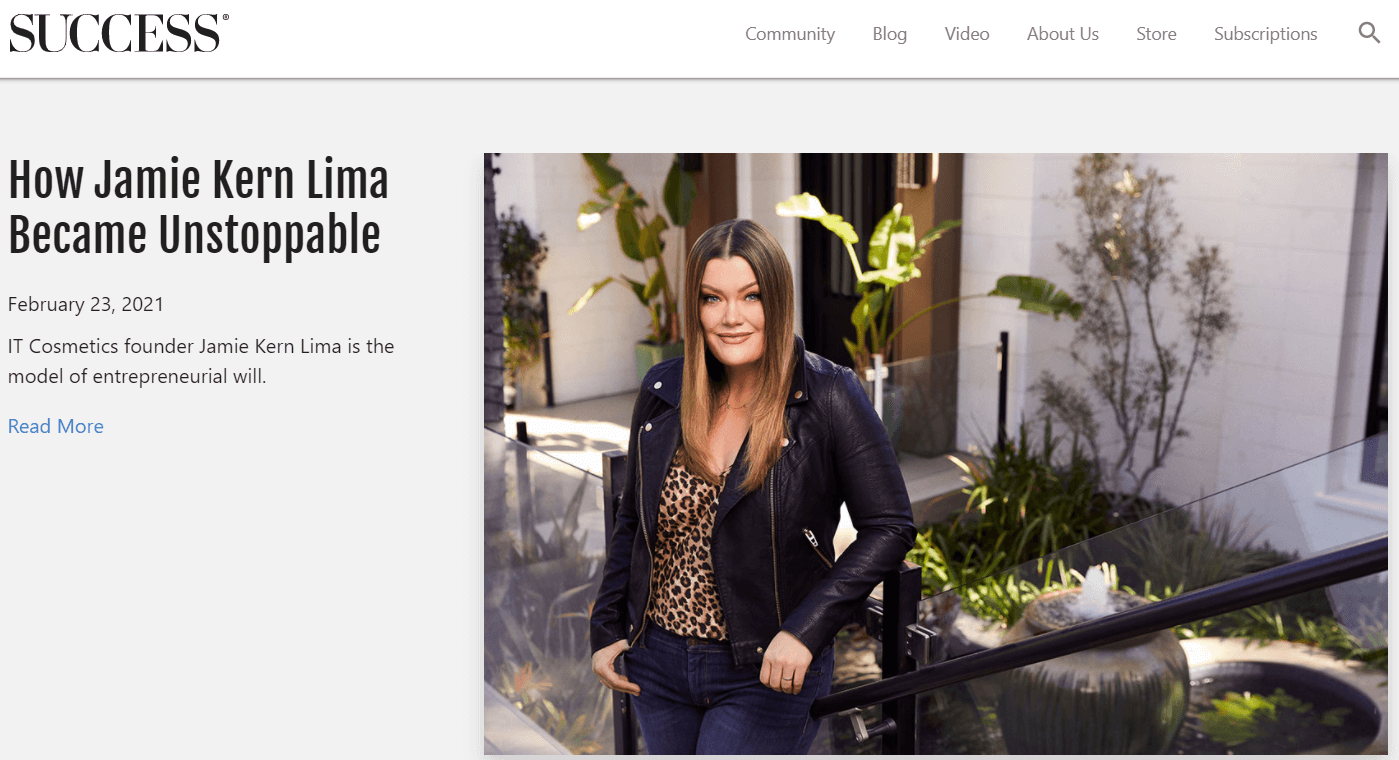 Monthly traffic: 304,502

Tagline: What Achievers Read
If we are going to talk about one of the most interesting websites in personal development and success, then we must mention the Success website.
This website is actually in line with the famous Success Magazine.
This popular magazine has been printed for more than 30 years and is published by Success Enterprises LLC.
The company also was founded more than 30 years ago by top experts and speakers in the field of success.
Certainly, the website of such a company can make a positive and massive shift in your life!
Here are two sentences from the Success about us page:
"Unlike any other time in human history, people need to continually keep up with expanding knowledge and perpetually develop new skills to stay relevant and sustain their lifestyles. In every issue of SUCCESS magazine, we will strive to bring you the thought leaders and success experts, both past and present, and reveal their key ideas and strategies to help you excel in every area of your personal and professional life."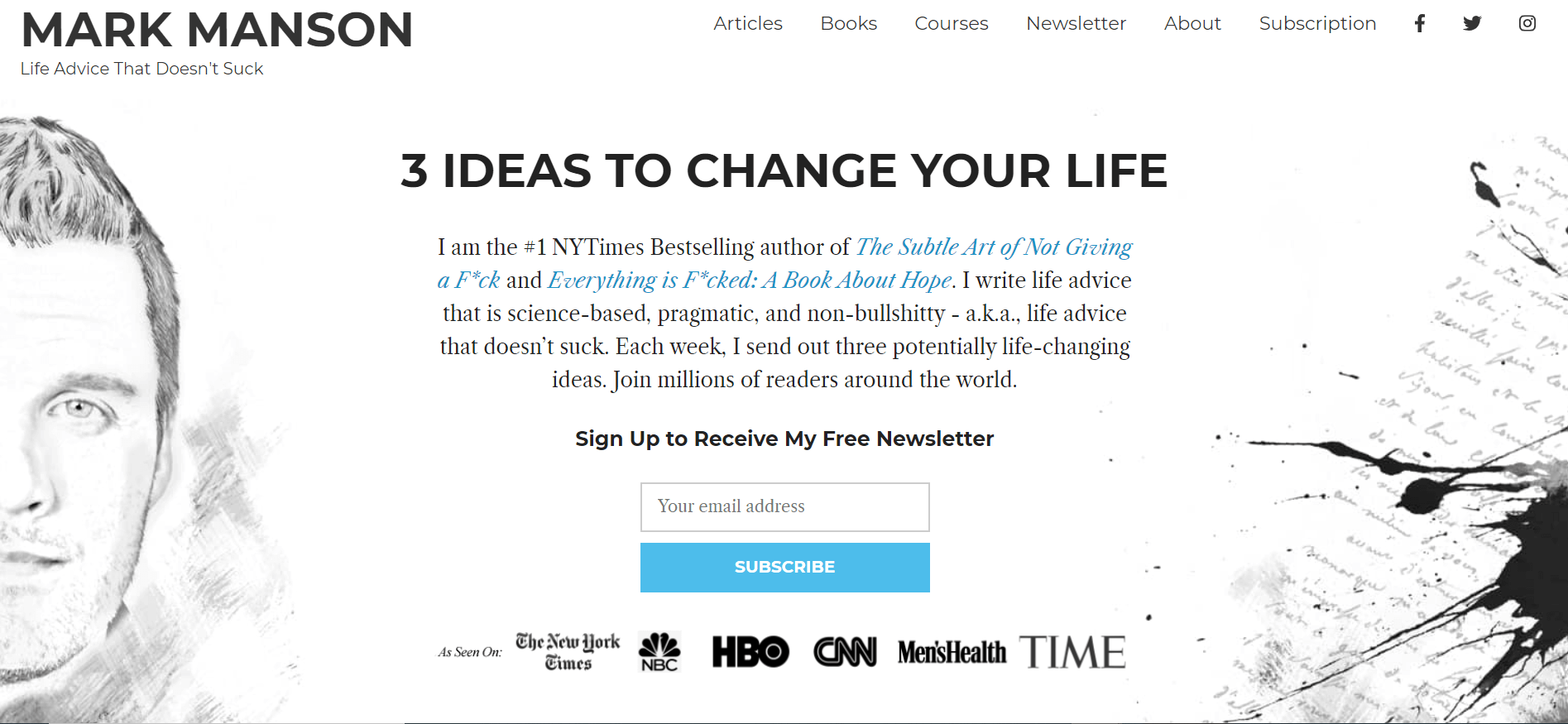 Monthly traffic: 305,076 /month

Mark Manson is known as the New York Times Bestselling author of The Subtle Art of Not Giving a F*ck and Everything is F*cked: A Book About Hope.
His blog attracts thousands of visitors readers every day. it is visually marvellous and his humorous and edgy writing style can change any mindset.
Also, there are some "Amazing shits" according to Manson himself, that includes online courses and special articles which you can access by subscribing and signing up on his website.
This blog is a must-read one for people who are looking for personal development + entertainment + some funny and explicative words.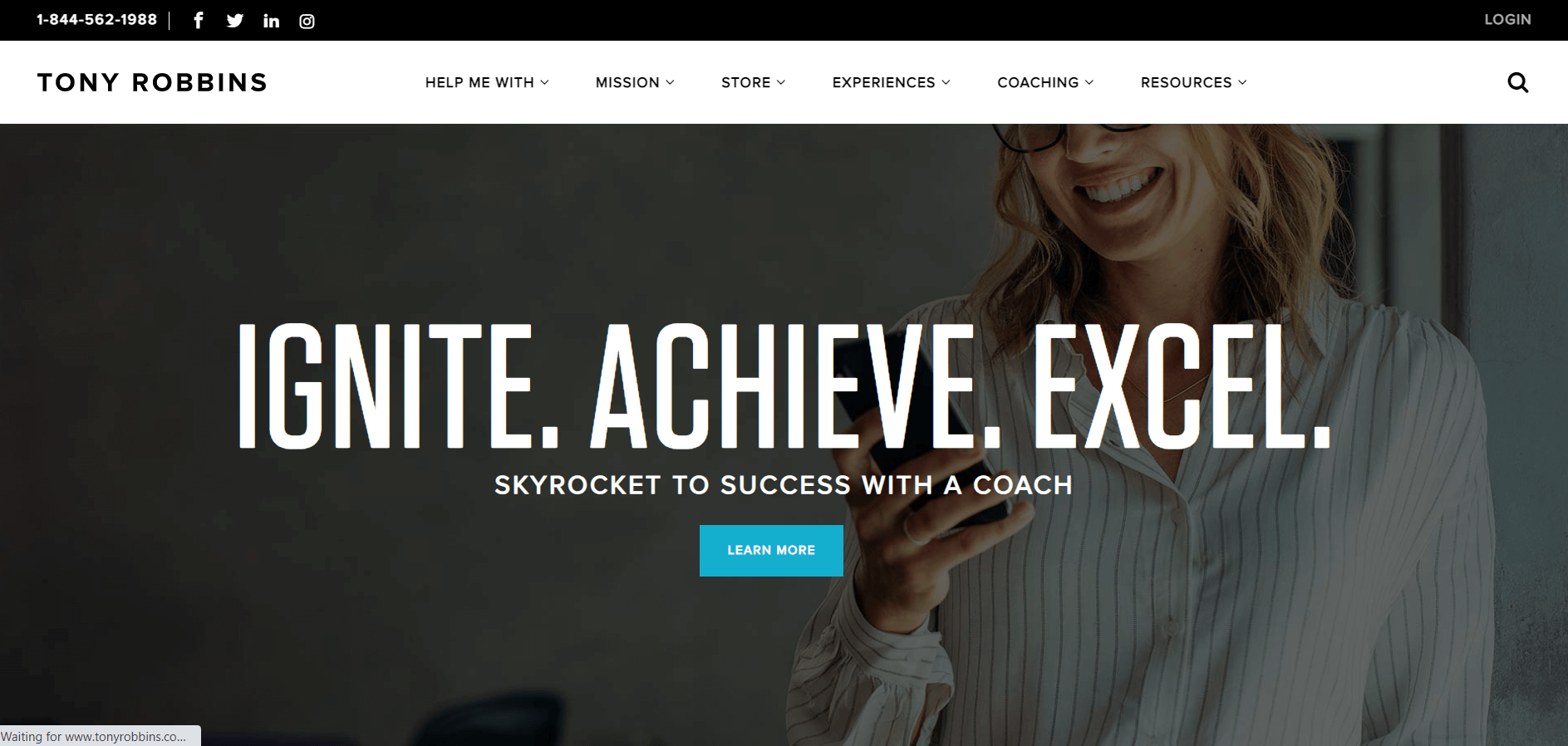 Monthly traffic: 498,918 /month

Tagline: Ignite, Achieve, Excel
If success and personal development is a kingdom then Tony Robbins is the king of it.
This motivational guru and fire-walk lord is known for many things.
He has advised more than 500 CEOs and even many US Presidents. The author of many best-selling books such as "Unlimited Power" and "Awaken the Giant Within ".
This coach, speaker, and philanthropist is a master in personal development and surely his blog can burn your old character and rise a new you from the ashes.
This video from Team Fearless youtube channel of him has viewed more than 4 million times, watch it: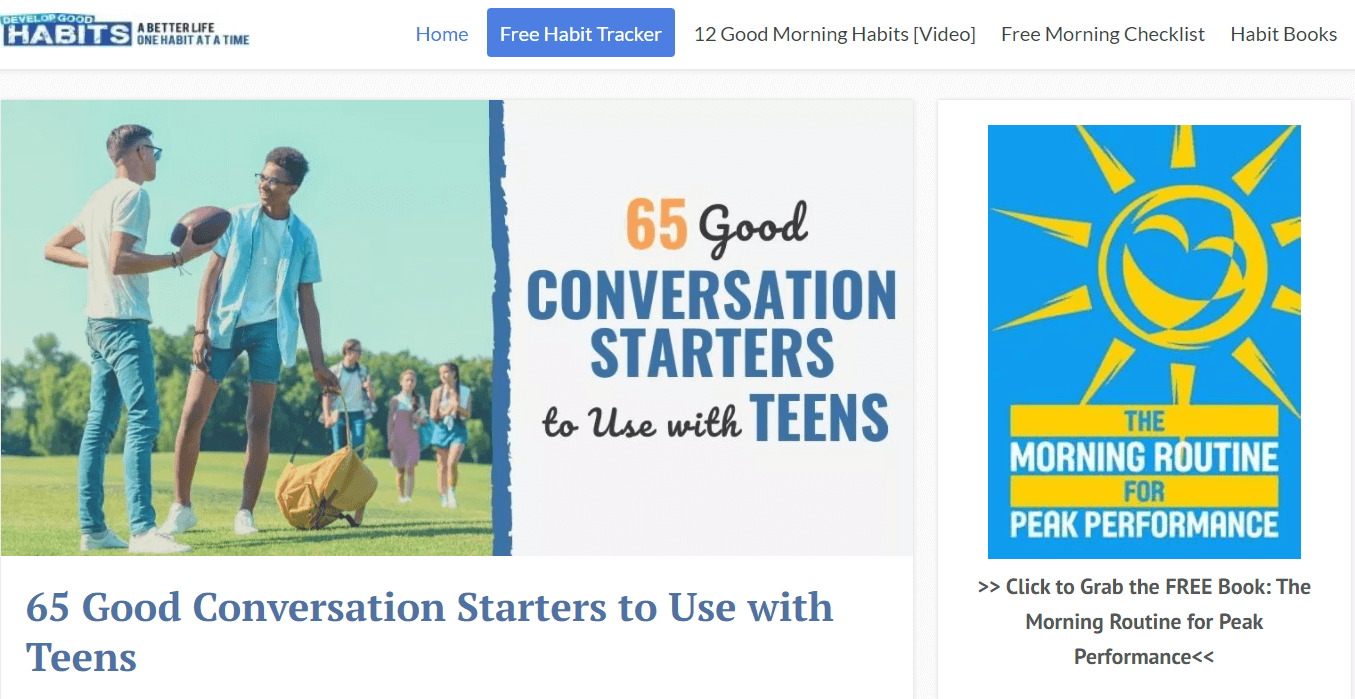 Monthly traffic: 689,544 /month

Tagline: A Better Life, One Habit At A Time!
The CEO and founder of Develop Good Habits (DGH) is Steve "S.J." Scott. He has quite an interesting idea about personal development.
He thinks a lot of what passes for personal development these days has very little real-world application.
These sentences are from DGH about us page:
"I think a lot of what passes for personal development these days has very little real-world application. Things like the Law of Attraction, The Secret and the idea that "all I have to do is think positively and everything will be awesome" are limiting our capacity to live better lives.
In my opinion, the only way to improve yourself is to set achievable goals and develop daily habits that move you towards these outcomes.  And that's why I started DGH."
If you want to build good habits then this blog can be really effective.
Don't you agree? Watch this video from Develop Good Habits youtube channel to check their information in the habits field: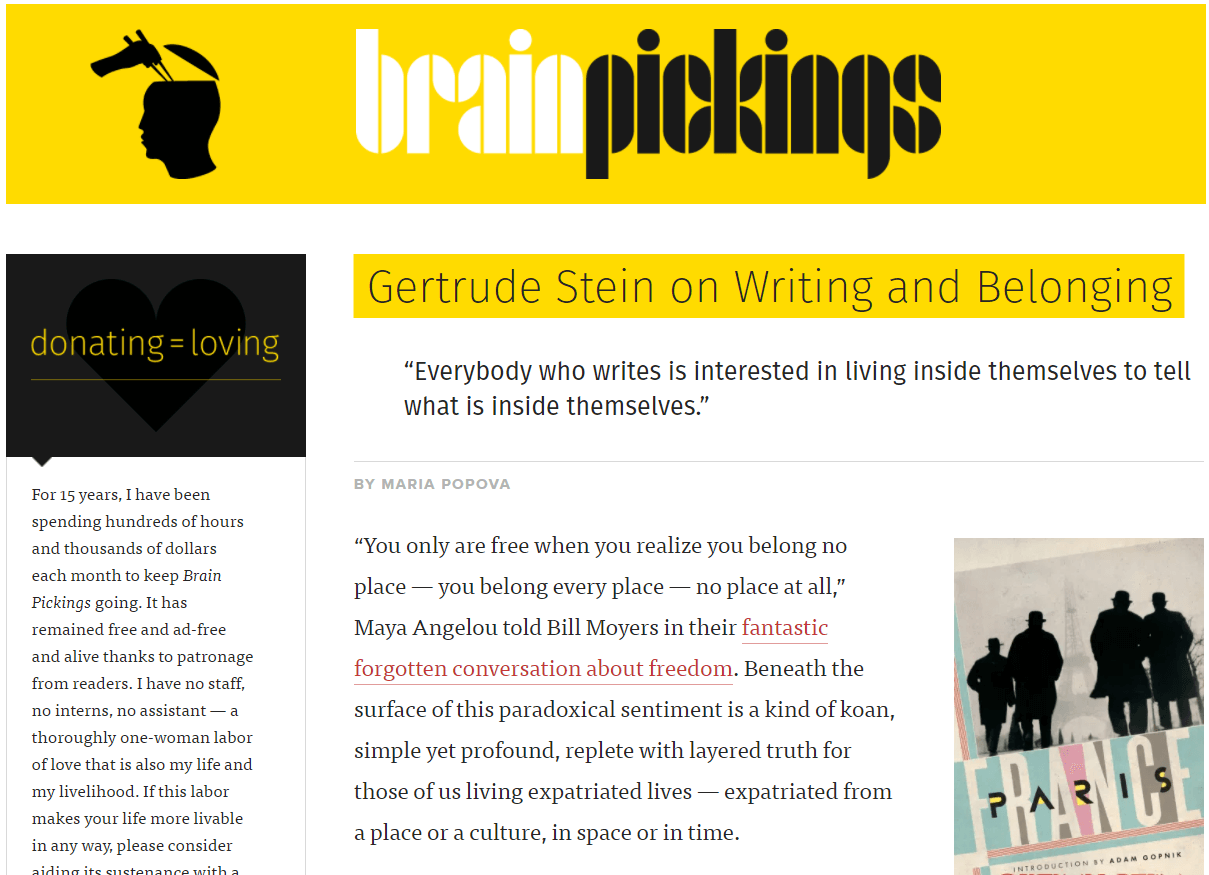 Monthly traffic: 297,421 / monthly

Tagline: An Inventory of Meaningful Life!
Do you need a blog where you can find proper answers about life, psychology, culture, art and spirituality? Then this can the perfect one for you.
The Marginalian (previous The Brain Picking) shows you how to live meaningfully and how to lead a good life.
It's an inventory of deep cultures, classic and modern art, the science of life, design, history, philosophy, and much more.
Maria Popova is the Bulgarian-born, American-based writer and founder of this blog that is famous for its writing and for the visual stylistics that accompanies it.
Monthly traffic: 142,669 /month

Tagline: Simple Wisdom For Complex Lives!
If you are looking for peace and happiness then this blog is the best source that you can find.
Tiny Buddha has thousands of visitors per day and is full of Buddha wisdom.
This blog is not religious but it's about insights and ideas that can bring enlightenment and happiness to your life.
This blog is not religious but it's about insights and ideas that can bring enlightenment and happiness to your life.
The founder of this blog is Lori Deschene. apart from the blog, she is selling a product called Mindfulness kit for having a more relaxed life and many books and shirts for her website readers.
Also, here you can find amazing quotes from Buddha and other famous people.
Here are two sentences from Tiny Buddha about us page:
"In our fast-paced, always-on world, it's not difficult to access information. It comes at you at breakneck speed. Articles, blog posts, status updates, tweets—there's never a shortage of ideas to consider.

Gaining knowledge isn't a problem. Applying it, on the other hand, is a lot more challenging, especially when you consider how little time we have throughout our busy days to stop, breathe, and just be.

Tiny Buddha is about reflecting on simple wisdom and learning new ways to apply it to our complex lives—complete with responsibilities, struggles, dreams, and relationships. Founded in 2009, Tiny Buddha has emerged as a leading resource for peace and happiness, with more than six million readers and followers and a vibrant community forum. "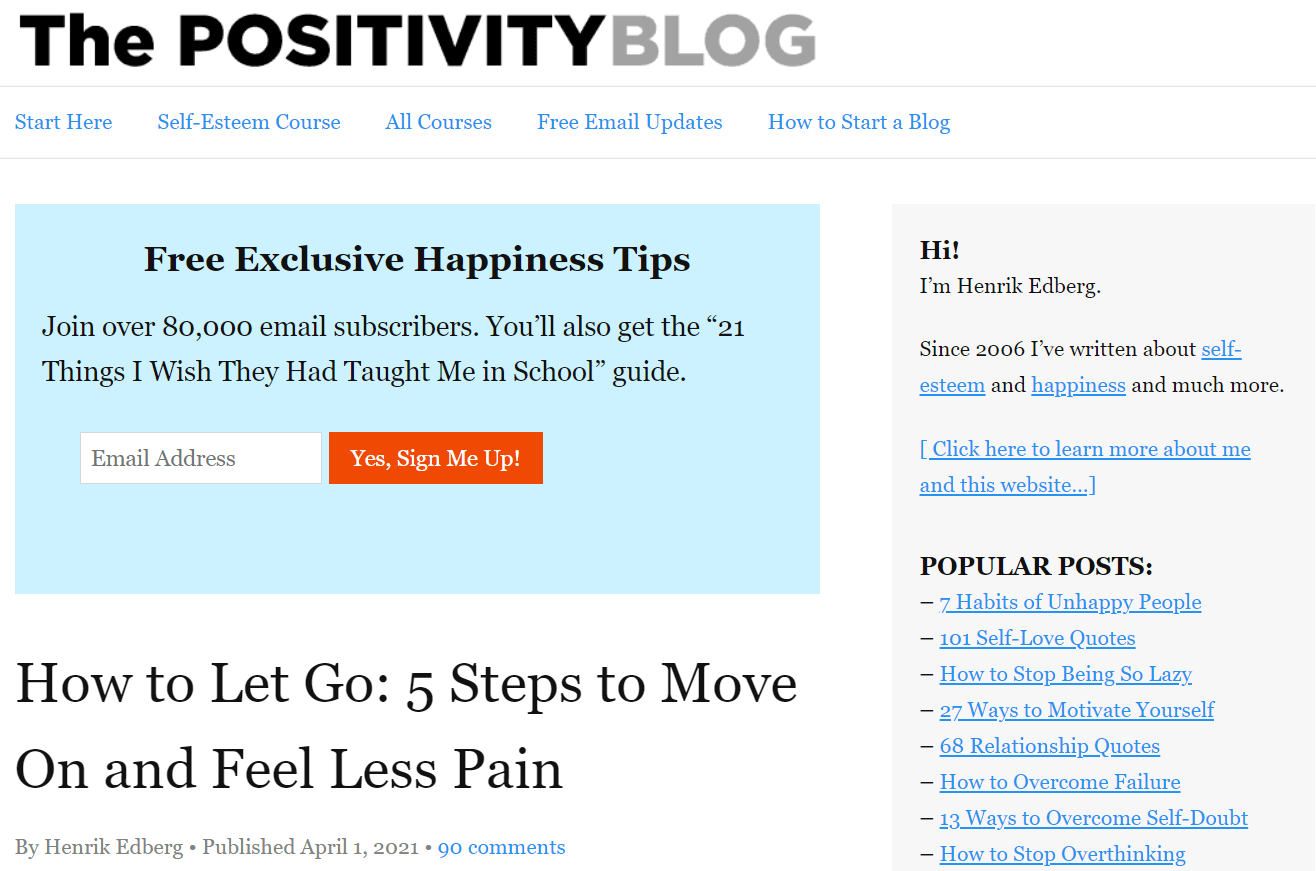 Monthly traffic: 423,970 /month

Tagline: Simple Wisdom For Complex Lives!
We all know that negativity, fear and also self-doubt can ruin our life! But most of us don't know how to fight against it! well, the Positivity Blog is here to help you.
If you want to be more positive and of course happy in the journey of life then this blog has many useful contents for you.
The founder is Henrik Edberg of Sweden and since 2006 he is creating useful tips and articles to make us more positive.
His Positivity Blog Premium Courses are very practical and can really help you to get rid of stress and gain more happiness and self-esteem.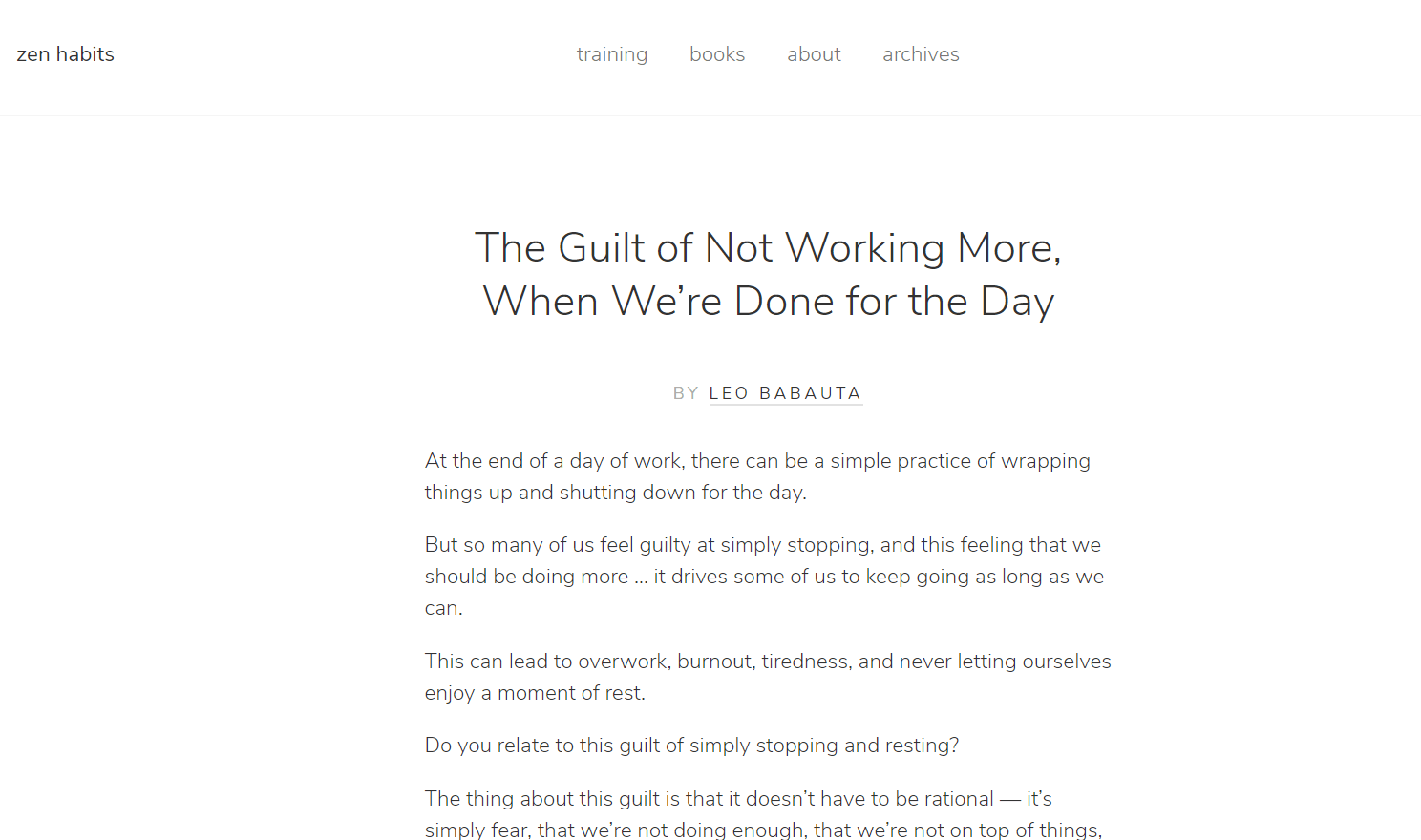 Monthly traffic: 82,667 /month

Tagline: Breath Zen Habits
If you are looking for simplicity and meaningfulness in the daily chaos of our lives then this blog can be a perfect inspirational source for you.
In Zen Habits, you can find the practical tips to focus on what really matters, find happiness and create something meaningful with our lives.
Another interesting point about this blog is its design. It has a simple and minimalist design for all readers.
Also, Leo has already released his blog in the public domain which means that anyone is free to use or share the contents without asking for permission.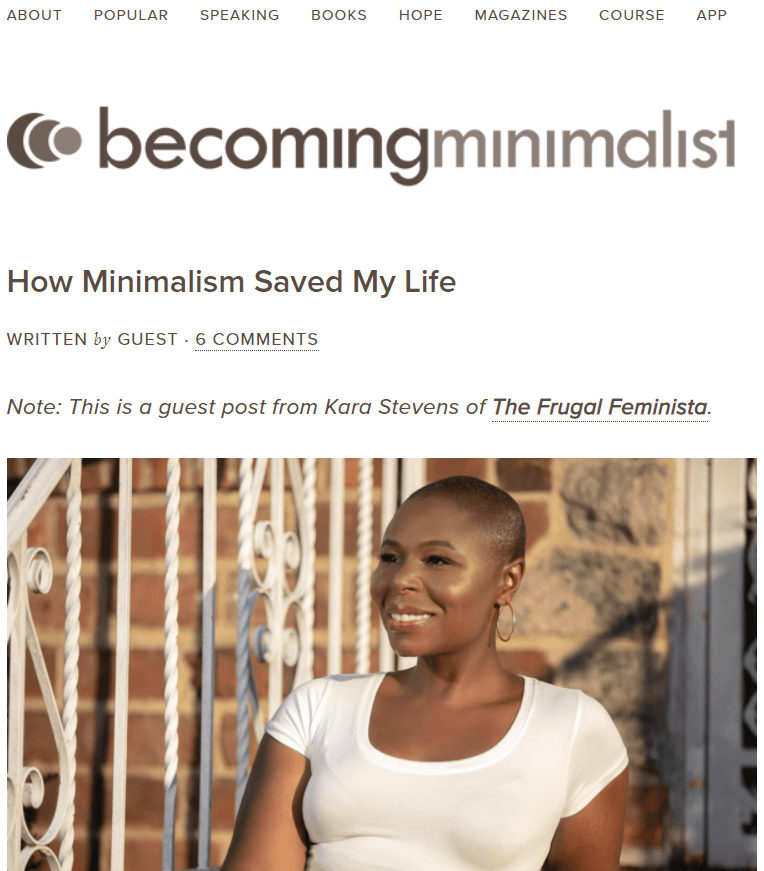 Monthly traffic: 83,694 /month

Tagline: Becoming Minimalist is designed to inspire others to pursue their greatest passions
There are many physical and mental distractions that block us from reaching our goals.
Joshua Becker the founder of this blog will show you how to get rid of these noisy distractions and find the true passion and self-esteem that we deserve.
His Uncluttered Course can be very useful for those who want to "Own less, Live more, and discover the life they want. "
These two sentences are from the about us page:
"Welcome to Becoming Minimalist. If you are new, welcome! We are honored to have hundreds of thousands of regular readers, and brand new readers every day. If that's you, welcome. I'd love to make your experience here as comfortable as possible.

Most importantly, Becoming Minimalist is designed to inspire others to pursue their greatest passions by owning fewer possessions."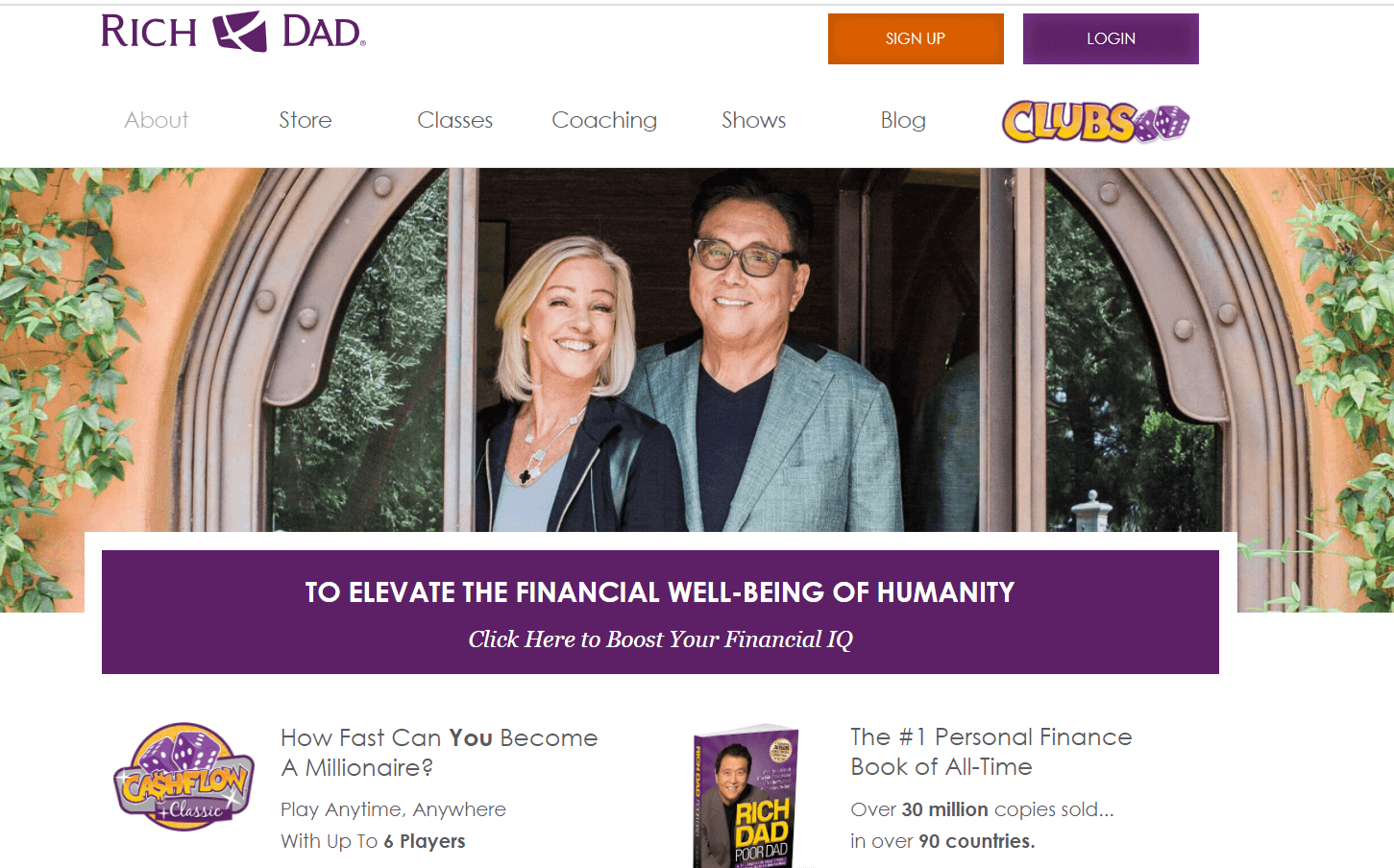 Monthly traffic: 99,791 /month

Tagline: To elevate the financial well-being of humanity
I believe that no person can achieve high personal success levels without conquering the summits of financial success.
And that why I am introducing you to Rich Dad's blog which is the blog of famous writer and speaker Robert Kiyosaki.
Robert Kiyosaki is the founder of Rich Global LLC and the Rich Dad Company, a private financial education company that provides personal finance and business education to people through books and videos.
Also, he is famous for his masterpiece book called Rich Dad Poor Dad, which has sold more than 32 million copies in more than 52 languages in more than 109 countries around the world.
It has been the bestselling New York Times book for over six years and also received positive reviews from many critics.
In this blog, you can find anything related to financial education, from videos to useful podcasts.
Take a look at this video from The Rich Dad Channel:
Also, you can find many practical podcast for financial freedom from the blog: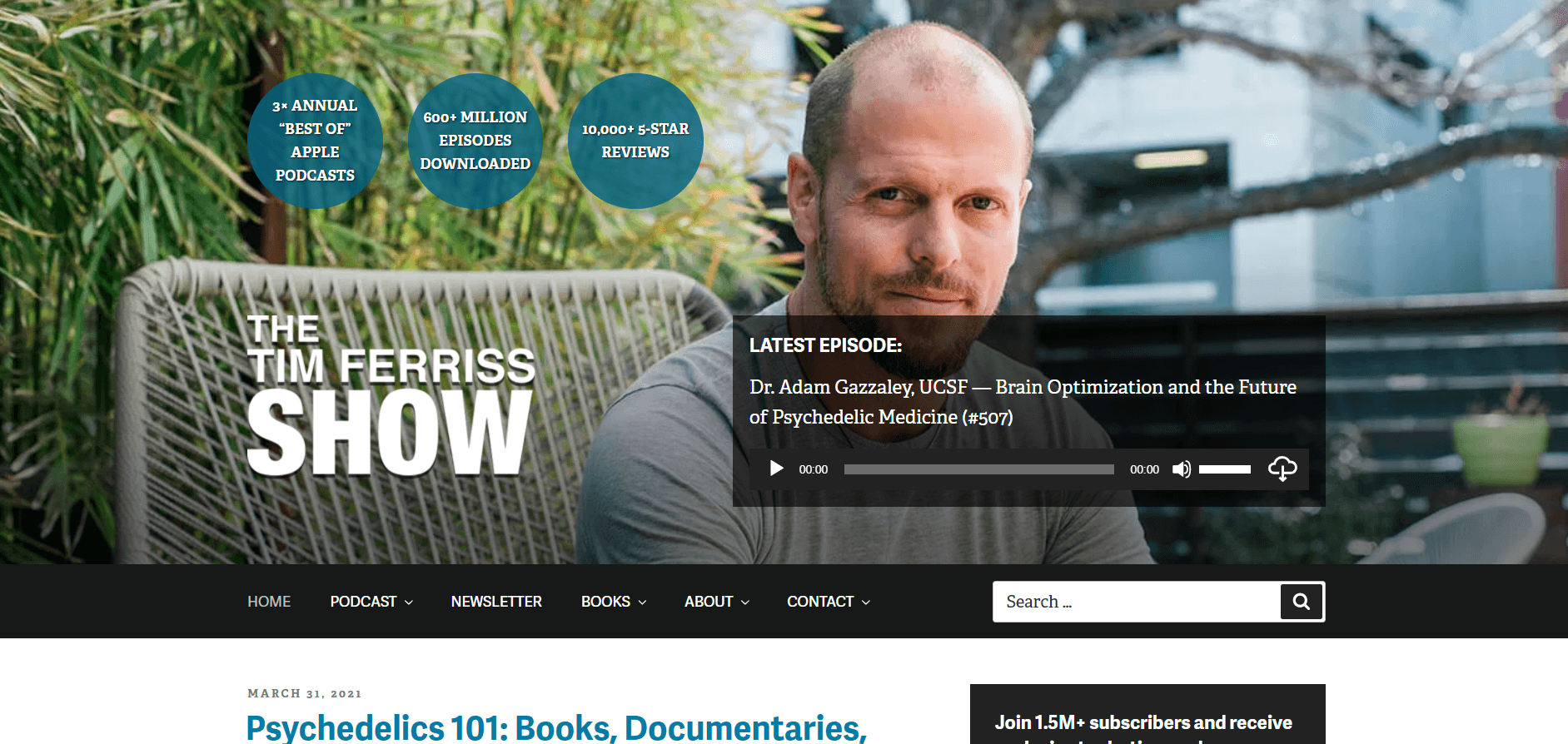 Monthly traffic: 89,719 /month

Tagline: A cross between Jack Welch and a Buddhist monk
The blog of the author of hugely popular self-help books like The Four-Hour Workweek and Tools of Titans.
Timothy Ferriss has been listed as one of Fast Company's "Most Innovative Business People".
His writing style is lively and addictive, full of practical tips, useful information and life-guiding philosophy.
His famous book, The 4-Hour Workweek Translated into 35+ languages and has been #1 New York Times, Wall Street Journal, and BusinessWeek bestseller for a long time.
Timothy Ferriss podcasts are also very popular. Here is one of them:
Also, Tim Ferriss youtube channel has more than 822k subscribers and can really help you in your life: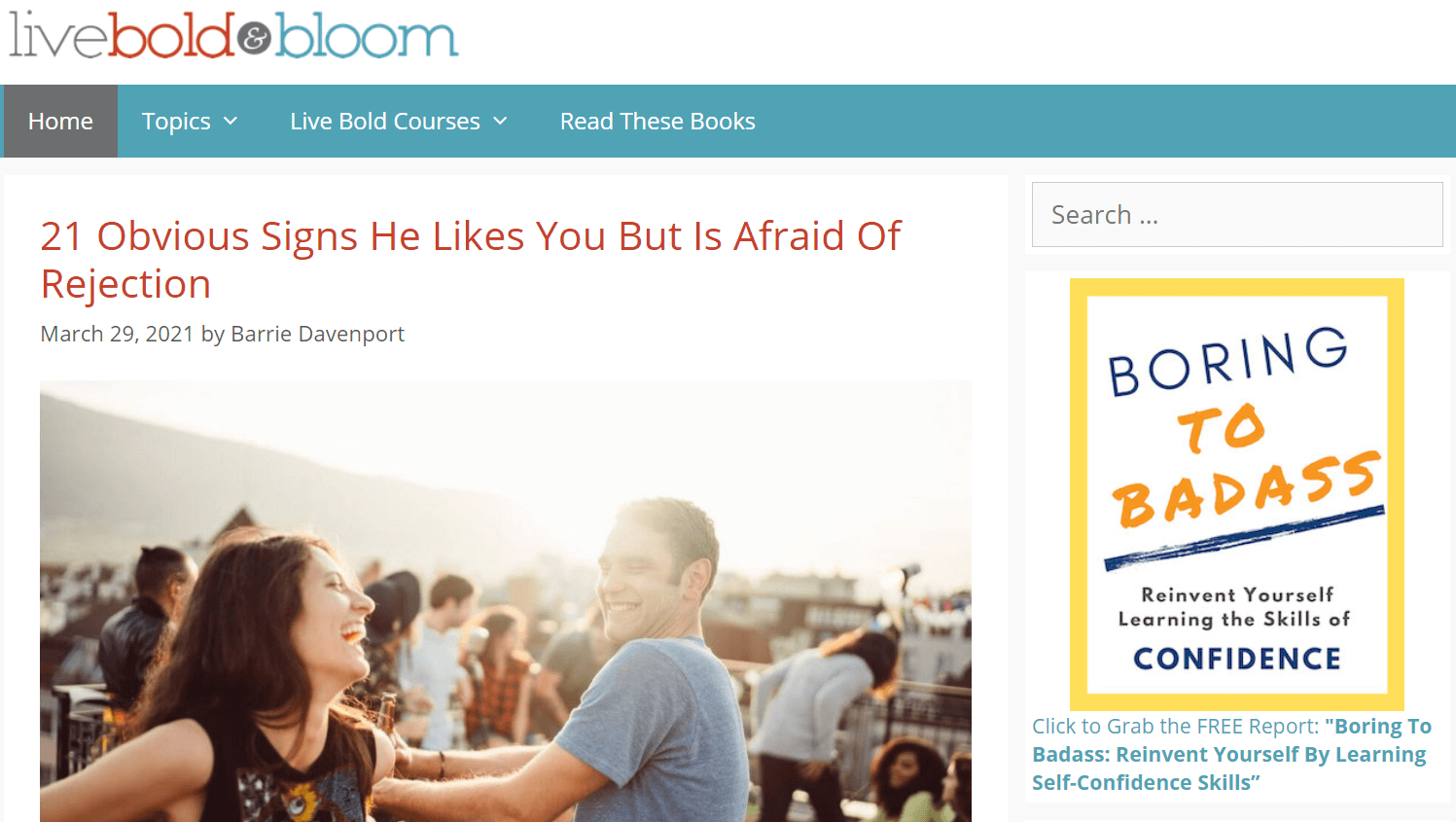 Monthly traffic: 760,610 /month
Tagline: Healthy Relationships | Good Characters
Barrie Davenport, creator of Live Bold and Bloom says:
"I'm all about self-improvement with feet — self-improvement that involves daily action rather than just reading, navel-gazing, and hoping."
This blog can help you to live boldly and bloom perfectly to find your passions and chase your dreams.
Barrie has many realistic strategies that can push you out of your comfort zone and raise your claws to fight against obstacles and build those perfect habits in order to have healthy relationships with the people you love.
Her Live Bold Courses includes couple communication, book writing course, the confidence course, path to passion course, emotional abuse course and the habit course. What a blog!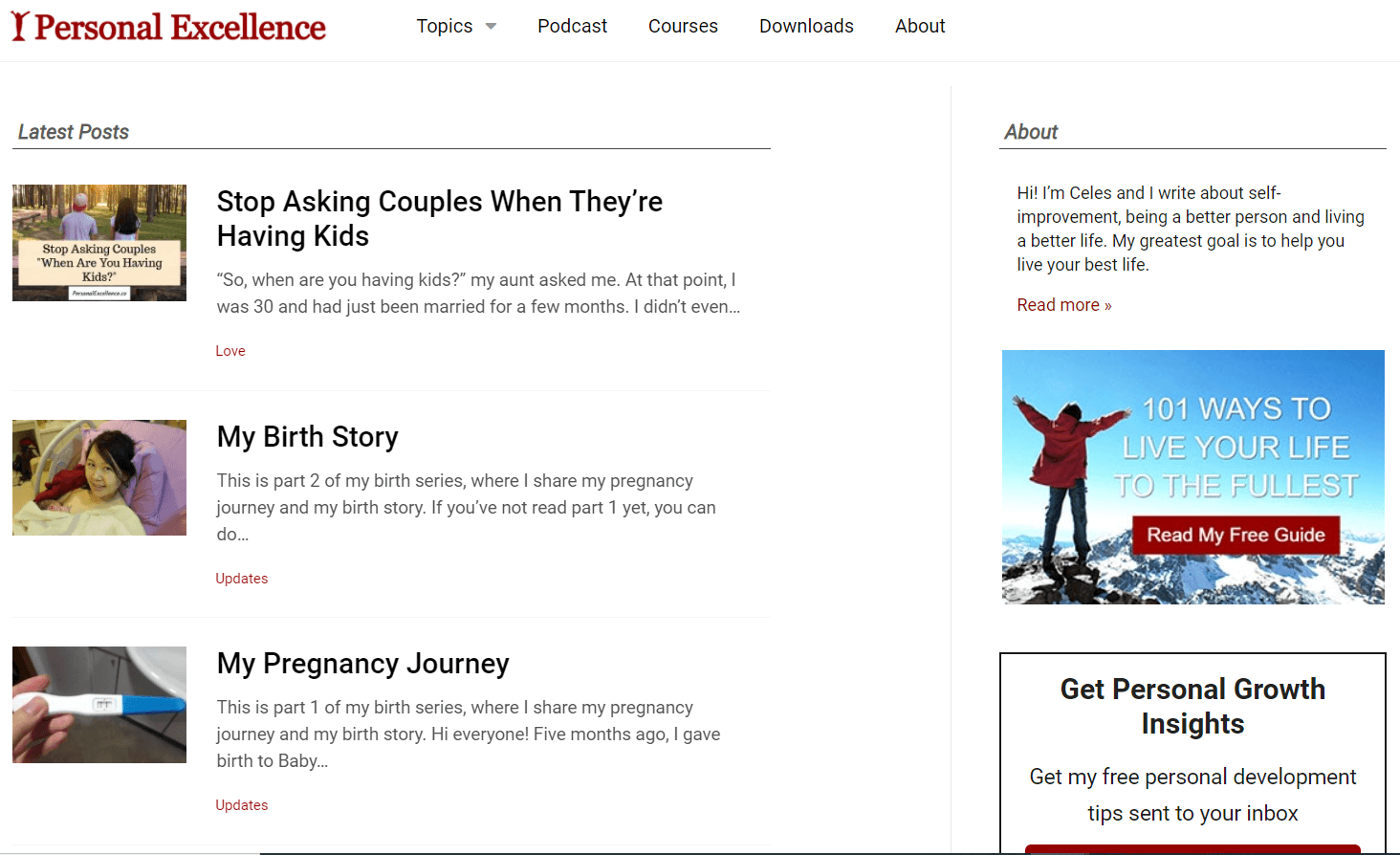 Monthly traffic: 103,875 /month

Tagline: To Achieve Highest Potential In Life
If you are looking for personal growth then Celestine Chou and her Personal Excellence can help you with more than 700 articles, videos and podcasts.
Celestine's blog has readers from global readerships from over 200 countries, including the US, the UK, Australia, Europe, Canada, and Singapore.
Her core message is this: anything is possible when you make it a priority!
Here is one of her Personal Excellence Podcast: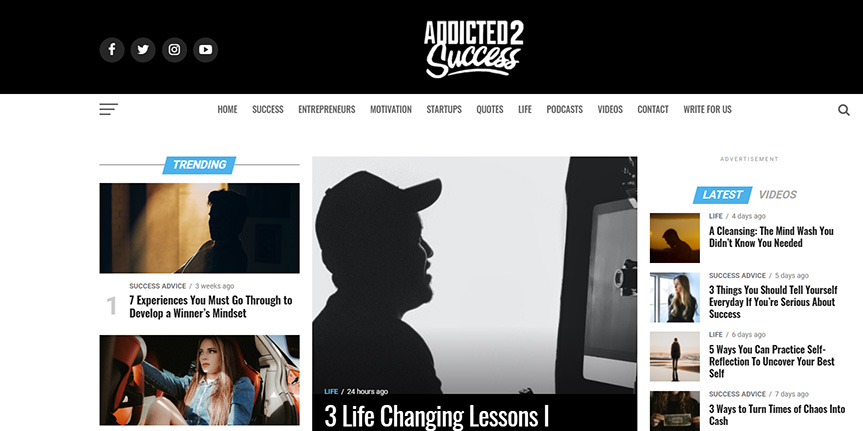 Monthly traffic: 53,872 /month

Tagline: Quotes | Motivation | Inspiration
The main mission of this blog is to inspire people by spreading knowledge of self-development and success stories to the world.
Addicted 2 Success has many motivational podcasts, inspiring videos, and life-changing interviews with famous business coaches, entrepreneurs and motivational speakers.
This blog is founded in 2011 by Joel Brown, an Australian entrepreneur and life design coach who has a passion for success and personal development.
What kind of content you can find here?
Motivational
Entrepreneurship
Self-development
Successful stories
Inspirational interviews
This is the address to Addicted 2 Success podcats in Soundcloud and here is a podcast from their website:
Addicted2Success · Tony Robbins – 5 Ways To Master Your Money And Impact Millions Of Lives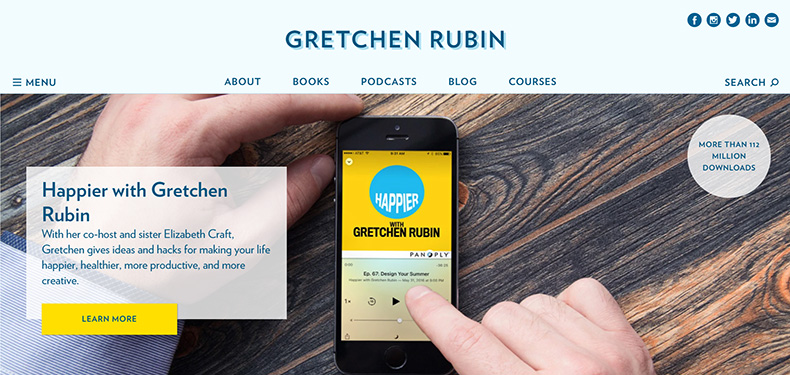 Monthly traffic: 22,614 /month

The author of the bestselling book The Happiness Project and award-winning podcast Happier with Gretchen has many effective strategies to boost your happiness and personal success.
She is one of the most influential writers on habits and happiness.
Her pragmatic approach toward life can shape your ever-lasting habits which will lead to happier life.
We strongly recommend following her exciting adventures in pursuit of personal success.
Also, Gretchen offers many courses to gain happiness in life. Courses such as The Happiness Project Experience.
_______
Ok, that's it! I really hope that you have found your favorite self help blog in this article.
Of course, there are many other inspirational personal development blogs that can help us on the internet. If you have found any other self-help blog that is really inspiring then please feel free to share them in the comments below.