Lacking a little faith? Want to inspire yourself or others with some quotes about god's goodness? Want to remember his generosity?
Or for any other reason, if you are looking for some quotes that show god's goodness, greatness, and forgiveness & … you are in the right place.
This article covers your needs with 20 Inspiring quotes about god's goodness.
We are not alone in this world. Even if our colleagues, friends, family, and even the whole of society abandon us, God did not.
This is how a creator thinks and cares about his creatures.
God is the definition of goodness, the highest goodness we can imagine in every aspect of our lives.
We also recommend you watch this video as well:
We just need to remember that. Hope the following quotes, help you with that. Let's start!
20 Inspiring Quotes About God's Goodness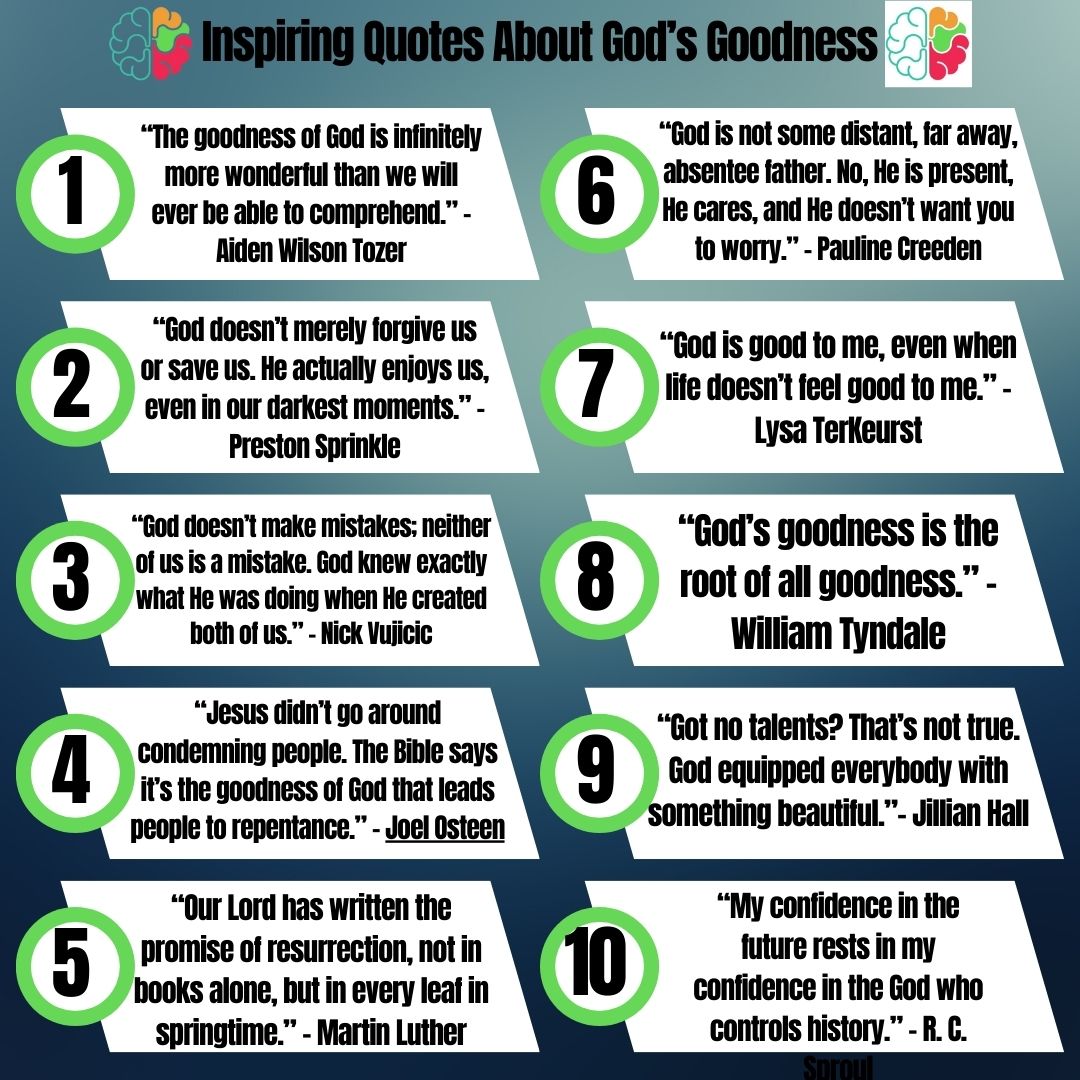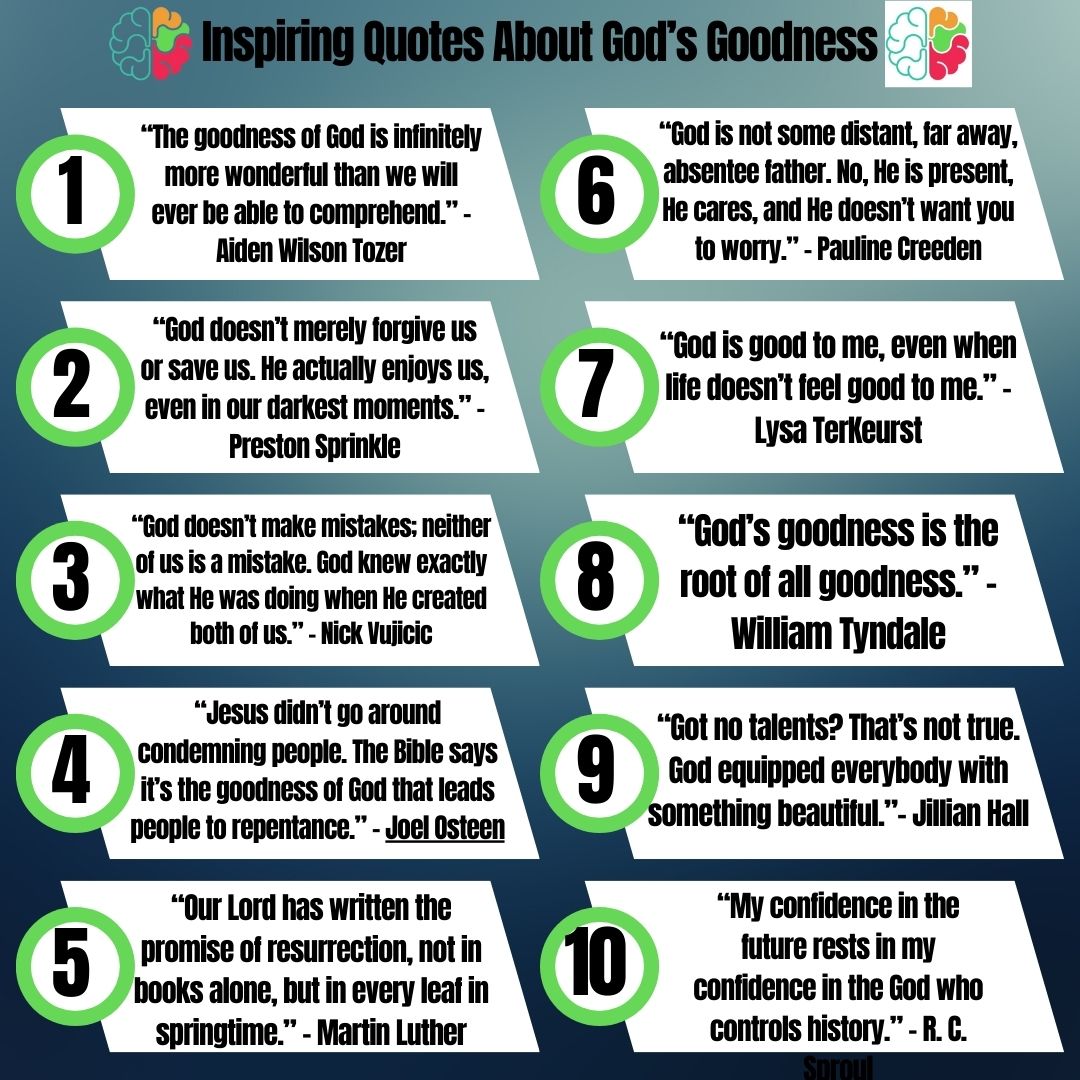 "The goodness of God is infinitely more wonderful than we will ever be able to comprehend." – Aiden Wilson Tozer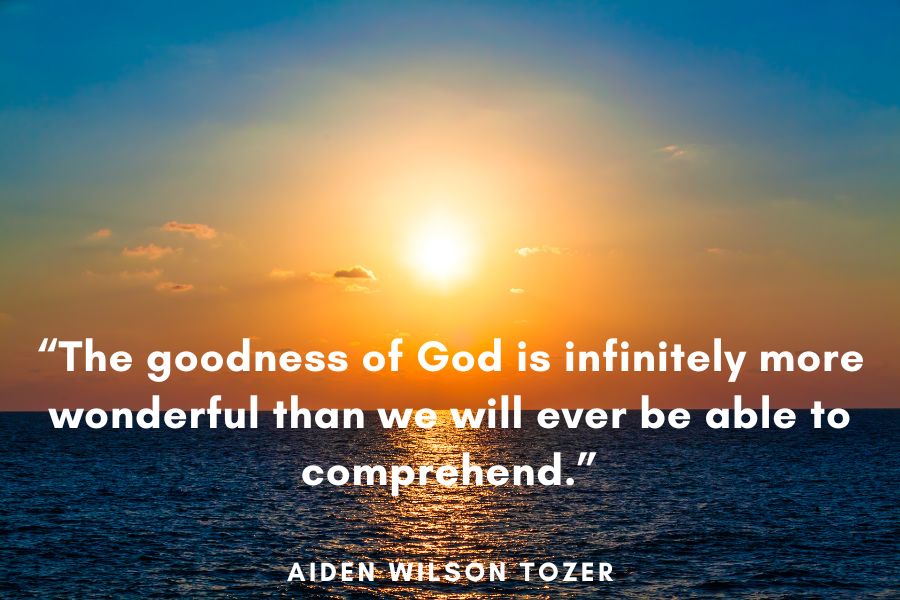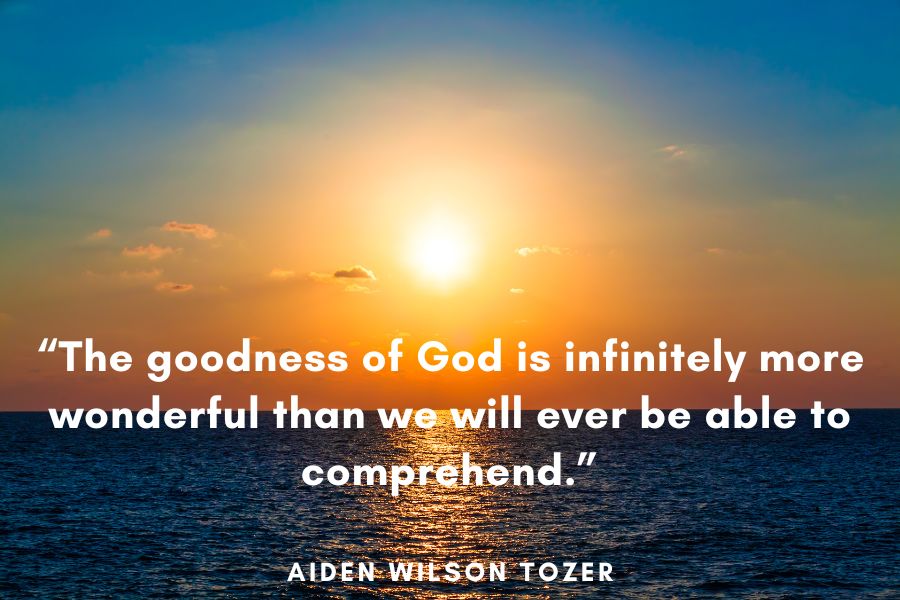 God is the definition of goodness. They are the same. Goodness is God and God is goodness. God is infinite, so his goodness is infinite too. So as a non-infinite and limited person in comparison to God, we cannot imagine how good he is.
"God is not some distant, far away, absentee father. No, He is present, He cares, and He doesn't want you to worry." – Pauline Creeden
God is the closest entity to our souls. No one is closer than him, even your most beloved ones. And he never leaves. No matter what we may do in our life, The goodness of God will never leave. Because tending to God and Goodness are in human nature.
"God doesn't merely forgive us or save us. He actually enjoys us, even in our darkest moments." – Preston Sprinkle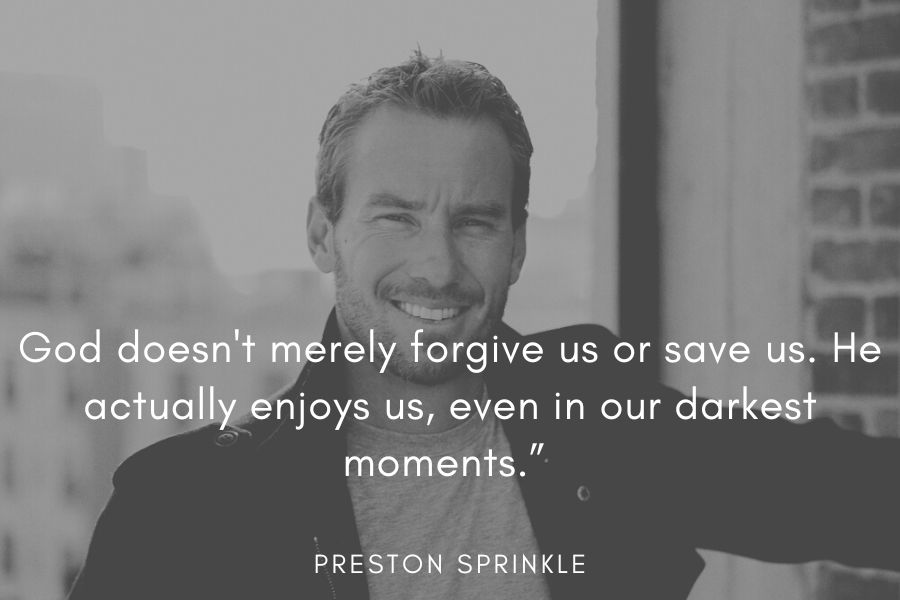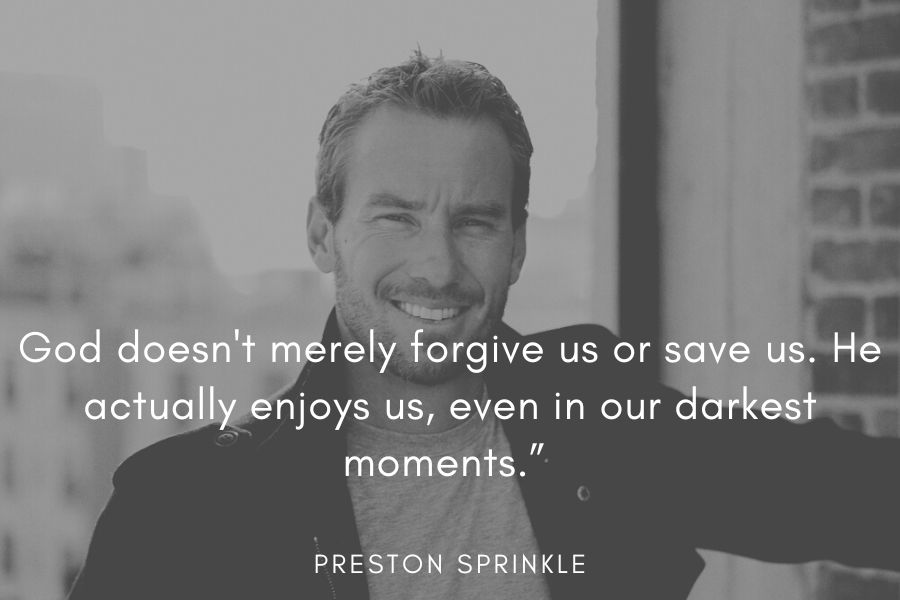 To complete the previous quote about god's goodness, I should say that we are like a child to our God and he looks at us like a father. And a father always loves and enjoys his creation. No matter how dark and bad person you become, His love will remain.
You might also enjoy: 40 Best Karma Quotes To Unleash the True Power Of Karma
"Do not look for evil. Look for the goodness of God all around you. As you look for signs of His Presence, many more opportunities will occur for you to bless people and share God's true nature." – Graham Cooke
God is the most opposing force against evil. It defines as that; it defines as goodness. If you are seeking God, you should avoid evil; putting it aside forever. Then you will see only god's goodness and can share this with other people to spread goodness.
"God doesn't make mistakes; neither of us is a mistake. God knew exactly what He was doing when He created both of us." – Nick Vujicic
I you feel so depressed and useless, don't blame God. There is a reason beyond your skills and characterization that you only need to find it. After finding yourself, you will understand that you can have a good impact on this world and won't wish to be anyone else anymore.
"Jesus didn't go around condemning people. The Bible says it's the goodness of God that leads people to repentance." – Joel Osteen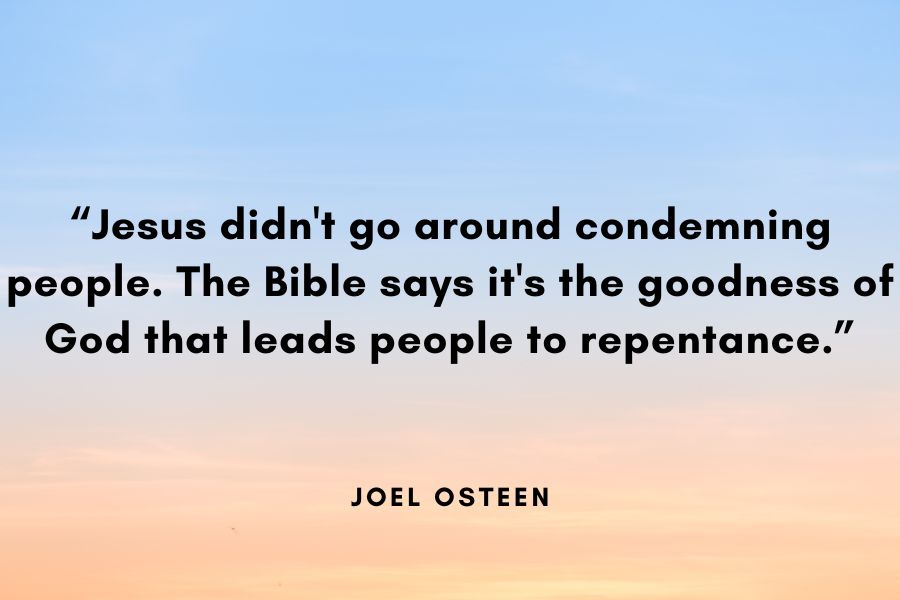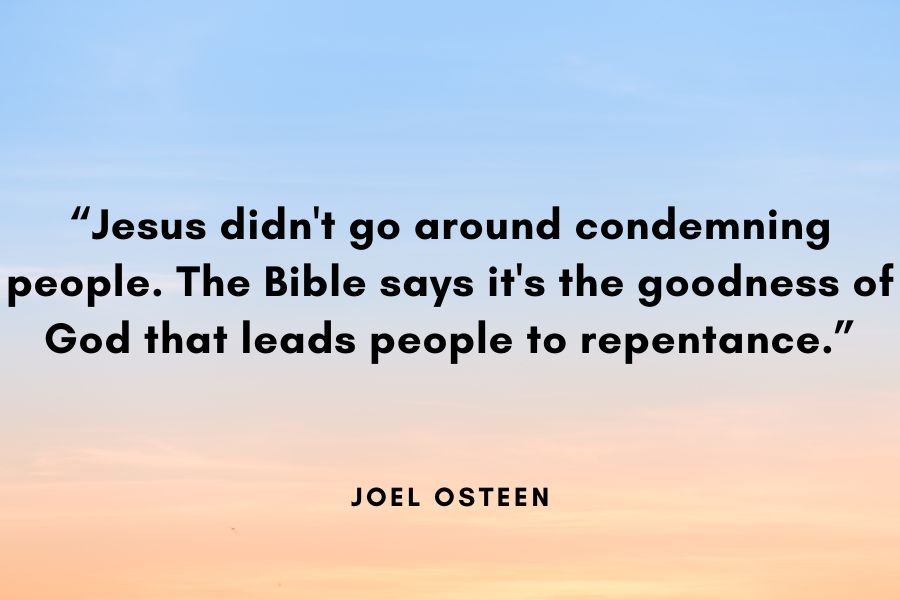 If anyone aims to spread an ideology, especially around the world, he should say about its goodness. However, The Bible is full of quotes about god's goodness or something like that! The difference is that they are not 2023! Its goodness is a little old but the main goal is the same.
You might also enjoy: 7 Unbelievable And True Inspiring Stories of Mercy
"Our Lord has written the promise of resurrection, not in books alone, but in every leaf in springtime." – Martin Luther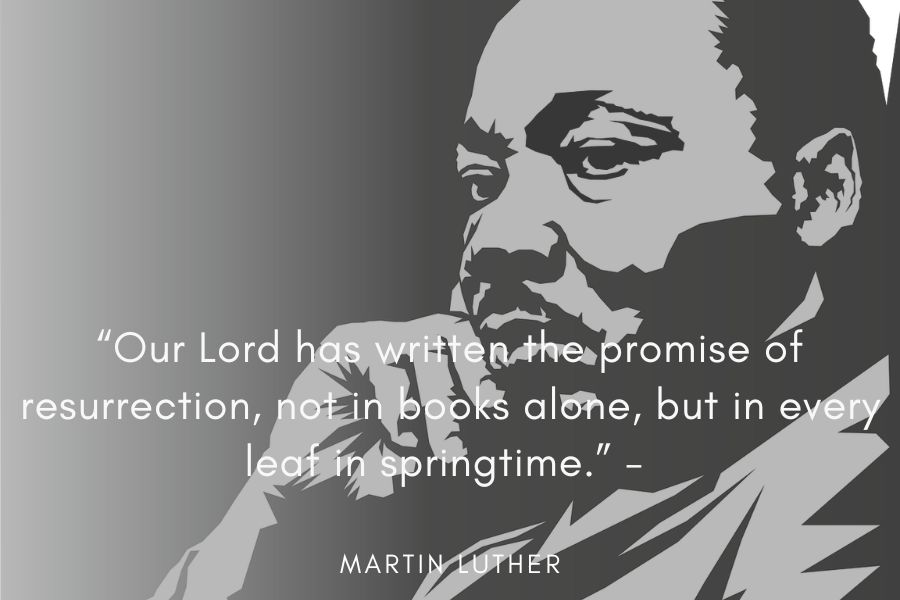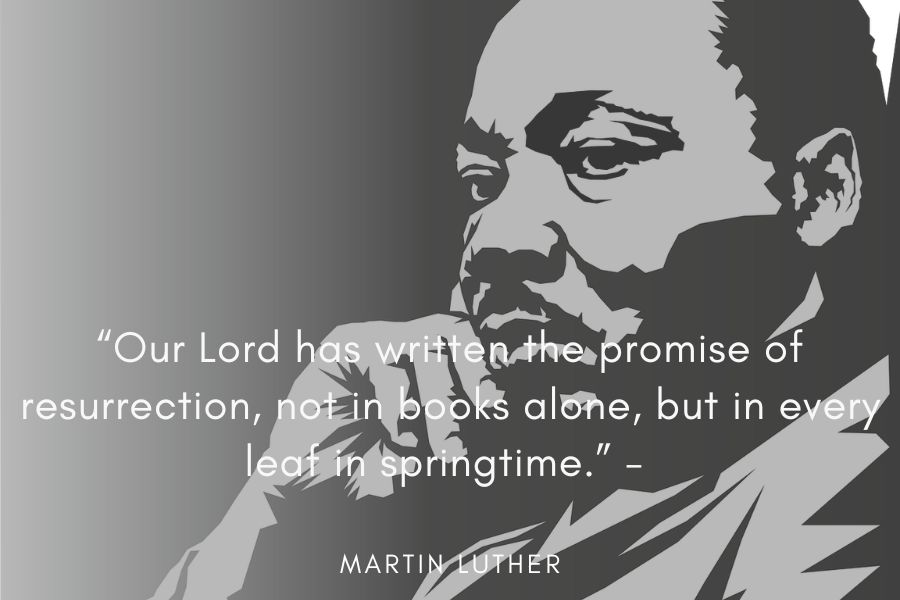 Resurrection has many forms. It is not only for trees in springtime but for our souls too. We may know it as penitence. Requesting penitence because of our sins is always possible. No matter how treble these sins were, god's goodness and forgiveness are so much to forgive them all.
"What is sin? It is the glory of God not honored. The holiness of God not reverenced. The greatness of God not admired. The power of God not praised. The truth of God not sought. The wisdom of God not esteemed. The beauty of God not treasured. The goodness of God not savored. The faithfulness of God not trusted. The commandments of God not obeyed. The justice of God not respected. The wrath of God not feared. The grace of God not cherished. The presence of God not prized. The person of God not loved. That is sin." – John Piper
Speaking of sin in the previous quote from god's goodness may create a requirement for defining it and what is more beautiful than this John piper's quote.
"God is good to me, even when life doesn't feel good to me." – Lysa TerKeurst
This is a good and simple quote especially after encountering a big one in the previous quote! But seriously this is very good to have your faith and hope in God in the hard times of life. Because these hard times have a reason that maybe only God knows them at the present and you understand later.
"God is always on time even when He seems late. This great truth of life is proven numerous times in the Bible in situations where God's timing proved to be the absolute right timing." – Miriam Kinai
Again, giving a quote about god's goodness that conform and speak more about a part of its previous one. Sometimes experiencing some challenges, make us a new man, a better one, a harder and strong one. Just you must face it and never give up. In the end, the result will be worth it.
"With the goodness of God to desire our highest welfare, the wisdom of God to plan it, and the power of God to achieve it, what do we lack? Surely, we are the most favored of all creatures." – Aiden Wilson Tozer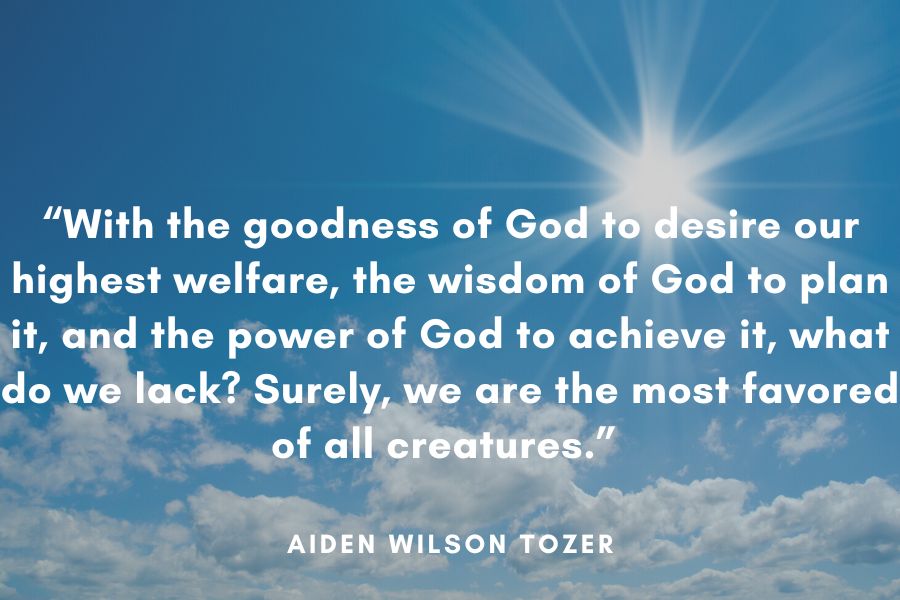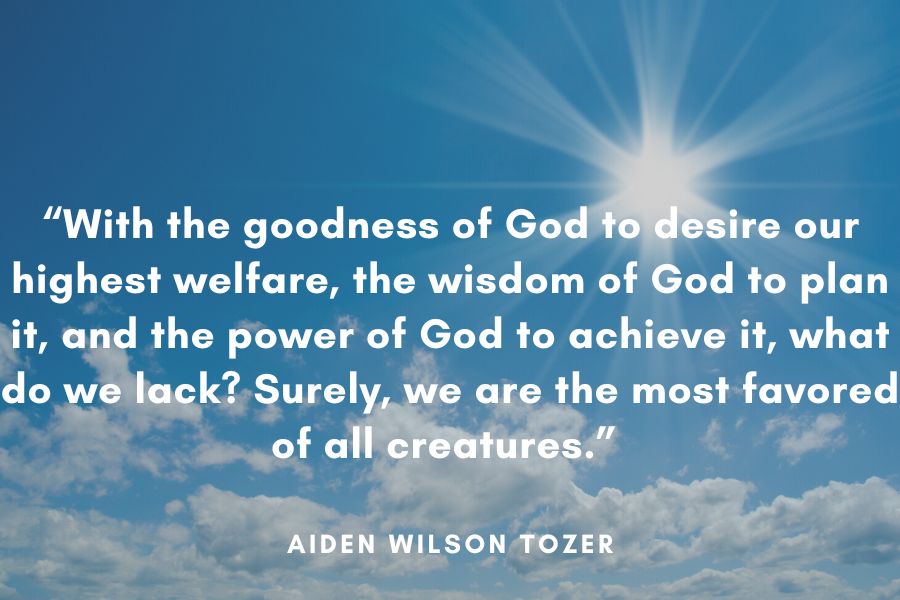 That's a good question, what do we lack? Maybe two eyes to see it? Or a heart to feel it? Or a brain to think about it? Of course, We have these parts! We just need to use them in way of God, to gain his favor, his goodness, wisdom, and power. Don't forget, the way of God is the way of goodness.
You might also enjoy: Top 50 Thankful Thursday Quotes To Inspire You (2023)
"We are no longer in competition with anyone for anything, be it love, favor, peace, happiness, or success. We have an abundant never-ending source of supply because God almighty is our provider." – Paula Casill
As we mentioned in the previous quotes about god's goodness, we do not need anything except God. He will give us love, favor, peace, happiness, or success if we truly seek it and God knows us worthy to give it. God has infinite recourse for anything, it's his world anyway!
"God's goodness is the root of all goodness." – William Tyndale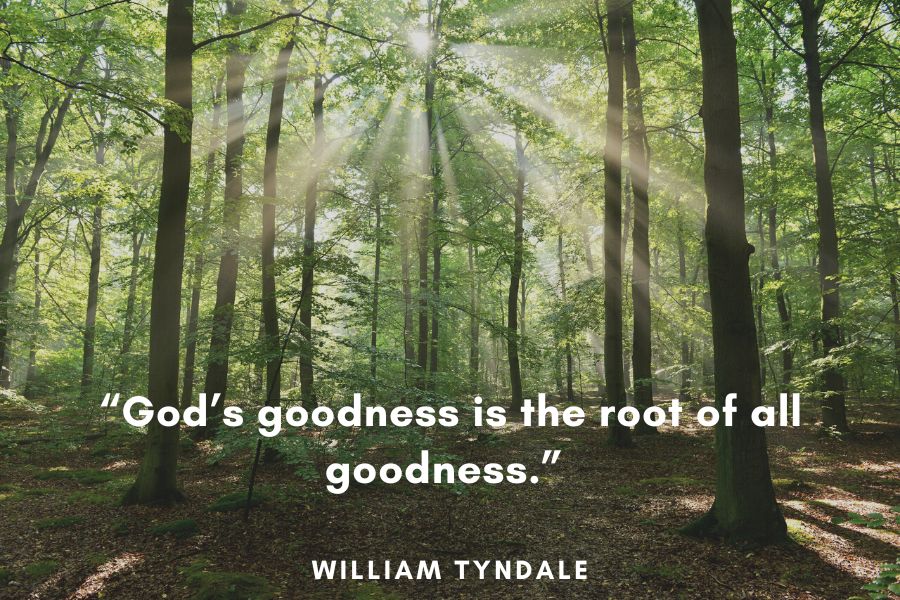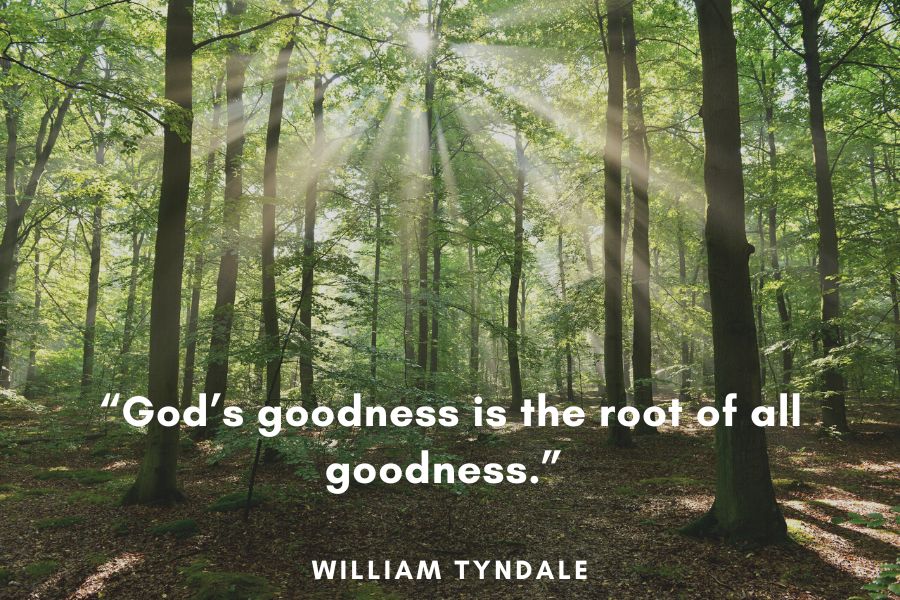 God is goodness. We mention it in the first parts of this article. Even if someone does not believe in God, but his/her way is the way of goodness and has a very positive impact on this world, he/she actually believes in God in action. On the opposite aspect, if somebody believes in God but has done treble things in this world, he/she actually doesn't believe in God in action, even if he calls himself a man of God!
"Living in joy is choosing to celebrate God's grace and goodness and favor toward you. It's taking pleasure in who God is for you, being confident in who you are in Him, and intentionally seeing others for the joy God has for them." – Rob Coscia
You may have experienced a lot of kind of joy in your life. congratulations on that! But have you enjoyed being thankful to God? felt safe around God? Have a great pleasure of everything? Well, if you haven't just try it some. It will convince you to repeat it at every moment.
"Got no talents? That's not true. God equipped everybody with something beautiful."- Jillian Hall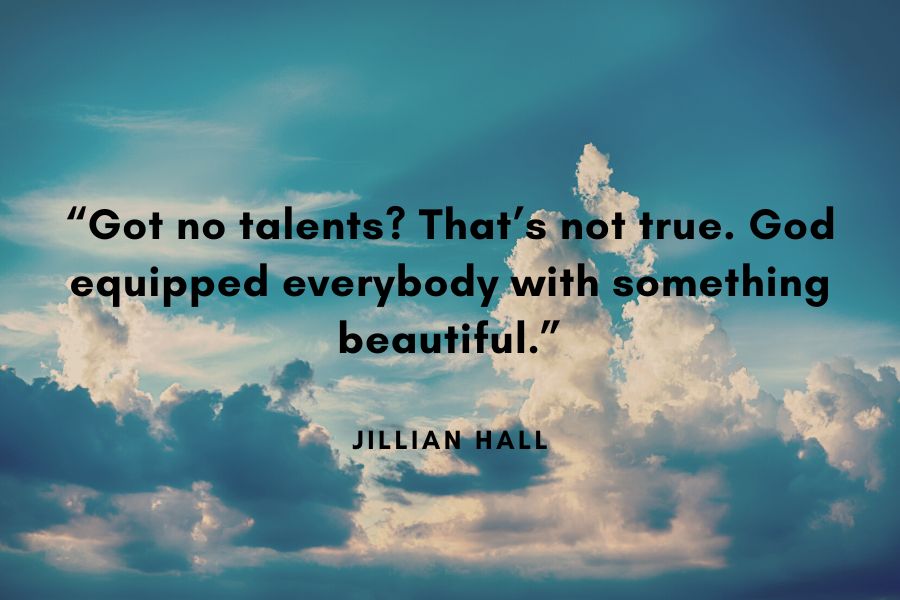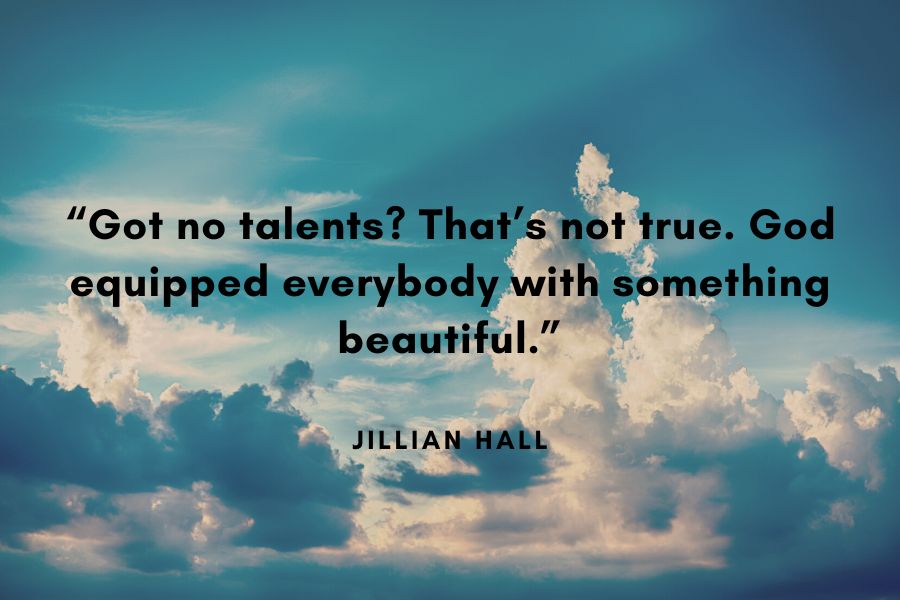 God blessed every human in this world with some talent. Don't believe anyone that tells you, you are a coward, useless, and any worse things that are not true. If even you think that you are untalented, know that your skills are not yet discovered. If find what god has put in you and use them properly, you will be most thankful for the whole of your life.
"As it is impossible to verbally describe the sweetness of honey to one who has never tasted honey, the goodness of God cannot be clearly communicated by way of teaching if we ourselves are not able to penetrate into the goodness of the Lord by our own experience." – Saint Basil
This is a very important point and the problem that is discussed includes this article too. Yes, these quotes about god's goodness are all useless if you have not experienced them by yourself. They are nothing more than slogans. We just hope to encourage you to go and experience it.
You might also enjoy: Top 50 Empath Quotes to Empower a Sensitive Personality in 2023
"My confidence in the future rests in my confidence in the God who controls history." – R. C. Sproul
God can control everything but he has given some of this power of controlling to his creature, including us, humans. We decide for fate, we create our history because God permitted us. And he can control it from time to time. Maybe when we need it, when we need his help in our fate or history. So, trust in him in such a moment and ask for his aid.
"There is no greater news that anyone could share. The fact that the God of the universe looked at us with compassion and lovingly chose to intervene into the mess we had created is utterly amazing."- John Stange
God's relationship with humans is like a father with his children. He loves them. He watches over them. And he interferes with them when they got into problems or fights with each other. Of course, he may not interfere always in order to let them learn something by experiencing it.
"Grace is not reserved for good people; grace underscores the goodness of God." – Andy Stanley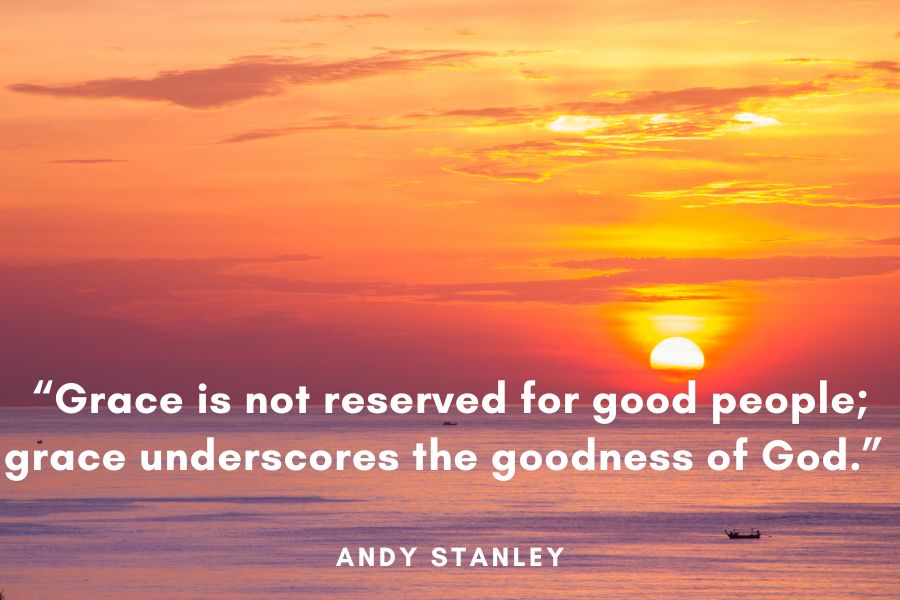 God is not only for religious people, it's for all kinds. He is God of the worst man in the world too and God tries to guide him to light. If someone speaks a lot about God, it doesn't mean he has special access to him! God is everywhere, in every human heart. It's in their nature; because goodness is in every human nature. God and goodness are the same.
"When we do not measure up to the standards, we have set for ourselves we become discouraged. But we have to realize that God is not discouraged with us." – K. P. Yohannan
There are a lot of times in the life of each person that feels disappointed, feels tired, feels that it's the end of the road or you can't continue anymore. Believe me, it's usual and it happens to everyone. Those who believe in god's goodness, know better than anyone that God is not disappointed yet.
You might also enjoy: Top 40 You Got This Quotes To Rock Your Day
We recommend you listen to this podcast as well:
Final Thoughts
This was 20 quotes about god's goodness that we shared with you in thong long article. Each quote was for a famous man or woman that has put his/her mark in the way of goodness. We also shared our opinion about each one.
I am sure you have opinions about them too. We will be happy if you share it with us in the comments section below. What is your favorite one? Which has more influence on you? Do you like to share them with others as a post or profile picture or anything like that? Feel free to talk about it.
The main point of this article was not getting traffic to our website! But to remind there is something out there, there is something inside our hearts that push us to goodness and always cares about us. I hope we care about it too, about god's goodness.