Don't stop trying! And some other similar phrases are some expressions that are always being told to motivate people to achieve their goals, but no one ever tells you that sometimes giving up can be more useful than going on! Sometimes you've chosen a wrong goal, sometimes you've chosen the wrong way to achieve your goal, sometimes you're doing a good thing at the wrong time, etc. in all
In those situations giving up is the right decision, and you can prevent yourself from hard damage. But it's usually so hard to give up. To ignore all your effort, investment, and patience, and accept that what you were doing was wrong.
On the other hand, sometimes you are going the right way and doing the best job. And you are just so tired of holding on. In such times what you need is something to motivate and inspire you! Maybe you have just a few days or a few centimeters to gain what you need.
You have to decide one of them; continue your effort or give up and change your way. We've prepared 40 maybe it's time to give up quotes for you. The first 20 quotes will help you become more decisive, avoid more loss, and start a new life. And the last 20 quotes encourage you to never give up and keep trying until achieving your goals.
This is a video about whether should we give up or what? I recommend watching it before reading the post:
Top 40 maybe it's time to give up quotes to help you move on
1- "The most fulfilling thing in life is realizing that you have the courage to let go of what you held onto for so long."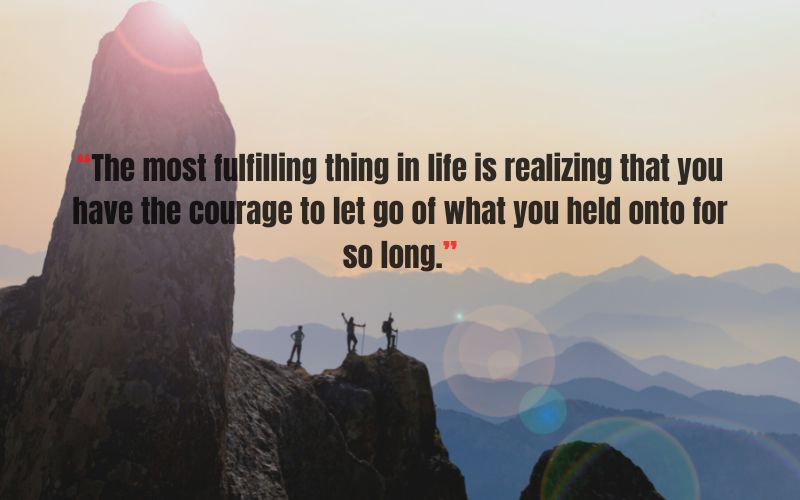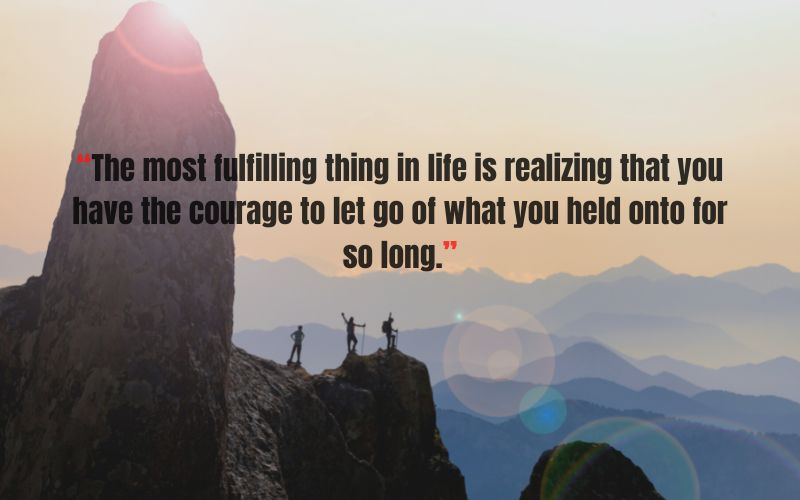 Many times we know the correct way and action for success, but we are not bold enough to change our path and leave the current situation.
2- "You are never too old to set another goal or to dream a new dream." —C.S. Lewis
There's a popular Chinese proverb that says:
"The best time to plant a tree was 20 years ago. The second-best time is now."
It's not too late, don't waste time, choose a new goal and try hard.
3- "A time for everything: A time to relax and a time to be busy, a time to frolic and a time to labor, a time to receive and a time to give, a time to begin and a time to finish." -Jonathan Lockwood Huie
You have to accept that giving up and starting a better path is a part of life. Don't be afraid of that.
You Might Also Enjoy: Top 50 Thankful Thursday Quotes To Inspire You (2022)
4- "When you give up on life, never give up on yourself because there is so much for you to keep on giving!" — Oprah Winfrey
The most worthwhile wealth is yourself. You've lost a lot of time, money, etc, but it doesn't matter! You are alive, and you can prevent more loss and have a better life from now.
5-"If you're looking for a happy ending and can't seem to find one, maybe it's time you start looking for a new beginning instead…" — Ritu Ghatourey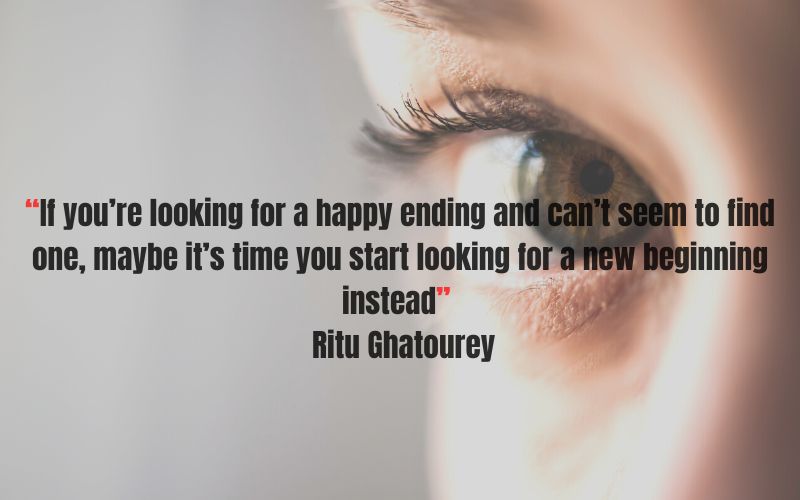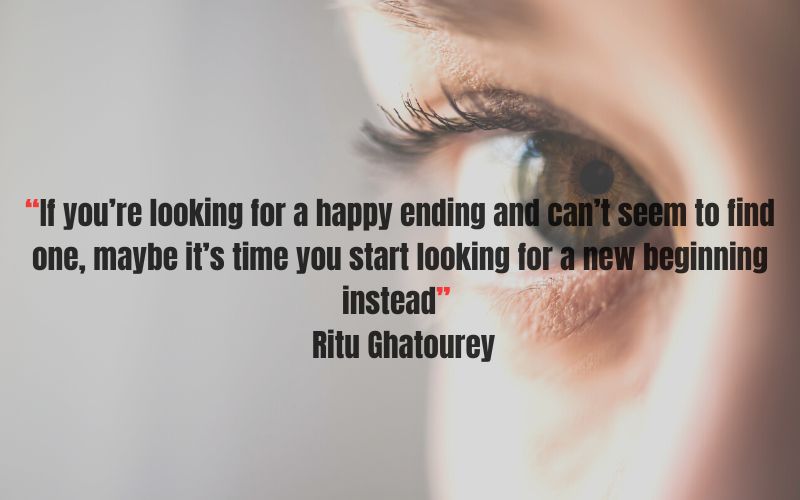 Some ways don't lead to success. You can't go the north way when you want to go south. Just change your way to a better one, and you will be successful.
6-"Yesterday is not ours to recover, but tomorrow is ours to win or lose."– Lyndon B. Johnson
This quote is wonderful. You can do nothing about your past! But you can build your future!
7-"The first step towards getting somewhere is to decide that you are not going to stay where you are." – J.P. Morgan
When all your effort has no efficiency, and you can't progress, don't wait! Be more decisive and start your new adventure.
8-"You do what you can for as long as you can, and when you finally can't, you do the next best thing. You back up, but you don't give up." — Chuck Yeager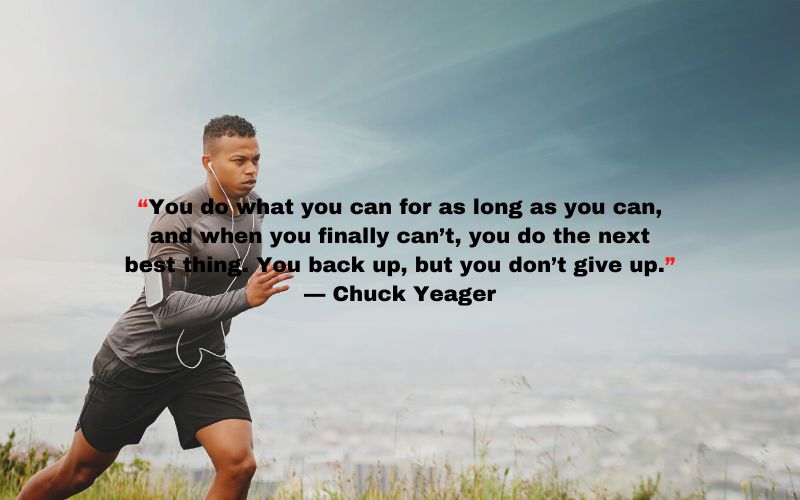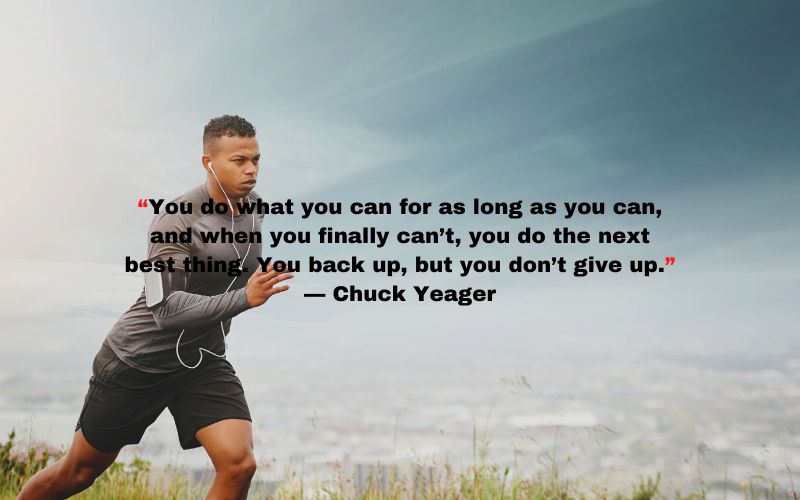 If 'giving up' is unappealing for you, just try 'doing the next best thing instead. This won't let you get disappointed.
9-"In the process of letting go, you will lose many things from the past, but you will find yourself." — Deepak Chopra
By letting others go, you will know that the most important and the last thing you have is yourself, don't care about other things more than they deserve.
You Might Also Enjoy: Top 30 Don't Treat Me Like an Option Quotes in 2022
10-"Sometimes it takes a heartbreak to shake us awake & help us see we are worth so much more than we're settling for." ― Mandy Hale
Another amazing quote. If you are tired, and you think it's time to give up, this just can be a debut point for you. Stay hopeful and think about the positive aspects of it.
11- "People have a hard time letting go of their suffering. Out of a fear of the unknown, they prefer suffering that is familiar." — Thich Nhat Hanh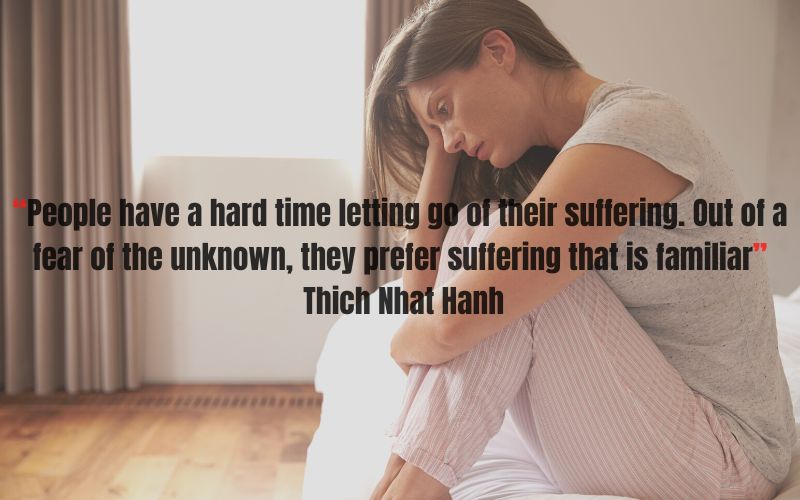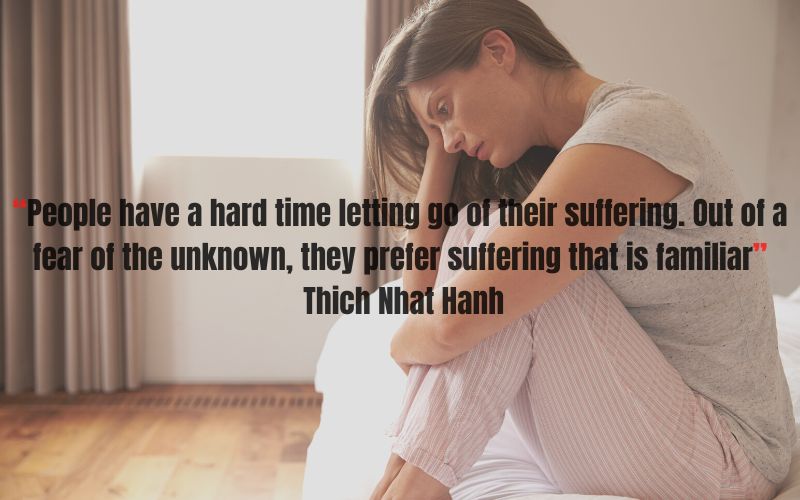 It's a real problem. People can't leave their suffering just because they are afraid of experiencing new things. Take risks and be hopeful.
12- "Just because someone stumbles and loses their path, doesn't mean they're lost forever." – Professor X
Don't worry about finding a new path! Believe in your abilities and define new goals for yourself. There are always some better ways.
13- "Some people believe holding on and hanging in there are signs of great strength. However, there are times when it takes much more strength to know when to let go and then do it." — Ann Landers
When we try hard for something, and we want it, we get dependent on it and after a while letting it go is much harder than holding on.
14- "Never love something so much that you can't let go of it." — Ginni Rometty
One of the human weaknesses is love! When you love something it would be so hard to use your mind and make wise decisions.
You Might Also Enjoy: Top 50 Empath Quotes to Empower a Sensitive Personality in 2022
15- "Sometimes it's better to end something and try to start something new than imprison yourself in hoping for the impossible." – Karen Salmansohn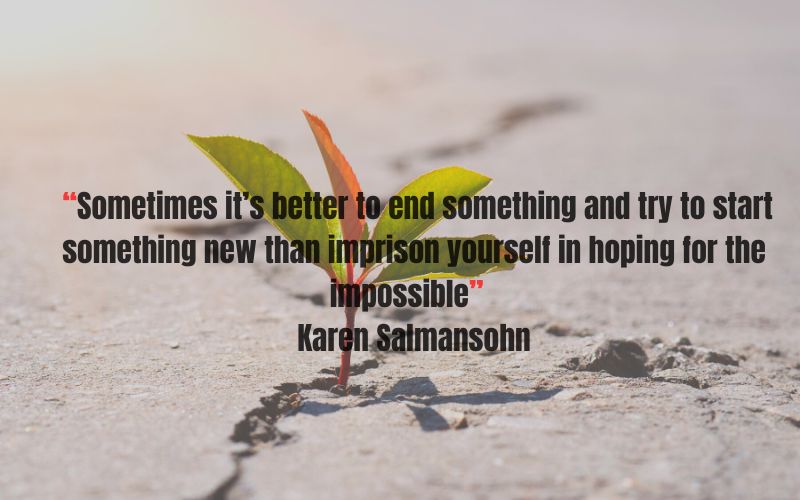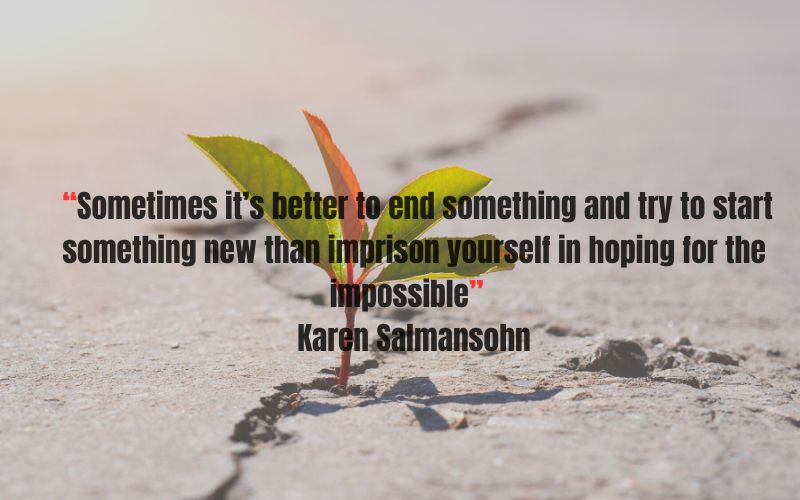 Trying for something which is not possible is nothing more than wasting your money, time, wealth, body, and your life. Stop wasting it and try something better.
16- "Even if you fall on your face, you're still moving forward." – Victor Kiam
Letting something go is not so important when you can find your way and push forward.
17- "If you're brave enough to say goodbye, life will reward you with a new hello." – Paulo Coelho
Increase your courage and boldness to be more decisive and believe that life rewards you with better opportunities and better people.
18-"I can't change the direction of the wind, but I can adjust my sails to always reach my destination."—Jimmy Dean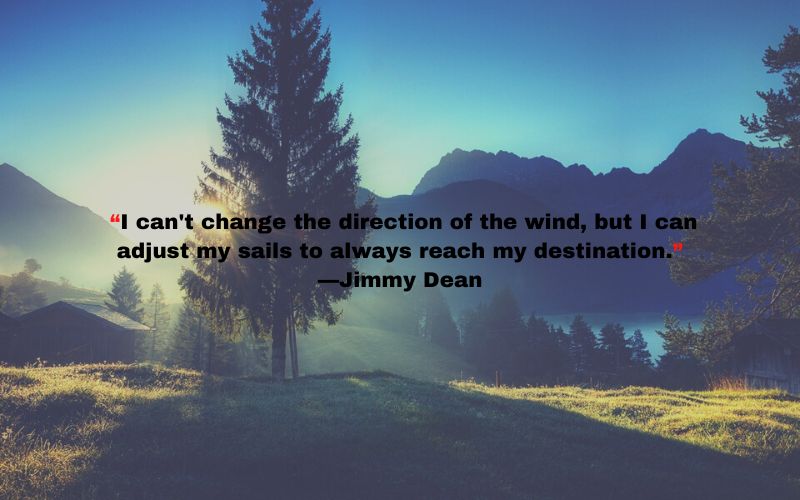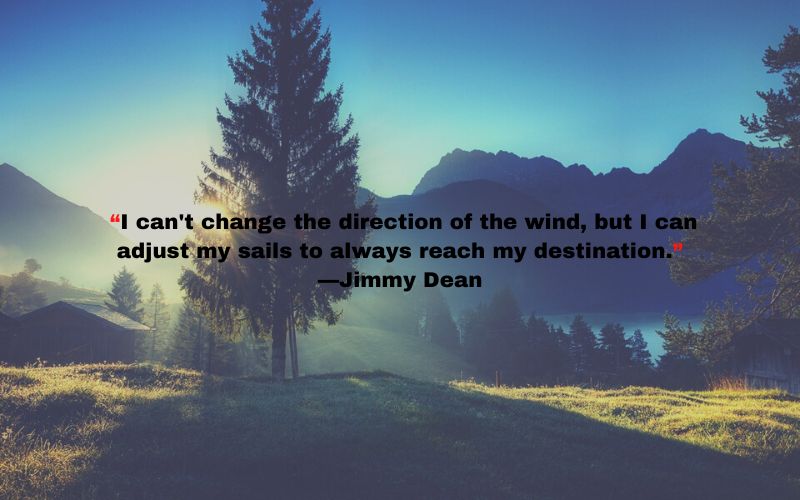 Many times our decisions can't lead us to success, because we didn't consider the situation and conditions. Considering those things will have a great effect on our life.
You Might Also Enjoy: Top 30 Robert Kiyosaki Quotes That Can Change Your Life
19-"Giving up is always an option, but not always a failure." – Cameron Conaway
This is a correct statement that no one believes in! Giving up sometimes can be a great miracle which helps us a lot.
20-"Letting go doesn't mean that you don't care about someone anymore. It's just realizing that the only person you really have control over is yourself." — Deborah Reber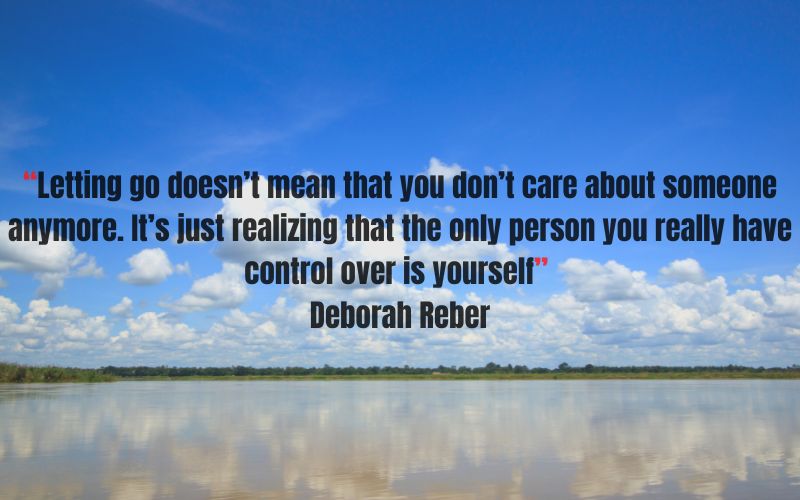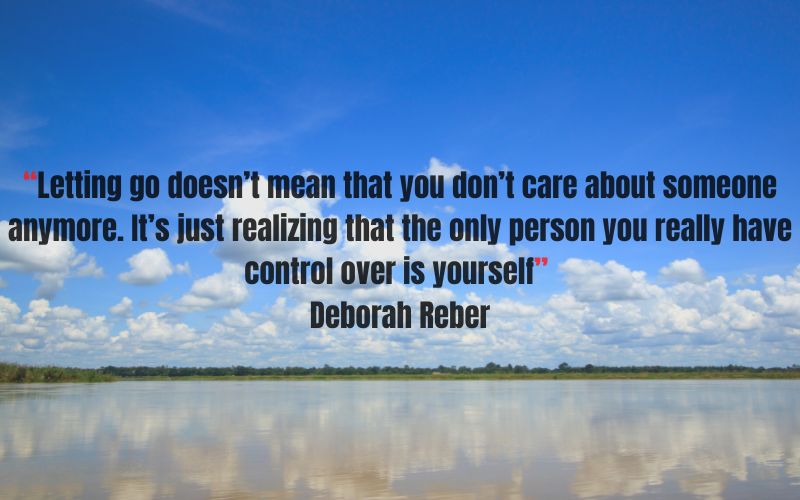 The truth is that we can't change others' behavior and control them. Trying to change others is just wasting time, so it's better to let them go and save our lives. Maybe it's time to give up quotes to help you keep going.
21-"It's not that I'm so smart; it's just that I stay with problems longer." – Albert Einstein
It's hard to believe this quote, but maybe Einstein seems smart because of his consistency. Who knows?
22-"Character consists of what you do on the third and fourth tries." – James A. Michener
It's natural to not win on the first tries. After getting experienced and stronger, it's time for another try to prove your abilities.
23-"Do not fear failure but rather fear not trying." – Roy T. Bennett
Failure shows that you've tried, but you weren't stronger than your problems. But not even trying is the worst weakness you can have.
You Might Also Enjoy: Top 50 Happy Memes To Rock Your Day (2022)
24-"Most of the important things in the world have been accomplished by people who kept on trying when there seemed to be no hope at all." – Dale Carnegie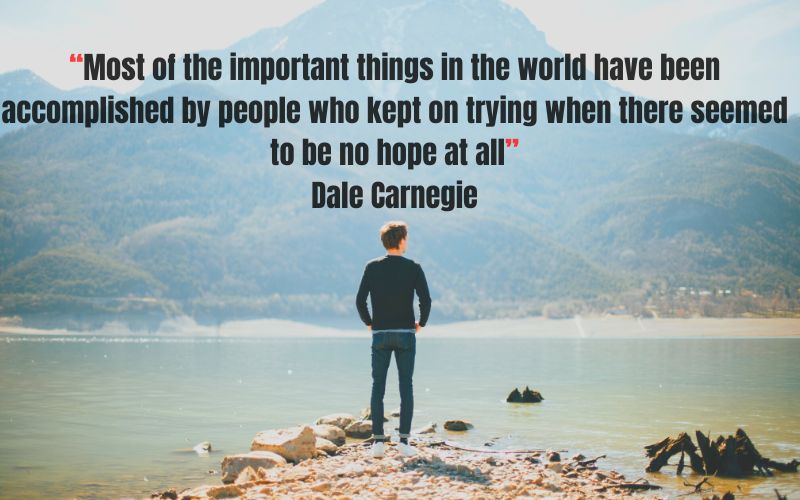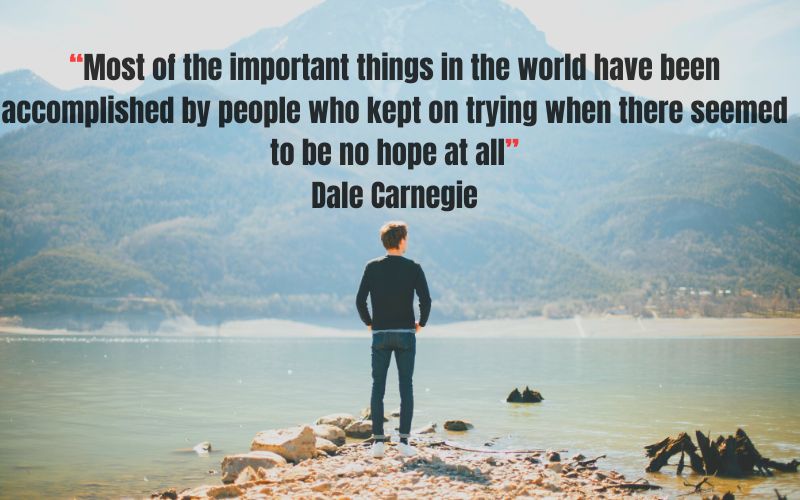 It's the difference between successful and unsuccessful people. Trying hard and not losing your hope are two manners of successful people.
25-"Every day she wanted to give up, she promised the girl in the mirror 'not today.'" — Giovannie de Sadeleer
This quote is a great template for you to never give up. Maybe you can't promise yourself to never give up, but promising to don't give up one day is not so hard.
26-"Life is like a bicycle. To keep you balanced you must keep moving." – Albert Einstein
Sometimes giving up is not just losing your goal. Sometimes it means losing your whole life.
27-"Perfection is not attainable, but if we chase perfection we can catch excellence."—Vince Lombardi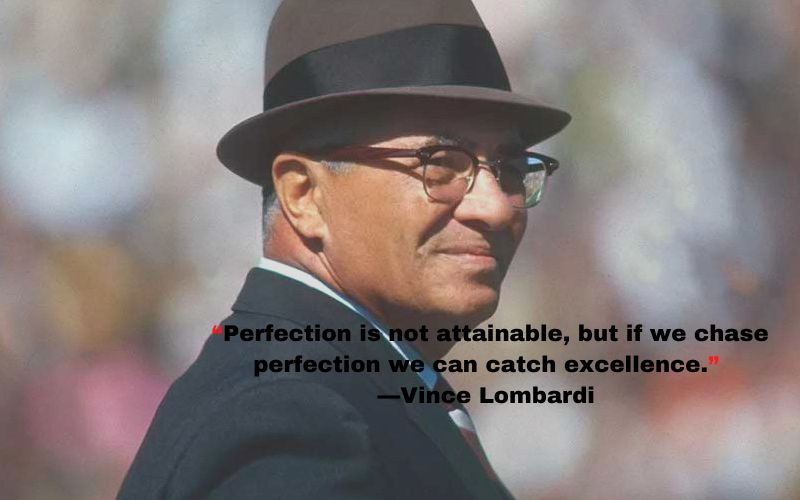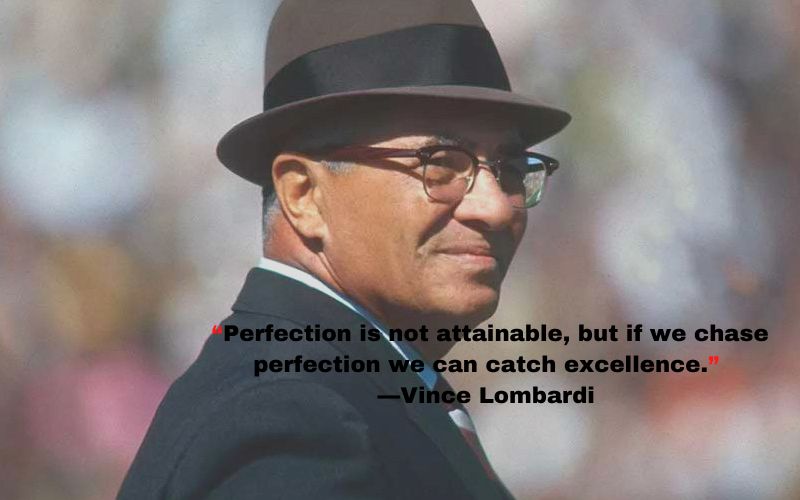 Don't neglect your progress, even when you've not achieved all your goals, but at least you've made some progress.
You Might Also Enjoy: 117 Inspirational quotes about life and struggles
28-"Hard work beats talent when talent doesn't work hard." – Tim Notke
It doesn't matter how talented you are, if you don't work hard on your talents, be sure that you can't gain success.
29-"Nothing is impossible. The word itself says: 'I'm possible!"—Audrey Hepburn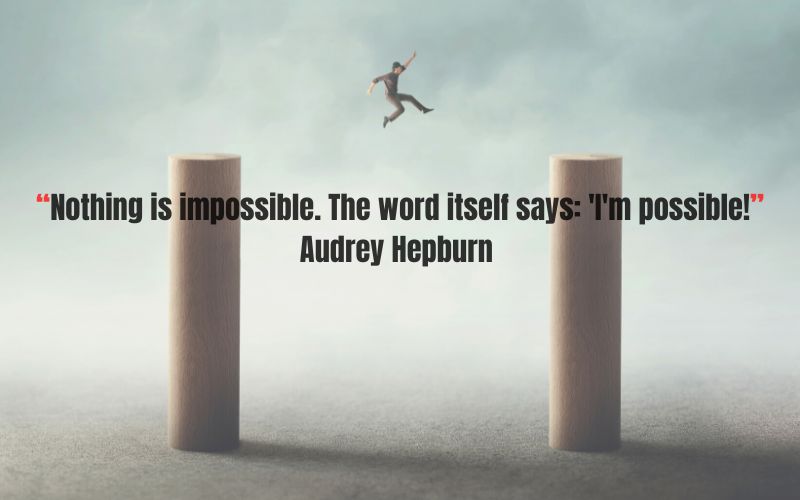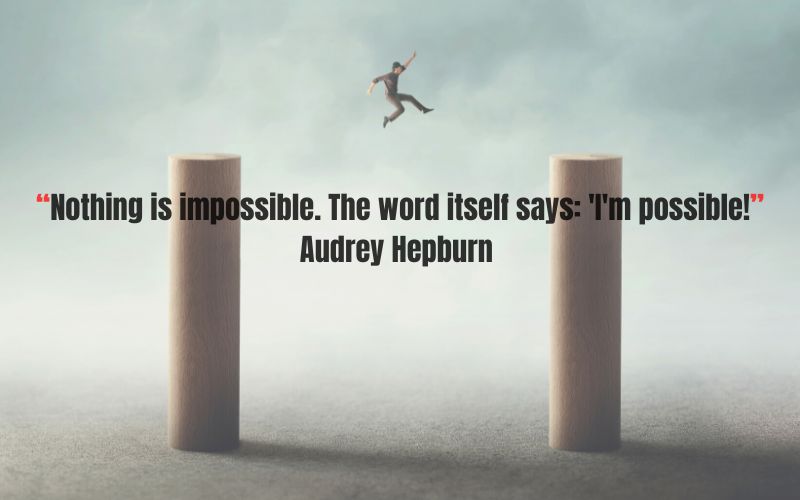 These types of quotes are amazing and inspiring. Believing that there is nothing impossible is very important to do unbelievable things.
30-"Out of difficulties grow miracles."—Jean de la Bruyere
When everything is okay, miracles have no meaning. Miracle always happen in hard situations and hard problems.
31-"If you never feel like giving up, then your dreams are too small." — Joel Osteen
It's natural to feel like giving up, and it shows that you are ambitious, and you've chosen huge goals for yourself. Just don't care about such feelings and keep going.
32-"You must do the things you think you cannot do."—Eleanor Roosevelt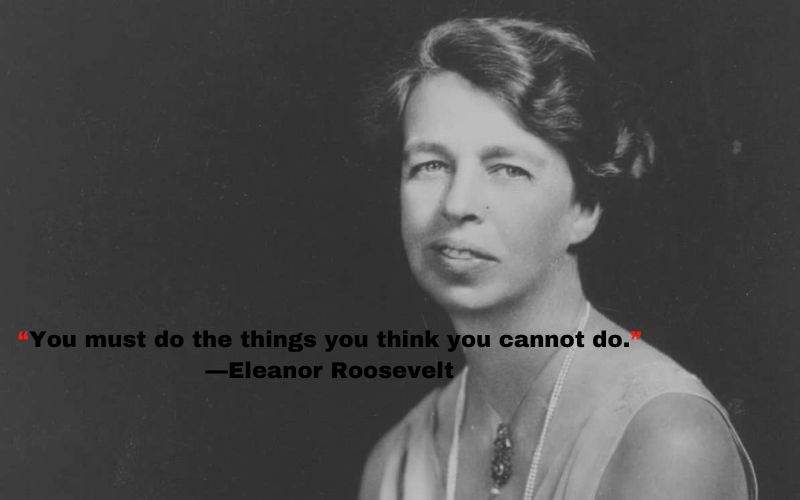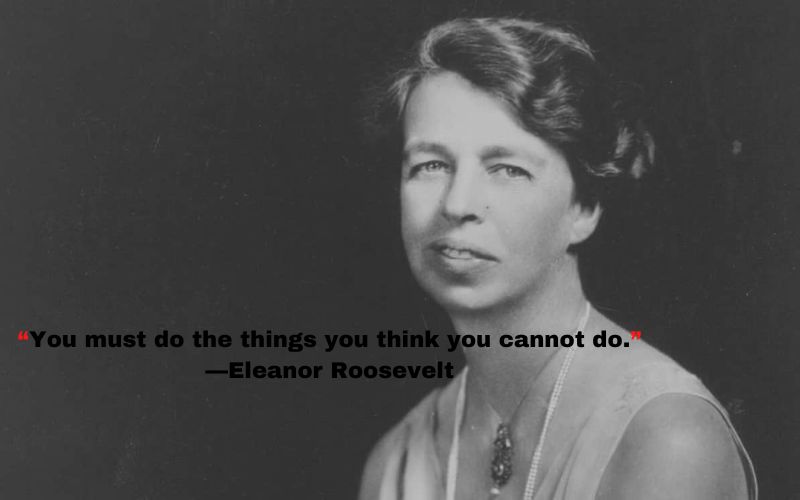 Easy goals are for common people, and they can't lead you to success. With easy goals, days become years, and you won't see a great change in your life.
33-"It always seems impossible until it's done." – Nelson Mandela
Sometimes you think that it's impossible just because your mind and body are tired of working on it. So don't listen to them and keep going.
You Might Also Enjoy: Top 20 Master Oogway Quotes to Inspire You
34-"Instead of letting your hardships and failures discourage or exhaust you, let them inspire you."—Michelle Obama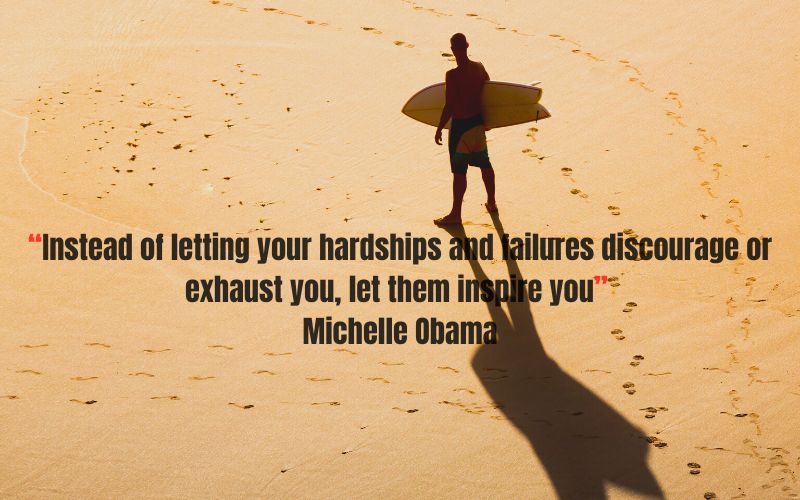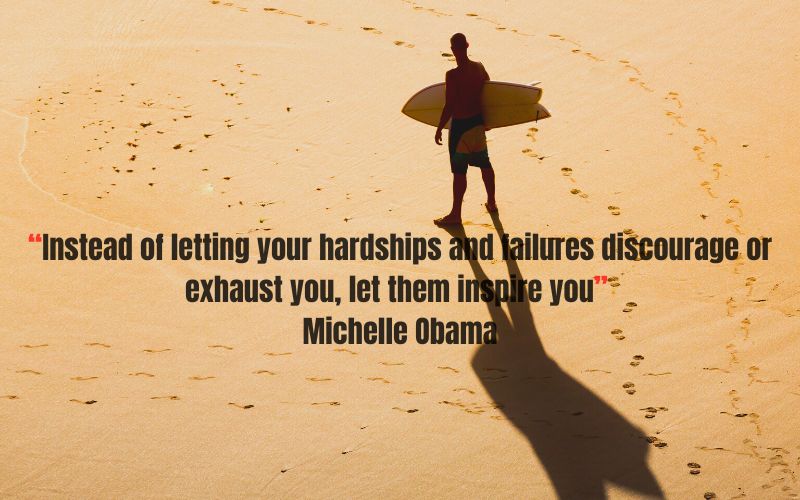 It's important how to see obstacles and failures. They can't disappoint you or teach and inspire you. It's just depended on your sight.
35-"Our greatest weakness lies in giving up. The most certain way to succeed is always to try just one more time." – Thomas Edison
Edison has more than 1300 inventions. But he has more than 10000 failures as he said; about 9 failures for every success. So try one more time and hope for better results.
36-"Never give up, for that is just the place and time that the tide will turn." – Harriet Beecher Stowe
A great reason to keep going is that you don't know what will happen in the future. Maybe the world has some surprises for you.
37-"It does not matter how slowly you go as long as you do not stop." ―Confucius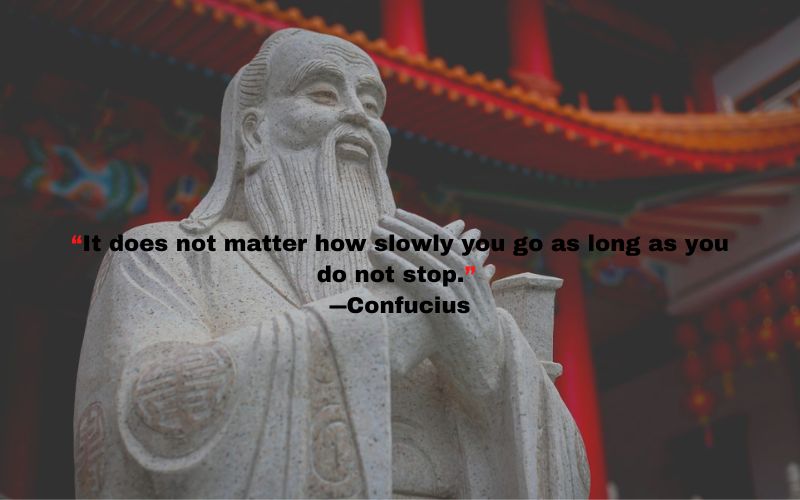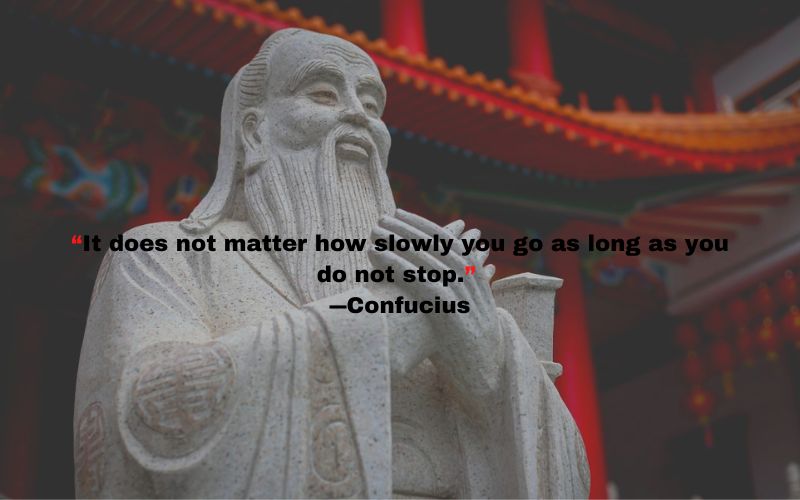 Even when you can't progress so fast, getting better is important. You must be patient and many a little makes a mickle.
You Might Also Enjoy: Top +40 Wednesday Affirmations To Rock Your Day (2022)
38-"Giving up is for rookies."—Philoctetes
Giving up is for rookies and rookies won't achieve their goals. Use experts' experience and try again.
39-"If you fall behind, run faster. Never give up, never surrender, and rise up against the odds."—Jesse Jackson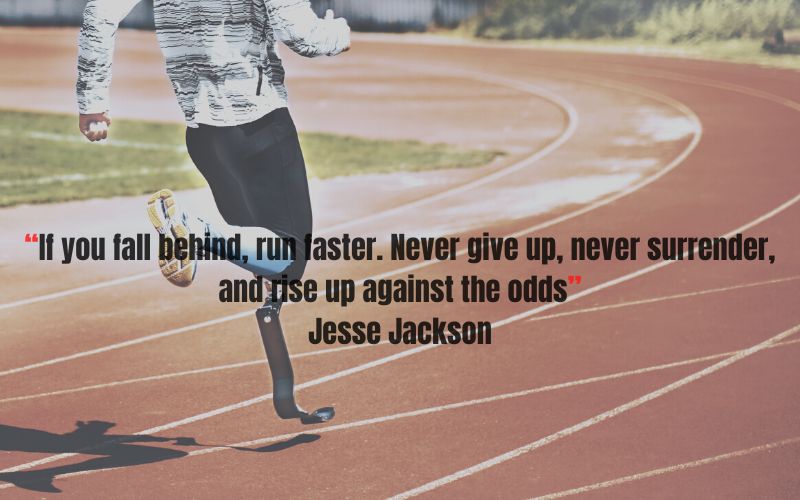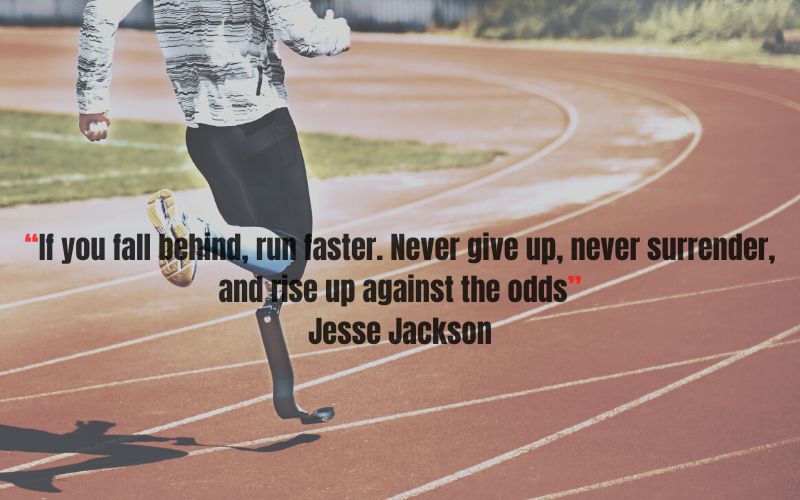 Sometimes you think about giving up just because you've fallen behind. It doesn't matter how others do, you have to focus on your way.
40-"Hope is a good thing, maybe the best of things, and no good thing ever dies." —Andy Dufresne, Shawshank Redemption
Hope changes everything, and until you're hopeful, you try hard to reach your purpose, so if you don't want to give up, increase your hope.
We all know that sometimes we have to give up and this is the best for us! So listening to this podcast can teach you how to face the fear of giving up:
Here it was 40 maybe it's time to give up for you to inspire and motivate you to get rid of doubts and do what's best. But don't forget that these quotes are just to motivate you and the most vital part is your choice and how determined you are. Make your decision and with these quotes, you are going to be amazing.