Do you ever feel down and start looking for something to cheer you up online? How about memes? Want to see a happy meme to change your mood?
Well, today is your lucky day because we have selected some of the most feel-good memes to give you some positive vibes for the rest of the day or maybe even for the rest of the week!
Our list of top 50 happy memes has it all! Cute animals, weekend jokes, work puns, and everything that we think could set you in the mood for a while!
But wait a minute! if you are into watching rather than reading then we have an awesome video just for you:
If you think you need something to kick start your day with a smiley face, it is our privilege to say that we got your back! And nothing would make us happier than seeing you in good spirits.
So, without further a due, here are our 50 chosen happy memes to light up your day!
50 Happy Memes To Rock Your Day
1. Leaving Work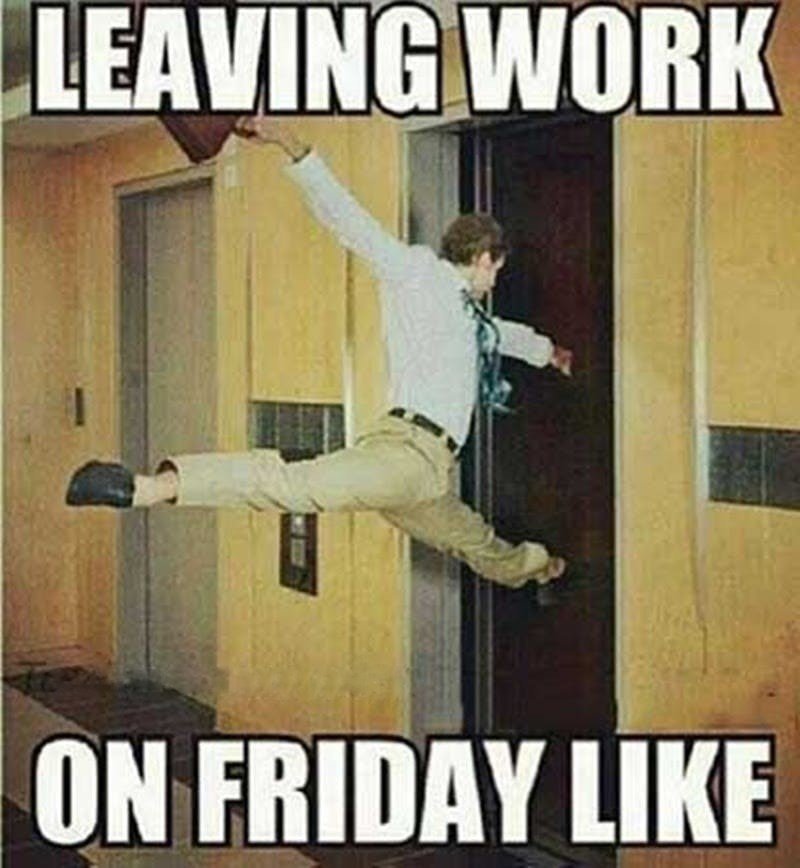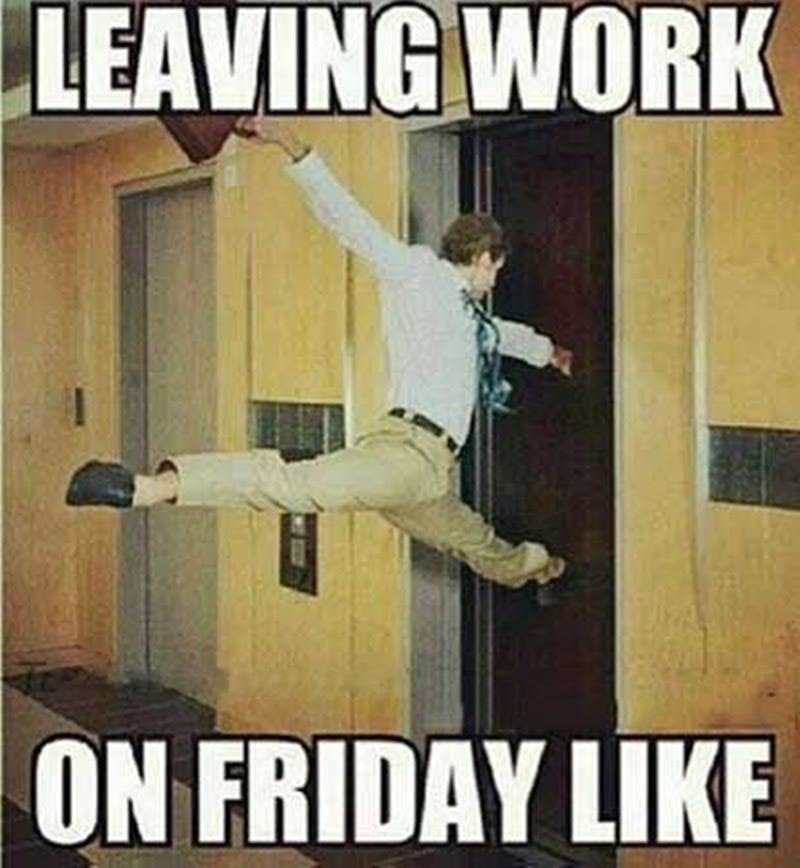 There is nothing like leaving work after a long week and heading to the weekend, isn't that right? This meme shows that it is always nice to look forward to the end of the week and use it as a way to recharge and enjoy your time away from work. If you are looking for positive thinking memes then this one can really help!
2. Retail Therapy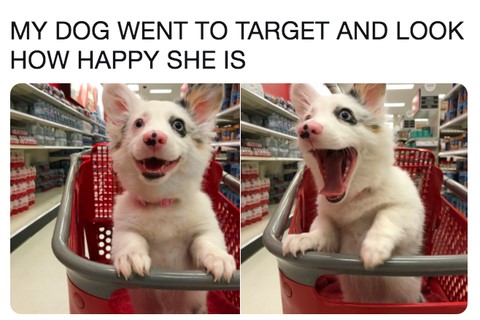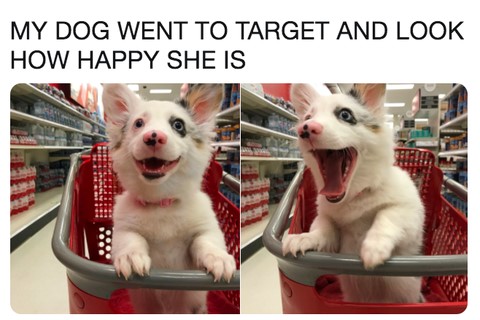 Who can say no to shopping if it's for your own pleasure? Trying out clothes or buying yourself a nice pair of shoes, especially when you're down or feel like celebrating an achievement in your life can be a good excuse to hit the market and spoil yourself for a day! This truly is one of the cheerful memes for her!
You Might Also Enjoy: Top 50 Thankful Thursday Quotes To Inspire You (2024)
3. The Flower And The Puppy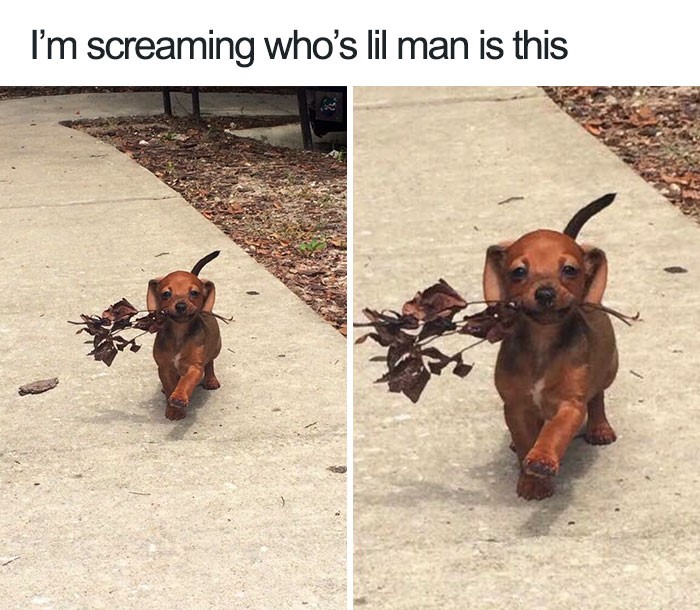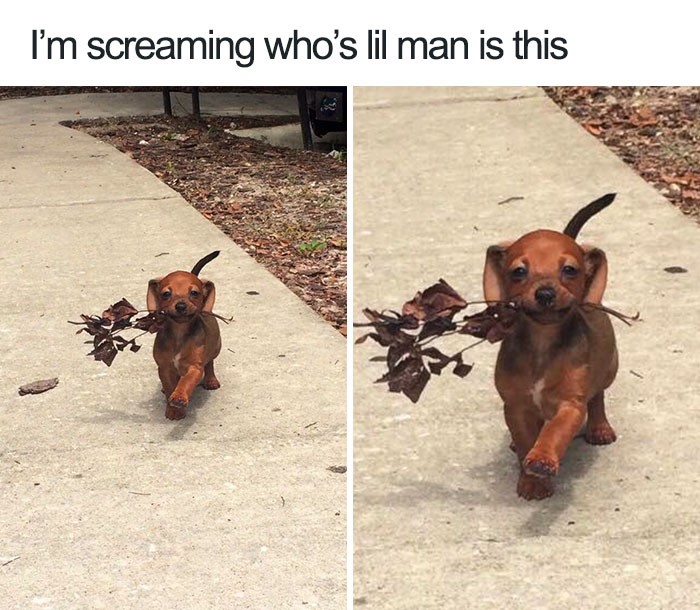 It is hard to deny the charm of a cute puppy specifically when it's holding what it seems to be a branch with some tiny flowers on top of it. This little guy is a reminder of the fact that if you're feeling lonely getting a pet might seem like a good idea!
4. The Plane Ticket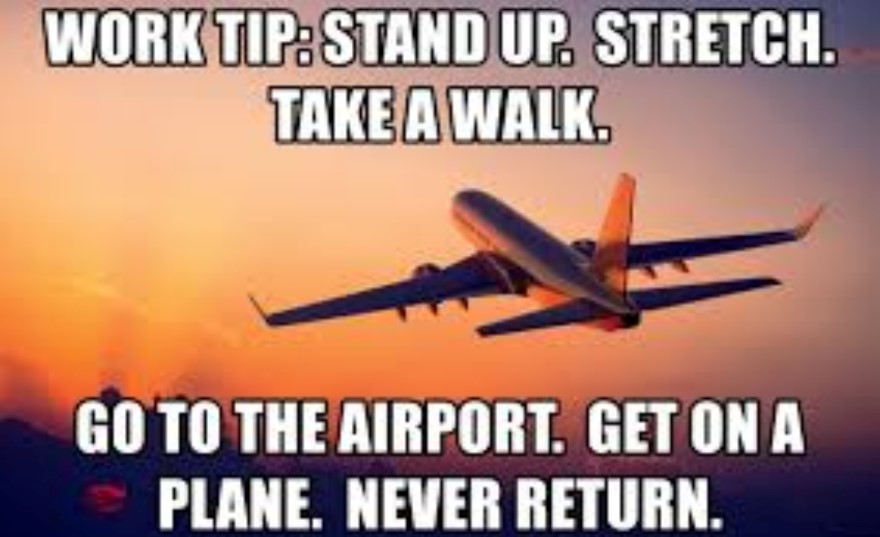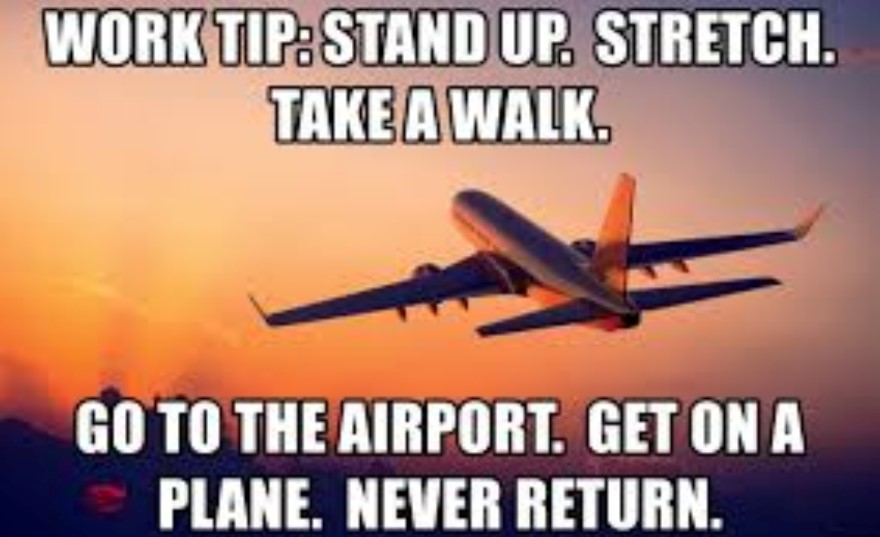 Sometimes, many of us may end up being overwhelmed by the load of work we have to deal with every day, but have no worries because if you are a lover of traveling and you think being away for a week or so could help you gain the energy to sort things out, then do it and get that plane ticket or get in your car and just drive to wherever you want.
5. Look On The Bright Side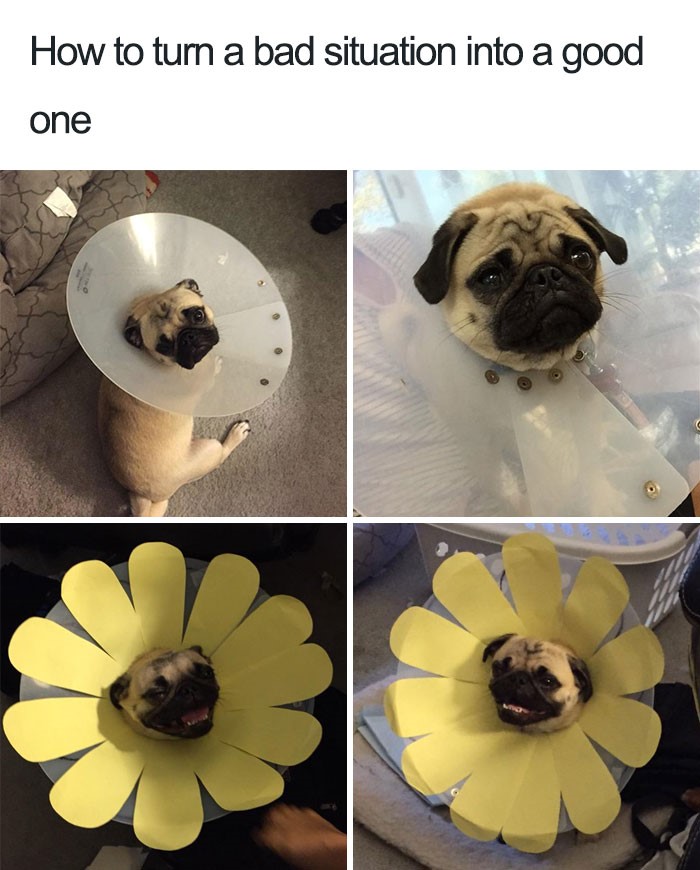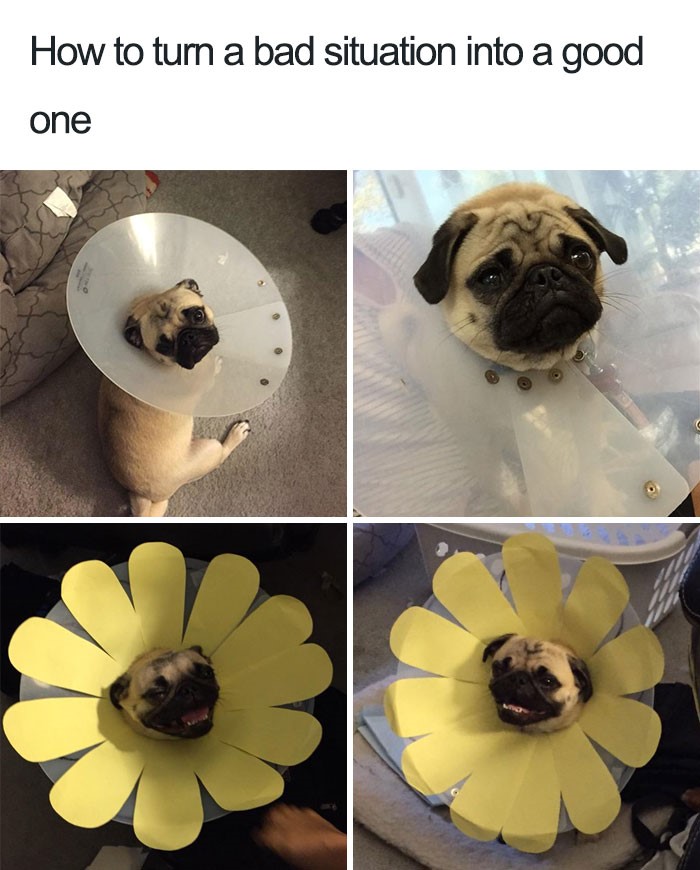 This is one of the excellent memes that I have ever seen! Who can say that life is all sunshine and rainbows? No one, really, because nobody can deny that life is full of challenges. However, that doesn't mean you can't look on the bright side and see the good in things. So, be optimistic and remember that you can always turn a bad situation into a good one.
You Might Also Enjoy: Top +40 Wednesday Affirmations To Rock Your Day (2024)
6. Say Cheese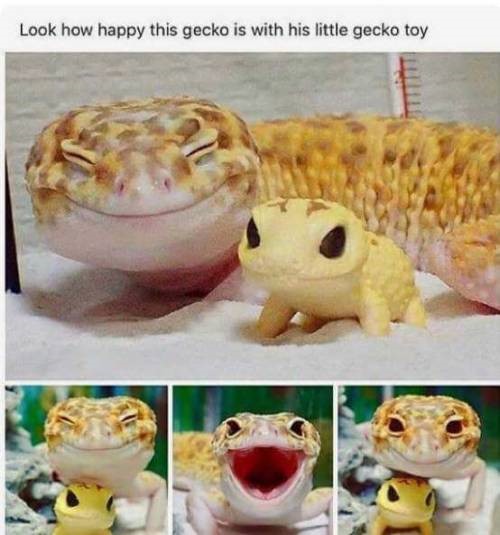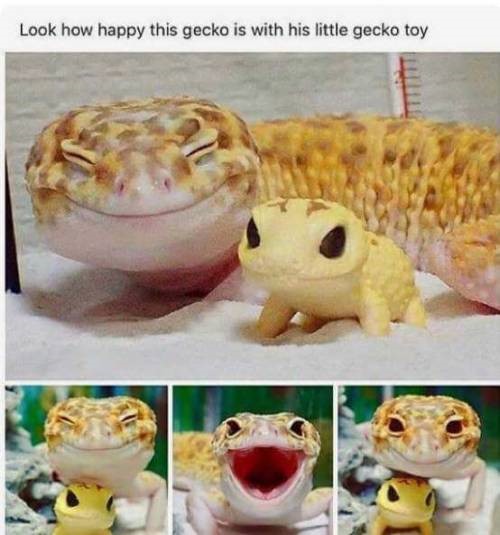 To all the gecko lovers out there this is for you! Seeing a smiley face of an animal can always set the mood for a good day and what's better than a gecko and its lookalike toy posing for a picture with a smile. Need to send romantic love memes to him or her? Try this one!
7. Never Too Old For A Piggy Back Ride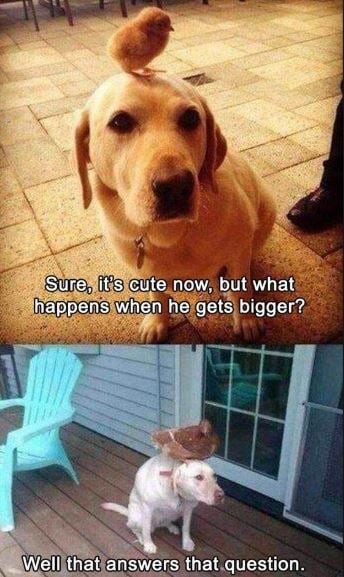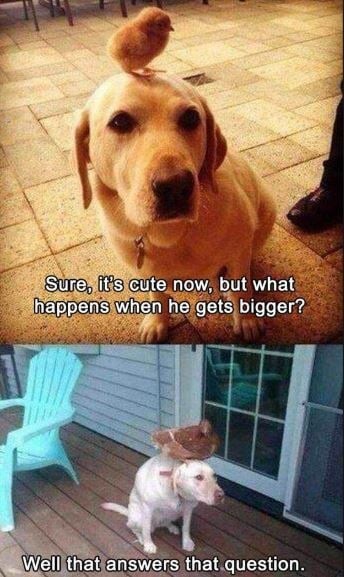 With bigger problems comes bigger responsibilities, isn't that right? Or in this case a bigger chicken! Having pets at home especially when they're still young can be very entertaining, but once they grow up they will need better care from you side. If you're not sure, ask the dog in this picture!
8. You Can Be Whatever You Want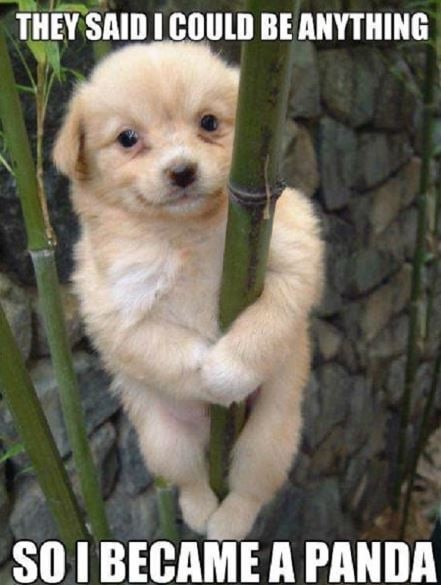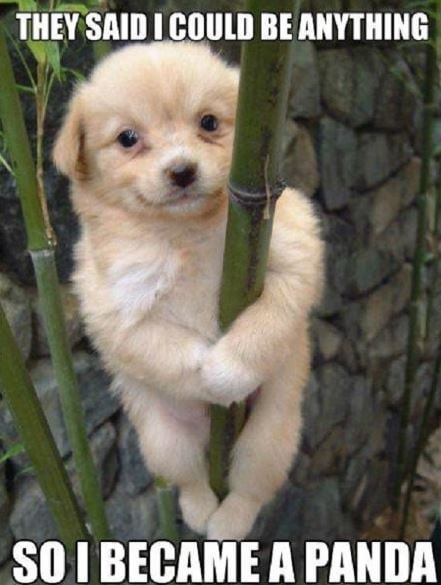 Who says you can't chase your dreams even if it meant you are a tiny puppy, which wants to become a panda? Never give up because when it comes to your life goals the sky is the limit and always bear in mind that nothing can come in your way if you set your mind into it.
9. The Supportive Possum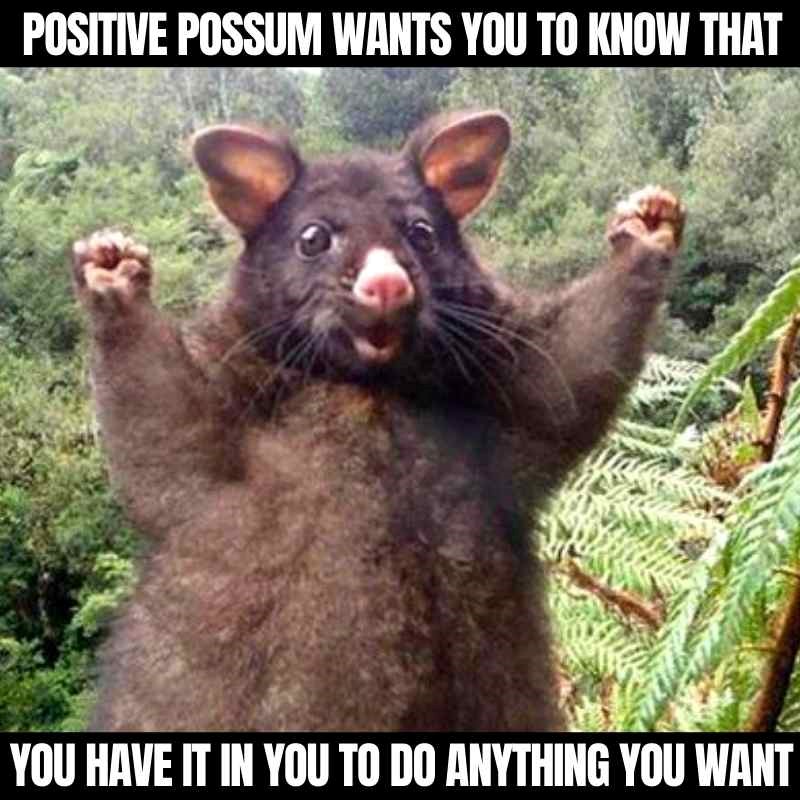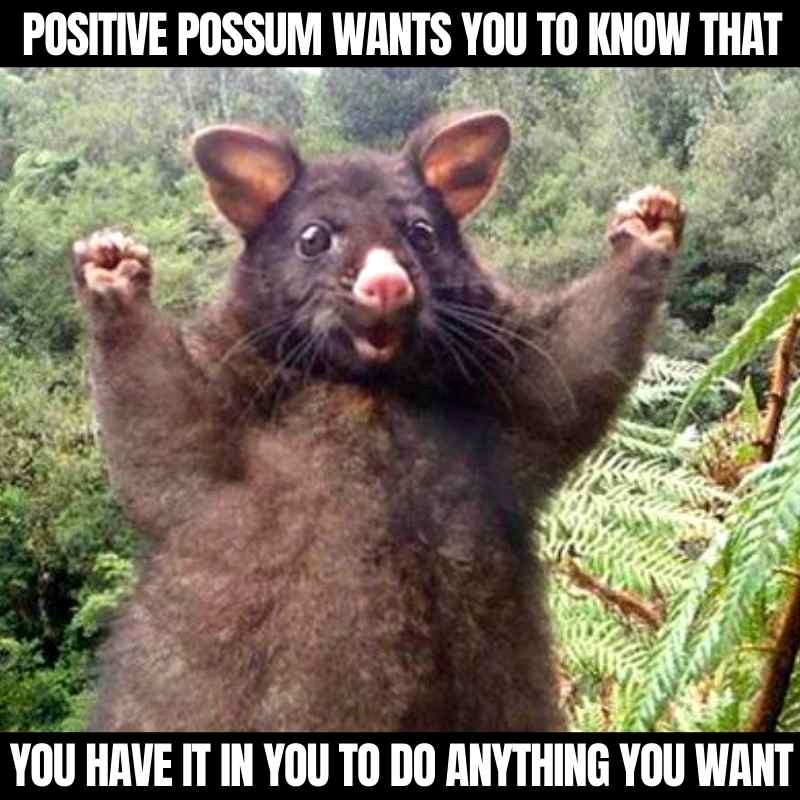 If you need cheering, we got you because this possum is here to boost you up with positive energy while holding its little arms and hands up in the air. This is a reminder that you can do whatever you set your mind to.
You Might Also Enjoy: My Wife Yells At Me! 7 Ways To React Properly
10. The Ice-cream And The Dog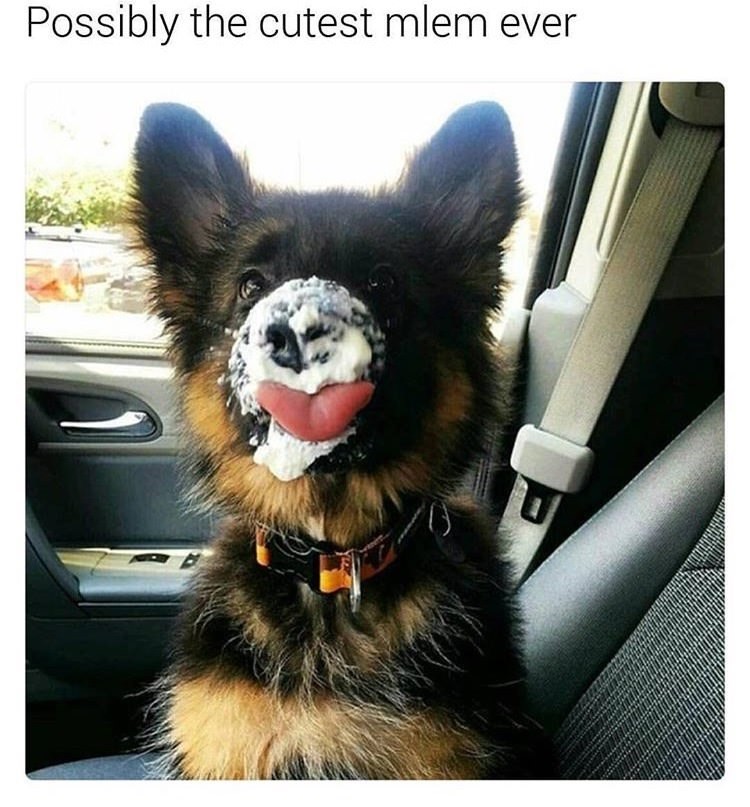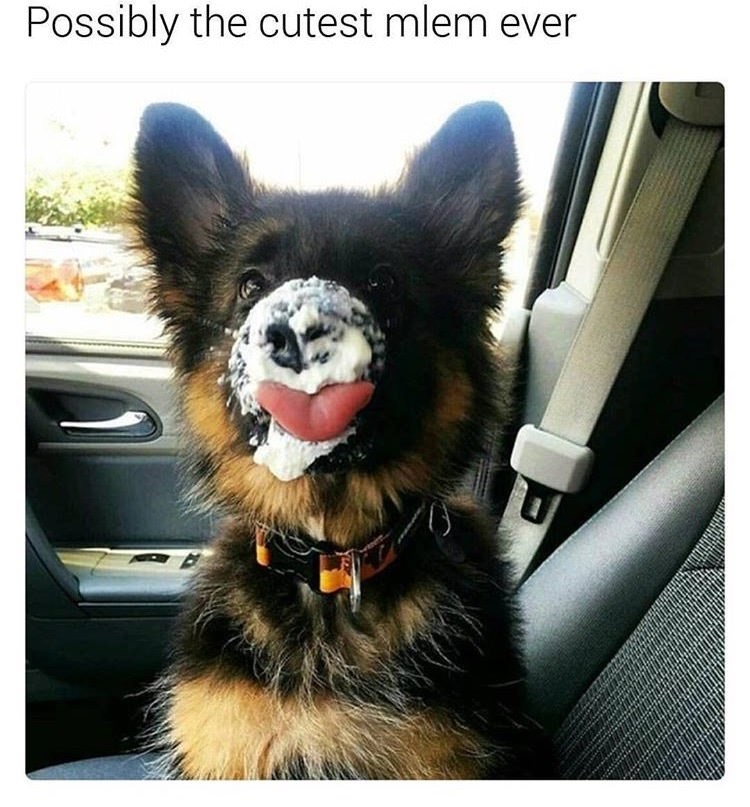 You know what they say, "you can't buy happiness but you can buy ice-cream, which is almost the same thing"! And what's better than a mlem dog enjoying its day covering its face with one of the most favorite desserts around the world, ice-cream!
11. The Cheerful Squirrel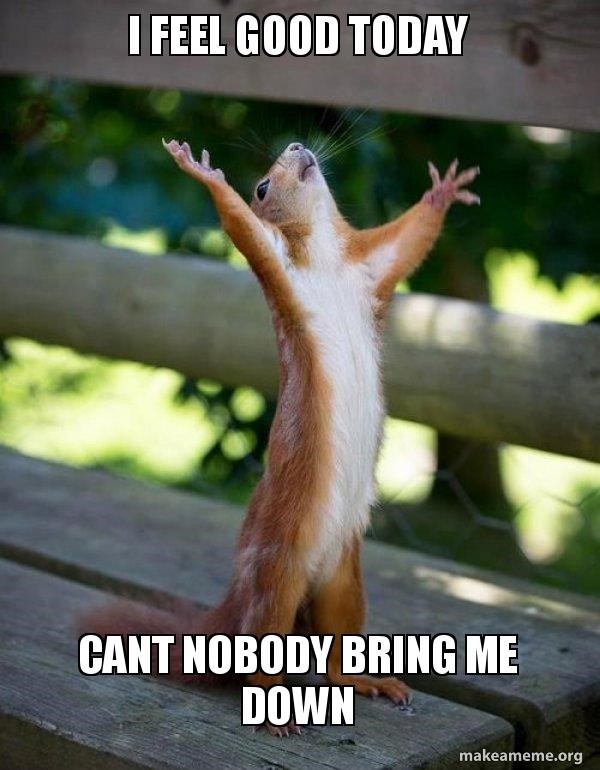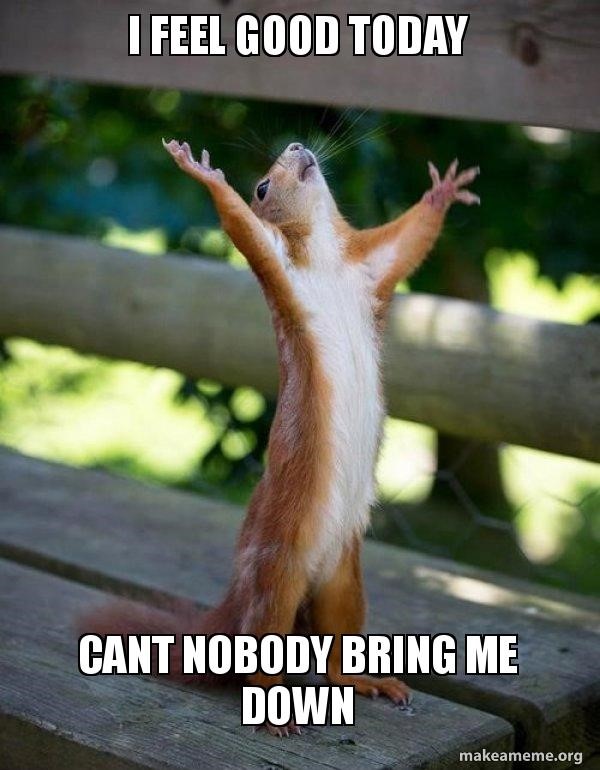 There is nothing like a meme of an adorable squirrel, who knows that life can't suck the positivity out of it. Because no matter the number of times life brings you down you will always get back on your feet stronger than ever.
12. Getting Compliments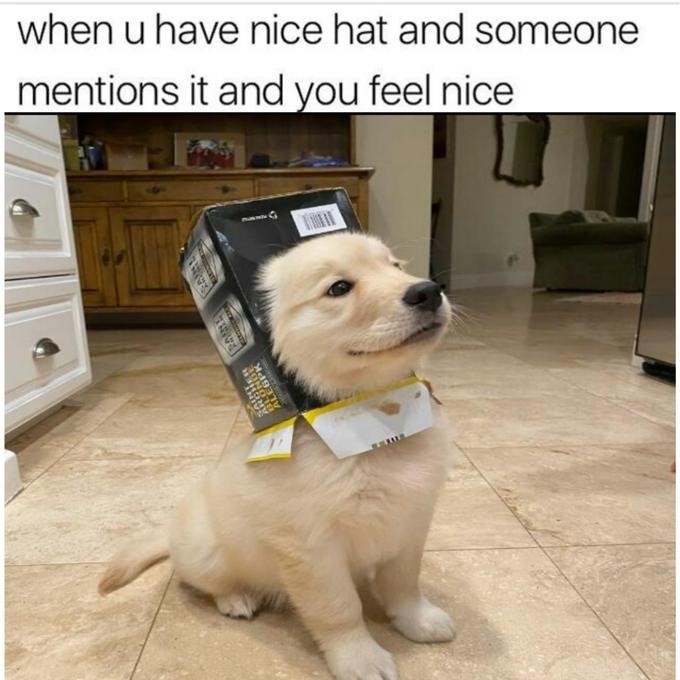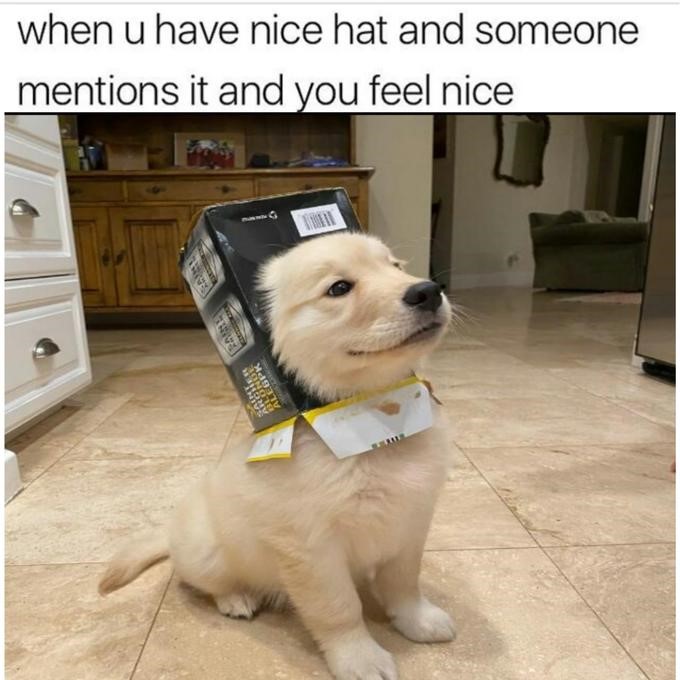 Who doesn't love a good compliment on their clothes and their looks? Because this dog surely doesn't mind being complimented for wearing a hat made of what looks like a cereal box. The same goes for you, always accept admiration with open arms because you deserve it.
13. The Tired Bee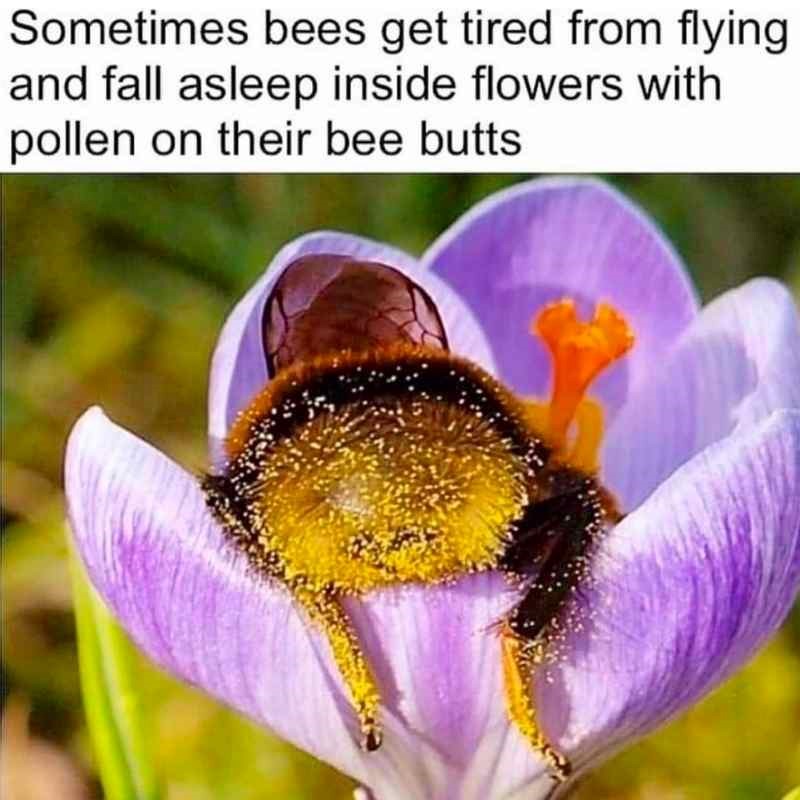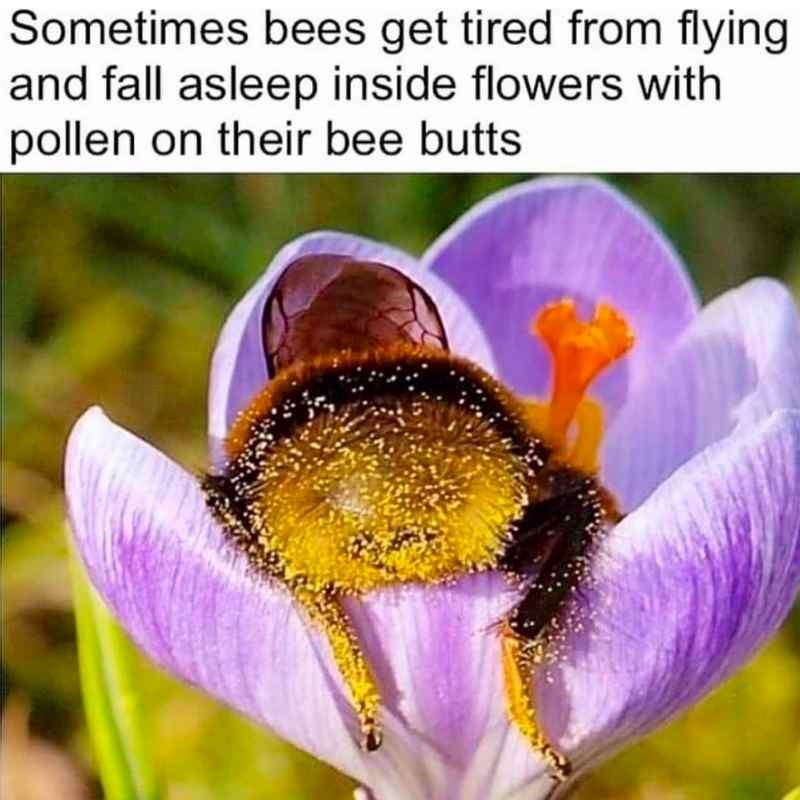 Ever seen a funny picture of a bee passing out on a flower after having his fair share of nectar? Well, now you have! And we think there is nothing more humorous than seeing a bee taking a break on flower petals after a long day of work.
You Might Also Enjoy: Top 50 Thursday Affirmations To Boost Your Day (2024)
14. A Weirdo And Proud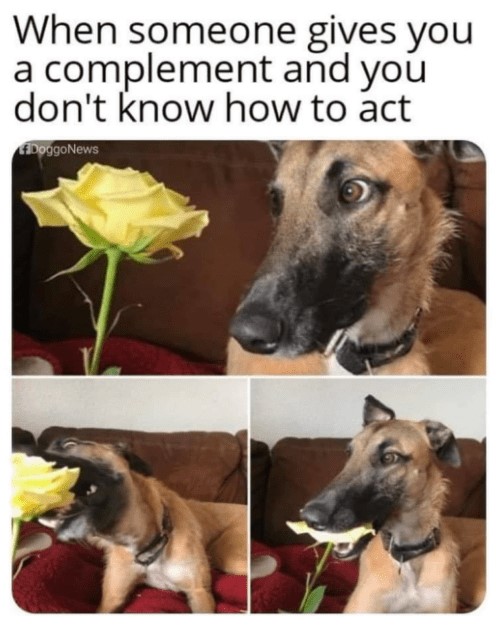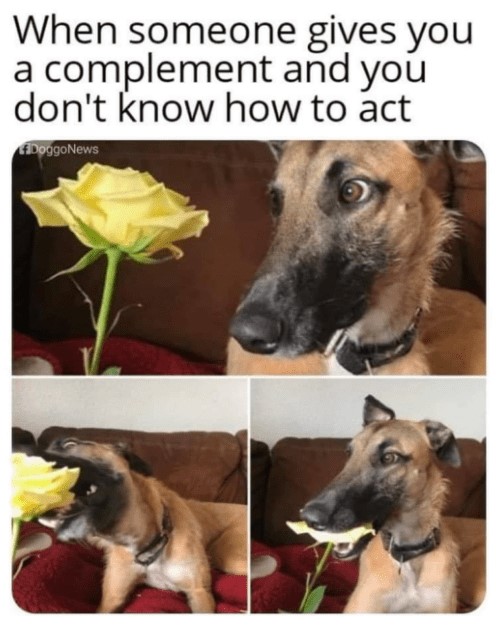 Getting compliments and being praised can be a bit awkward for some of us and it may lead us to acting weird on a couple of occasions, but this is no reason to feel embarrassed for having a unique character so embrace your weirdness and be proud of who you are!
15. Happy Seal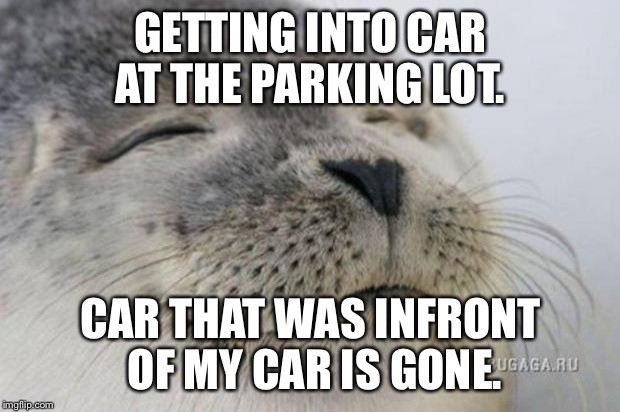 Car owners surely love it when they don't have to constantly steer their wheel especially when they are in a parking lot and what's more satisfying than seeing your way being cleared out after the car in front of you have left. The little seal here definitely knows the feeling!
16. The Duckling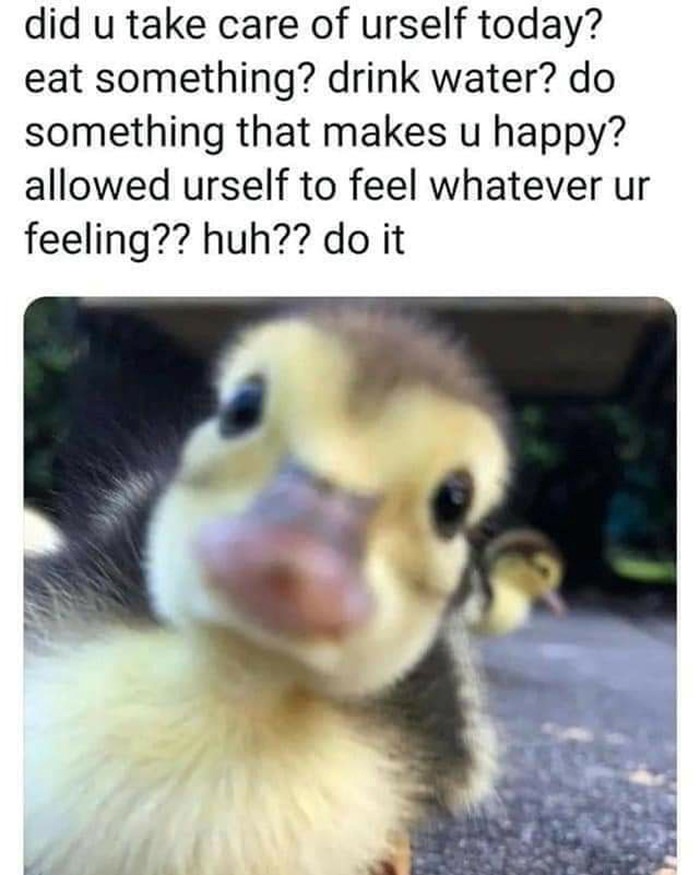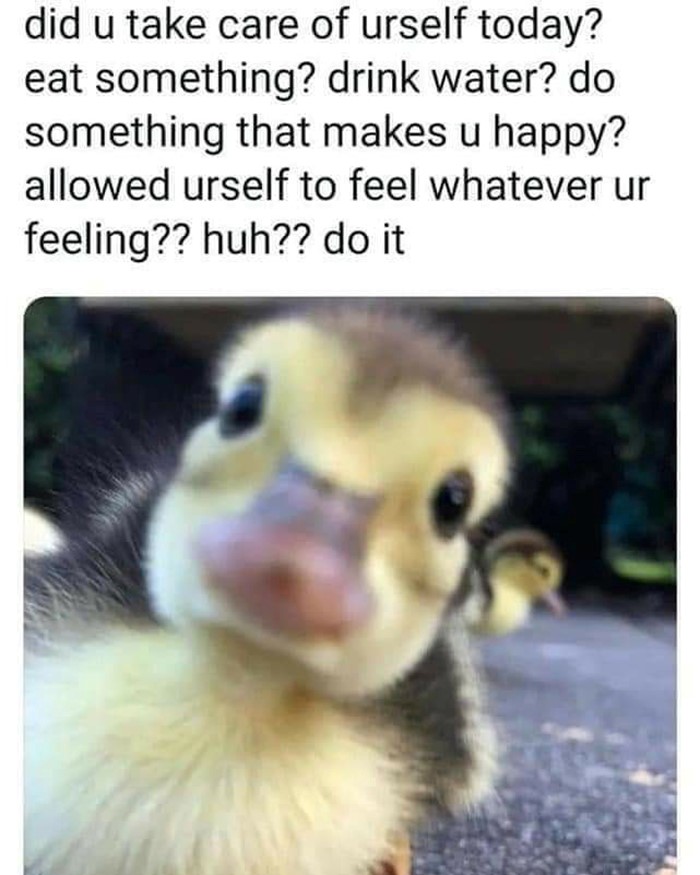 Have you been neglecting your emotional and physical needs lately? It's alright because the little duckling is here to remind you to get on it and listen to what your body and mind are asking from you. Besides, who says no to a soft creature like this one here?
17. A Dog In A Wool Shirt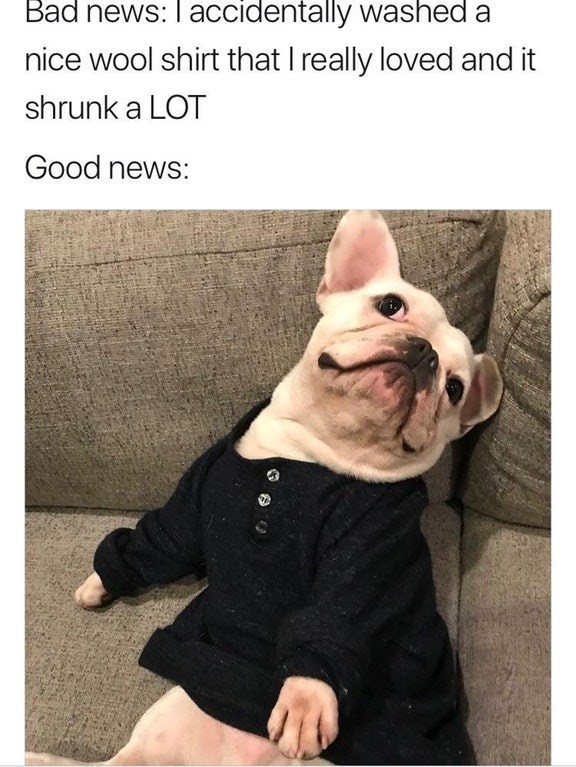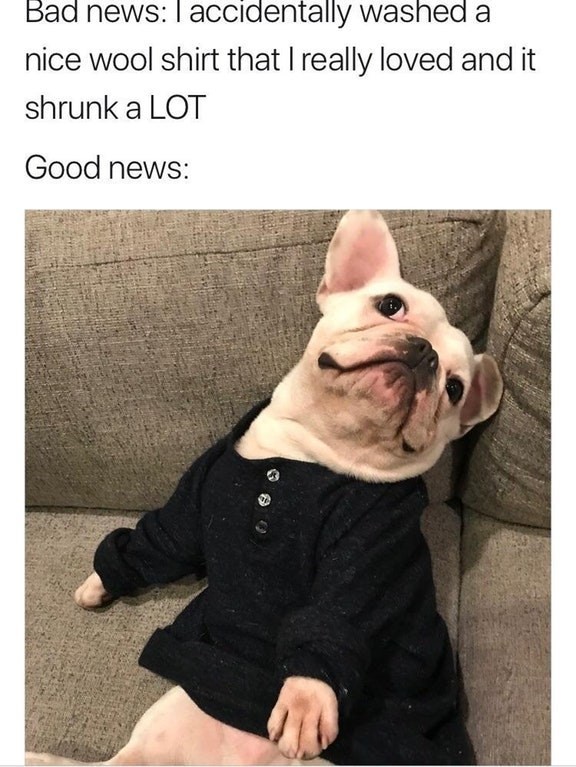 As kids we all loved the game of dressing-up our dolls and now as grown-ups, some of us like to dress their pets and seeing cute animals in shrunken clothes that we can no longer wear is just like a ray of sunshine after a long day of rain.
You Might Also Enjoy: How To Do Pillow Method Shifting Like A Pro (2024)
18. The Best Spot To Rest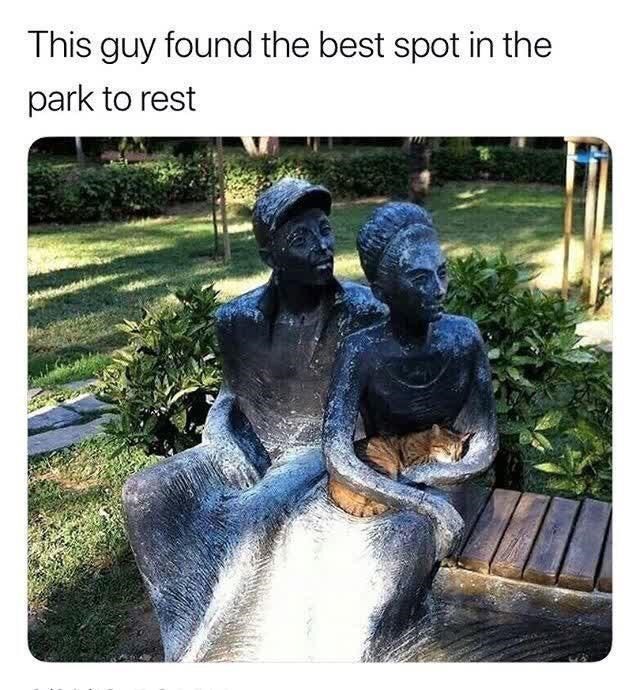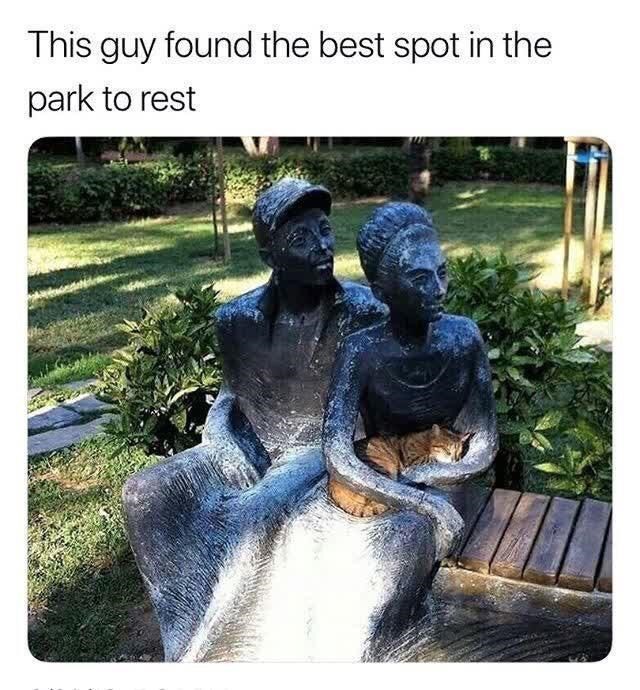 Finding a warm and comfortable spot to sleep is just a magical feeling and this cat here is definitely one of the lucky ones to be finding a place with the same descriptions.
19. Baby Yoda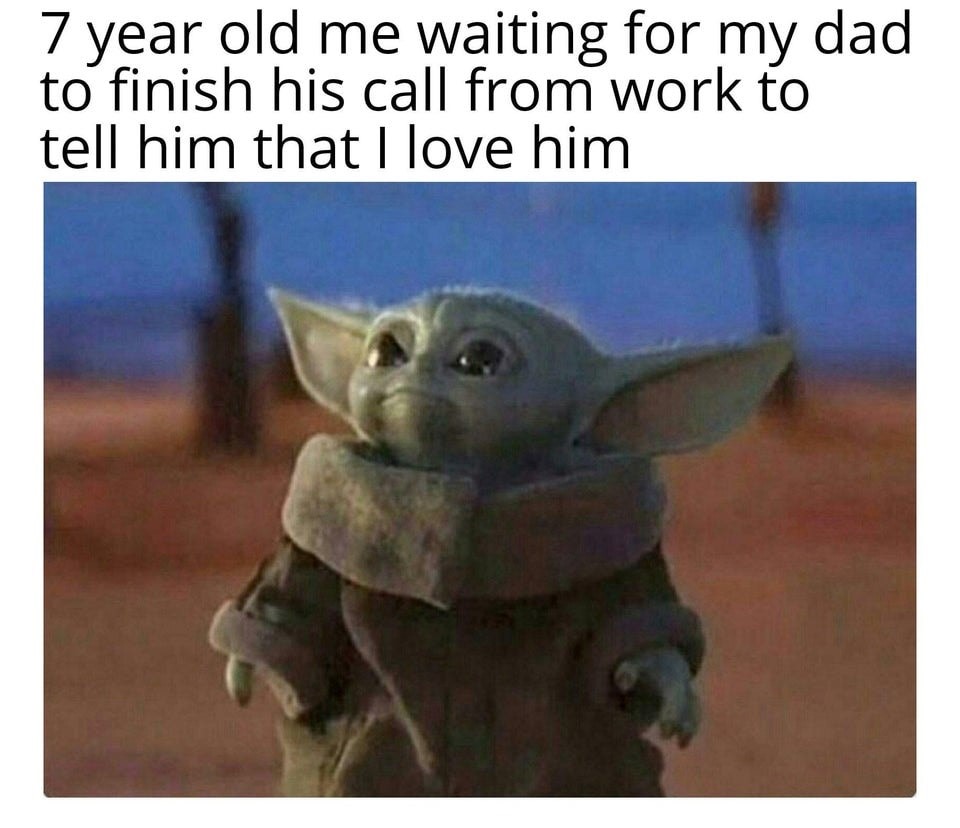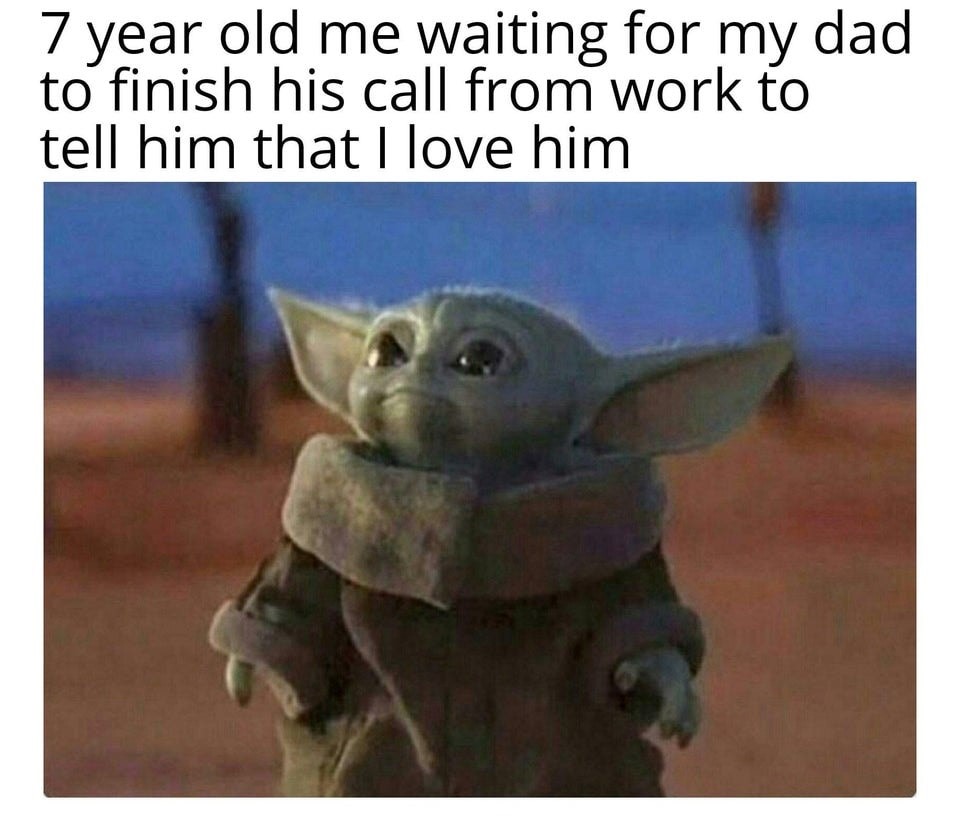 Kids sure do love their parents especially when it comes to interrupting their phone calls and confessing their love to their moms and dads. And you know what's even better than a baby human saying "I love you"? that's right a teeny-tiny Baby Yoda!
20. Brotherly Love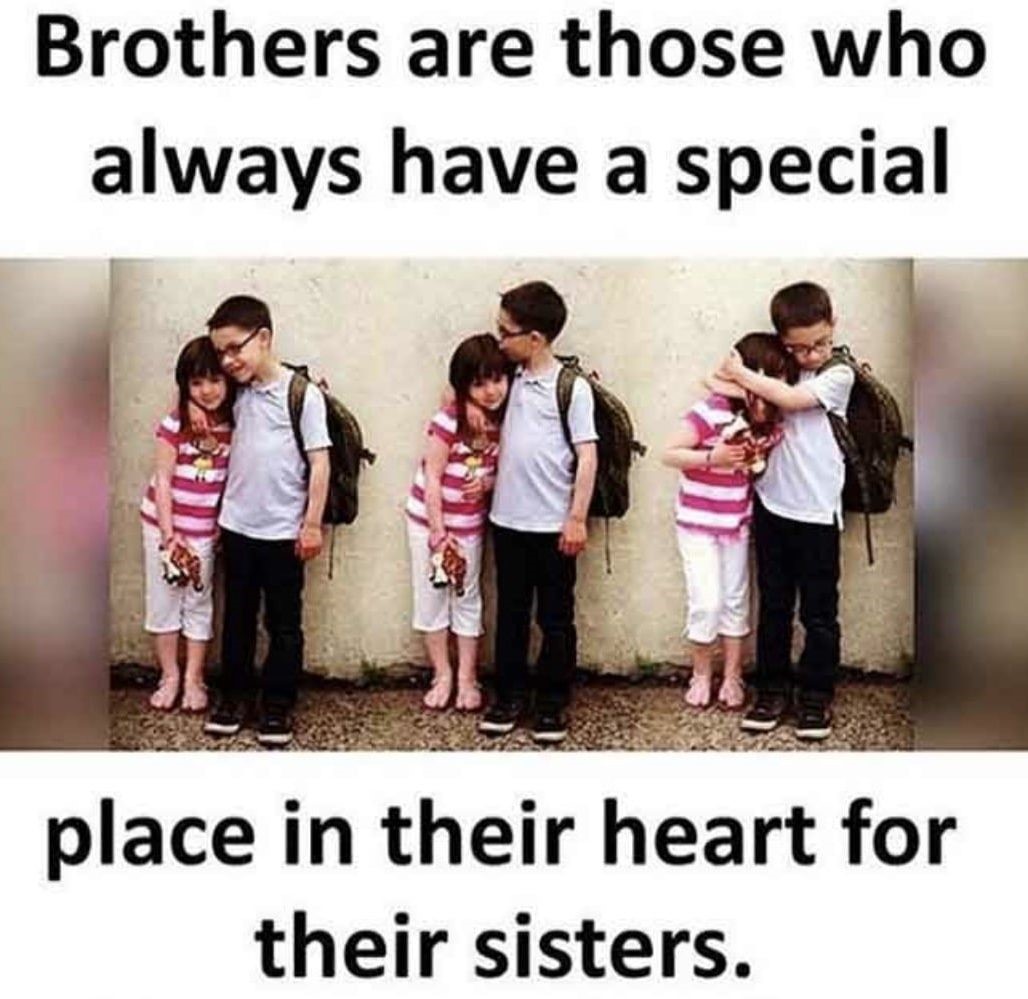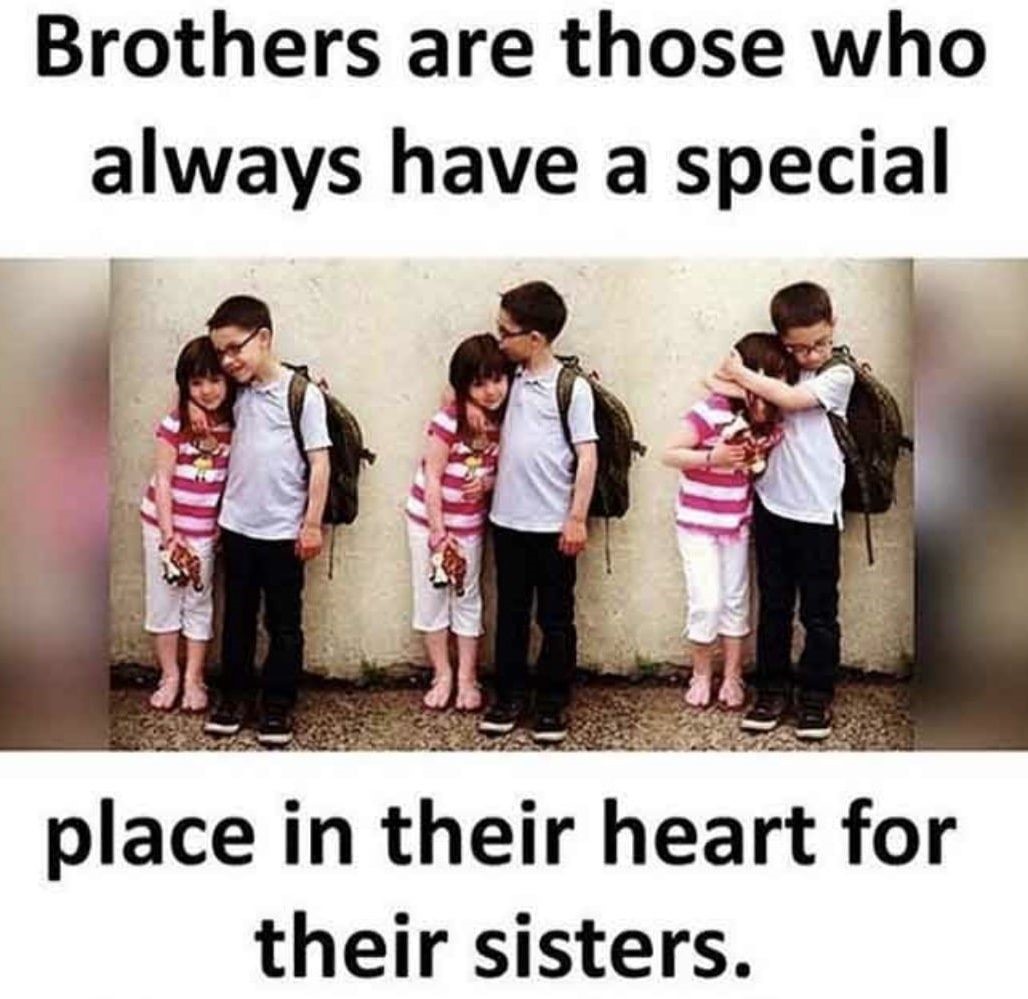 Here's another happy meme to cheer you up. Don't you just love seeing a brother having his sister's back? This heartwarming picture shows what it means to be loved by your siblings specifically when you know that this bond is meant to grow stronger as the time passes by.
21. Netflix Marathon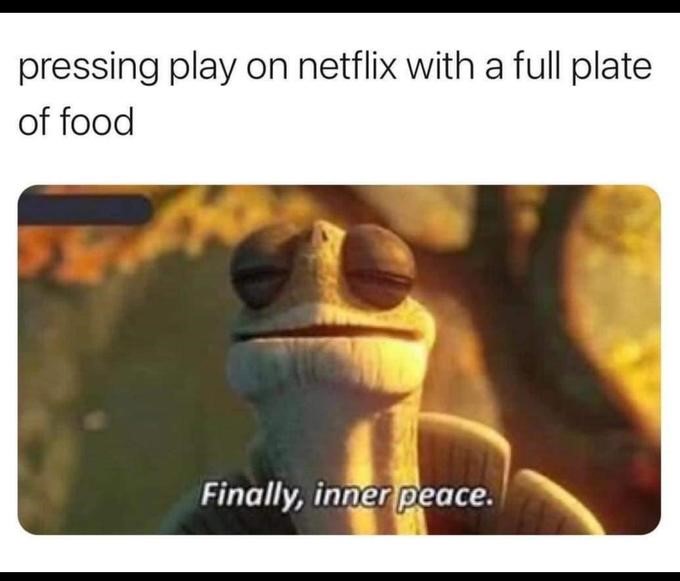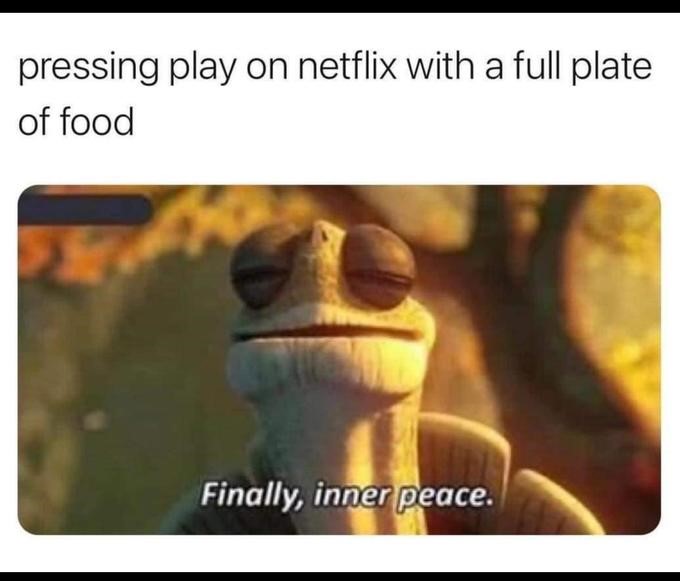 For those of us, who are introverts and love binge watching TV shows, Netflix marathons are probably the most comforting thing to do after a long day of socializing. If you want to escape the world and forget about your current concerns, grab your bowl of popcorn and just watch Netflix!
22. The Knight With His Shiny Armor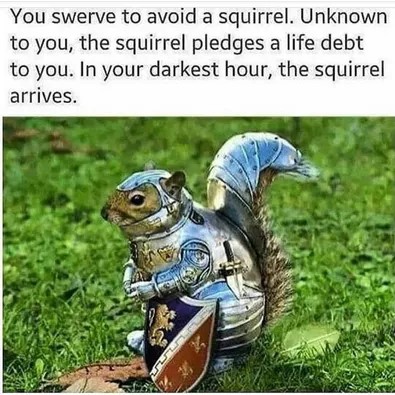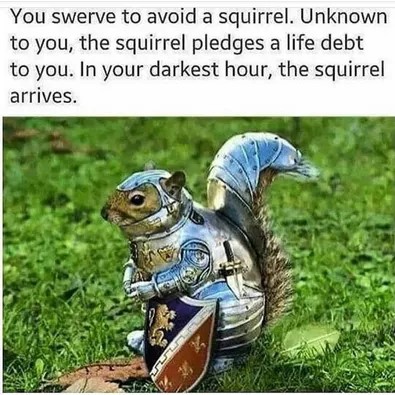 Have you ever been protected by a squirrel? Do you want to know how it feels? Well, all you have to do is treat a squirrel with kindness and see what happens. Because these cute animals can get very clingy once they are treated nicely. And they may even end up showing up for you in their shiny armor during your darkest hours!
23. Let's Get This Money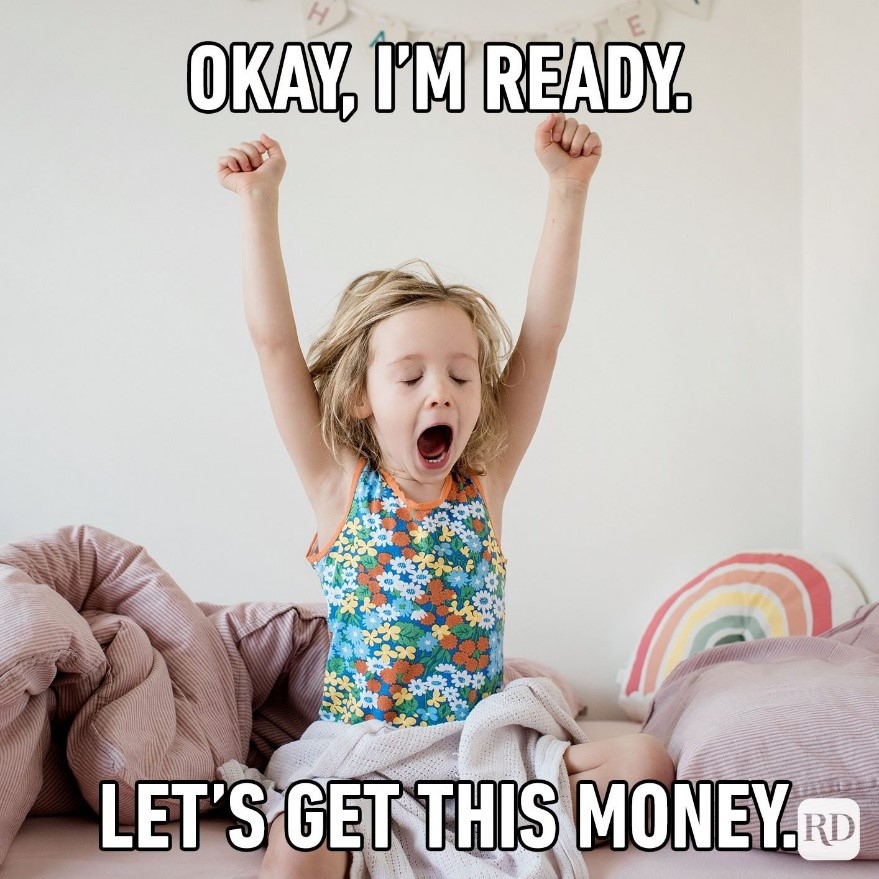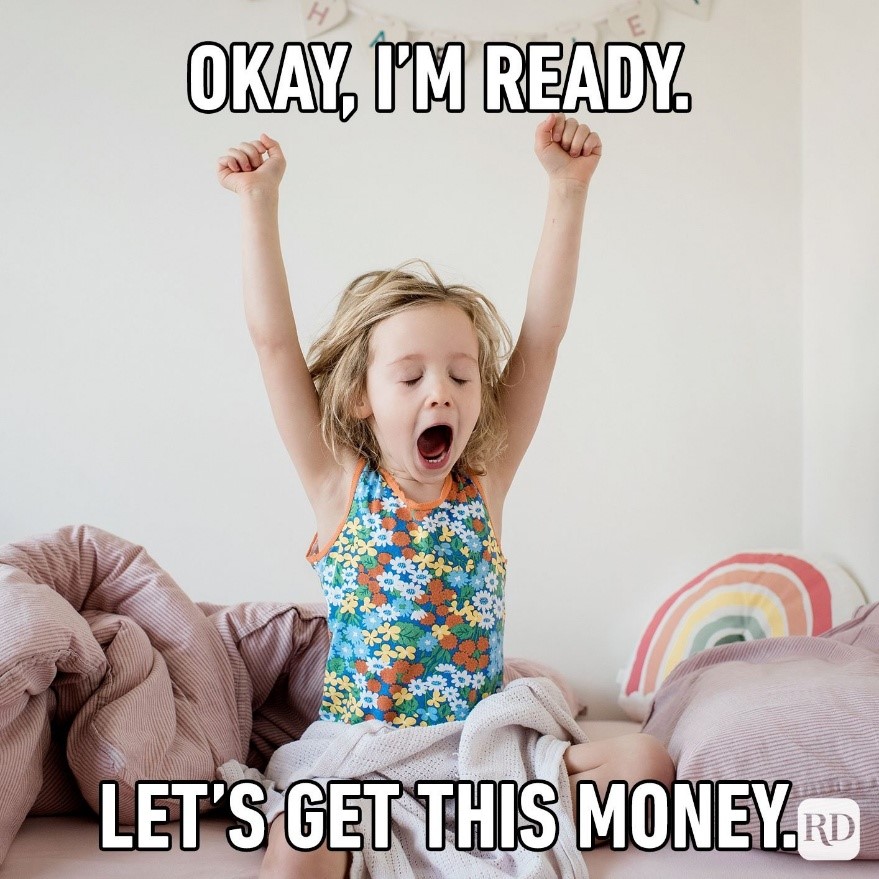 Getting up for work early in the morning can be a bit of a challenge for us, but none of us can deny the charm of having an income and being independent. So if you want to buy expensive stuff and treat yourself to nice things, get up and see money as your fuel to kick start your day.
24. Don't Forget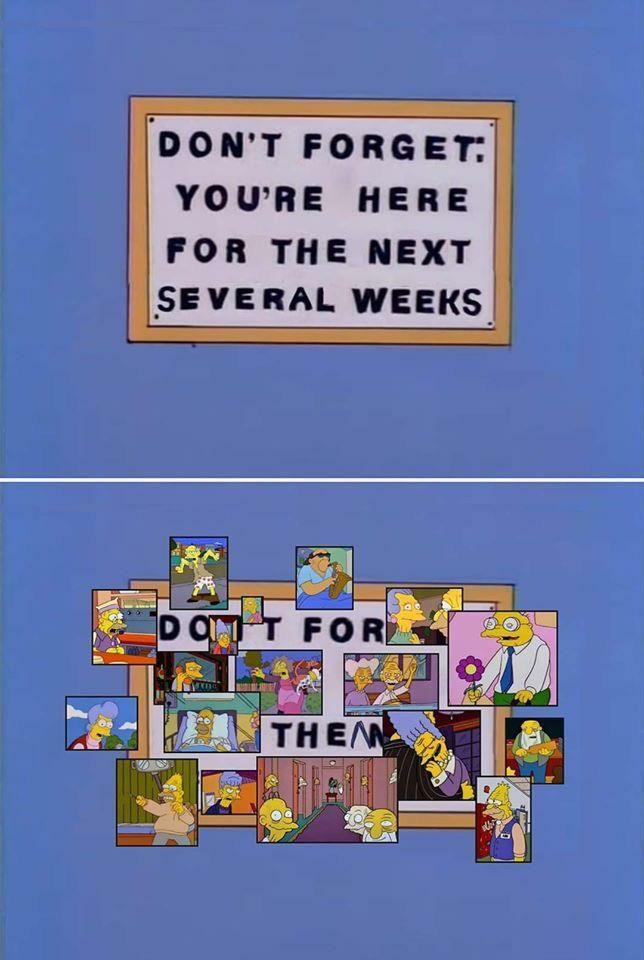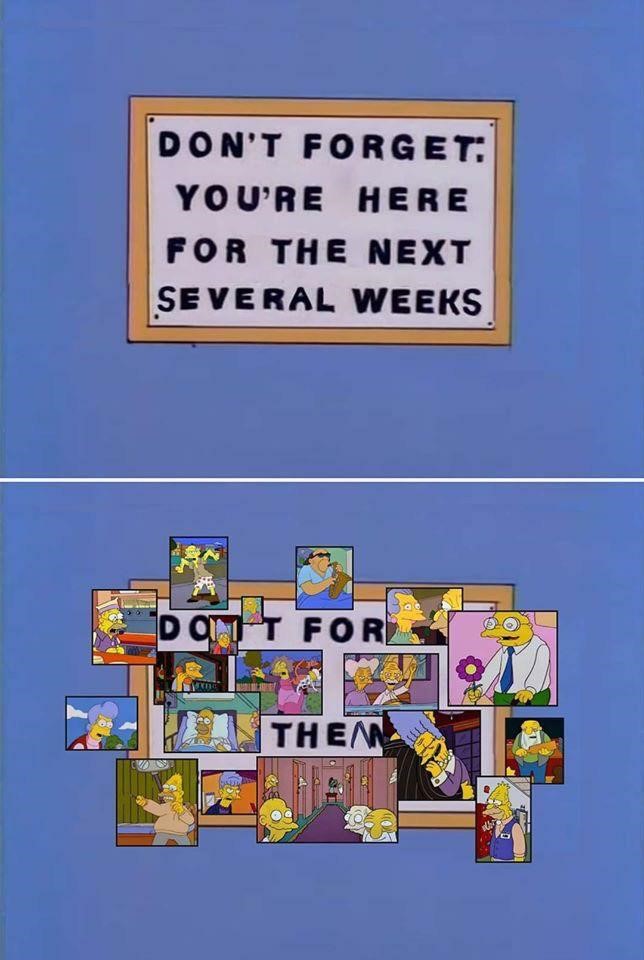 We all have a reason to get a job. Sometimes it can be personal excuse to do it for us but sometimes we do it for the love of our families. And though our acts of service can go unnoticed on a few occasions, the satisfaction of seeing our families happy will always put a smile on our face.
25. Ducking Mad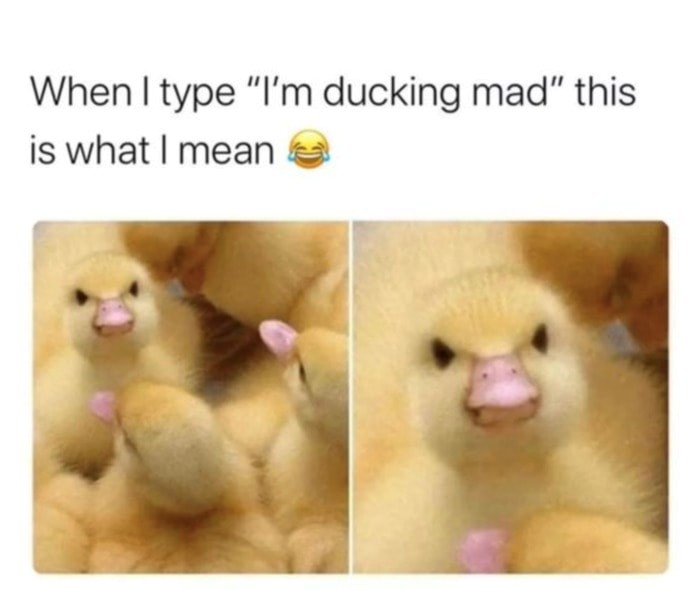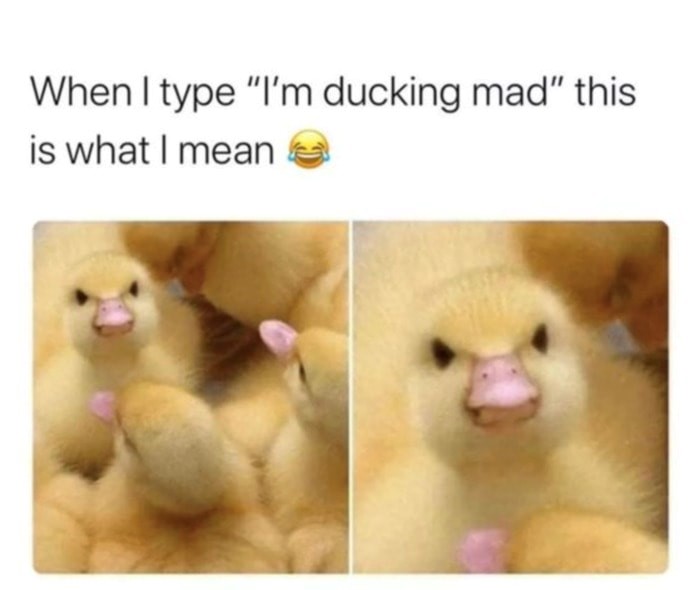 Seeing the faces of cute people getting angry is surely a delightful sight. Because no matter how hard they try they will still look adorable while going on a rampage. The same goes for this little duckling, which is trying really hard to look furious by being ducking mad!
You Might Also Enjoy: The Ultimate Guide To Heartbeat Method Shifting In 2024
26. There Is Nothing A Flower Can't Fix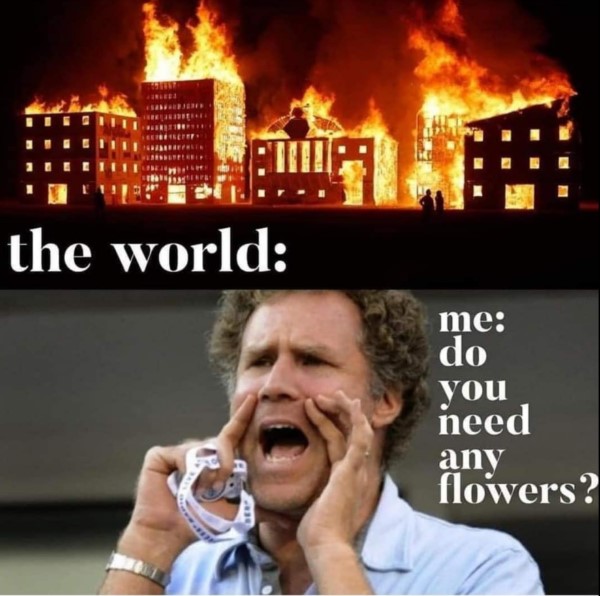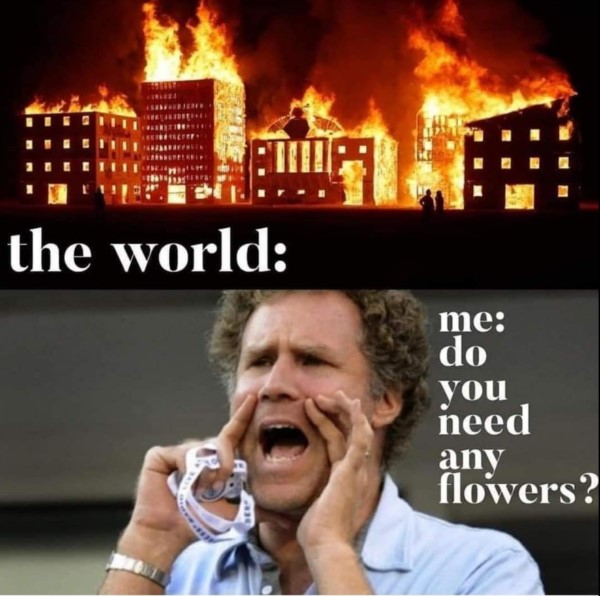 Is there any problem that a flower can't fix? Well, Will Ferrell thinks there isn't! No matter how hard life knocks you down there is always time to grab your wallet and head to the first flower shop you see. Getting flowers can be as satisfying as giving them. If you need to send flower memes for her then don't miss this!
27. Taco Tuesday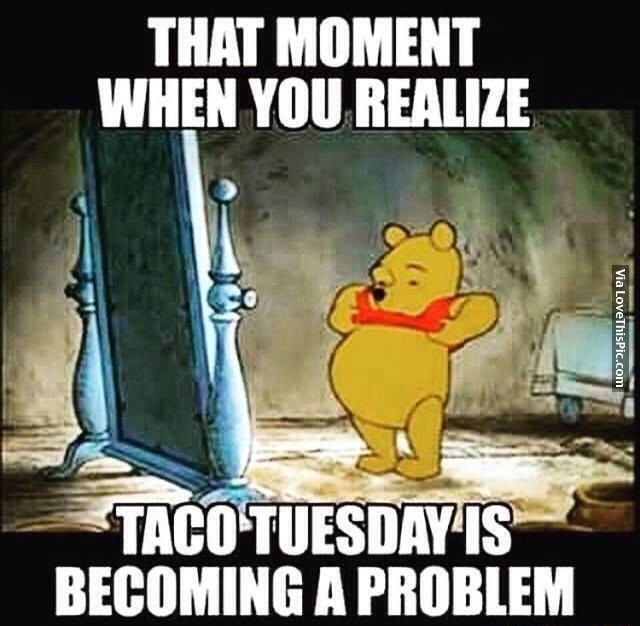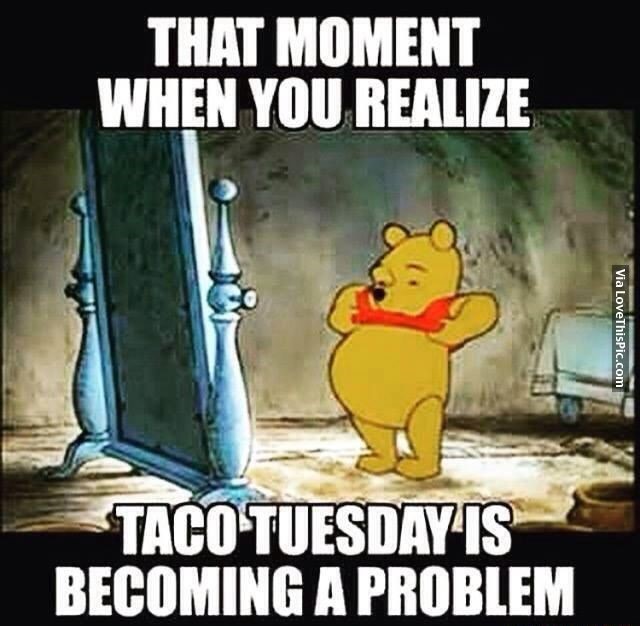 Having a nice physique is definitely something to be proud of but not if you are Pooh and taco Tuesdays are becoming your next big thing! Because if you keep on getting those tacos you might end up having to choose between burning those extra calories or giving up eating this food.
28. Caffeine Rush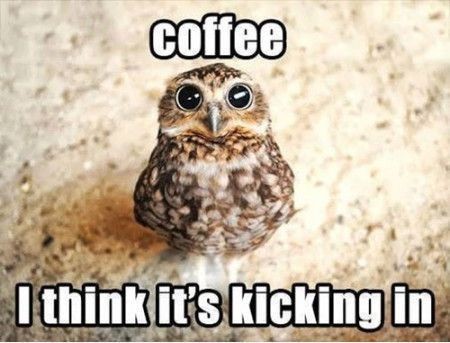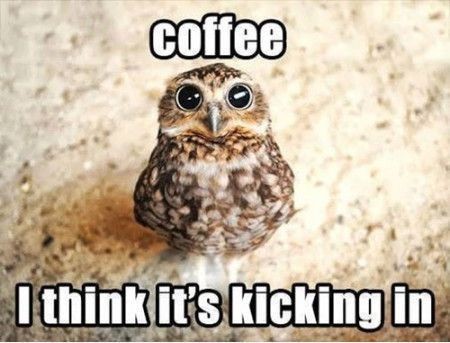 Coffee lovers definitely know what it means to have the first sip in the morning and get that necessary caffeine rush to carry on with the rest of the day. And this little owl seems to be one of those, who gets it!
29. Remote Meetings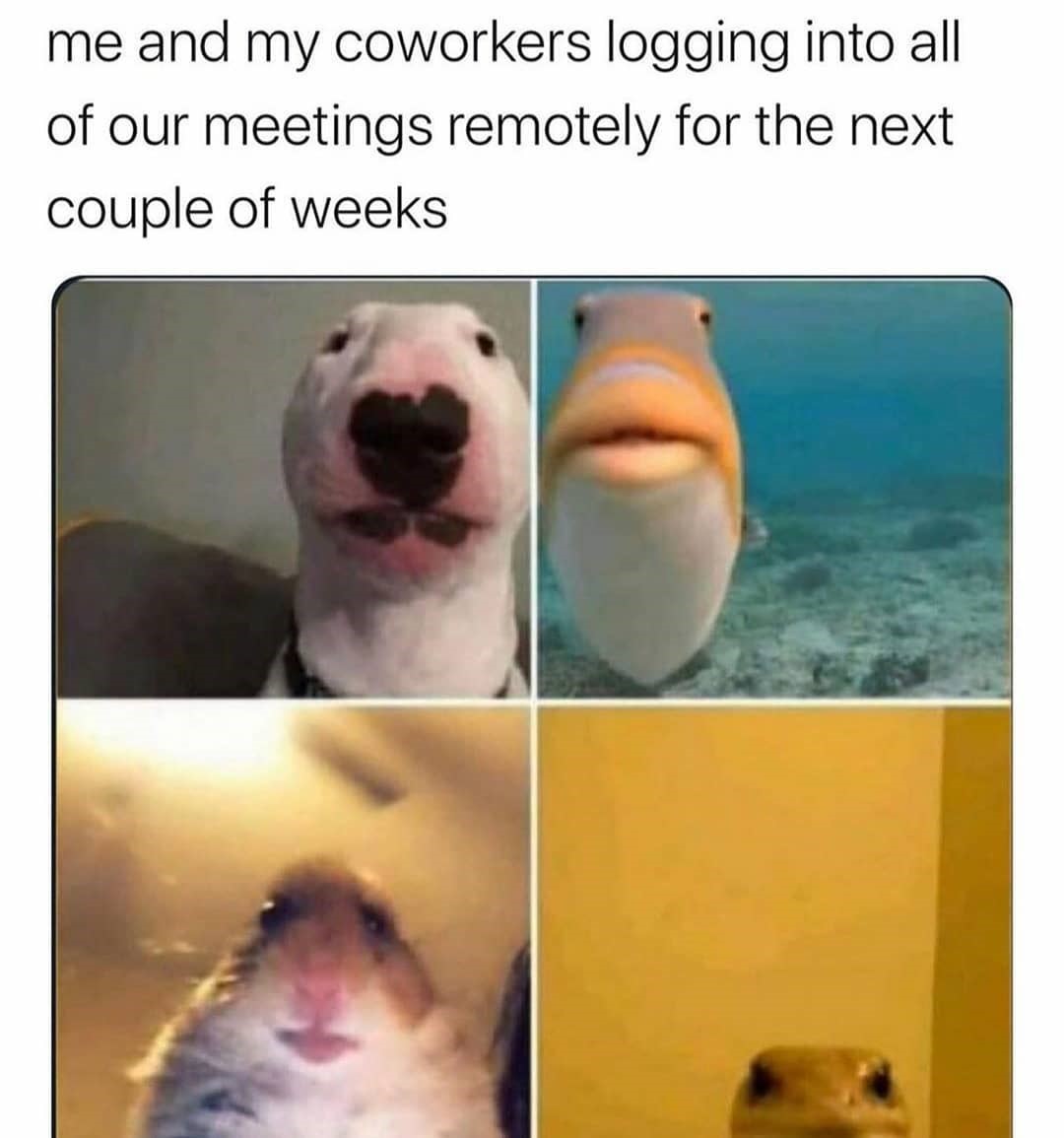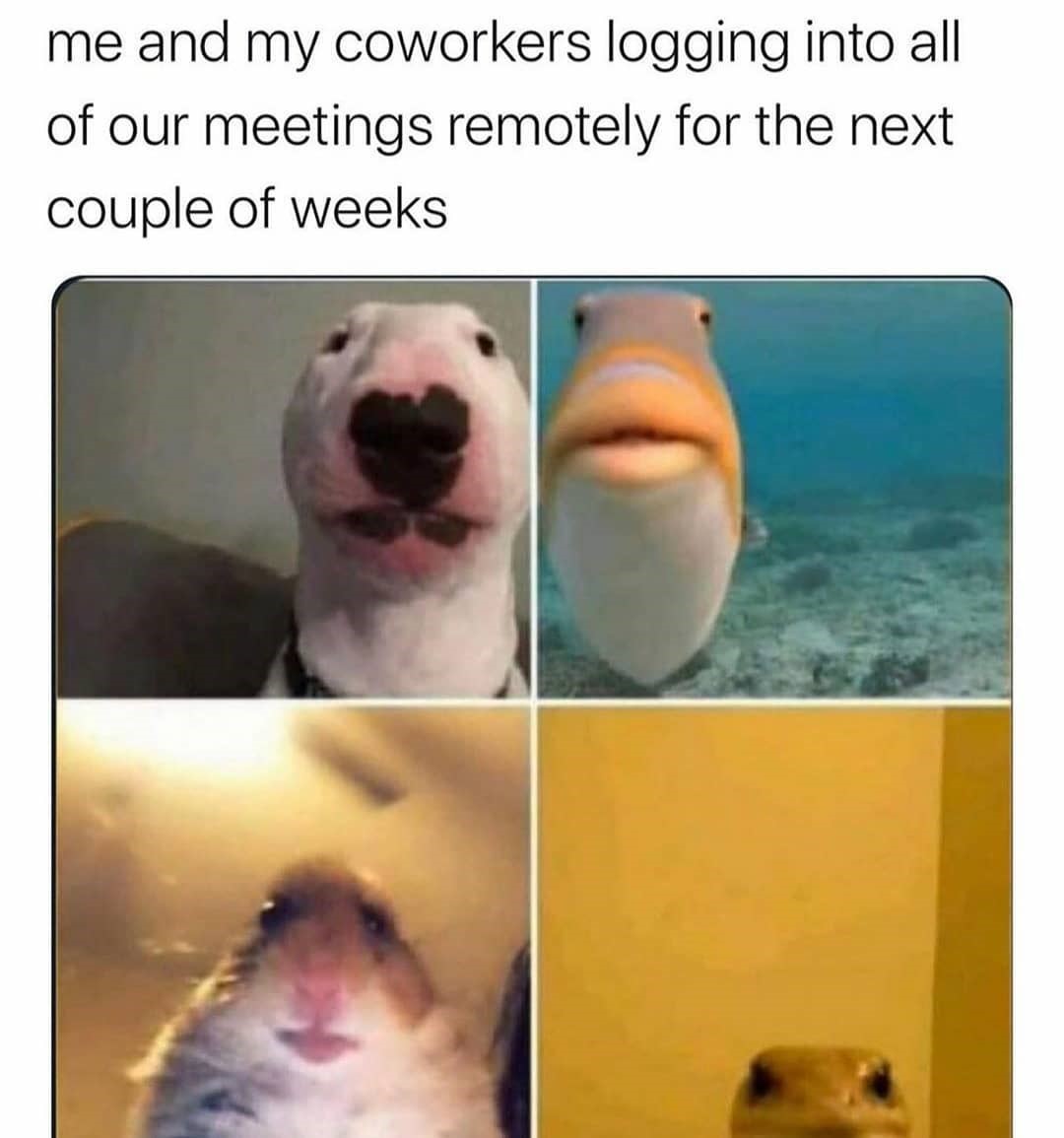 Participating in remote meetings and showing up in front of the camera can give you a funny looking face and these four animals surely know the exact meaning of having to pose in front of that camera to look less awkward!
You Might Also Enjoy: Top 20 Master Oogway Quotes to Inspire You
30. Getting Comfortable In Zoom Calls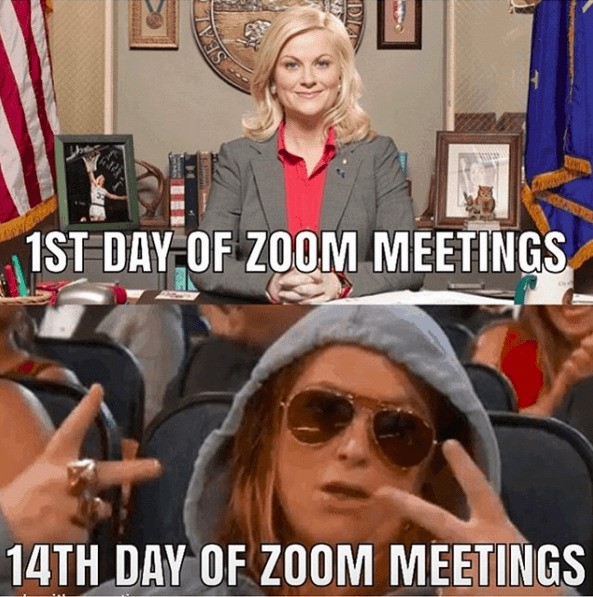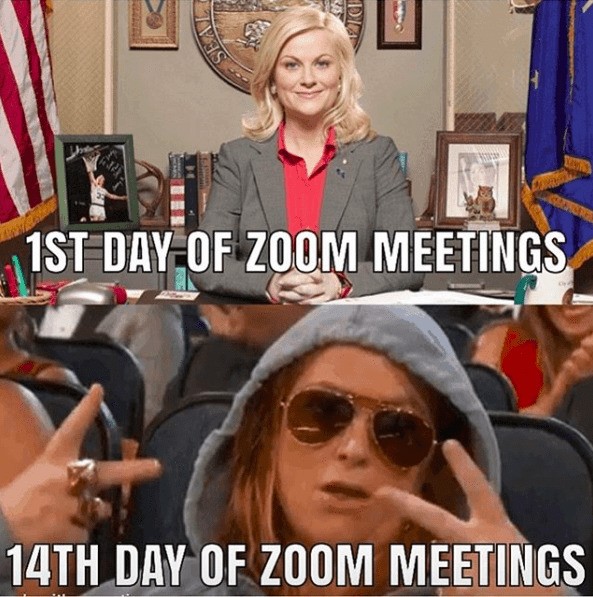 We all had that first Zoom meeting, where we tried to impress our co-workers by dressing nice. But once you get comfortable and friendly in your work space you change the dress code to casual, and to help you out with this one, Amy Poehler is here to tell you how it's done!
31. Too Cute To Hide It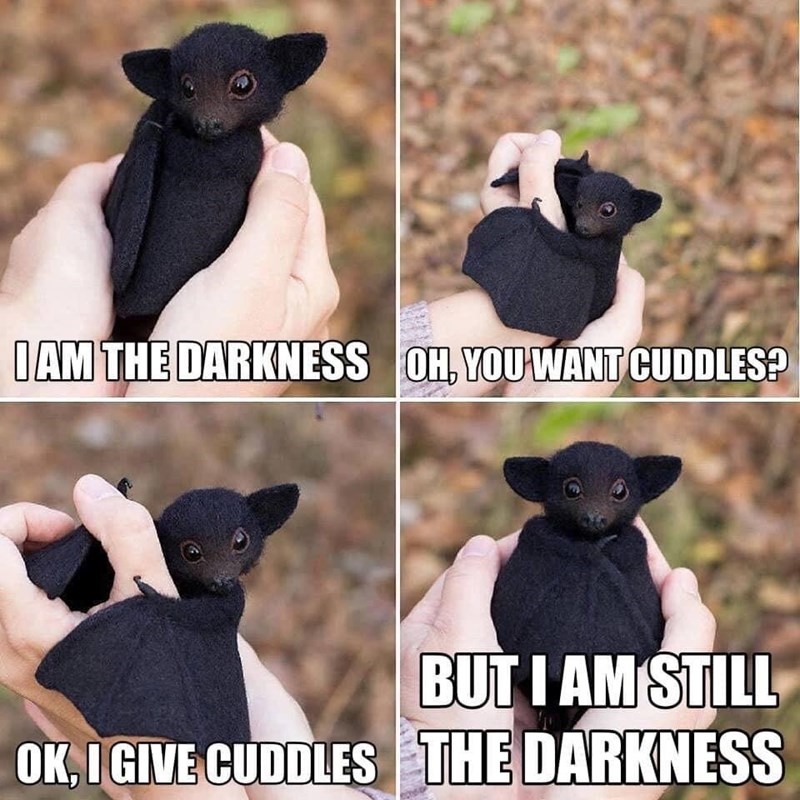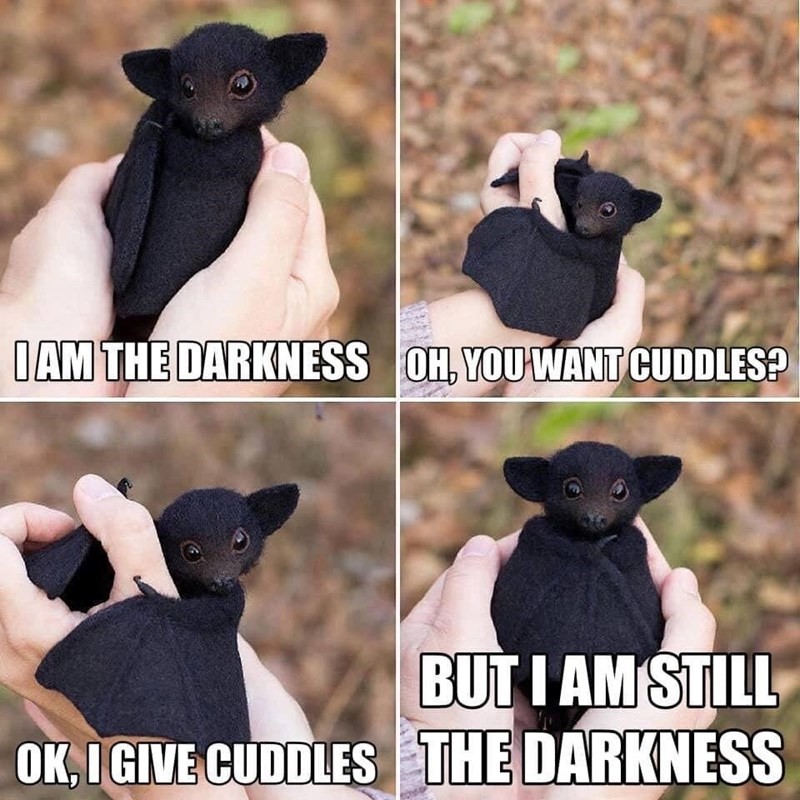 People with a nice and caring character are usually the ones, who find it hard to act cruel. This small bat is a proof that you can try and look bad but your kind nature will always get in the way of you turning all dark and brutal.
32. Giving And Receiving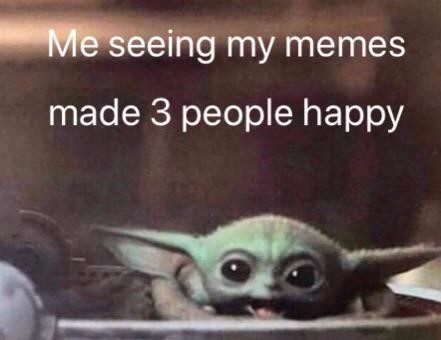 If you came all this way to look at our collection of happy memes and you did enjoy seeing a number of them warming your heart, then we are happy with the results the same way this Baby Yoda is celebrating his success for making people happy with his memes.
33. Meditating woman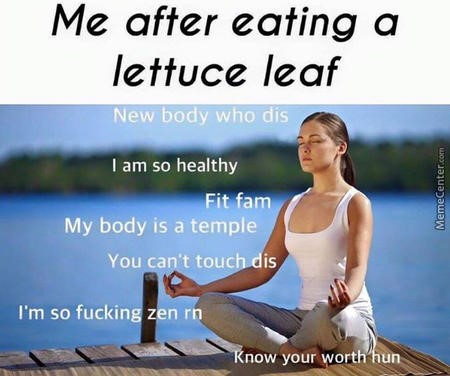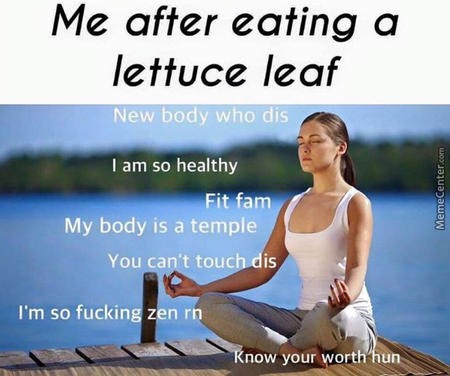 Treating your body to nice food and healthy eating can really boost your confidence and physical awareness. So, who says you don't have the right to hype yourself for starting a new journey to form your body in the right shape?
34. The Chew Toy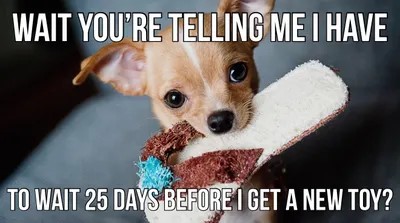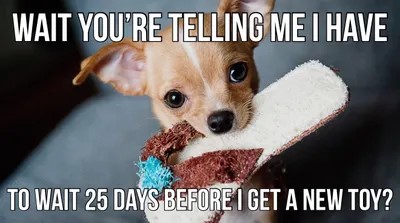 Dog owners know about sacrificing their footwear for their pets, and they are quite aware that not getting their dogs a chew toy will mean they have to say goodbye to their slippers and shoes. If you fail to buy your dog a chew toy, you might end up being threatened by them, and we don't want that to happen do we? This Chihuahua owner knows what we are talking about!
35. Morning Coffee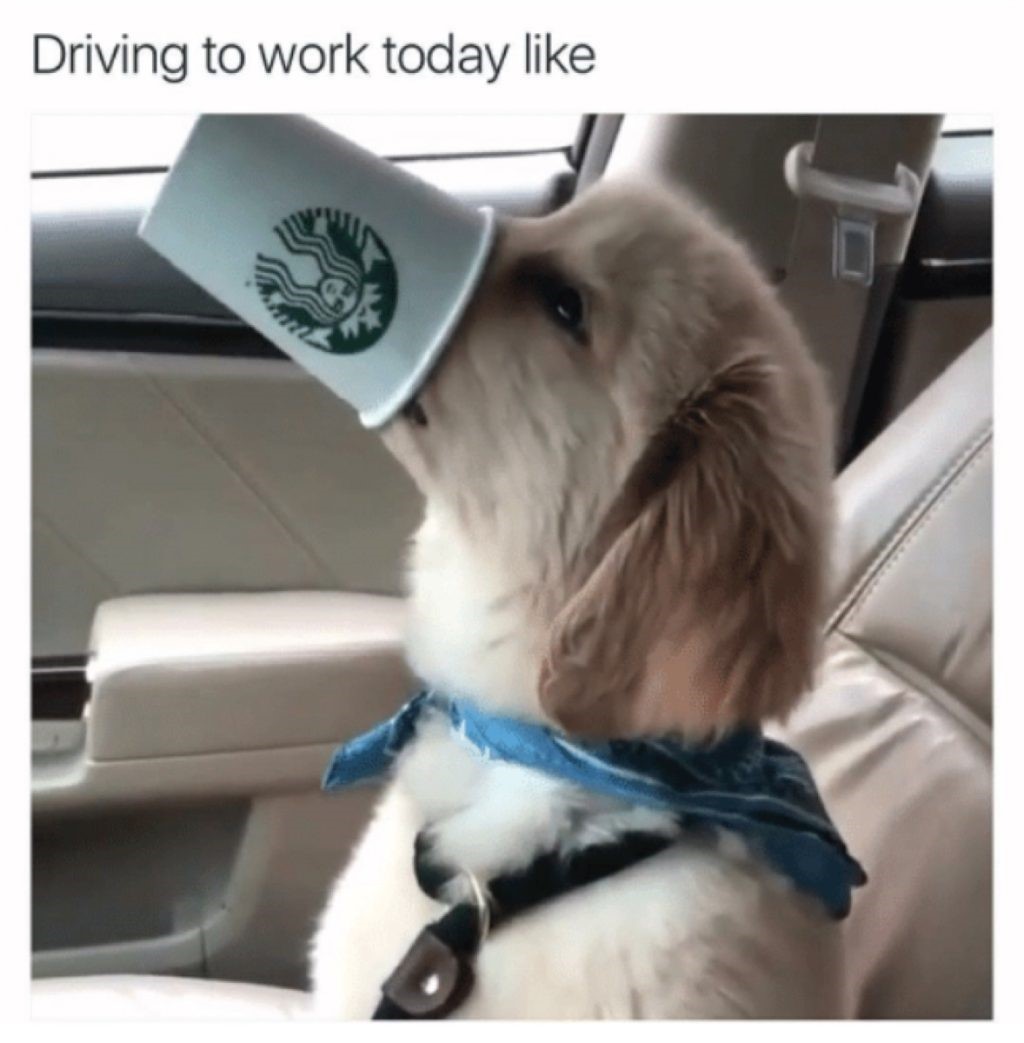 Being late for work can put you in a lot of awkward situations, doesn't it? For some of us it could even mean having to drink our morning coffees while driving. And this is how you multitask on the way to work as this meme shows.
You Might Also Enjoy: Best 40 You Are Worthy Quotes to Change Your Life in 2024
36. Making A Big Life Decision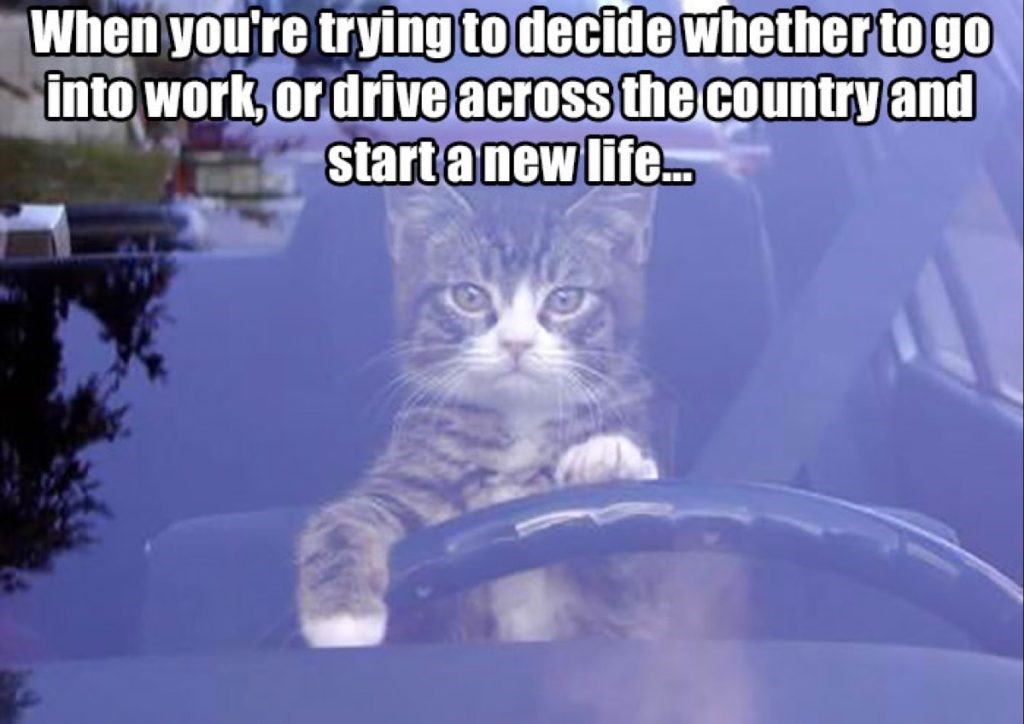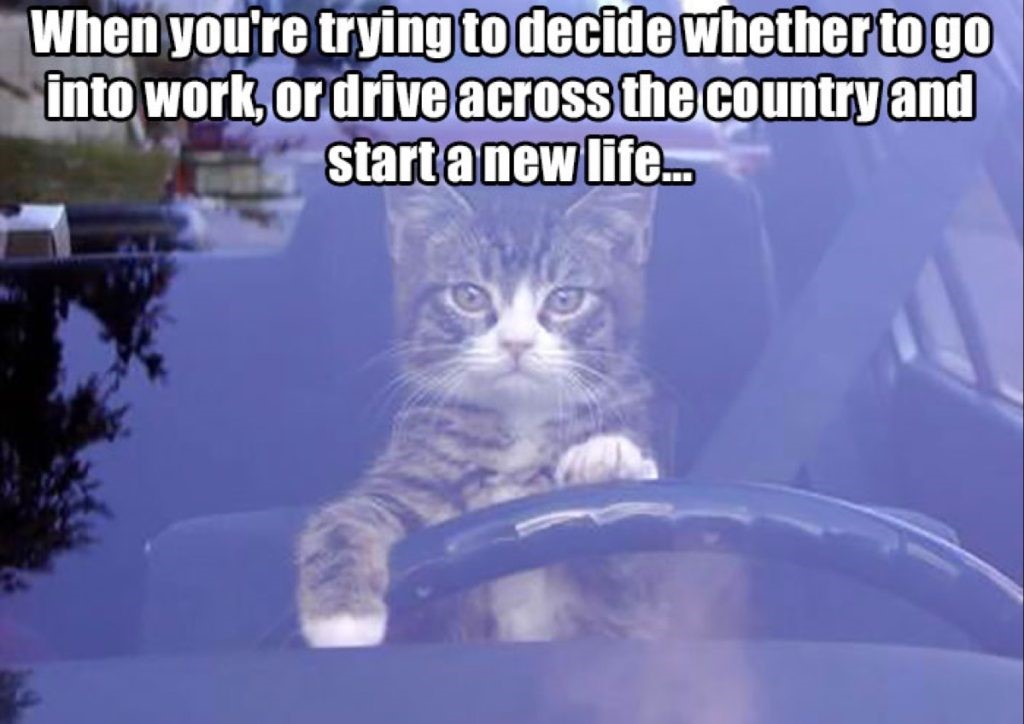 Making a big life decision can be exciting especially if it means quitting your work and going on a journey to find your soul. And didn't we all have the same thought at least once in our lives? Still, don't let it cross your mind that you can't have the best of both worlds and if you want any of that, who says you can't? This cat doesn't!
37. Emotional Attachment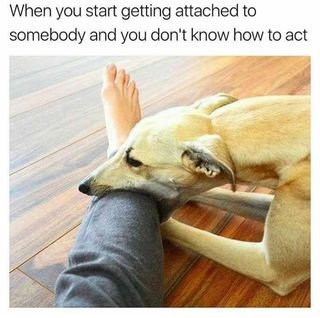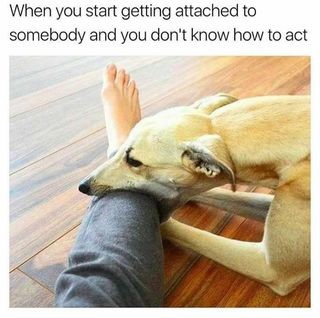 A dog chewing on the leg of its owner only because it's getting too attached, who wouldn't want that? Loving someone and acting weird around them does not mean you are an odd person it just means that you are comfortable enough with that specific individual to show your true nerdy character in front of them.
38. Miserably Rich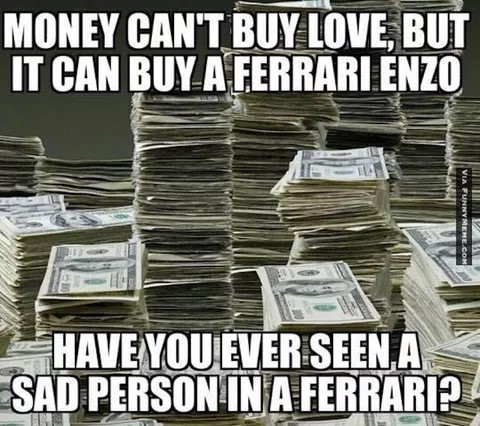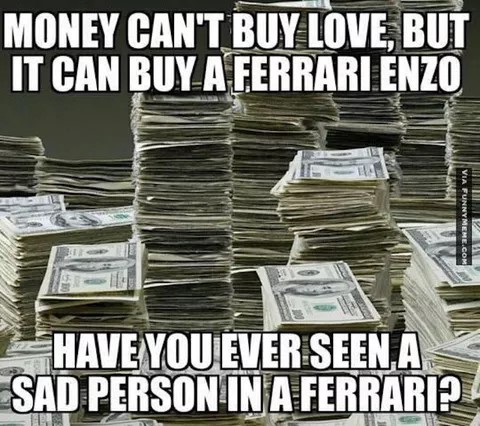 They say "money can't buy happiness", but have ever seen a rich person being sad for driving a Ferrari? If you got the money go and buy the thing you love the most because you know what life is too short and why be sad when you can spend all the money you have?
39. To Spend Or Not To Spend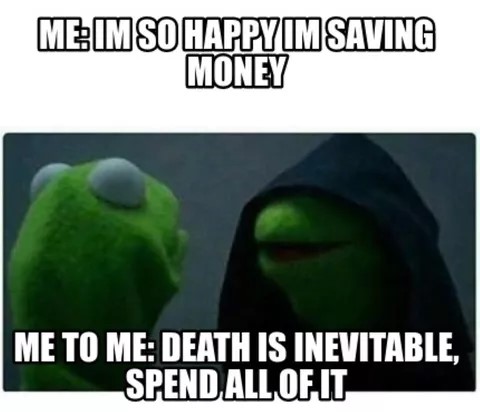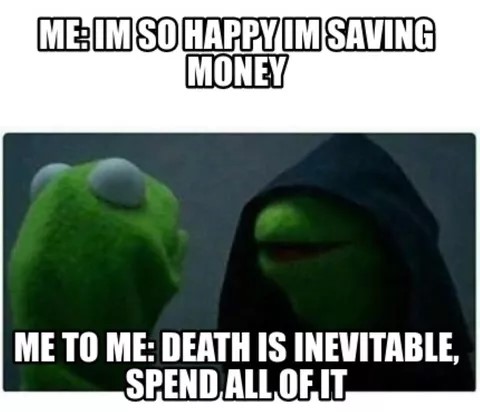 When it comes to money, we all get caught up in a two-way street, where we keep asking ourselves whether to save some of it or just spend it all because eventually nobody makes it out alive and why not spoil ourselves while we still have time?
40. Puppy Holder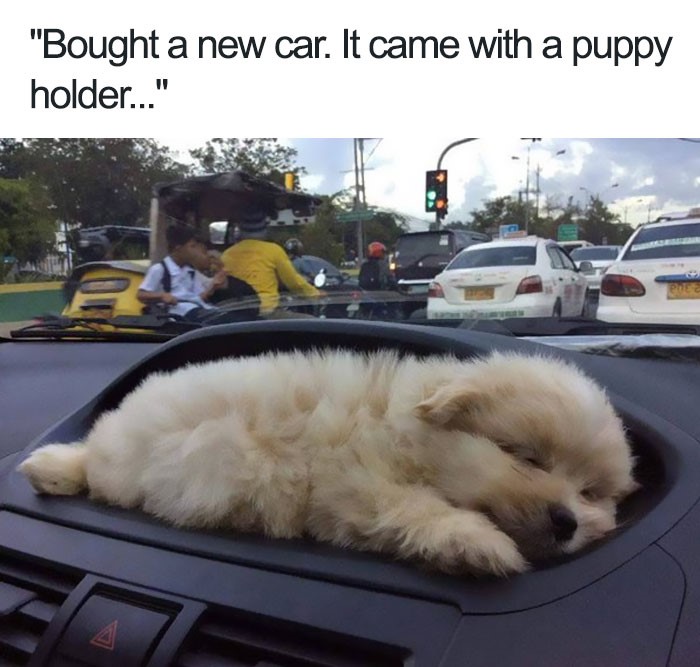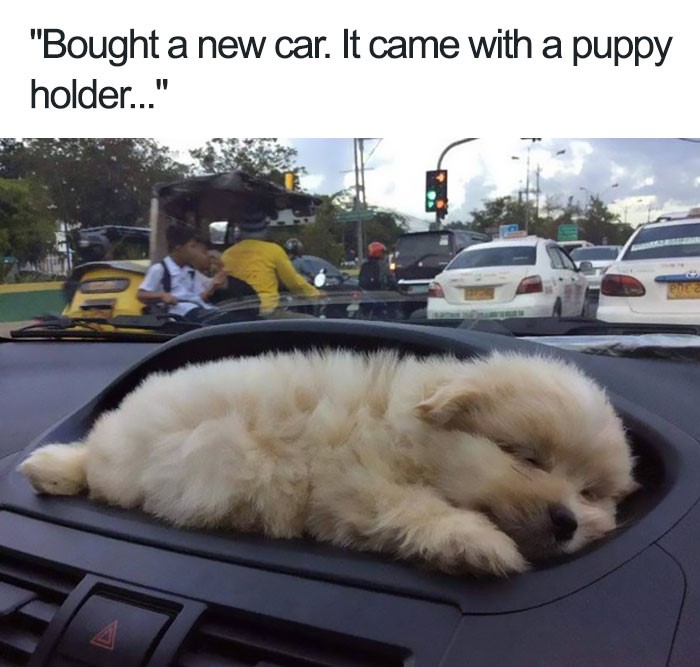 A new car with a sleeping spot for your little puppy? Isn't this the cutest thing ever! For pet owners, the comfort of their animals comes first and if it means they have to buy a car with specific additions to increase the comfort of their pets, then so be it!
41. Getting Hyped Up By Mom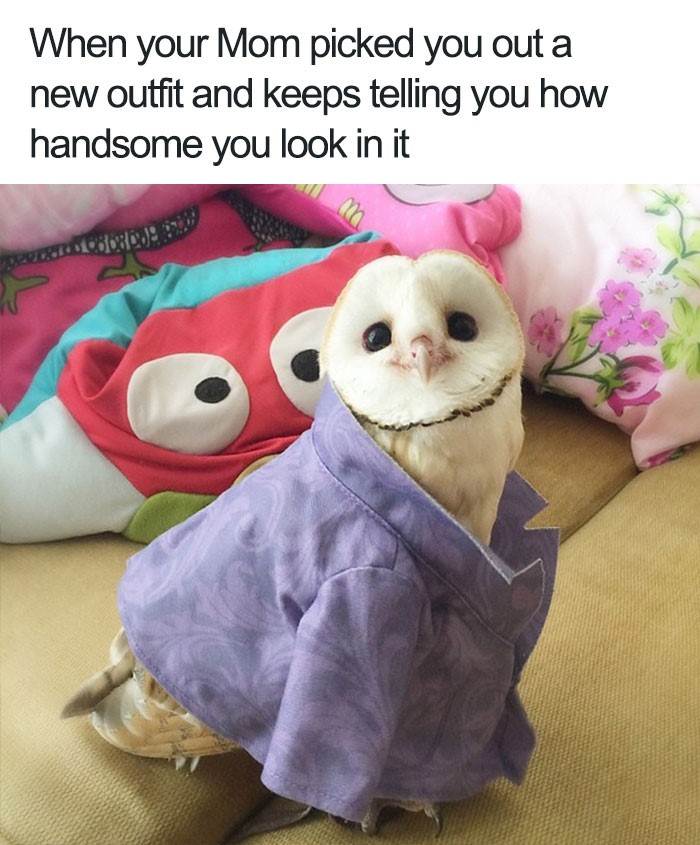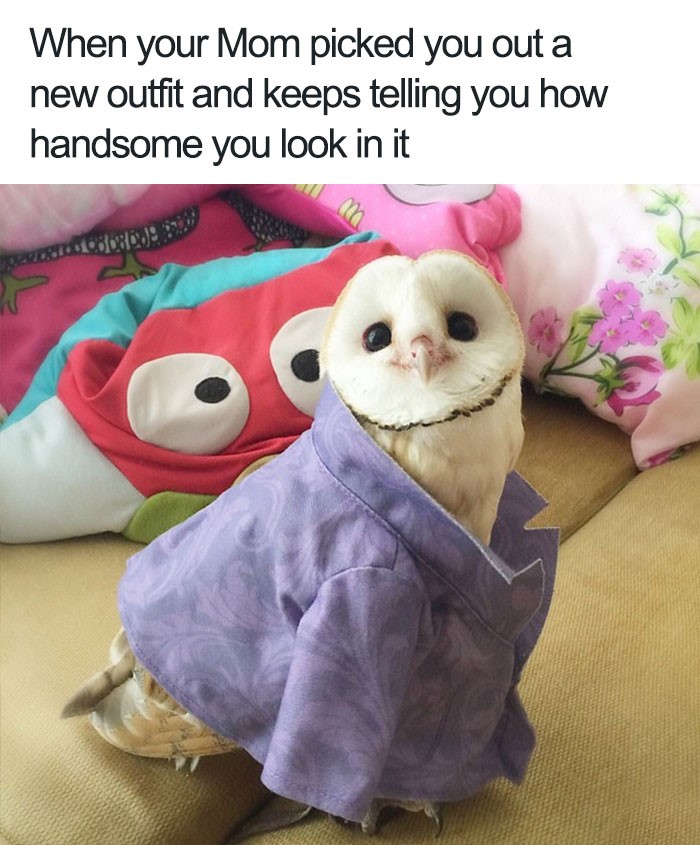 Moms love to get new clothes for their kids, but what makes them even happier is seeing their children wearing those clothes. Getting hyped up for wearing what your mom has bought you is definitely something to look forward to.
You Might Also Enjoy: Top 50 Empath Quotes to Empower a Sensitive Personality in 2024
42. Having Coffee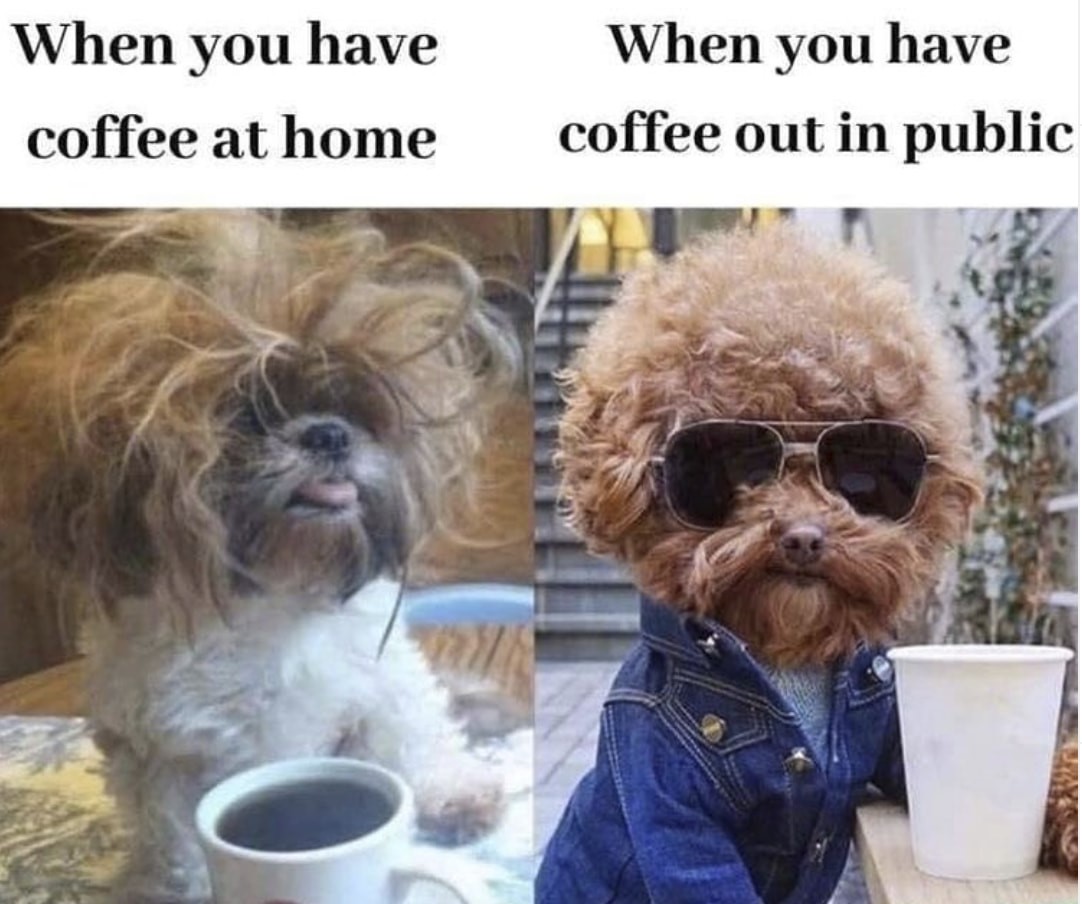 Nowadays, we see influencers being dressed in their best clothes and posing for a picture with their coffee, but we barely get to see them doing the same thing from the comfort of their homes. Since this a rare sight to see, here is a dog giving a glimpse of what it looks like to get a coffee at your own house.
43. Pikachu Loves You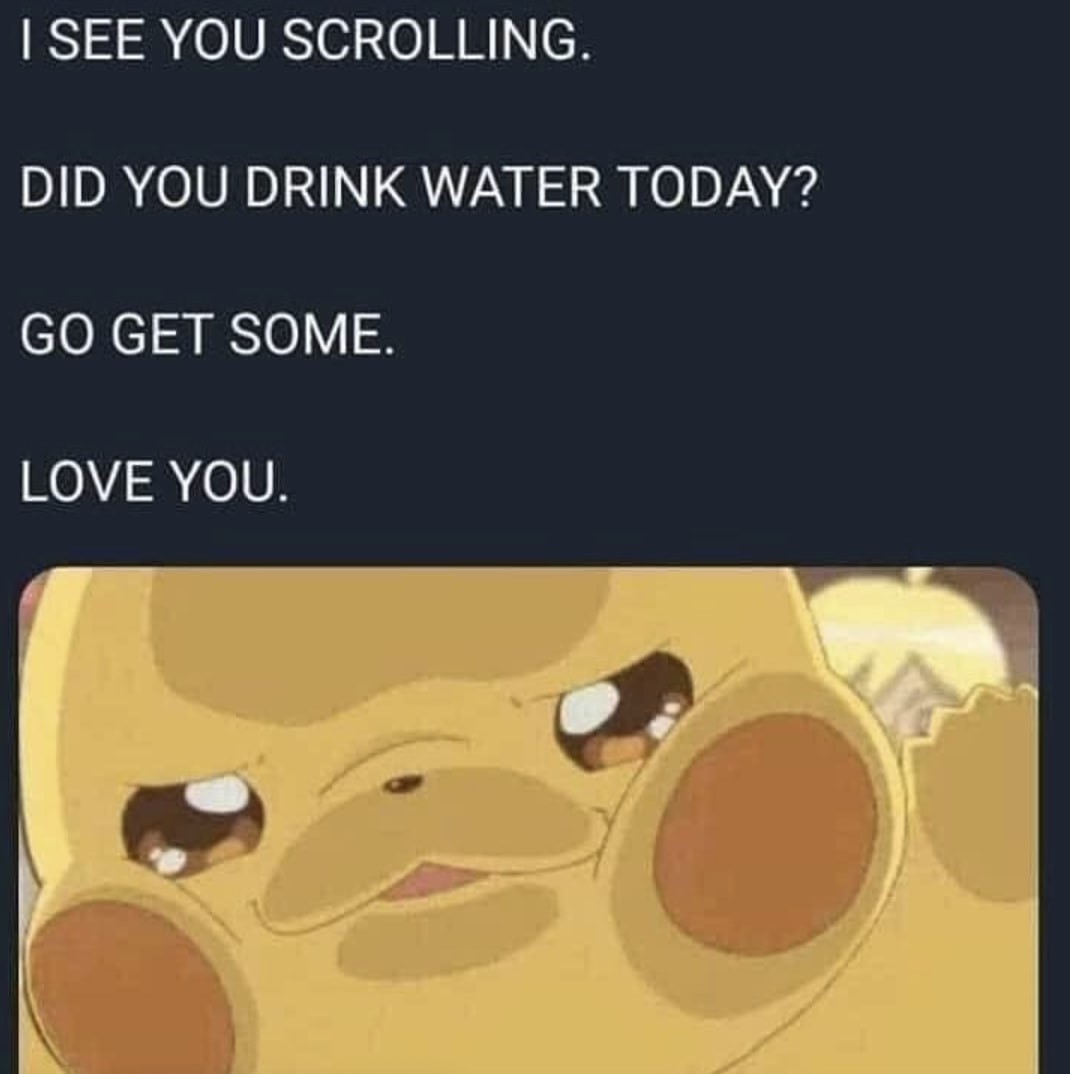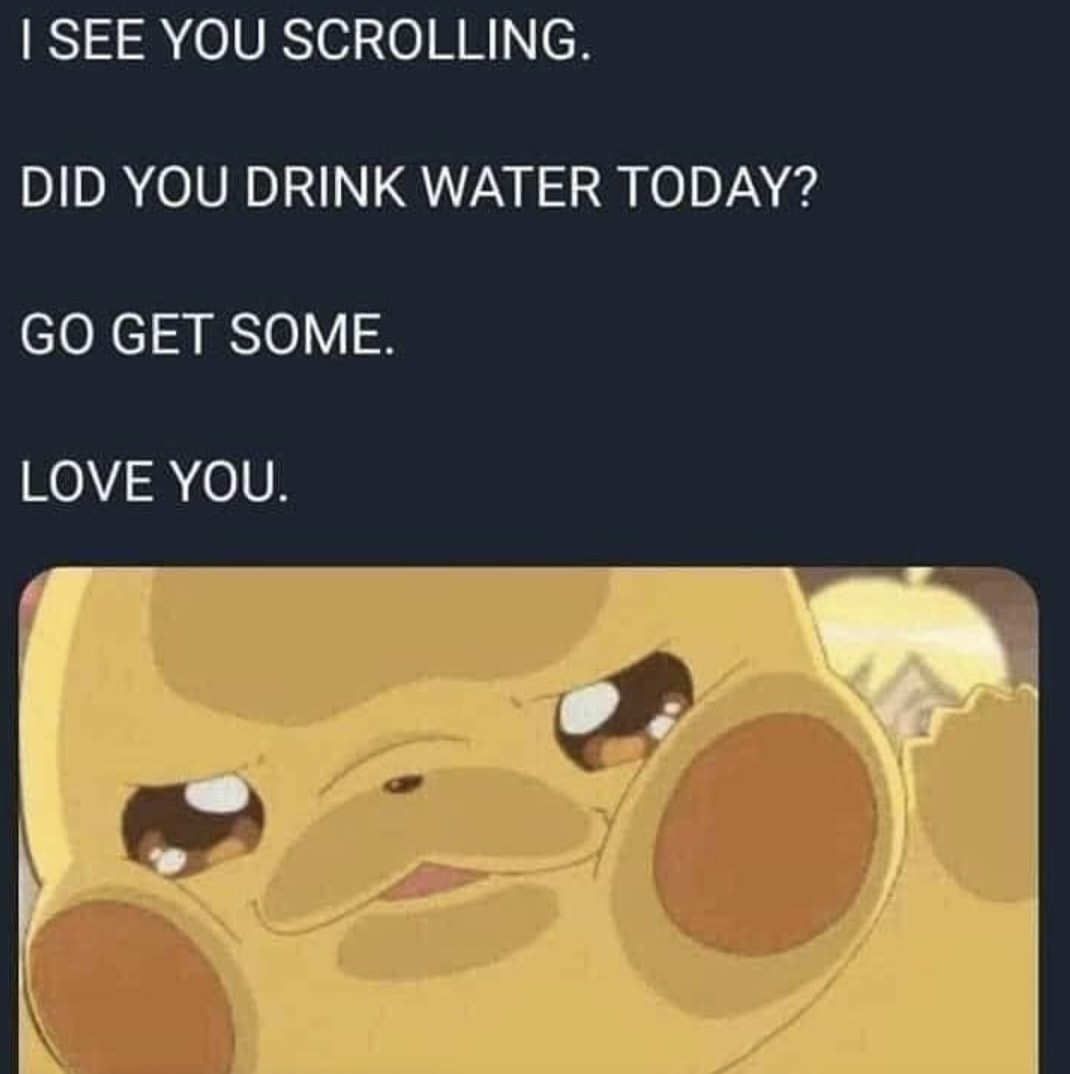 If you haven't taken a break while watching these happy memes, Pikachu is here to remind you that you need to get up for a bit and maybe drink a glass of water. Also bear in mind that Pikachu loves you!
44. Listen To Bob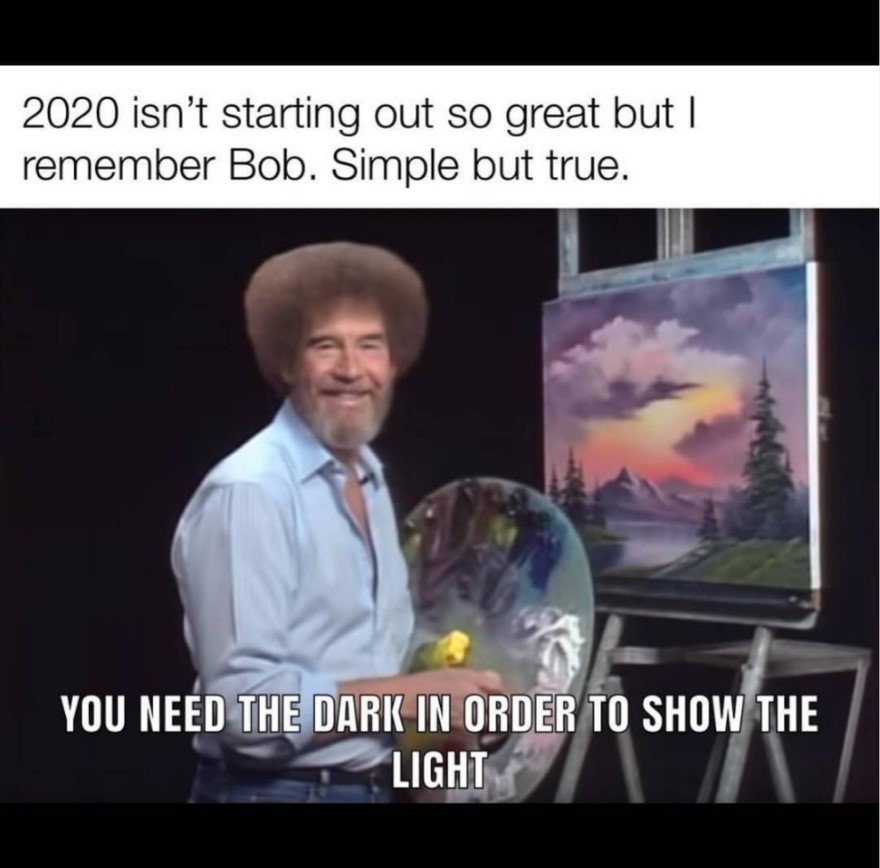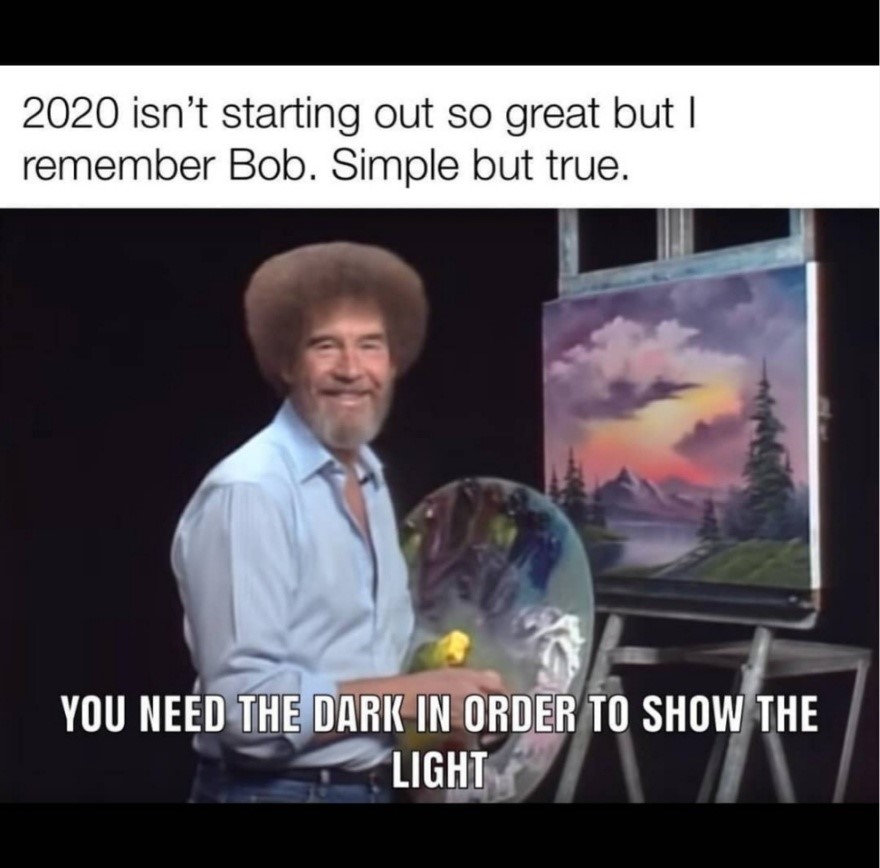 Life is about ups and downs and you never get to see life going the same way you want. Sometimes it gets better and sometimes it gets worse but this is no reason to forget about what Bob Ross once said, which is, "you need the dark in order to show the light".
45. Happy Dog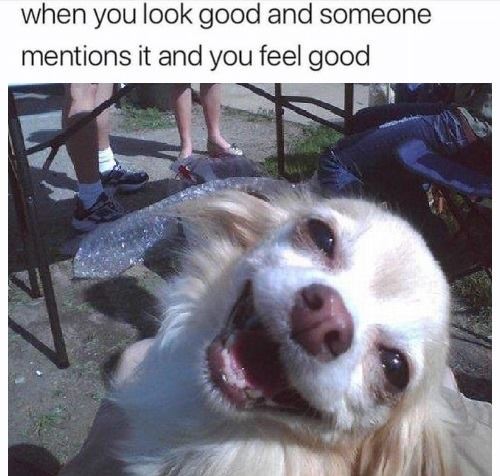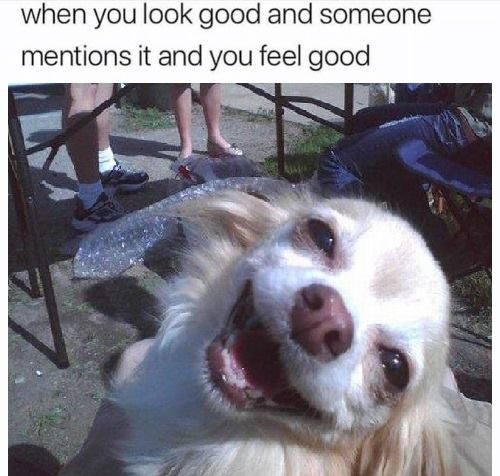 Being proud of your look and getting compliments confirming that you look good will certainly boost your self-esteem and if you don't know about the feeling just ask this cute dog!
You Might Also Enjoy: Top 40 Glow Up Affirmations To use In 2024
46. The Raccoon And The Stuffed Animal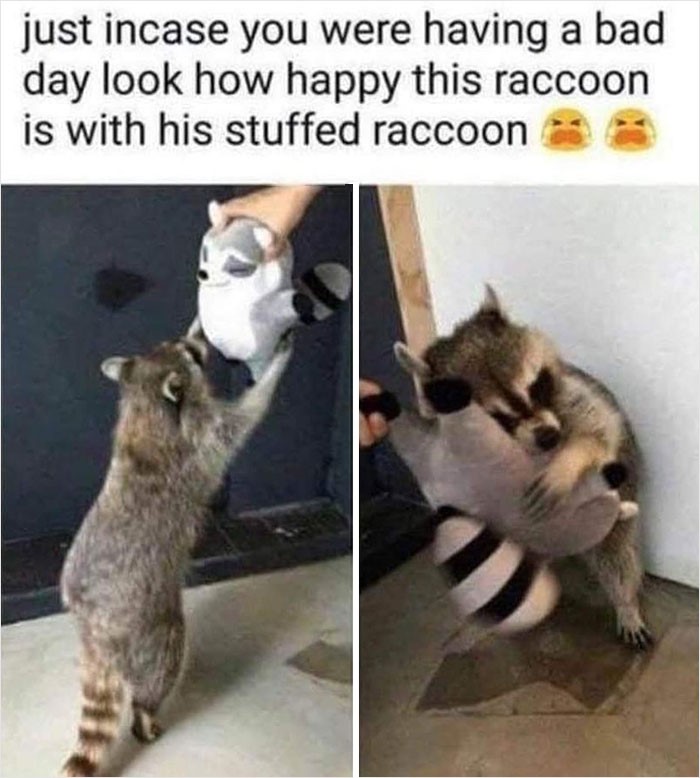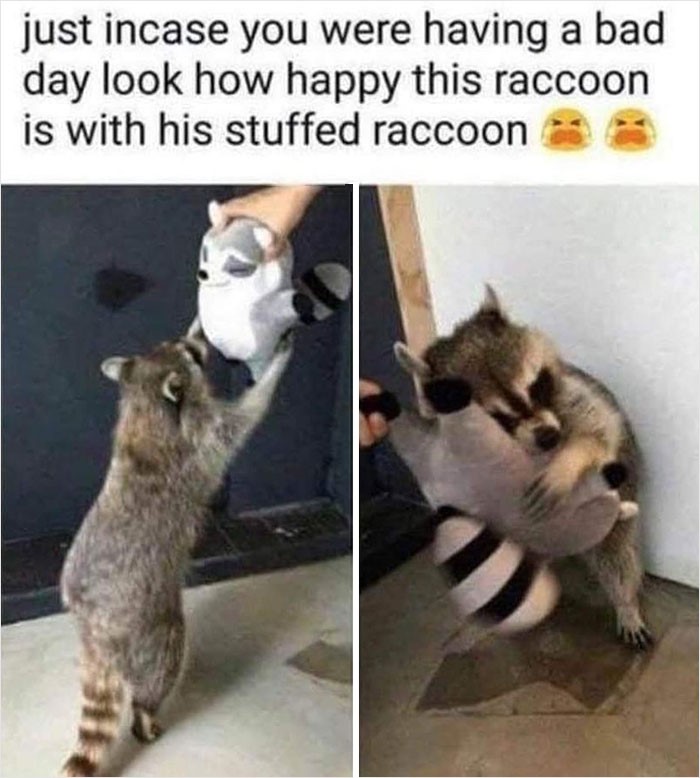 A raccoon hugging another raccoon? Isn't it adorable to see a happy meme of an animal hugging its lookalike and going soft? Here is a sight to melt your hearts!
47. Discussing Things With Mom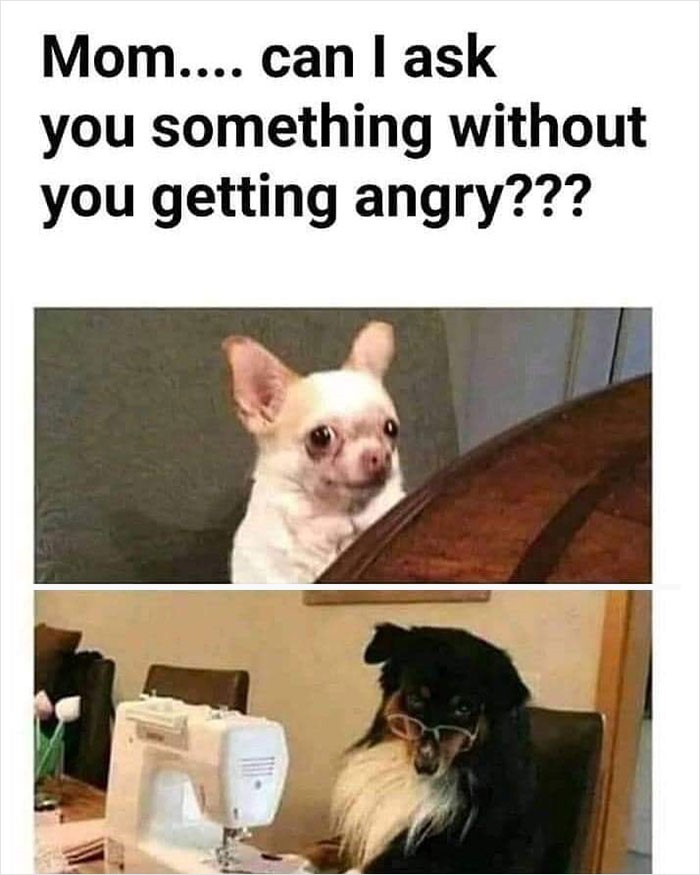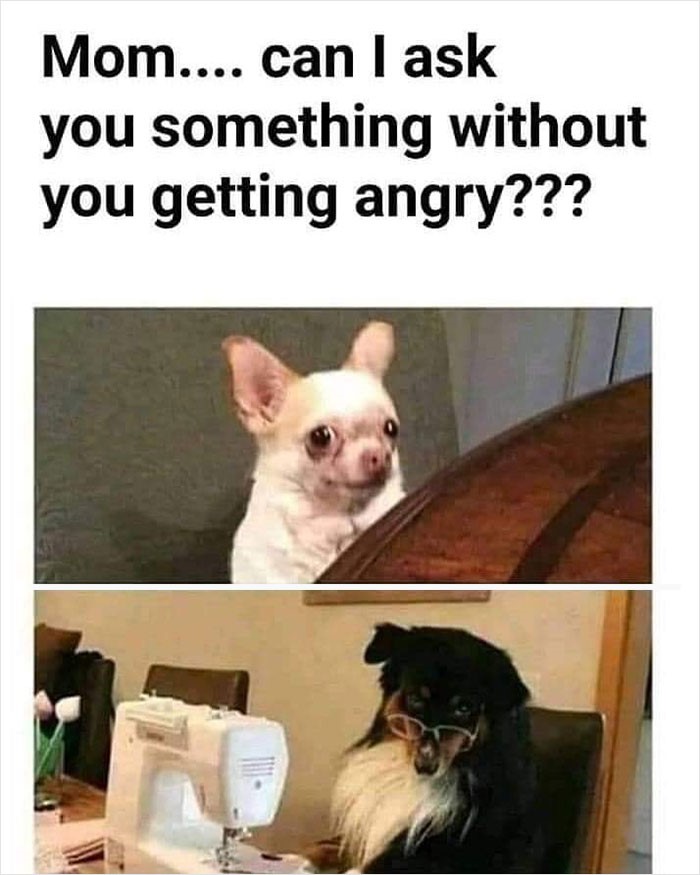 Most moms act serious because they say they want the best for their children, but this can lead the kids to be very careful when approaching their parents for a favor. This Chihuahua knows exactly what we are talking about.
48. I'm Walking On Sunshine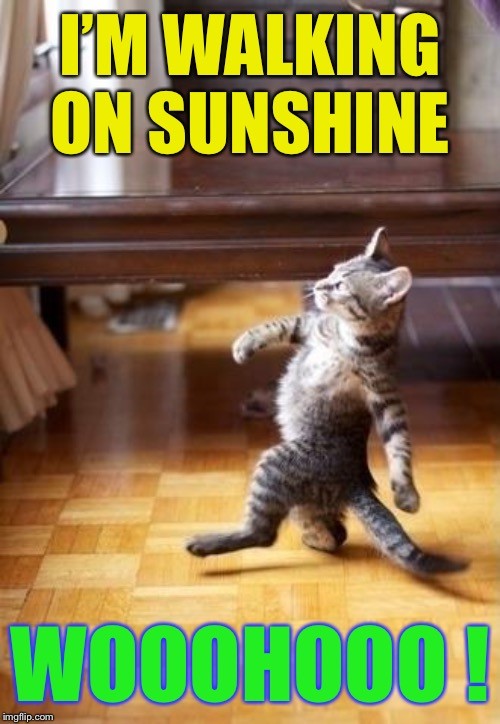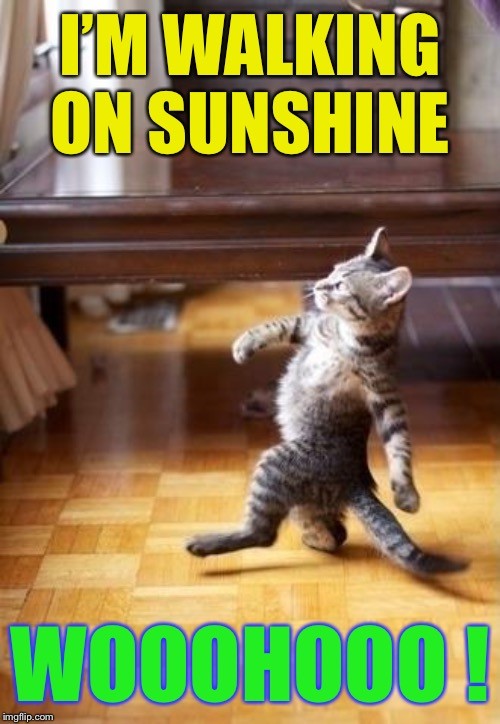 For years the "Walking on Sunshine" song by Katrina & The Waves has been passed around from one generation to another and it seems that cats are also catching up with the fact that how good it feels to sing this song!
49. Before Mom Finds Out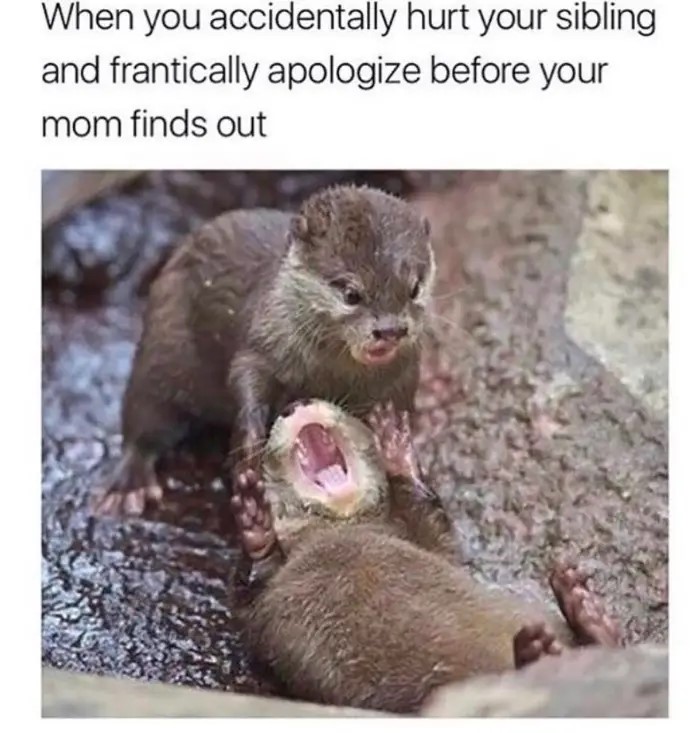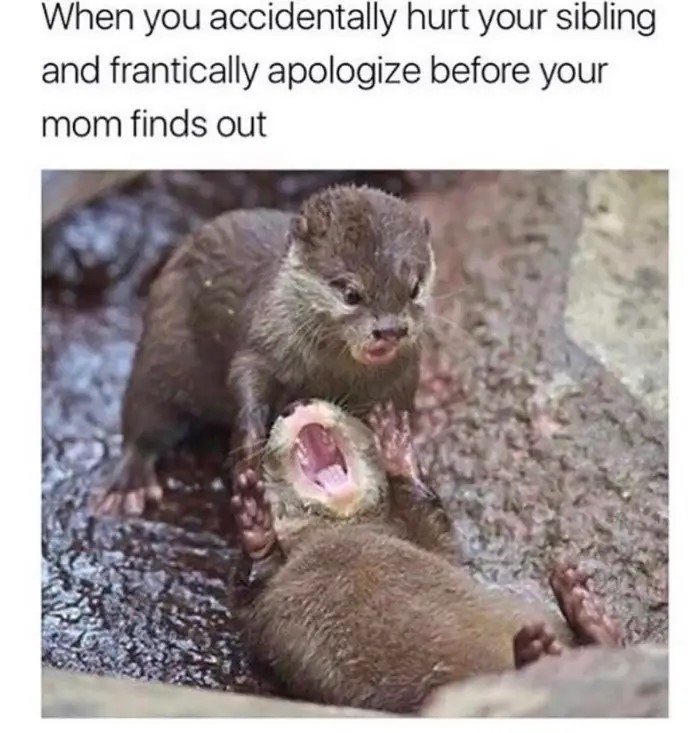 Getting into a fight with your sibling looks all fun until you knock down your brother or sister and make them cry. But you know what's worse than that? Your mom finding out and giving you a time out as a punishment. Better hide before she catches you!
You Might Also Enjoy: How To Have A Prosperous Mindset To Attract Abundance In 9 Steps
50. Sibling Rivalry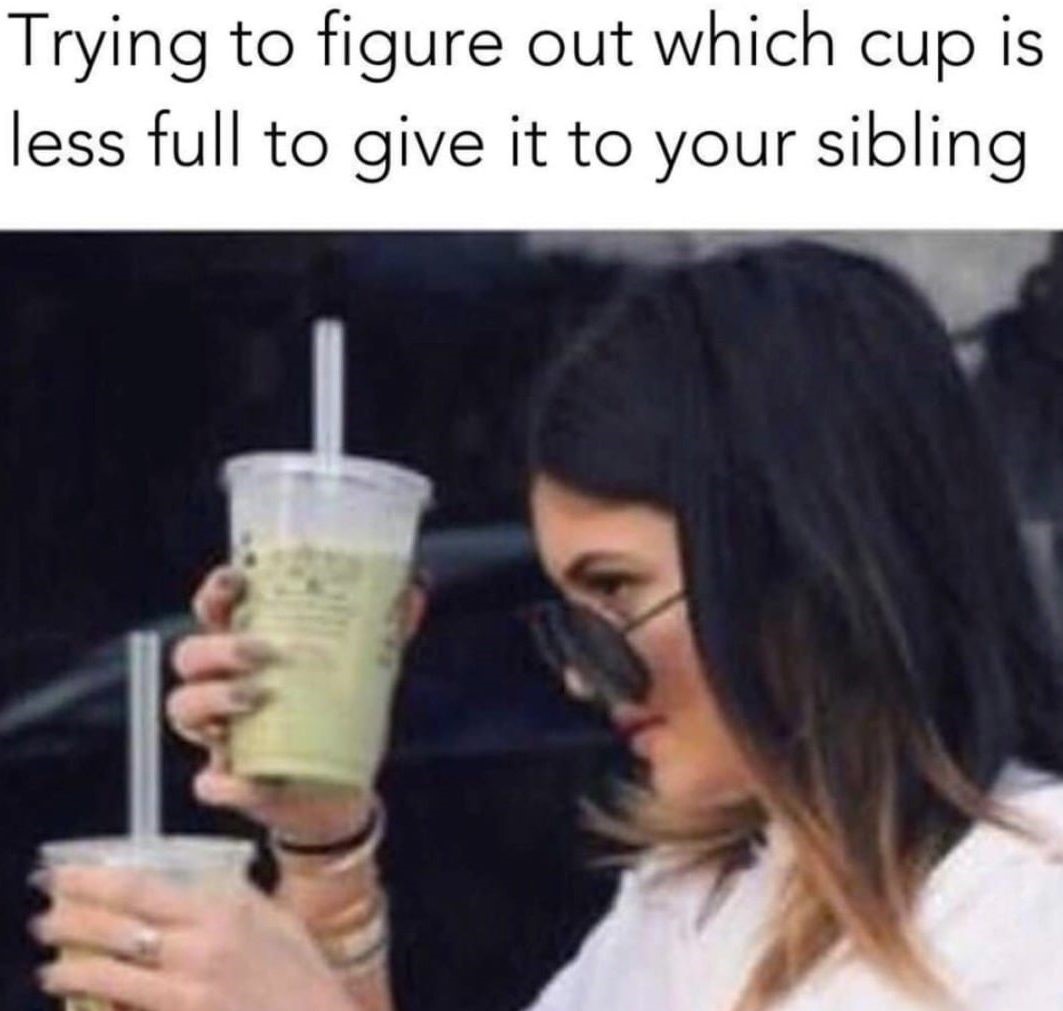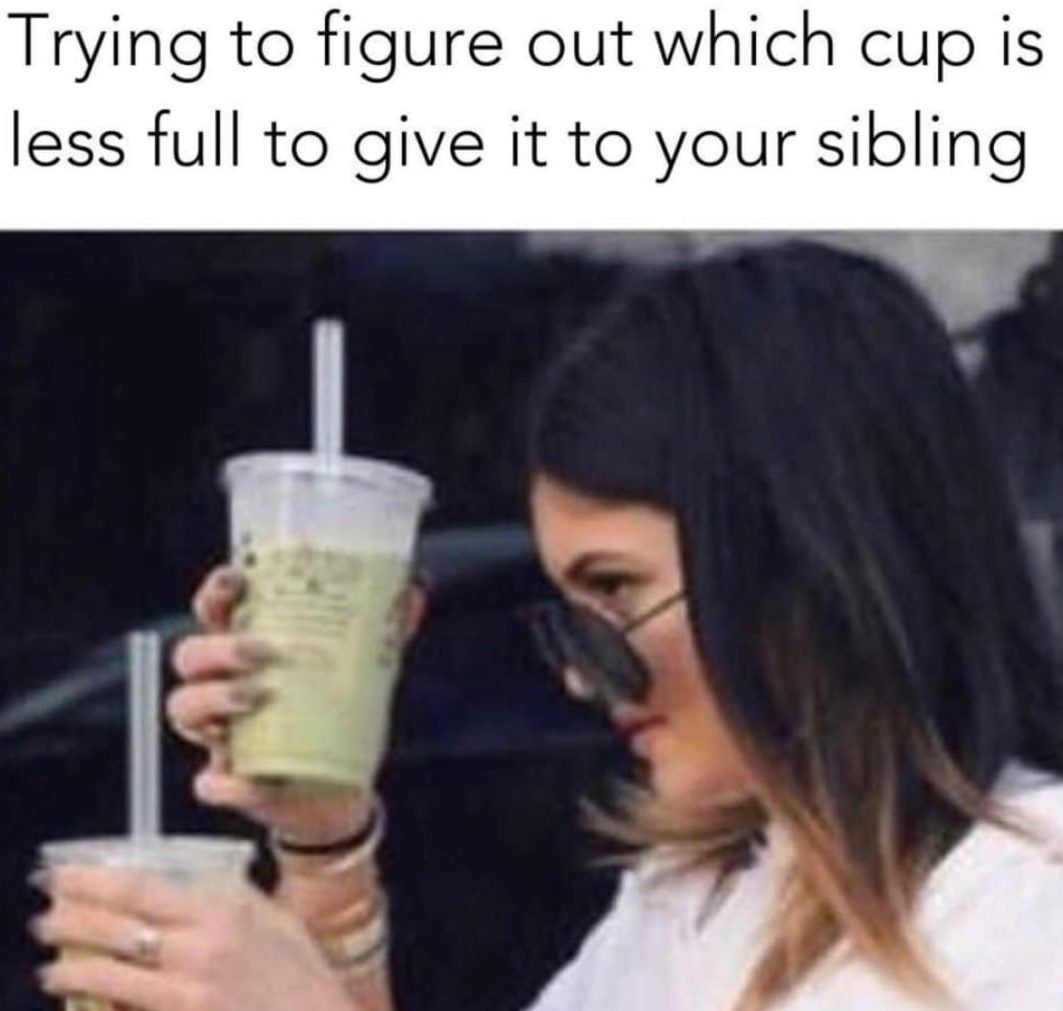 Beating your sibling in a competition can be one of the best feelings in the world even if it means that you will win a match of "who has the fuller cup?" by giving your brother or sister a cup with less juice than the one you have.
We also recommend you to follow this podcast which is about memes, you may like it:
Conclusion
Scrolling down social media and websites to find the perfect happy meme can be a bit challenging but you don't have to worry about any of this stuff because in this blog post we listed a long list of similar pictures to change your mood and what is even better that we chose 50 of them for you to enjoy.