How much have you ever heard about Bad Bunny? Well, I guess the answer is yes since if you are here, then you are looking for some Bad Bunny quotes to foster an uplifting outlook.
It doesn't matter if you are a bad bunny fan or you are just looking for some inspiring quotes for yourself; here we have the best collection of Bad Bunny inspiring quotes for you. But first, who is the Bad Bunny?
Benito Antonio Martínez Ocasio is a Puerto Rican rapper who was born March 10, 1994.
He used to have a religious family and started singing in 2008 when he was 14 years old.
Bad Bunny published his first pieces of music on SoundCloud in 2013 and his professional career started.
Maybe the most mysterious thing about Bad Bunny is his nickname, he already talked about this before:
"When I was a little boy in school I had to dress up as a bunny and there's a picture of me with an annoyed face, and when I saw it, I thought I should name myself " – Bad Bunny
Bad Bunny isn't just a singer, he has played roles in some movies like Bullet Train and F9 and he also had some appearances in WWE.
Check this scene from Bullet Train movie:
Furthermore, he is a social activist that has also tried hard for his motherland too.
He also is a human rights activist and he tries to react to any political or cultural problem.
He always talks about social stuff and tries to inspire people to fight for their rights.
This is why he's known very much and his quotes are so famous. And here we have provided some of those quotes for you.
Top 25 bad bunny quotes to inspire positivity
1- "Simple goes a long way."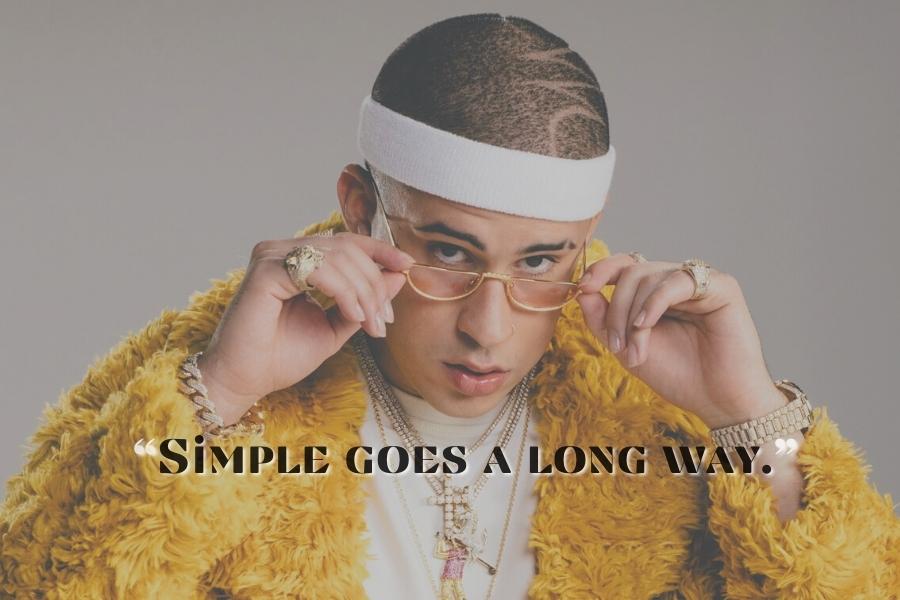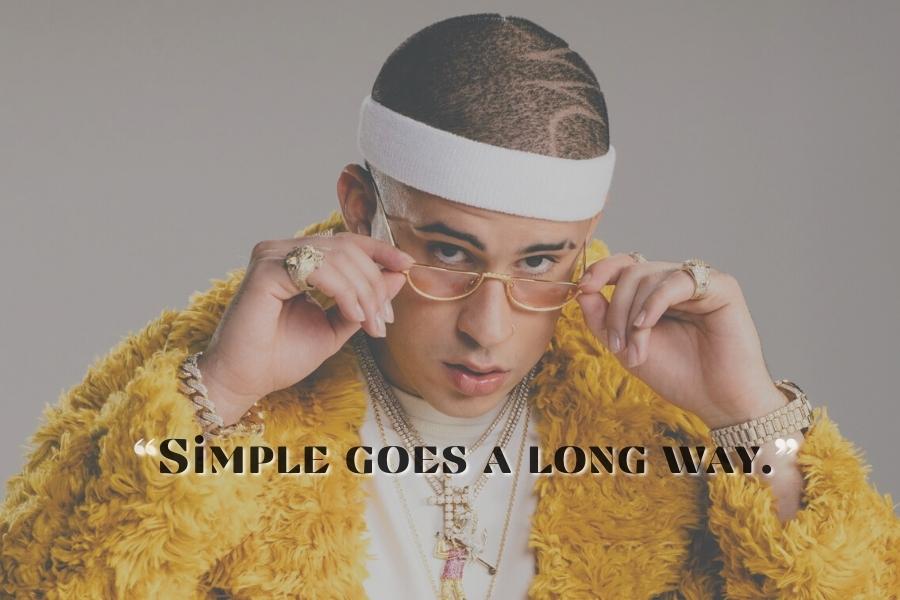 Some people think that to achieve hard and Unattainable goals you need to do some hard and spectacular things. But they don't know that many achievements are reachable by a set of simple but determined things. 
2- "The world can criticize me, but l can always criticize it back."
You should know how to react to criticism. First of all, don't let them disappoint you. You'd better know that nothing is perfect in the world and you can criticize the world as you can.
You might also enjoy: Top 35 Bad Bitch Quotes To Awaken Your Inner Beast
3- "The music we do is for people to enjoy, dance, and sing to it. Dreamers – keep on dreaming and keep working hard to achieve your goals. There are many difficulties, but what matters is to stay focused and have perseverance."
This quote is amazing. The first and most important thing to achieve your goals is to keep going and never give up. Constancy on what you need is exactly the most vital factor to succeed. 
4- "If a small-town boy like me who bagged groceries was able to make his dreams come true, you can too."
When we start dreaming the lazy side of us starts making excuses and makes a huge list of obstacles on our way. But they are just excuses; nothing more.
In the real world, everything is possible. You have to know that most billionaires grow up poor, some scientists were fired from school and some successful athletes were skinny weak boys at first.
5- "If I have a platform and a voice, I should use it for my people."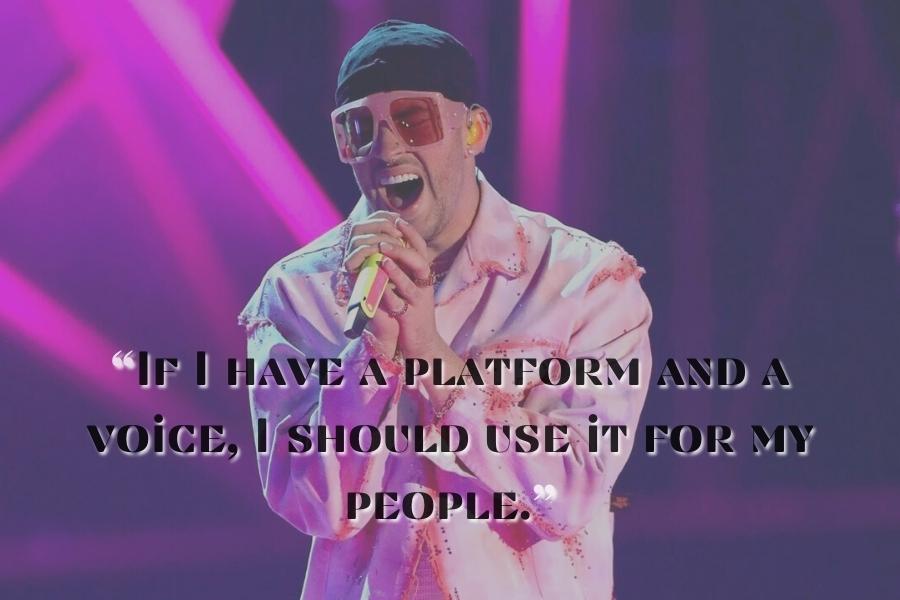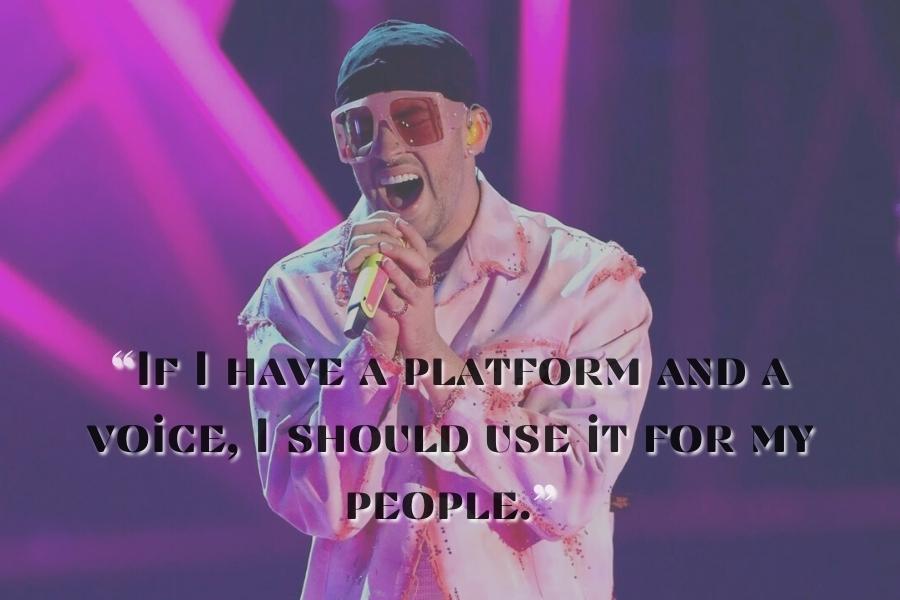 This one is probably one of the best bad bunny quotes. After becoming successful and gaining the power and wealth that you wanted, don't forget about the people of your society.
You should benefit them and try to support them however it's possible. Many people are famous, but popularity is harder to get.
6- "Money does not change people, people change."
Some people aren't capable of wealth or power. They change just after getting rich or accessing some authority. others may think it's because of money, but it's not.
They just show their real personalities of themselves because they don't have the merit of what they have.
You might also enjoy: Top 20 Inspiring Quotes About God's Goodness
7- "Be proud to be Latino and never lose that pride!"
Being proud of your race is not about racism. Racism is when you prioritize your race, but being proud of your race is to avoid being disappointed because of your blood, nation, or skin color. We are all human-being and we are equal with the same rights.
9- "You don't have the same mentality as you did five years ago – even one year. People are always changing, and I believe that everyone deserves the space to change and for people to recognize their change."
As a matter of fact, we are learning new things every day and our attitude is changing day by day. It's our right to change our mentality, make new decisions, and start new relationships.
But consider that others can change too. You shouldn't get mad at others because of new thoughts and new habits.
10- "Since childhood, I've been a clown. I've always liked being very funny or trying to make people laugh. It's my original self."
Having a sense of humor has a great effect on your life: it reduces stress, improves creativity, increases your life quality, strengthens the immune system, and makes you and others happier.
It also improves your relationships with others. With all these benefits, is ot necessary to explain more about the importance of boosting your sense of humor?
11- "I grew up in a rural area called Vega Baja and I'm the first of so many talented people in this area to make it out. I take great pride to represent where I come from and I am able to show my fans and everyone who listens and watches me, that anything is possible."
Bad Bunny always remembers to others and himself, that from where he came from. It won't let him be proud of what he has and improve his humility and modesty.
Furthermore, this is pretty inspiring and helps many other people to start their journey to their goals despite all conditions.
12- "I don't want to be fake. I'm just being me. And I have the power to break stereotypes and whatever useless rules that society puts on us."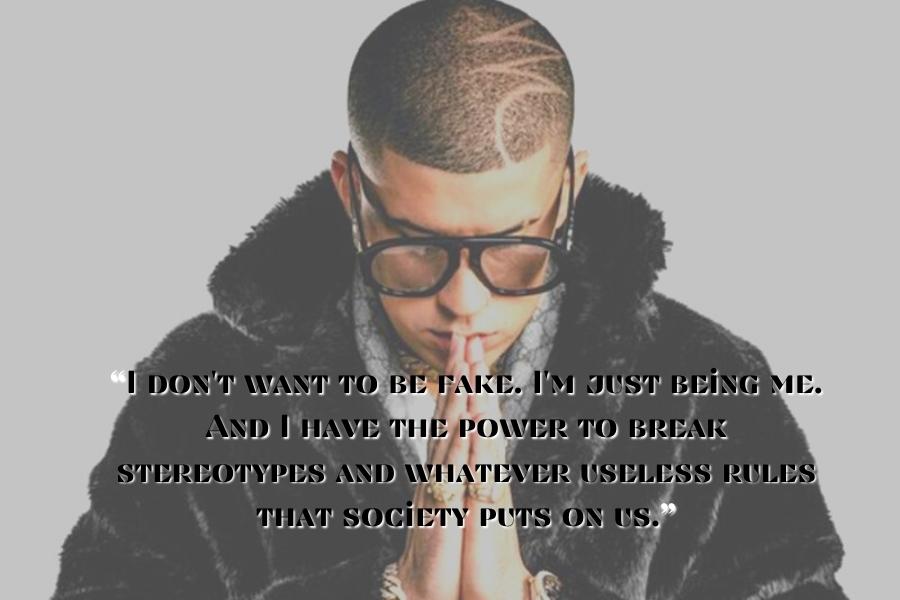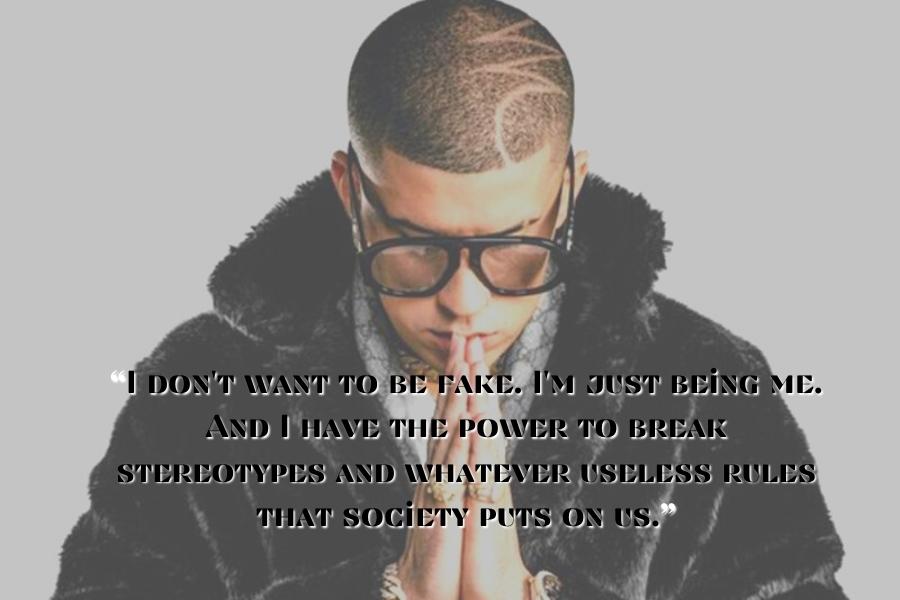 Being yourself seems easy, but when many different rules, cultures, and norms appear, it's so hard to be yourself.
Despite all those problems on your way to be yourself, doing that can help you to decrease stress, make your life easier, and improve your confidence.
You might also enjoy: Top 30 Being A Mom Isn't Easy Quotes To Encourage You (2023)
13- "I think that by staying true to myself and making music from my heart, the blessings come."
You can put your job instead of "making music" and read the statement another time. All you have to do is to do everything passionately and with love.
Imagine if all of the people did their job in the best way; would there remain any problem in society?
14- "If tomorrow I want to release a rock album or I want to release a bachata album, nobody can tell me anything—why can't I?"
Bad Bunny doesn't fear experiencing new things and what others tell about him! One of the main reasons for us to avoid new ways is others' judgment.
15- "The only difference between Benito and Bad Bunny is 16 million followers on Instagram. And the money that Bad Bunny has in the bank. Benito had, like, seven dollars. The numbers are different, but I'm still the same. Even my insecurities remain the same."
This quote is interesting. Someone like Benito didn't let money or fame change his personality or make himself proud and arrogant.
It shows his great capability and if you want to gain those promotions, this is very important.
16- "You learn a lot in life but there are a lot of tools and resources in school that help you grow professionally and personally for whatever goal you may want to achieve." 
What you learn in school is basic skills or information to have a normal life. Whatever your goal is, the school can help you get closer to it.
17- "It doesn't matter if you want to be a teacher, an astronaut, or a reggaeton singer, you need to study."
No matter what your job is, you have to keep studying and learning new things. No one wants a teacher with old teaching methods, an engineer without knowledge about new technologies, etc. 
You might also enjoy: Top 40 Maybe It's Time To Give Up Quotes
18- "Honestly, I always believed in myself. For real, for real."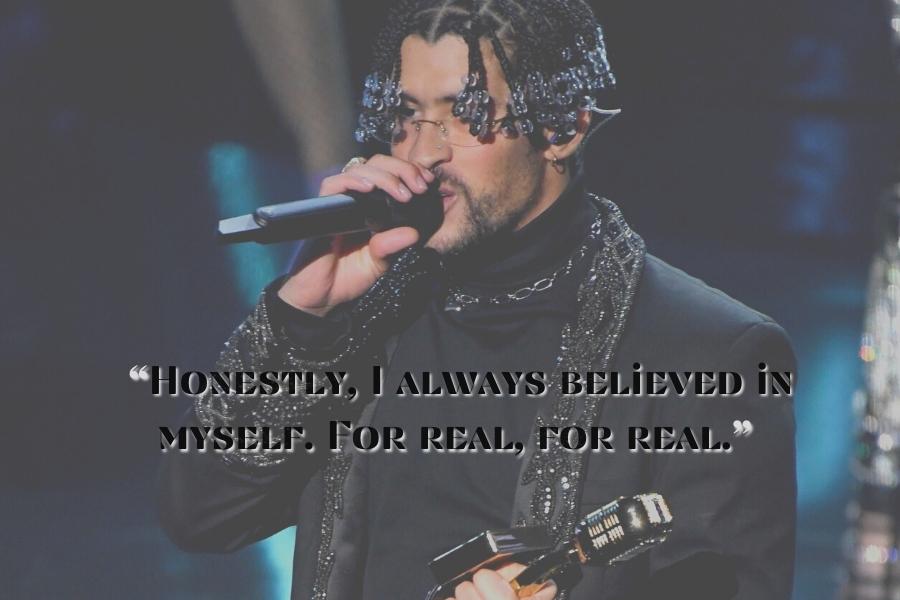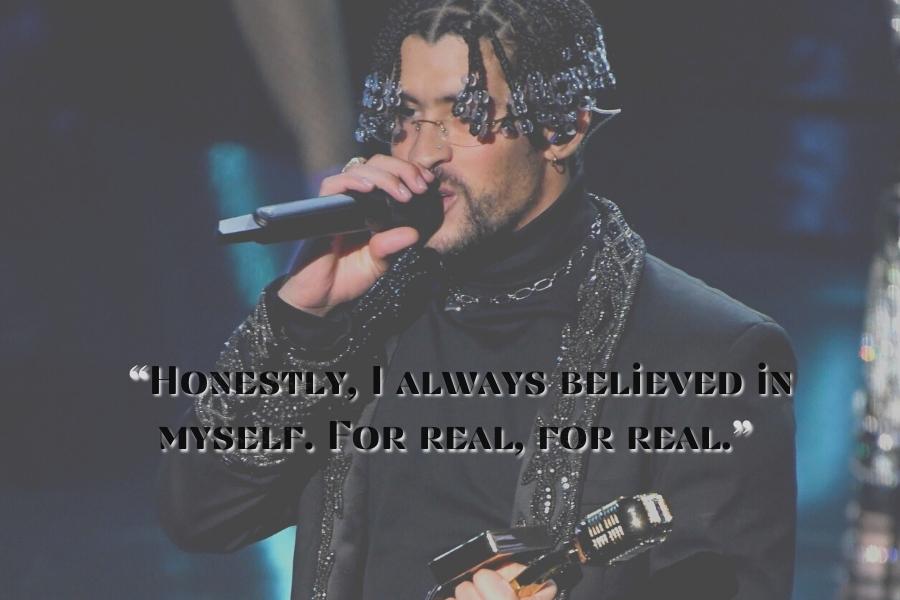 This one is my favorite among bad bunny quotes. What do you expect of others when you don't believe in yourself? Believing in yourself is almost everything; it improves your self-efficacy, confidence, or even your perseverance.
To believe in yourself, you can do many things such as facing your fears, eliminating negative thoughts, knowing yourself more, using affirmations, etc.
19- "I think if I keep working in the way that I am, from the heart and from passion and with love, well, the fruits of that will keep coming."
This is one of the most inspiring and motivating Bad Bunny quotes. Liking your job will influence your life like a miracle.
Passion helps you do your best and increase your confidence. Furthermore, be sure that the universe always responds to love with blessings.
You might also enjoy: Top 30 Fake Family Quotes To Have A Healthy Life
20- "Sometimes nothing is happening and all that disaster just happens in your mind." 
Writing always can be helpful. When you think a disaster is happening, just take a deep breath and start writing what you have lost.
After that, you can think a little, and most of the time you'll see that's not a big deal.
21- "There are many difficulties, but what matters is to stay focused and have perseverance."
Life is a balanced collection of failure and success.
And most of the time, the good part is at the end. After fighting obstacles and problems, it's your choice to have enough perseverance to reach a happy ending or not.
22- "I've always been surrounded by many great people and professors, but my family, especially my mom who was a teacher, was the person who encouraged me to study and pushed me to continue. When we're young, we don't understand why our parents bug us so much with school and doing homework, but it's a blessing to have that support at home."
Parents are two angels that did many to you; they did many favors for you when you were busy growing up. Start appreciating their efforts before it's late.
23- "I can simply tell you that since I was a kid, I didn't like to look like anyone else."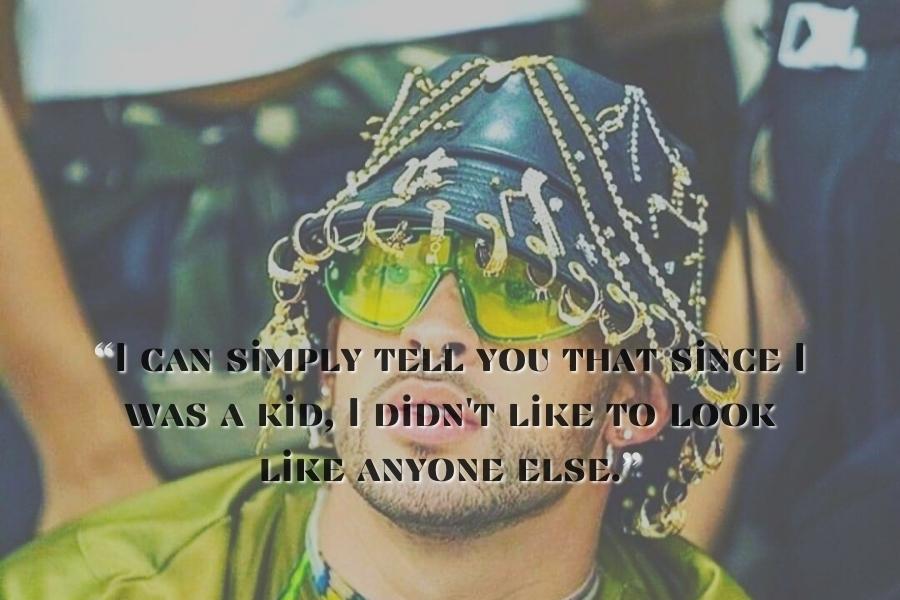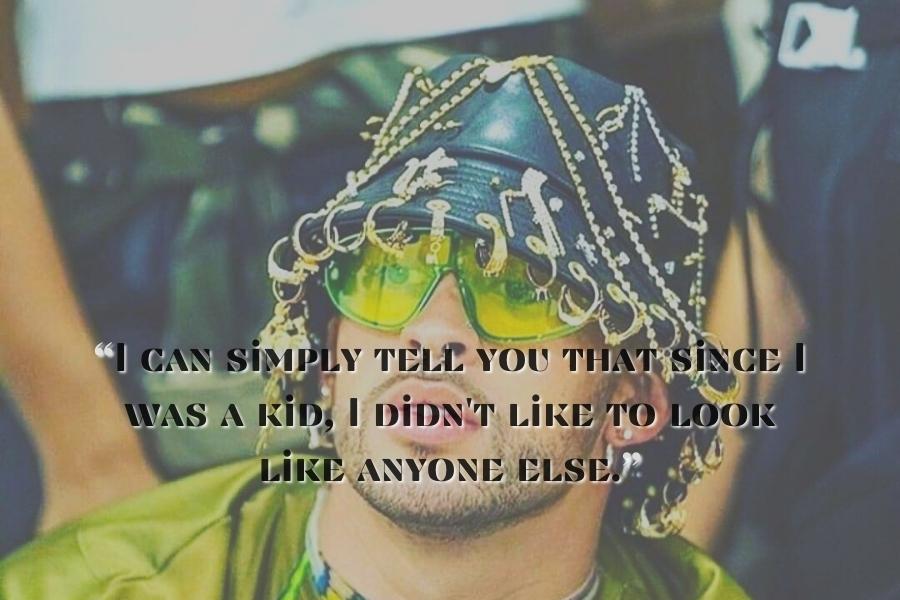 When you are trying to be like someone else, you never can be like that exactly; you are just a low-rate copy of that. But if you try to be yourself, you are classy and top-notch.
24- "I like being comfortable at airports, in flip-flops with no jewelry on."
What's more important than your comfort? What do people say about you? Or what rules do you have to obey? Nothing! Don't care about what people think and do what you want.
If you are easy with showing up with the unofficial suit in public, just do it.
You might also enjoy: Top 40 You Got This Quotes To Rock Your Day
25- "Everyone has been in love at some point or another."
Life without love? Impossible! What is the difference between us and robots but love? Almost nothing.
Besides all the emotional benefits of love, it has many physical effects on our bodies and puts some dangerous illnesses away.
Final Thoughts
I want to end this great collection of Bad Bunny quotes with a part of his song, "Antes Que se acabe" track and a podcast of his famous qoutes:
We choose it since it has had 72 million views on YouTube so far! Super popular!
The first part talks about the importance of time in giving away all sad feelings after bad events that happen in your life. And the brighter part comes at the end; life is like a movie and you are the director.
You are the only one who decides how your life will go on and you can make your destiny yourself.
"the bad times passed, time is my doctor… life is a movie, I'm my own director,"
Hope you enjoyed these quotes 🙂