Developing a growth attitude plays an important role in the interesting process of raising resilient and sensitive children.
Parents should always consider how they are going to bring up their children in order to become productive and useful individuals in their adult life.  
Children with a growth mindset are more able to meet challenges, deal with disappointments, and demonstrate self-confidence.
We shouldn't underestimate the power of books in influencing and improving one's attitude whether adults or kids. 
Every book on our list of the 50 best Growth Mindset books for kids in 2024 serves as inspiration for developing positive, adaptive, and actionable behaviors. 
Parents should take their children on a journey of self-knowledge at an early age so as to keep going on this path and become accomplished ones in dealing with the difficulties of this world.
This collection of picture books and chapter books is a treasure of questions and solutions for teachers, parents, and young readers to discuss together.
I suggest you watch this video:
Best Growth Mindset Books For Kids
1."The Little Engine That Could" by Watty Piper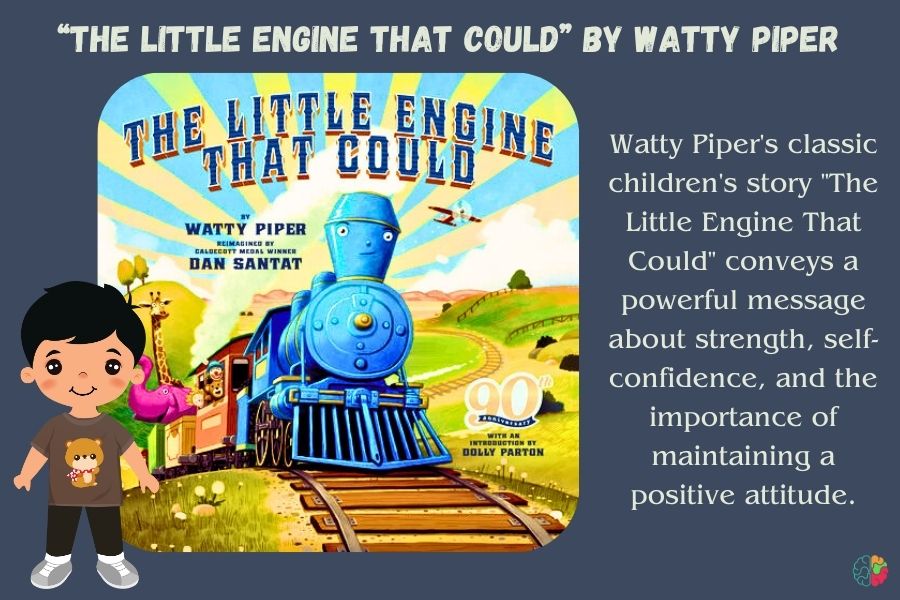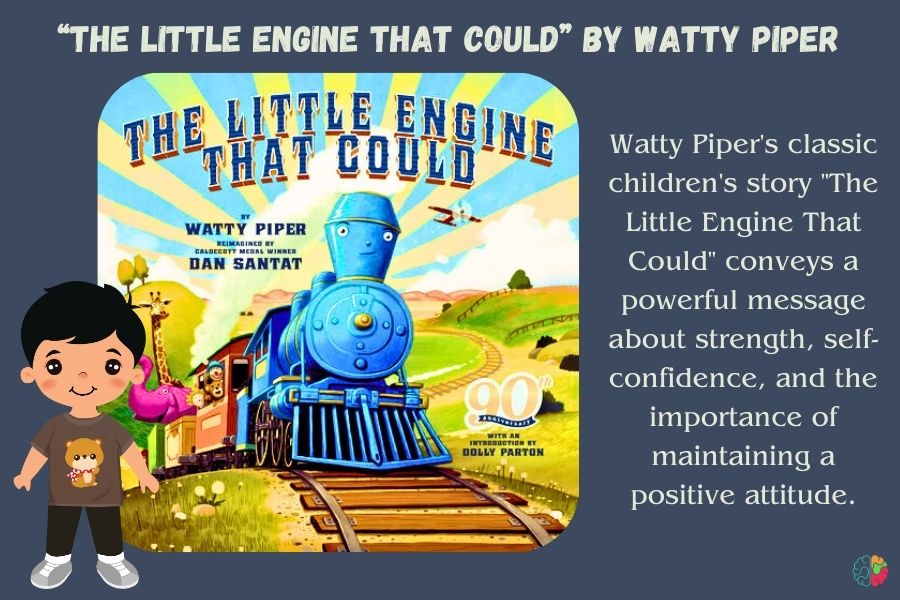 Watty Piper's classic children's story "The Little Engine That Could" conveys a powerful message about strength, self-confidence, and the importance of maintaining a positive attitude.
The plot revolves around a small blue engine that will carry a large train up a mountain. 
Despite the small size and the disbelief of others, the small engine meets the challenge with optimism and the words "I think I can, I think I can". 
A small engine shows the significance of resilience and the ability to overcome obstacles through determination. 
With beautiful writing and inspiring messages, this classic book has inspired generations of young readers by teaching them the importance of adopting courage and a positive attitude in encountering every situation, especially the hardships of their lives.
You might also enjoy: Top 40 Growth Mindset Books Of All Time
2."Beautiful Oops!" by Barney Saltzberg
Barney Saltzberg's beautiful and unique children's book "Beautiful Oops!" represents the beauty of mistakes and unexpected tragedies. 
Young people are encouraged to accept imperfections and see them as opportunities for creativity by this book's beautiful examples.
Any 'oops' can be turned into something new and beautiful without limiting your thoughts. 
The lessons of the book teach children to approach life with a cheerful and open mind which helps them develop resilience and a sense of adventure.
Both these traits play a vital role in one's accomplishment. 
3."The Most Magnificent Thing" by Miriam Spitzer Franklin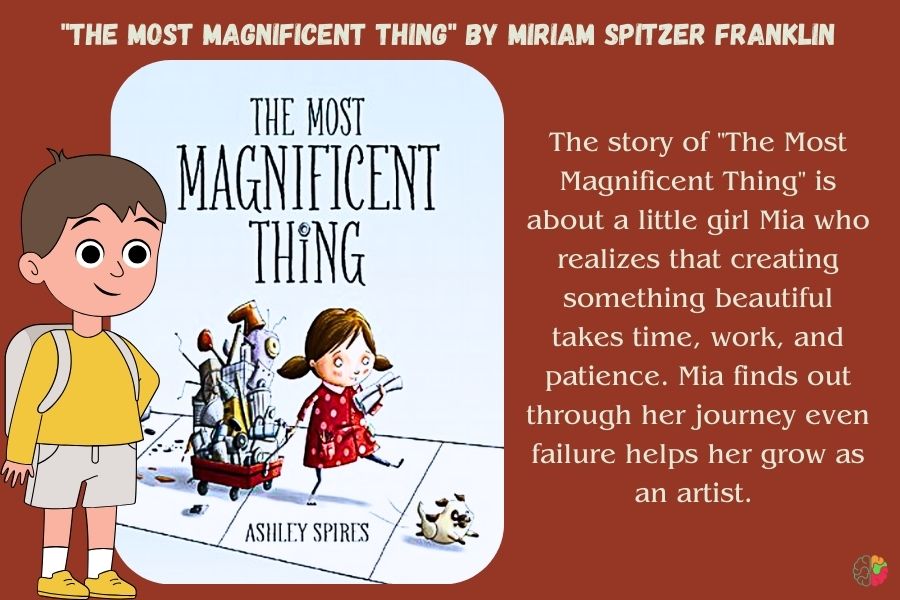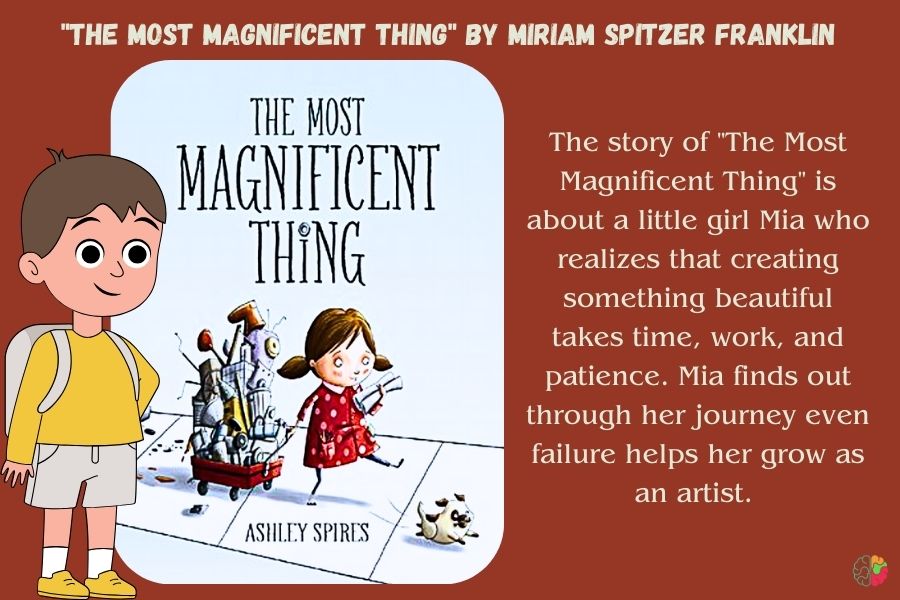 The story of "The Most Magnificent Thing" is about a little girl Mia who realizes that creating something beautiful takes time, work, and patience. Mia finds out through her journey even failure helps her grow as an artist. 
This book reminds readers of something as important as the final result.
Every single child should be taught the importance of being patient and working hard in order to achieve their goals.
You might also enjoy: 25 Best Life Changing Books YOU MUST READ [2024]
4."Your Fantastic Elastic Brain" by JoAnn Deak
Joann Deak's children's book "Your Fantastic Elastic Brain" is fascinating and informative, taking readers on an exciting journey into an educational journey of neuroscience. 
The book provides young readers with the concept of neuroplasticity, the brain's unique ability to learn, adapt, and change throughout life, by using simple language and picturesque visuals.
Deak teaches children that their minds, like muscles, can be stretched and built through hard work and practice. 
The significance of overcoming challenges and making mistakes is appreciated through this book.
Also, the book puts emphasis on learning skills like developmental thinking in order to grow. 
"Your Fantastic Elastic Brain" empowers children to be responsible for their own actions and concern about their improvement and fostering resilience. 
5."Rosie Revere, Engineer" by Andrea Beaty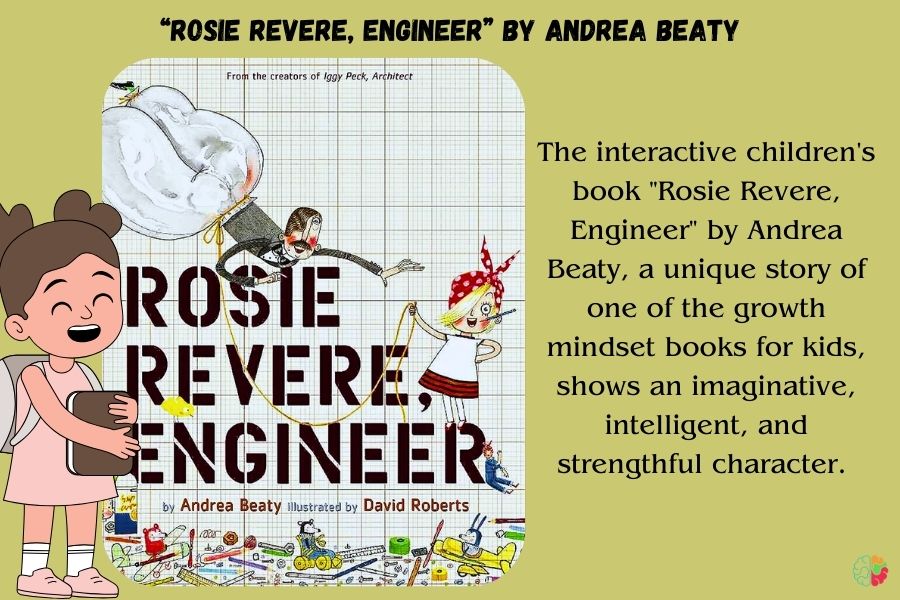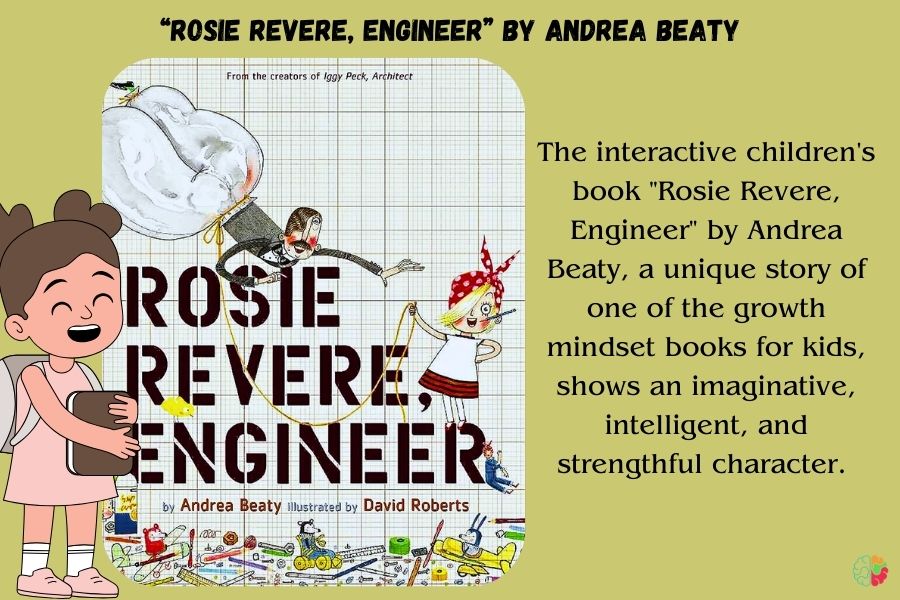 The interactive children's book "Rosie Revere, Engineer" by Andrea Beaty, a unique story of one of the growth mindset books for kids, shows an imaginative, intelligent, and strengthful character. 
The protagonist is Rosie, a girl who loves both engineering and creativity.
Rosie works with wisdom and courage in her home. However, she suffers from the fear of failure. Therefore, she waits for her Aunt Rose to arrive before showing her invention. 
In her book, Rose teaches Rosie the value of making mistakes while using a creative approach and how blunders are crucial to one's happiness. 
We need to be encouraged to continue forward without fear of failure, learn from our setbacks, and persevere until we reach our objectives. 
Whether a story is a full success or a complete failure, its cost needs to be considered.
The book "Rosie Revere, Engineer" inspires readers, particularly women, to pursue jobs in engineering, perhaps discover their abilities, and acknowledge others.
You might also enjoy: 10 Ways To Adapt a High-Performance Mindset (2024)
6."The Girl Who Never Made Mistakes" by Mark Pett and Gary Rubinstein
Is perfection always attainable? The difficult situations in "The Girl Who Never Made Mistakes" support this idea.
The main character of the story is a woman who is acclaimed for never making a mistake. 
She has gradually realized, though, how ridiculous this assertion is because making mistakes is far more valuable than never doing so. 
Parents should teach their children that failure is more common than achievement in order to prevent their children from experiencing the same suffering that they endure. 
We can make the world far more attractive by utilizing the personal flaws that make us distinct.
7."The Dot" by Peter H. Reynolds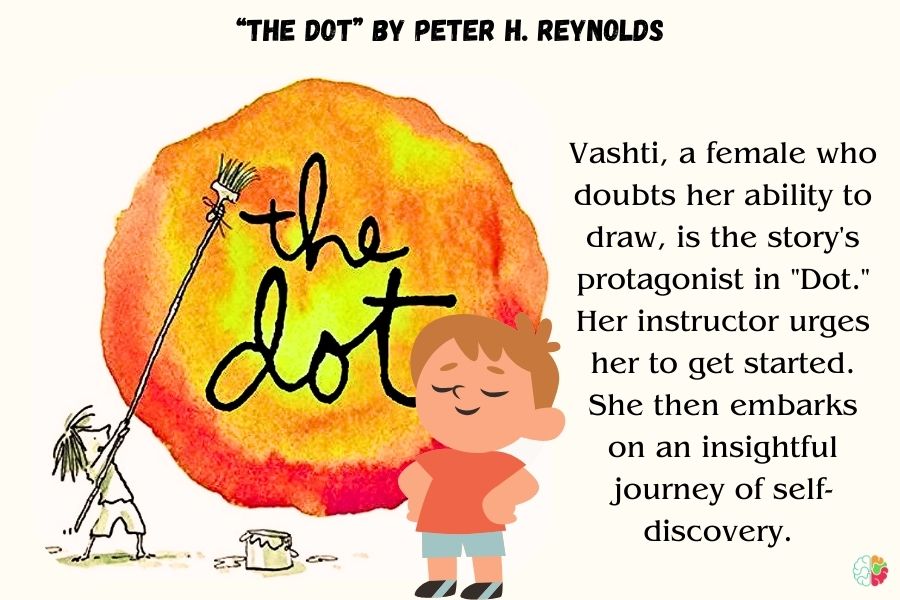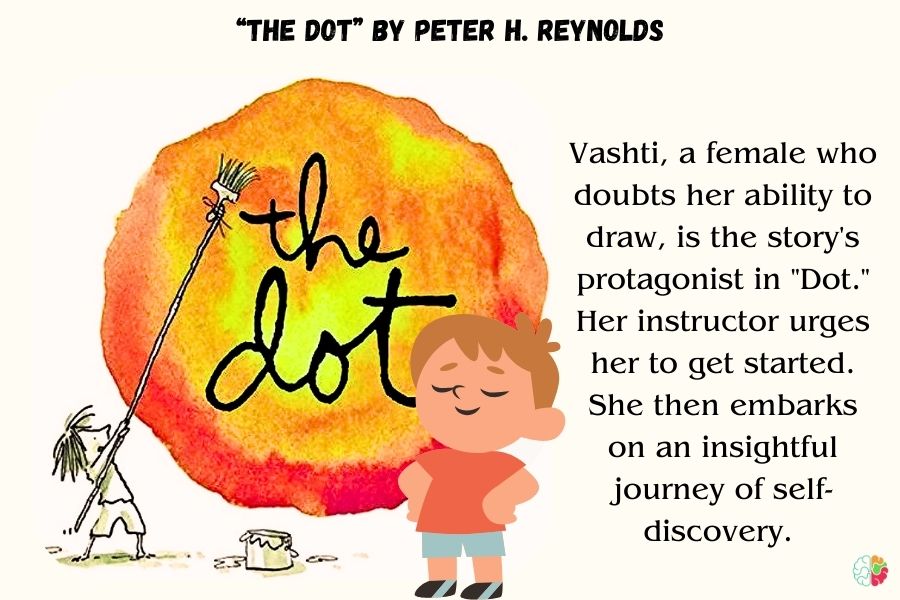 Vashti, a female who doubts her ability to draw, is the story's protagonist in "Dot." Her instructor urges her to get started. She then embarks on an insightful journey of self-discovery. 
This book has a strong emphasis on the value of making the first move, accepting difficult circumstances, and having faith in your abilities.
It serves as a sweet reminder that anyone is capable of creating beautiful things.
You might also enjoy: 10 Best Millionaire Mindset Podcasts You Should Check (2024)
8."Mindset: The New Psychology of Success" by Carol S. Dweck (Adapted for Young Readers)
The terrifying photo gives me nightmares.
Younger readers can benefit from a book by using The concept of inquiry and its profound impact on human growth and development discussed by Carol S. Dweck. 
The book promotes a growth mindset by highlighting the value of overcoming obstacles, learning from failure, and setting goals.
She accomplishes this by combining narrative techniques with educational ideas. 
This possibility fosters a terrific attitude toward learning and self-development by allowing younger readers to comprehend their very own highbrow endeavors. 
Their attitude imparts invaluable knowledge to younger people, assisting them in conquering challenging circumstances and boosting their vigor and confidence.
9."After the Fall (How Humpty Dumpty Got Back Up Again)" by Dan Santat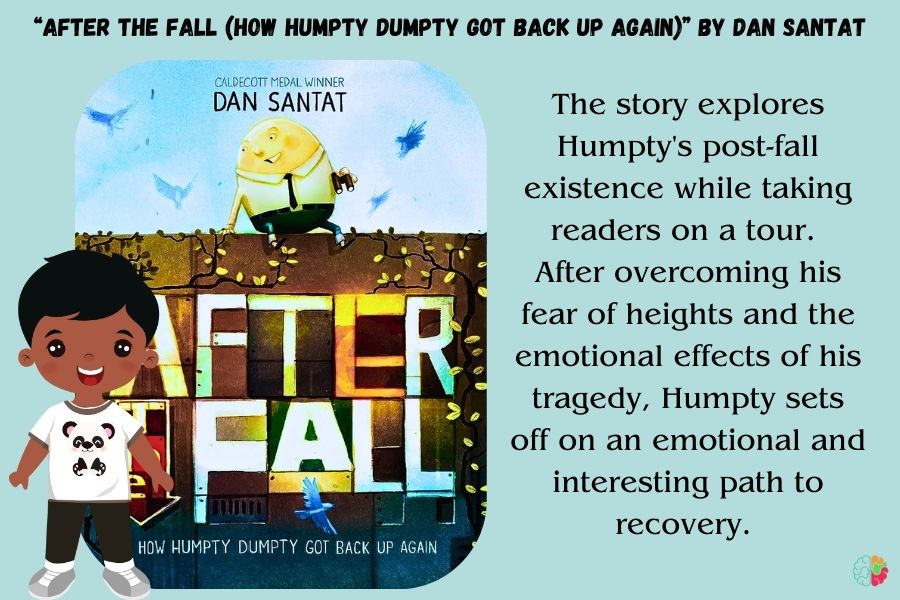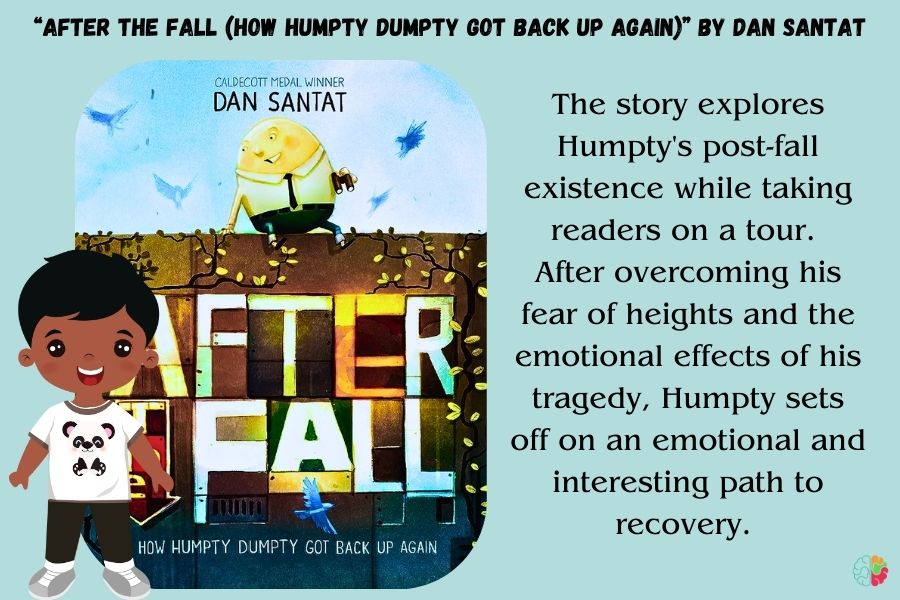 The story explores Humpty's post-fall existence while taking readers on a tour.
After overcoming his fear of heights and the emotional effects of his tragedy, Humpty sets off on an emotional and interesting path to recovery. 
Santat masterfully blends fact and fantasy to show Humpty's tenacity and growth. 
The free book effectively illustrates the power to make a difference in a person's life and serves as a reminder to readers that bravery can be discovered even in the most trying circumstances.
You might also enjoy: Top 15 Must Read Millionaire Mindset Books For 2024
10."The Growth Mindset Playbook: A Teacher's Guide to Promoting Student Success" by Annie Brock and Heather Hundley
This is a useful tool for teachers and parents who want to create an atmosphere to enrich their children's mindset and provide them with a state of growth. 
The book offers enhancement of a kid's resilience, self-confidence, and enjoyment of learning. It's full of wonderful strategies and actionable tips. 
It is a crucial resource for people who are devoting their time and energy to growing younger minds.
11."The OK Book" by Amy Krouse Rosenthal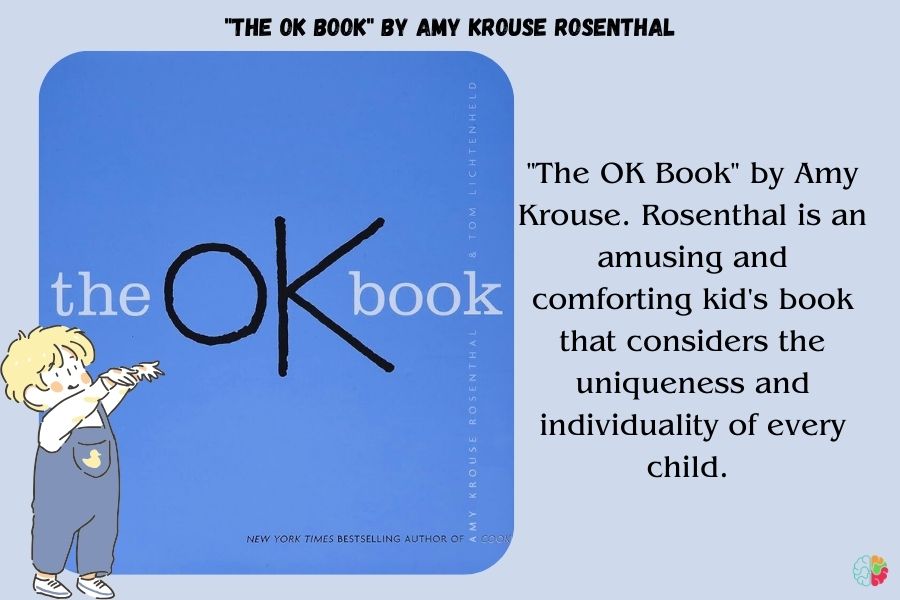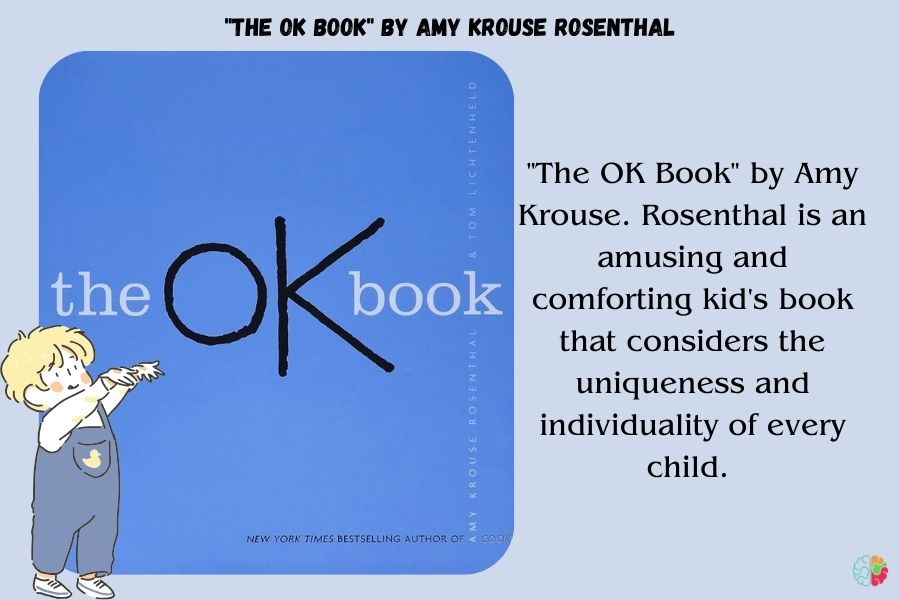 "The OK Book" by Amy Krouse. Rosenthal is an amusing and comforting kid's book that considers the uniqueness and individuality of every child. 
The book explores the kingdom of well-being in various activities and aspects of life through simple and profound pictures and words. 
Rosenthal's work lightly indicates to younger readers that it is okay to be yourself, regardless of the standard of perfection, and that it will help them develop self-acceptance and self-esteem.
This exciting tale can train youngsters to appreciate their personal talents, recognize their abilities, and be glad with who they are. 
The beautifully written book, among a vast number of growth mindset books for kids, is a gentle reminder that goodness is more than perfect and that every child's journey is special and unique.
You might also enjoy: Top 40 Millionaire Mindset Quotes To Make You A Millionaire
12."The Energy Bus for Kids: A Story about Staying Positive and Overcoming Challenges" by Jon Gordon
"The Energy Bus for Kids," a best-selling children's book by Jon Gordon, teaches young readers the importance of thinking positively. 
Children learn crucial lessons about being happy and overcoming adversity throughout their lives from the tale of a young boy named George.
A fascinating guide for making wise judgments in life is this book.
13."Ish" by Peter H. Reynolds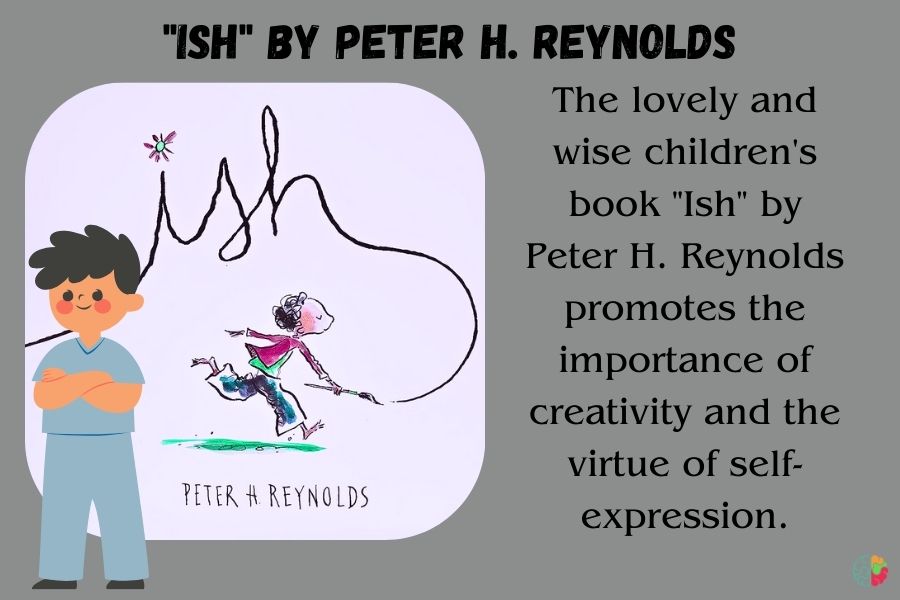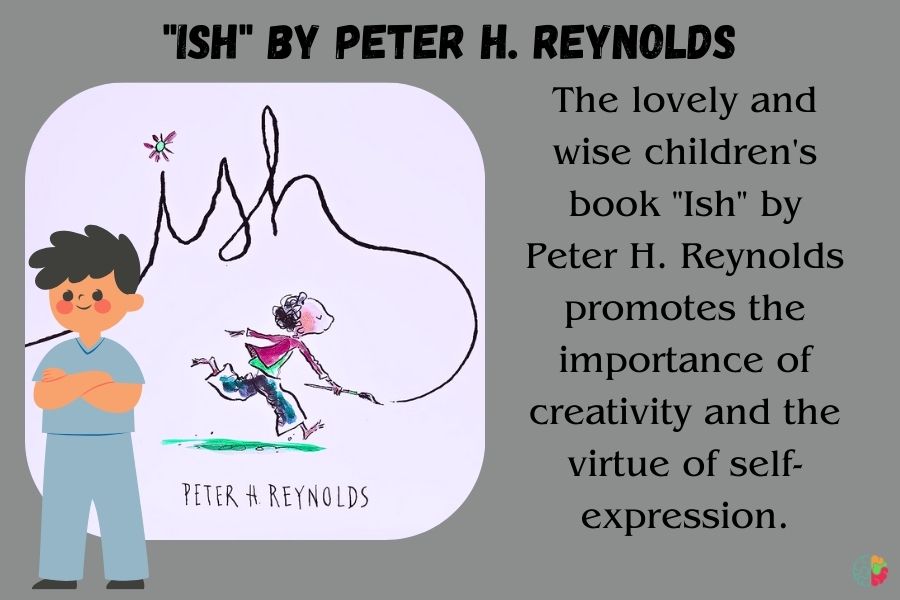 The lovely and wise children's book "Ish" by Peter H. Reynolds promotes the importance of creativity and the virtue of self-expression.
Ramon, a little boy who enjoys drawing, is the story's main character. 
He loses it and stops painting after his older brother critiques it but his younger sister's enthusiasm in his painting "Ish" motivates him to pick it back up. 
His perspective teaches him to overlook errors and to approach his task with enthusiasm and sincerity. In Reynolds' book imperfection is demonstrably no longer a part of reality or art.
You might also enjoy: 10 Steps To Have a Millionaire Mindset For 2024
14."What Do You Do with a Problem?" by Kobi Yamada
The wonderful children's book "What Will Happen in a Crisis?"
explores the challenging circumstances involved in getting through difficulties with the assistance of Kobi Yamada. 
A young youngster who confesses his dread and worry serves as the book's protagonist.
Readers embark on a voyage of self-discovery as the main character of this gripping book learns how to address the issue with fervor and unpredictability. 
Using the emotional condition of uncertainty in a clever way, this book demonstrates how chaos can also serve as a catalyst for innovation, change, and advancement.
15."Malala's Magic Pencil" by Malala Yousafzai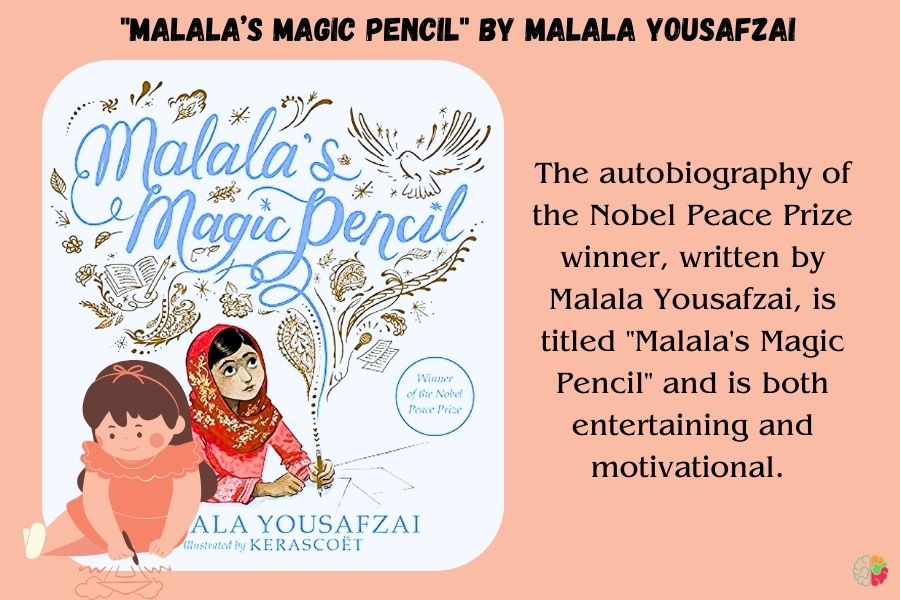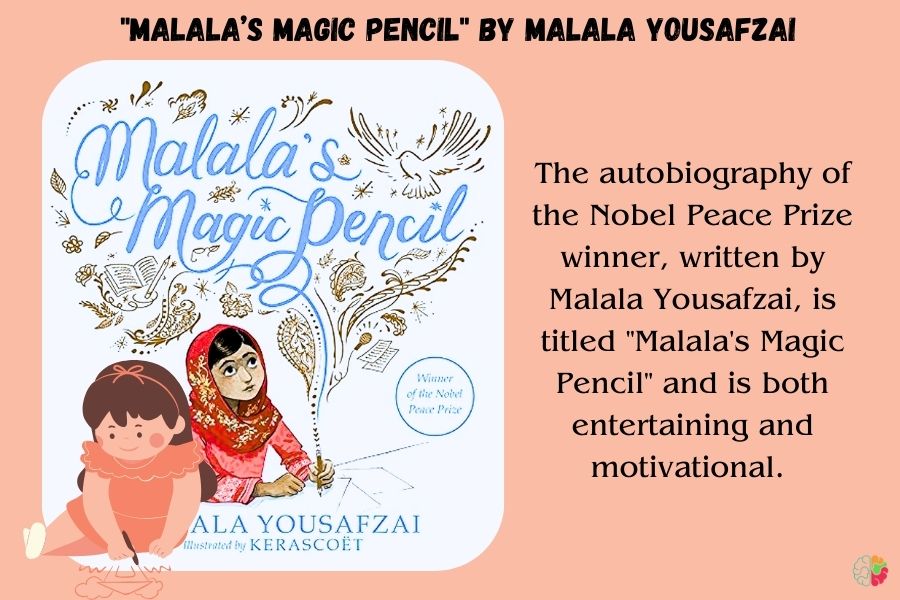 The autobiography of the Nobel Peace Prize winner, written by Malala Yousafzai, is titled "Malala's Magic Pencil" and is both entertaining and motivational. 
In this lovely children's book, Malala discusses her sense of hope as a young girl growing up in Pakistan.
He imagines a magic pencil that can gradually improve the world in response to the challenges and prejudices he faces every day. 
As the book progresses, readers accompany Malala on a journey of fortitude, wisdom, and education where change starts with modest deeds.
You might also enjoy: Top 20 Growth Mindset Quotes To Be Successful (2024)
16."The Day You Begin" by Jacqueline Woodson
A charming and upbeat children's book called "The Day You Begin" by Jacqueline Woodson honors diversity, fresh starts, and the bravery it takes to overcome challenges. 
Beautiful language in the book captures the sensations of dread and uncertainty that surface in strange circumstances. 
It emphasizes that varied factors, such as culture or personal preferences, can cause young people to feel differently.
As people share their own stories, this book challenges readers to recognize the distinctive traits that each possesses.
17."Jabari Jumps" by Gaia Cornwall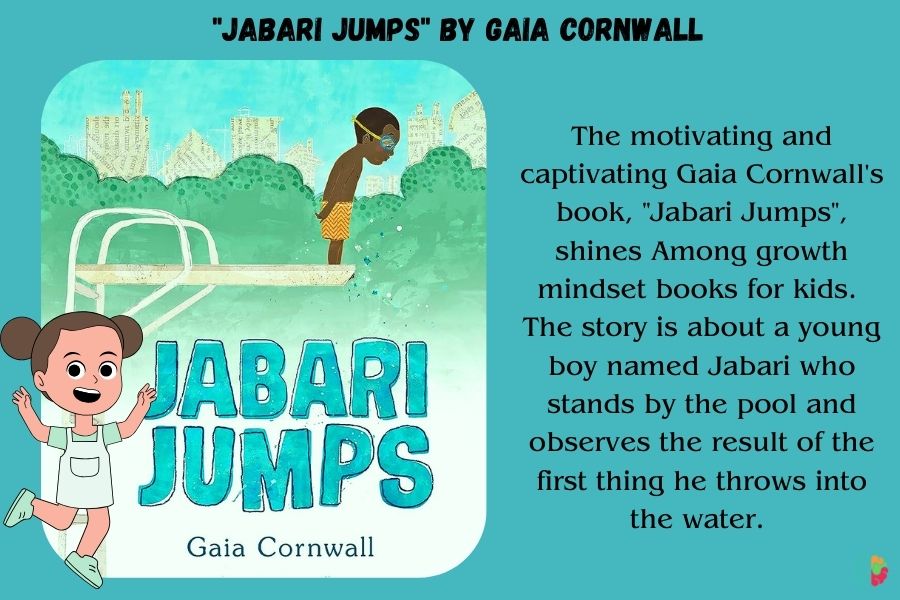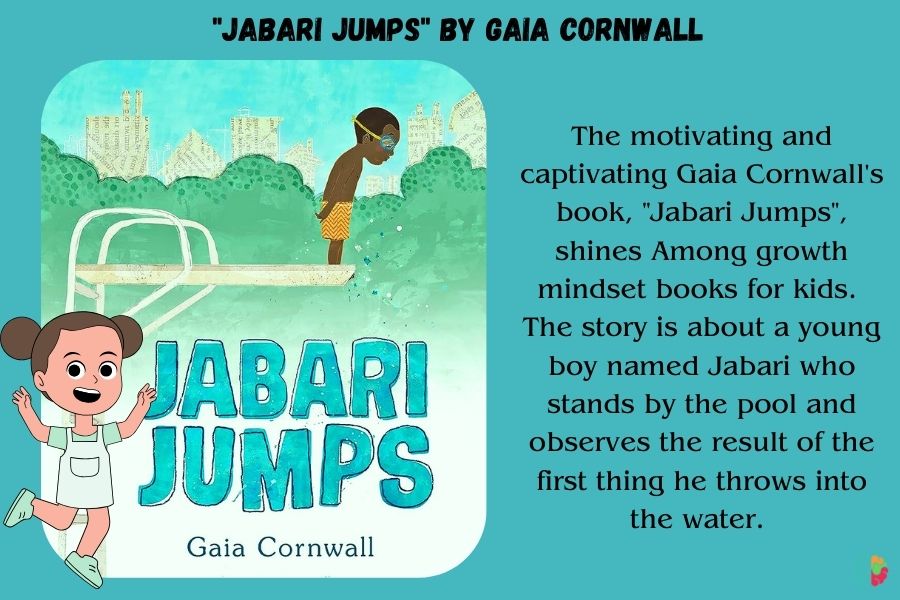 The motivating and captivating Gaia Cornwall's book, "Jabari Jumps", shines  Among growth mindset books for kids. 
The story is about a young boy named Jabari who stands by the pool and observes the result of the first thing he throws into the water. 
The novel explores Jabari's feelings of insecurity and the consolation he receives from his patient father through dramatic vision and empathetic foreshadowing. 
Readers will enjoy the book as it tells them about a particular ability to overcome one's fears. This tale motivates readers to leave their comfort zone in order to grow.
You might also enjoy: 14 Reasons Why Your Life Is As Good As Your Mindset
18."The Thing Lou Couldn't Do" by Ashley Spires
Ashley Spiers' children's book, "The Thing Lou Couldn't Do," offers joy and valuable insight to the readers.
This book demonstrates the world of fear, bravery, and friendship as well as possible. 
The protagonist of the tale is Lou, a little girl who is lively and creative.
Lou is excited to climb the tree with her companions, but as the climb becomes more difficult, her enthusiasm dwindles. Spiers perfectly conveys Lou's anxiety and fear of the unknown. 
This motivating story emphasizes how persistence and inspiration may lead to achievement.
19."Grit: The Power of Passion and Perseverance" by Angela Duckworth (Adapted for Young Readers)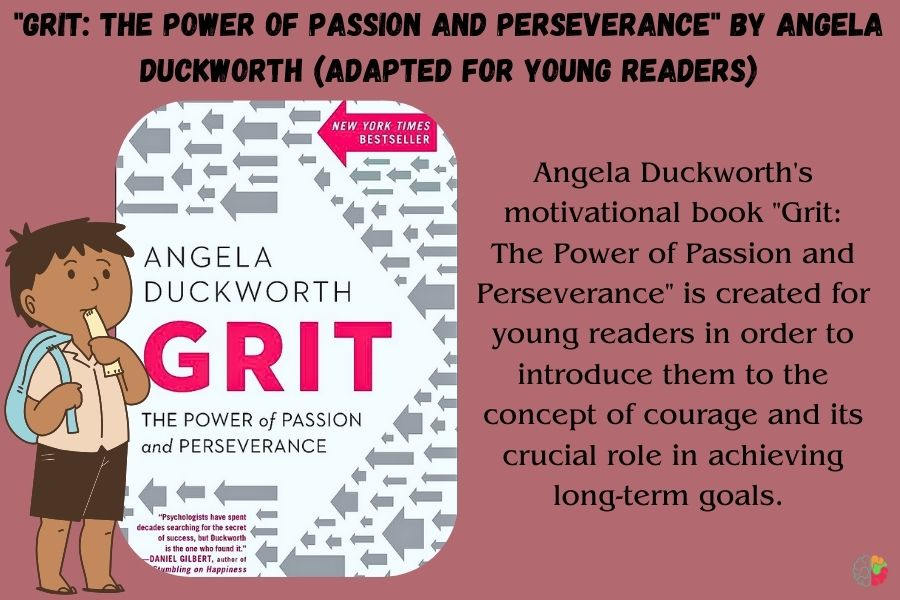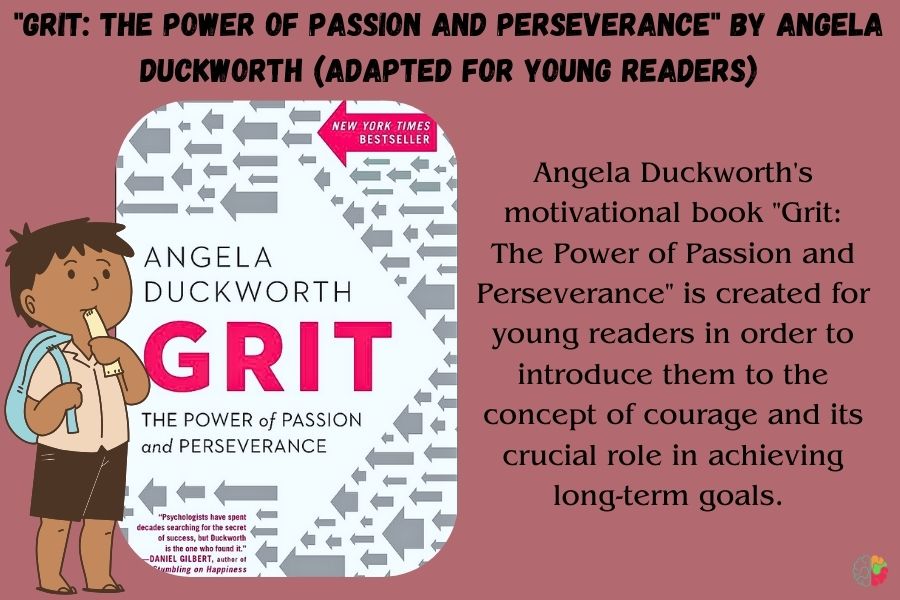 Angela Duckworth's motivational book "Grit: The Power of Passion and Perseverance" is created for young readers in order to introduce them to the concept of courage and its crucial role in achieving long-term goals. 
According to Duckworth, a person must be both enthusiastic and persistent to succeed.
Young readers may develop a growth mindset as well as strength and the capacity to overcome obstacles as a result of this. 
Through motivating anecdotes and beneficial advice, this book encourages young people to pursue their interests, define failure as a learning opportunity, and cultivate tenacity.
You might also enjoy: 10 Effective Ways To Develop a Team Mentality In 2024
20."The Growth Mindset Coach: A Teacher's Month-by-Month Handbook for Empowering Students to Achieve" by Annie Brock and Heather Hundley
It gets even better for teachers because "The Growth Mindset Coach" offers thorough advice on how to apply growth mindset ideas in the classroom. 
This book offers a planned method for enhancing students' perseverance, self-esteem, and love of studying through the academic year.
It includes teaching ideas, activities, and useful advice. 
21."The Girl Who Thought in Pictures: The Story of Dr. Temple Grandin" by Julia Finley Mosca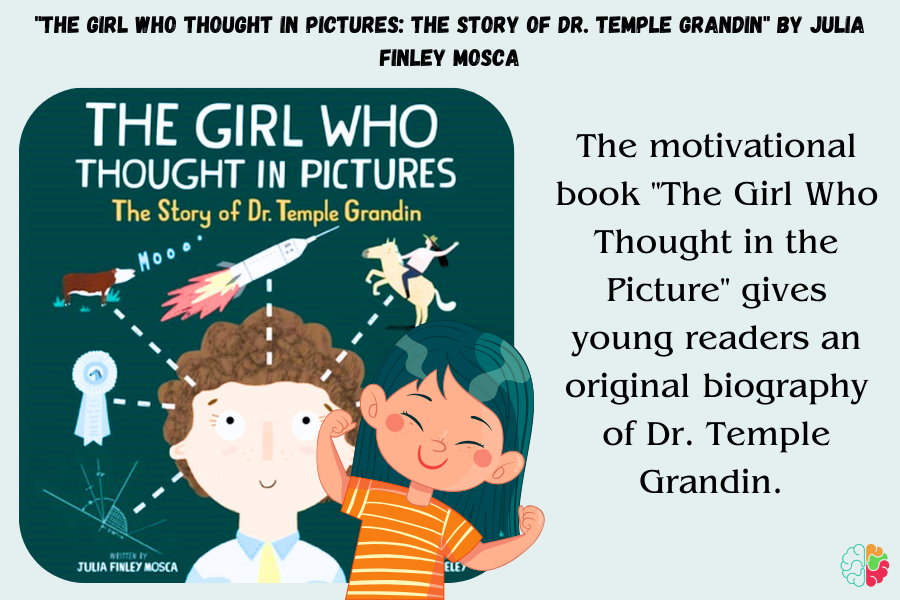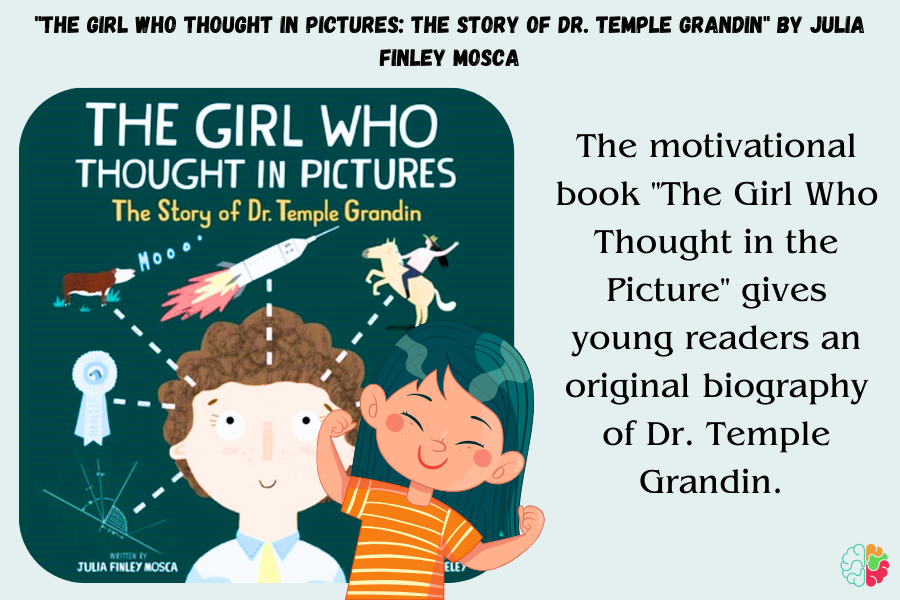 The motivational book "The Girl Who Thought in the Picture" gives young readers an original biography of Dr. Temple Grandin. 
Children learn the importance of tolerating disagreement and using the human potential to overcome obstacles via the story of a girl with autism who grew up to become a trailblazing scientist. 
Through the book, young readers are encouraged to embrace their individuality and to think of themselves as having some kind of beneficial influence, no matter how small.
You might also enjoy: The Anxiety Of Being Yelled At (+7 Tips)
22."Ruby Finds a Worry" by Tom Percival
The lovely children's book "Ruby Finds Anxiety" by Tom Percival discusses the national anxiety disorder in a gentle and honest manner. 
Ruby, a young woman who portrays a tiny creature resembling a cloud and embodies her worry, serves as the book's protagonist. 
Ruby's anxiousness follows her around as she grows up, raising questions about how it may impact her happiness in regular life. 
In order to depict the sense of isolation and anxiety, Percival uses delicate photography and intelligent narration. 
Ruby's development as a social butterfly is followed throughout the story as she learns about her flaws.
"Ruby Find Anxiety" is a conversation starter for both kids and adults about emotional and mental health.
23."What Do You Do with a Chance?" by Kobi Yamada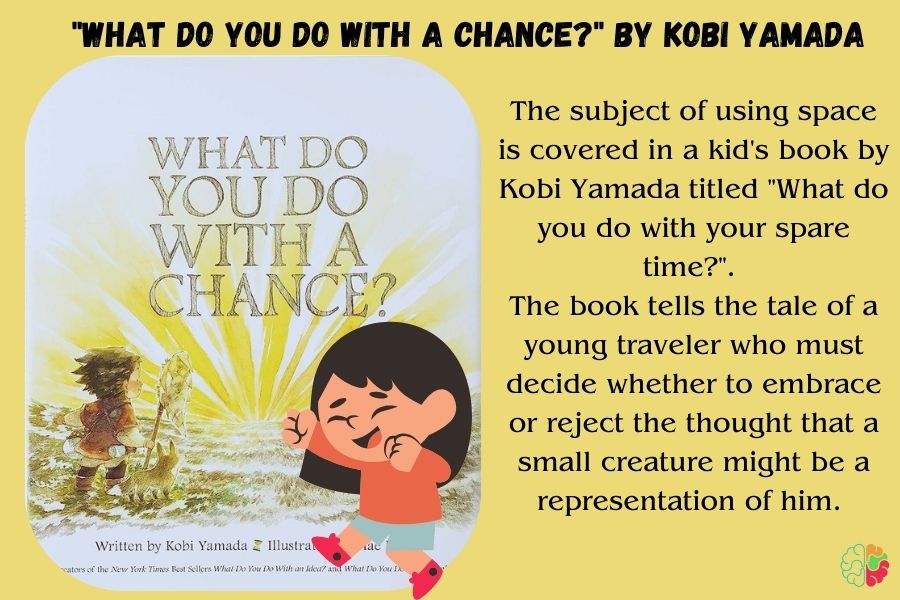 The subject of using space is covered in a kid's book by Kobi Yamada titled "What do you do with your spare time?". 
The book tells the tale of a young traveler who must decide whether to embrace or reject the thought that a small creature might be a representation of him. 
It offers lovely pictures and an intriguing story.
We get a taste of the fear and helplessness that frequently accompany unfamiliar circumstances through Yamada's developing plot. 
The free book describes the transformation that takes place when someone decides to leave the comfortable and step into the unfamiliar. 
He exhorts people to find the willpower to accomplish their objectives and seize any chance that presents itself.
You might also enjoy: Change Your Words Change Your Mindset in 2024 (10 Ways)
24."I Can Handle It!" by Laurie Wright
The children's book "I Can Handle It!" by Laurie Wright gives kids the chance to talk about issues and emotions that come up on a daily basis. 
The most significant figure in the story is teenager Sebastian.
The story implies that he encounters a lot of circumstances that can cause him to feel anxious or perhaps terrified.
Sebastian develops a growth mindset and learns to think positively in every situation. 
His family's support and their sayings play an important role in adopting his positive viewpoint.
Wright's approach efficiently teaches children how to understand their emotions, gain coping techniques, and build resilience. 
This book is an excellent resource for parents and educators since it encourages open dialogue about emotions and provides practical answers to difficulties. 
25."Making a Splash: A Growth Mindset Children's Book" by Carol E. Reiley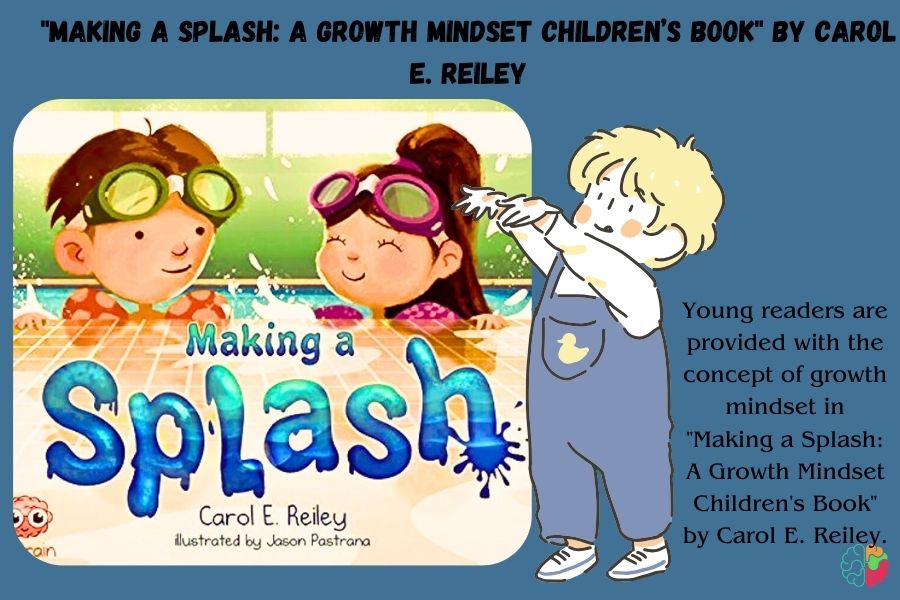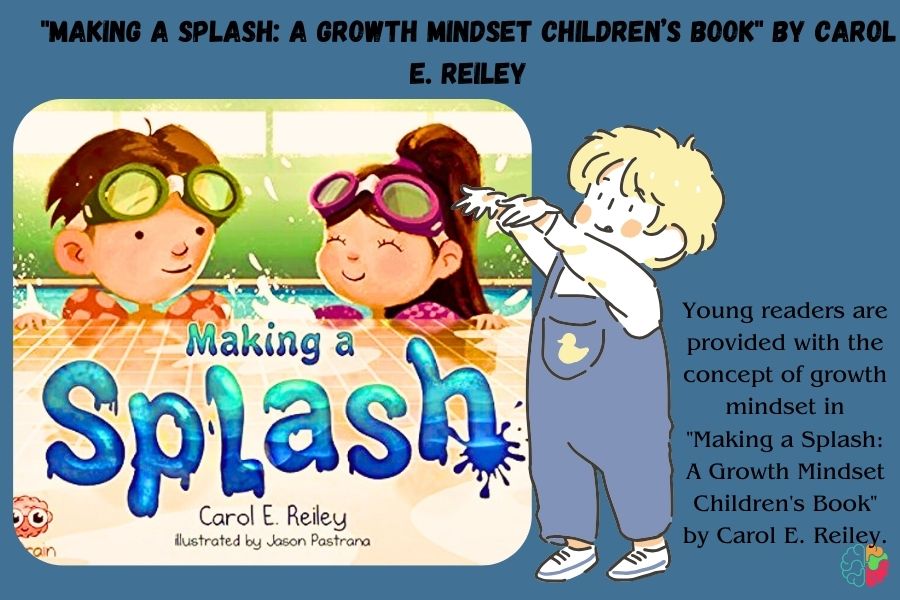 Young readers are provided with the concept of growth mindset in "Making a Splash: A Growth Mindset Children's Book" by Carol E. Reiley.
The story is about a small fish named Finn who seeks himself out in the lovely illustrations. 
Finn believes that he can conquer barriers and be equipped with new skills with perseverance, practice, and optimism. 
The idea that strength isn't constant but can be developed through commitment and tenacity is succinctly expressed in Reiley's work. 
Making a Splash instills in kids a sense of endless potential, perseverance, and curiosity by stressing the value of hard work and embracing failure as a teaching opportunity.
You might also enjoy: 8 Ways To Have The Mindset Of A Champion In 2024
26."The Princess in Black" by Shannon Hale and Dean Hale
The Princess in Black, an uplifting kid's book written by Shannon and Dean Hale, questions the stereotype of what a princess should look like.
Princess Magnolia, who adopts a double life of being a brave and warrior princess, serves as the main character. 
Magnolia transforms into a courageous boy in Black when a grave threat arrives, exposing her true world.
This story defies preconceptions by depicting a strong, independent princess who is not scared to lead. 
She accomplishes this by combining humor, action, and a practical character.
Shannon and Dean Hale's novel not only entertains young readers but also raises the idea that people can have different pieces of themselves that do not live up to expectations.
27."Ishmael and the Enchanted Baseball Cap" by Ella May Woodman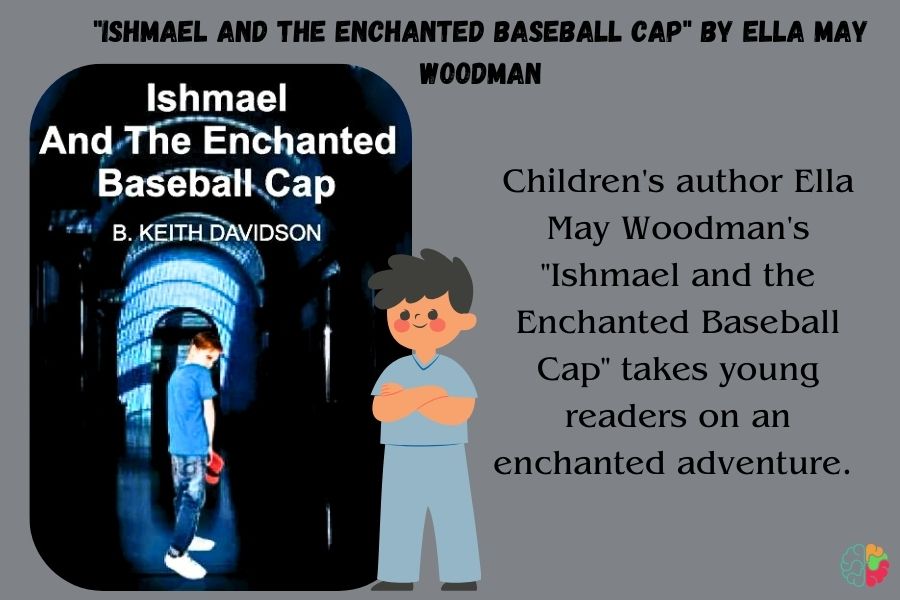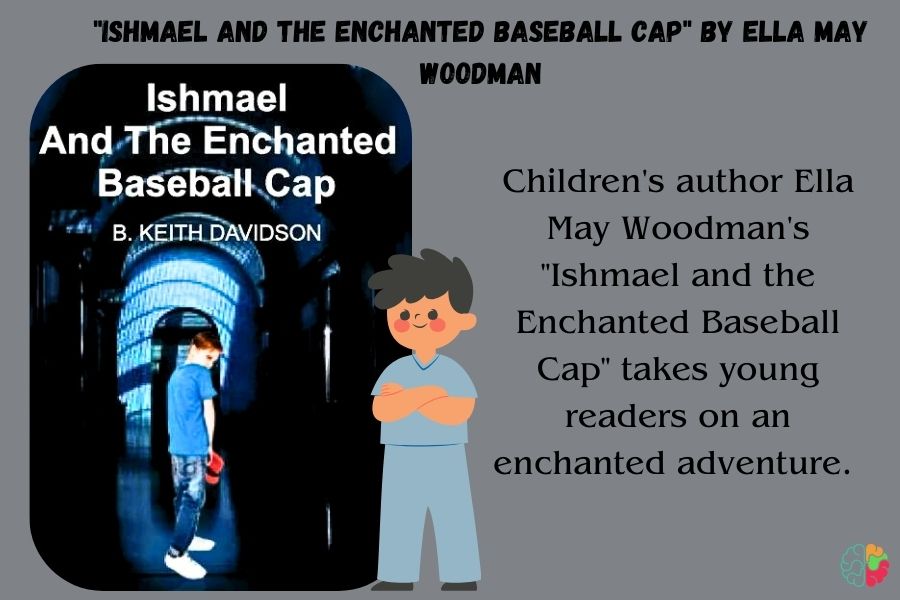 Children's author Ella May Woodman's "Ishmael and the Enchanted Baseball Cap" takes young readers on an enchanted adventure. 
Ishmael, a little child in the tale, finds a mysterious baseball cap that offers him the capacity to travel through time. 
Ishmael learns critical historical facts and life skills from each encounter.
Fantasy, history, and friendship are all woven together in Woodman's books to satisfy and educate young readers.
Children were encouraged by Woodman's book to be egocentric, to pursue their interests, and to have a propensity for bravery and creativity.
You might also enjoy: 15 Powerful Billionaire Mindset Traits To Change Your Life in 2024
28."Maybe" by Kobi Yamada
Kobi Yamada's "Maybe" is an insightful and motivational kid's book that exhorts readers to stand life's uncertainties head-on with a courageous spirit. 
The book encourages young readers to seize the numerous opportunities that exist when they approach challenges, dreams, and goals with optimism through heartwarming phrases and expressive graphics. 
Children are encouraged to take chances and put themselves out although they might have unexpected results.
In his works, Yamada does a remarkable job of capturing both the excitement of the unknown and the sense of hope. 
It serves as a motivational reminder for both children and adults that opportunities are waiting to be discovered when we dare to say "Maybe" to the world around us. 
29."Unstoppable Me!: 10 Ways to Soar Through Life" by Dr. Wayne W. Dyer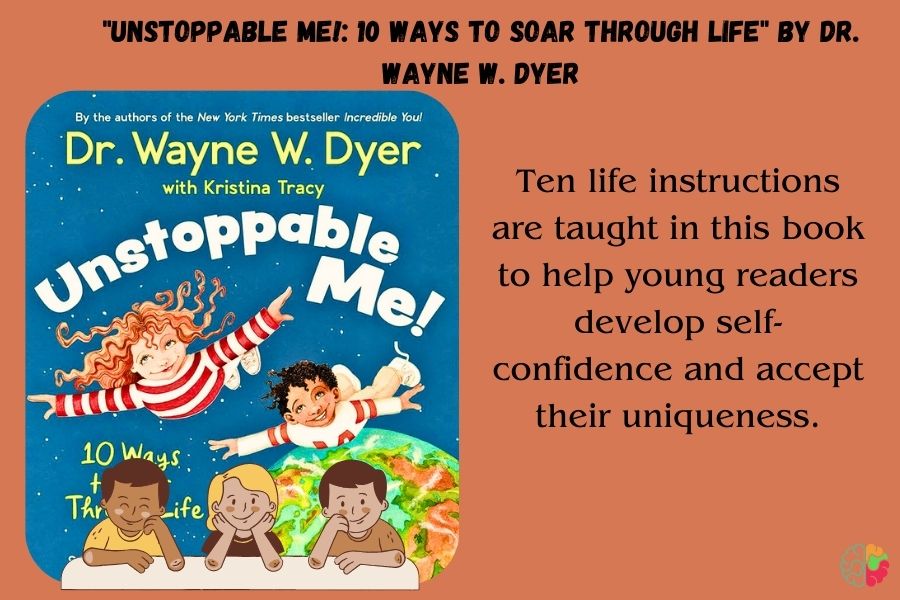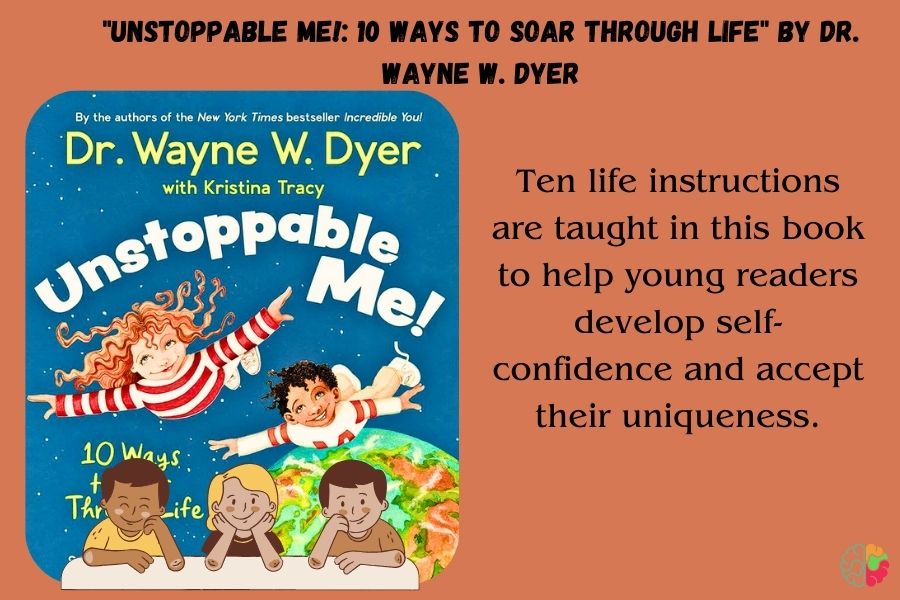 "Unstoppable Me!" indicates Dr. Wayne W. Dyer's theory of life.
Ten life instructions are taught in this book to help young readers develop self-confidence and accept their uniqueness.
Children learn how to be passionate in life through engaging activities and captivating graphics.
In addition to affecting readers, Shannon and Dean Hale's narrative provides people with the ability to accept various portions without having high expectations. 
This book advised children to pursue their interests, be self-centered, and be brave and creative.
You might also enjoy: 8 Mindset Qualities That Are Attractive To Employers
30."Big Ideas for Little Philosophers: Truth with Socrates" by Duane Armitage
The engrossing kid's book "Big Ideas for Little Philosophers: The Truth With Socrates" by Duane Armitage teaches young readers the basics of philosophy via the activities of Socrates. 
Through the use of amusing illustrations, this book encourages kids to explore in search of the truth and think critically. 
Through a drawing exercise with his child, Socrates learns something about the nature of the way that any value is remembered.
Young readers are piqued by Armitage's writing and are encouraged to reflect on life's essential issues. 
This book is a terrific way to expose kids to philosophy while also inspiring them to think critically and pose challenging questions about big ideas at a young age. 
31."Flop to the Top!" by Eleanor Davis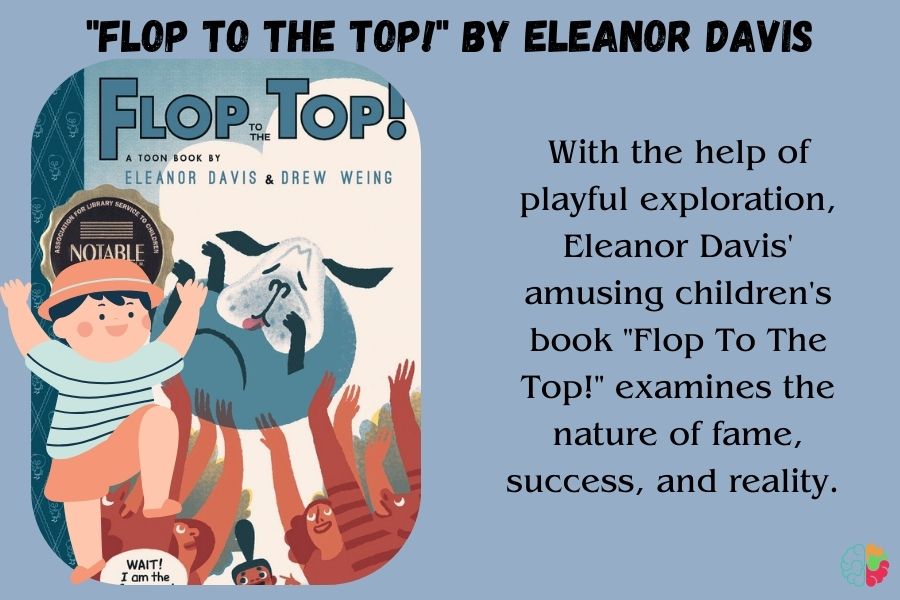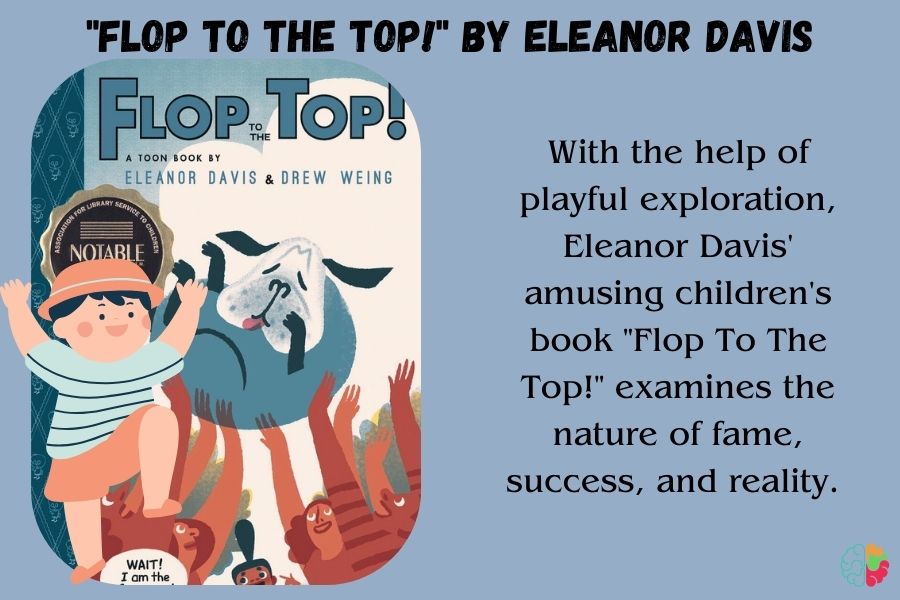 With the help of playful exploration, Eleanor Davis' amusing children's book "Flop To The Top!" examines the nature of fame, success, and reality.
The main character of the story is Wanda, a dog with a desire to become well-known. 
Once Wanda unexpectedly became a celebrity as a result of a special occasion but the point is that her path wasn't simple at all.
The book delights in the dreams of instant triumph and the fragility of fame thanks to Davis's clever text and lovely pictures. 
The book delights in the hopes of overnight triumph and the fleeting nature of celebrity because of Davis's humorous narrative and stunning images. 
He was truly accepting the extraordinary personality that enables us to experience true delight as he performed the amazing explosion world. 
Young readers will enjoy "Flop to the Top!" while learning an important lesson about the value of keeping true to oneself.
You might also enjoy: Top 30 David Goggins Quotes To Change Your Life
32."The Growth Mindset Escape: A Growth Mindset Journal for Kids" by Dweck Co.
"The Growth Mindset Escape: A Growth Mindset Journal for Kids" by Dweck Co. is a top-notch motivational book for coaching young readers about the idea of growth theory. 
Based on the studies of Carol Dweck, this book motivates young readers to study and nurture a growth mindset. 
The book equips youngsters with the capabilities they want to triumph over challenges, study from their failures, and increase resilience through a chain of recommendations and reflections.
By fostering self-awareness and a love of learning, "The Growth Mindset Escape" teaches children the skills needed for achievement and personal growth. 
Children can use this diary as a tremendous tool for self-expression and self-development tracking while engaging in the growth mindset transforming power. 
It is a treasure that enables youngsters to find the inspiration for their lifelong learning and growth.
33."Growth Mindset Ninja" by Mary Nhin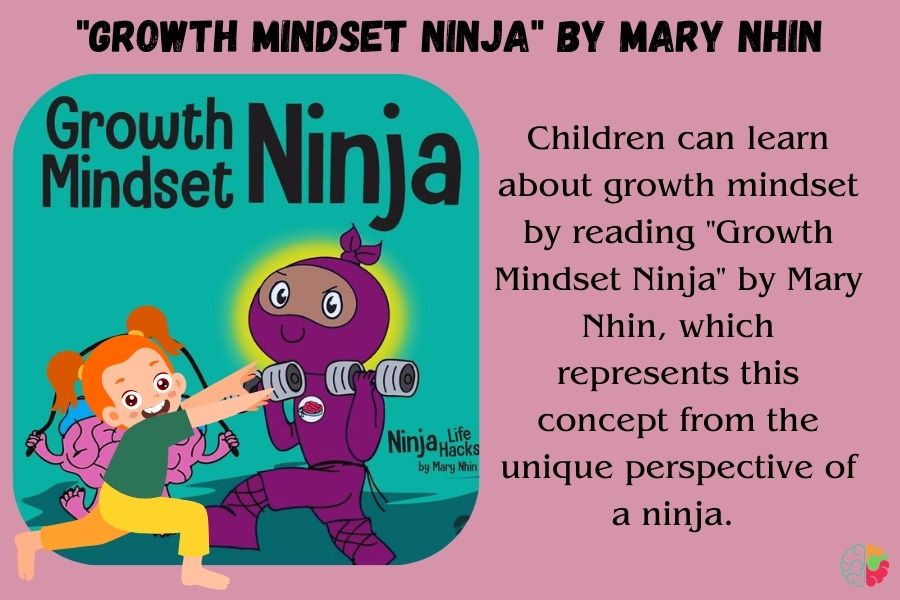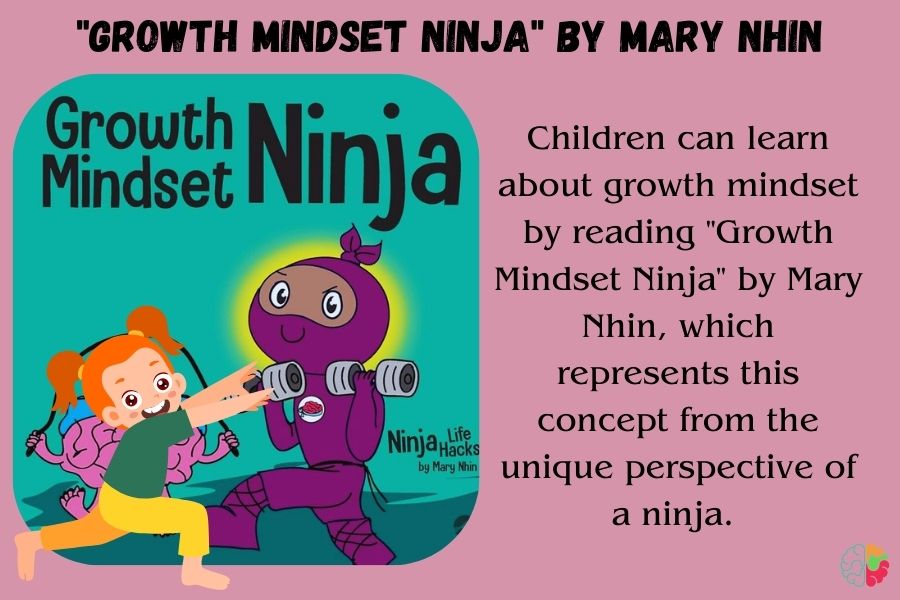 Children can learn about growth mindset by reading "Growth Mindset Ninja" by Mary Nhin, which represents this concept from the unique perspective of a ninja. 
The protagonist of the story is a young ninja named Kobi who faces difficulties in his quest to reach his belt.
Kobi learns from Sensei the importance of perseverance, hard work, and viewing failure as an opportunity to improve. 
Nhin's books offer ideas to young readers via imaginative language and insightful activities.
Children learn how to appreciate the value of life skills through this book as well as meeting challenges with the correct mindset. 
Also, It's a useful book for parents and teachers to help children in the path of developing a sense of growth.
This will definitely increase children's confidence and resilience in life.
You might also enjoy: How the 7 Universal Laws Work In A Practical Way
34."The Power of Yet: A Book About Growth Mindset" by Dweck Co.
The effect of adopting a growth mindset is mentioned in this kid's book "The Power of Yet: A Book About Growth Mindset" by Dweck Co. 
This book offers the concept of intelligence and abilities that can be enhanced through effort and perseverance. 
It is based on the well-known study of Carol Dweck. The protagonist of the narrative is a young boy who faces limitations and difficulties. 
However, he learns to overcome them by explaining the word "more" as a sign that persistence and attempt are vital for advancement. 
The book provides both humorous and practical examples to illustrate the difference between static thinking and progressive thinking. 
It helps kids see failures and setbacks as opportunities for growth and success.
Parents and educators who want to foster in their students a lifelong love of study and personal growth can turn to Yet's Power Book as a vital resource.
35."What Should Danny Do?" by Ganit Levy and Adir Levy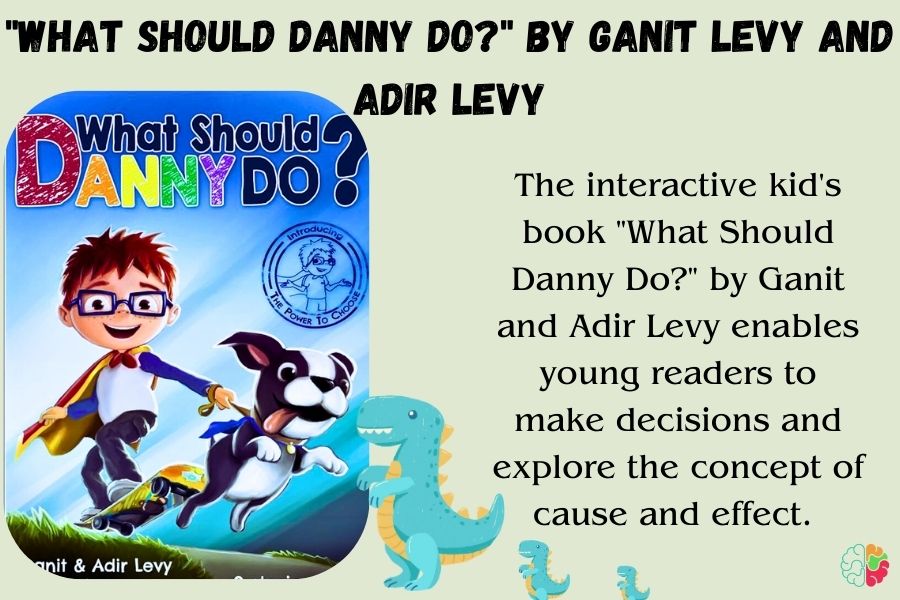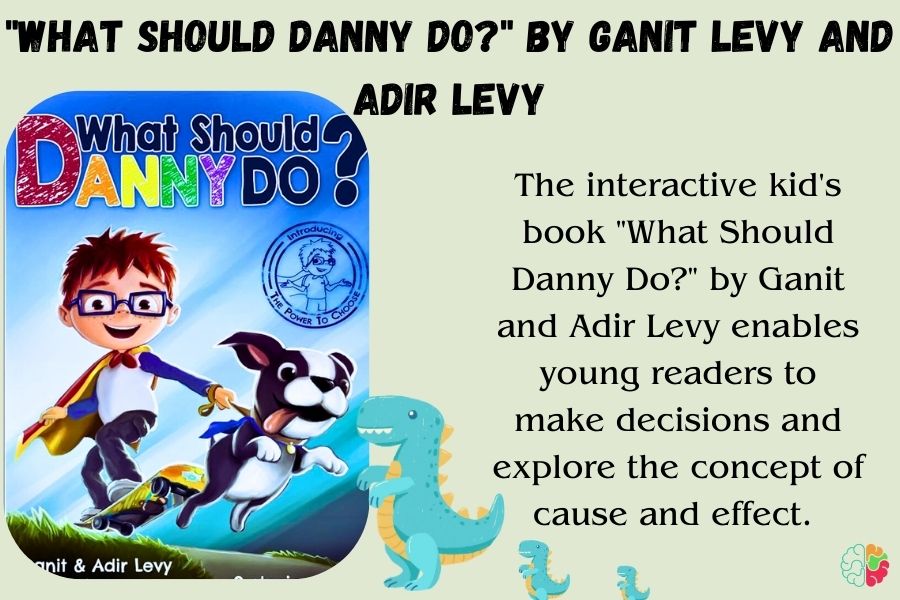 The interactive kid's book "What Should Danny Do?" by Ganit and Adir Levy enables young readers to make decisions and explore the concept of cause and effect. 
Danny, the protagonist of the story, is a young boy who should make choices during the day.
At key moments in Danny's narrative, readers are given the choice to alter the direction of his narrative and experience the results of their actions.
Through a combination of stories and real events, the book instructs kids about accountability, empathy, and the effect of their decisions on them and others. 
"What Should Danny Do?" comprises fascinating and crucial life lessons whilst encouraging young readers to consider the results of their decisions. 
This book is a great conversation starter for parents and teachers to start conversations about behavior, decision-making, and the importance of making thoughtful decisions.
You might also enjoy: How To Have A Prosperous Mindset To Attract Abundance In 9 Steps
36."The Girl Who Said Sorry" by Hayoung Yim
"The Girl Who Said Sorry," a moving and enlightening children's book by Hayoung Yim, explores the social pressure that leads girls to apologize unnecessarily. 
Through an engaging narrative and intriguing illustrations, the book follows a young woman who starts to feel guilty over insignificant actions before finally finding the courage to speak up and value her own opinion. 
Yim's book fluently raises awareness about the importance of self-confidence, self-esteem, appreciating one's value, and expressing oneself without needing to apologize.
Children should be encouraged to shamelessly share their thoughts and actions which has done well through many growth mindset books for kids including this particular book.
It is an inspiring tale that questions social conventions and gives young readers more self-assurance.
37."The Good Egg" by Jory John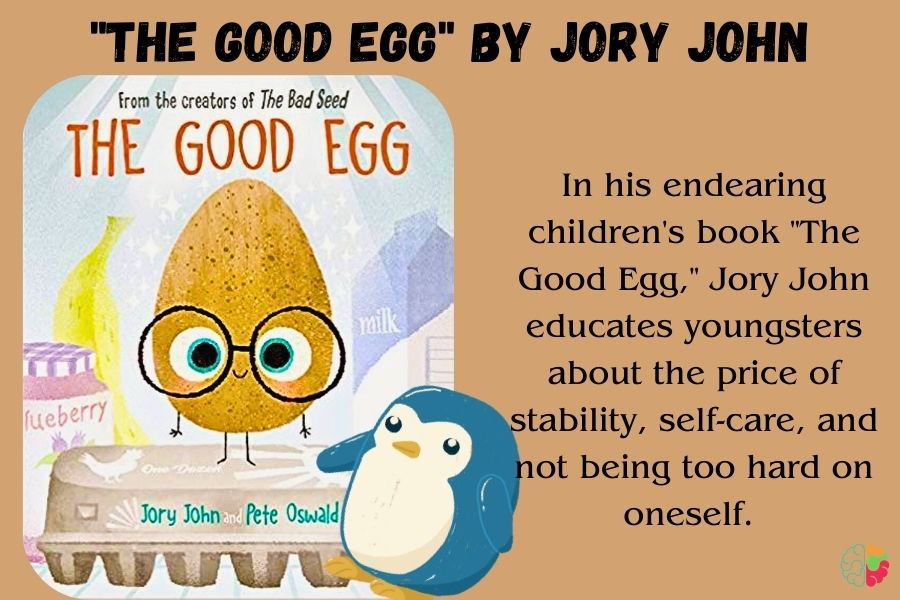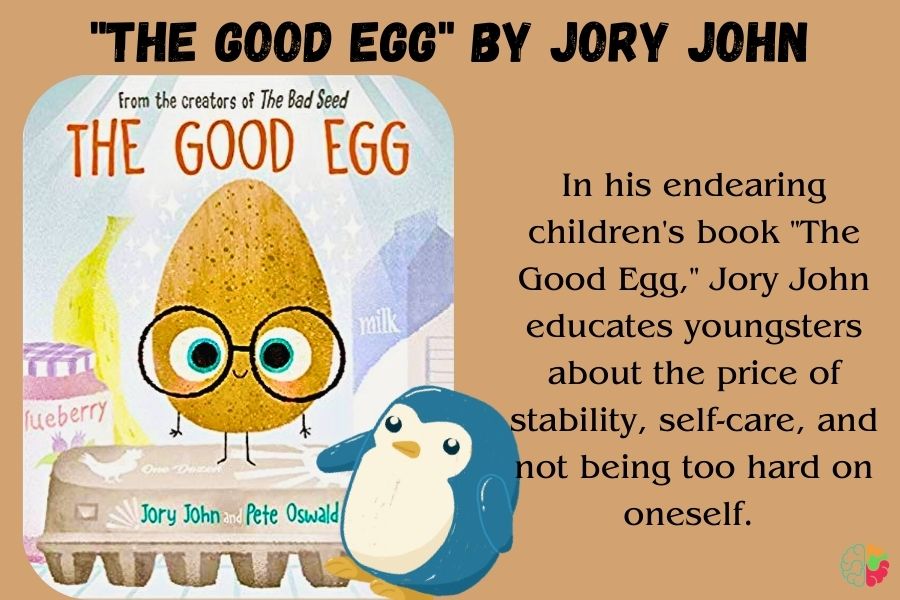 In his endearing children's book "The Good Egg," Jory John educates youngsters about the price of stability, self-care, and not being too hard on oneself. 
The protagonist of the story is an Egg who works hard to behave correctly and win the respect of those around him.
He eventually falls to the ground as a result of the pressure.
As he dealt with the challenging events brought on by many people, he became involved and worn out.
Through John's words and impactful pictures, the book underlines the desire for attractiveness and the stress and worry that follow from perfectionism. 
"The Good Egg" shows how owning up to imperfections and being kind to oneself may lead to a happier existence. It is advised for young people to balance their studies and interests.
This sweet book serves as a welcome reminder that taking care of oneself is essential to being a top-notch person.
You might also enjoy: How To Have A Positive Mindset At Work In 18 Steps
38."Believe in Yourself" by Caden Lowe
The children's book "Believe in Yourself" by Caden Lowe inspires and uplifts readers by highlighting the need to develop self-assurance. 
Thanks to the emotional testimony and breathtaking graphics in the book, the protagonist, Alex, is prepared to overcome uncertainty and fear.
The book offers great advice on how to value one's unique features, push limits, and keep going when things get difficult. 
The free book "Believe in Yourself" is a wonderful resource for teaching younger readers about confidence in oneself and the importance of having faith in one's own abilities. 
Younger readers are inspired by the book's upbeat message and intriguing characters to recognize their value, go after their dreams, and live life to the fullest.
39."The Optimistic Orange Oak Tree: Teaching Children the Power of Positive Thinking" by Nicholas B. Allen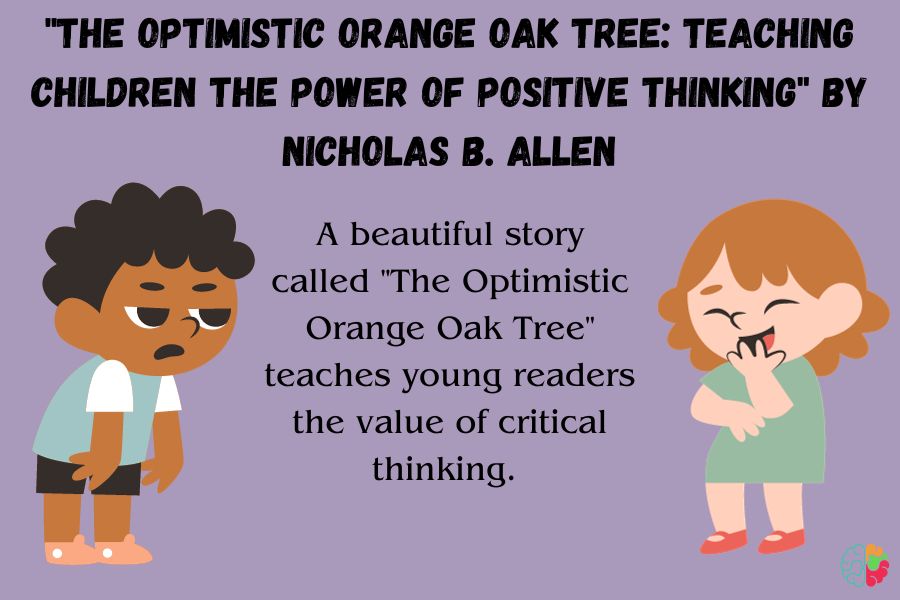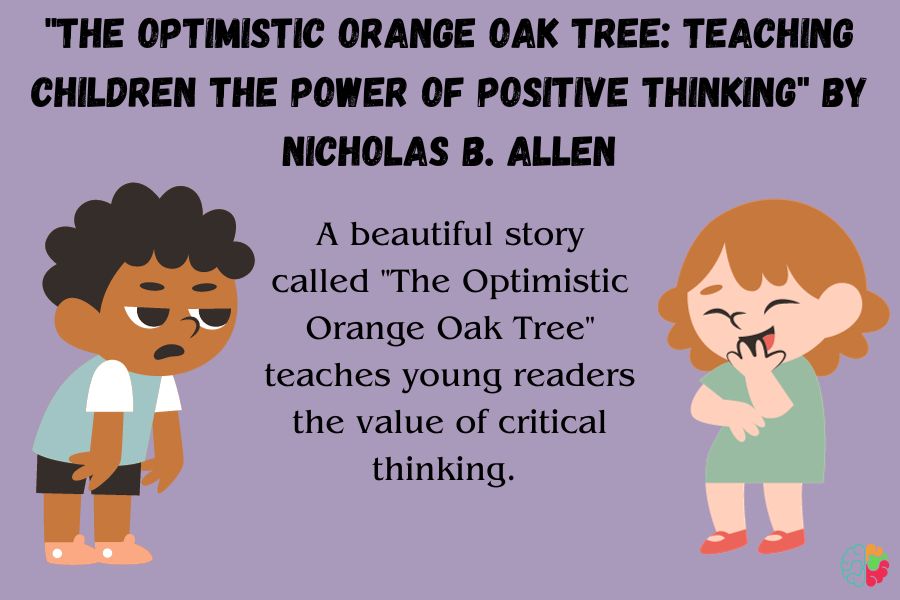 A beautiful story called "The Optimistic Orange Oak Tree" teaches young readers the value of critical thinking. 
The book teaches kids how to develop a strong and successful mindset that can promote personal growth, happiness, and resilience using the metaphor of an oak tree. 
This free book uses intriguing people and unsettling themes to demonstrate the need to maintain a positive view of life, even when things are difficult.
You might also enjoy: How Mindset Affects Performance In Sports
40."Mindset: Changing The Way You Think to Fulfil Your Potential" by Dr. Carol S. Dweck
This profoundly transformative book examines the psychology of success and personal success. 
Dr. Dweck explores mindsets, including the fixed and growth mindsets, and makes suggestions about how they can have a significant impact on our lives. 
Her engaging research and real-world experiences show how people with a positive outlook may unleash their full potential and achieve amazing success in a variety of realms of life. These people live in harsh environments and view failures as opportunities to grow. Everyone and their mother should read Dr. Dweck's book in order to break free from self-limiting attitudes and develop a mindset that fosters resilience, creativity, and a path to knowing their maximum aspirations. 
It's a captivating examination that inspires readers to reframe their concerns and set out on a journey of personal growth.
41."The Yes" by Sarah Bee and Satoshi Kitamura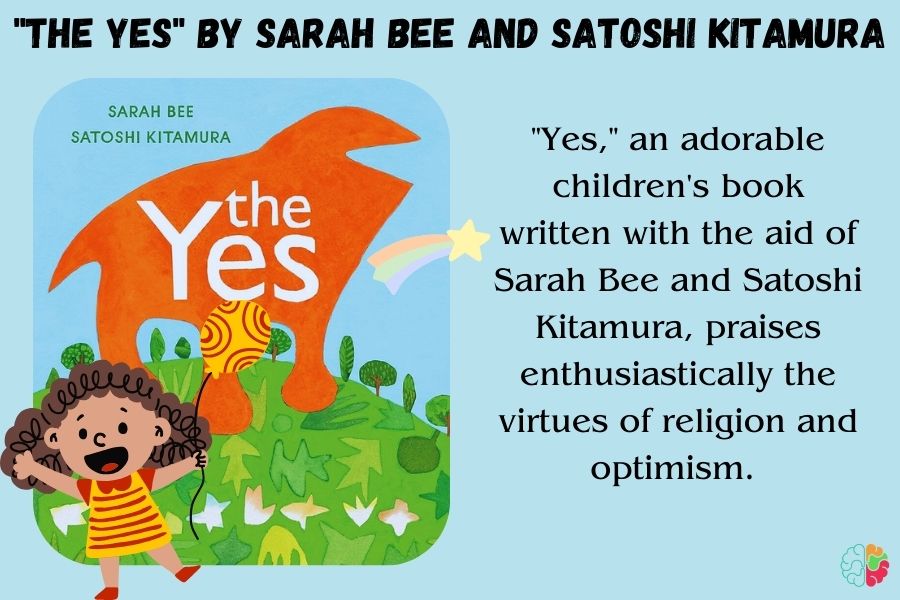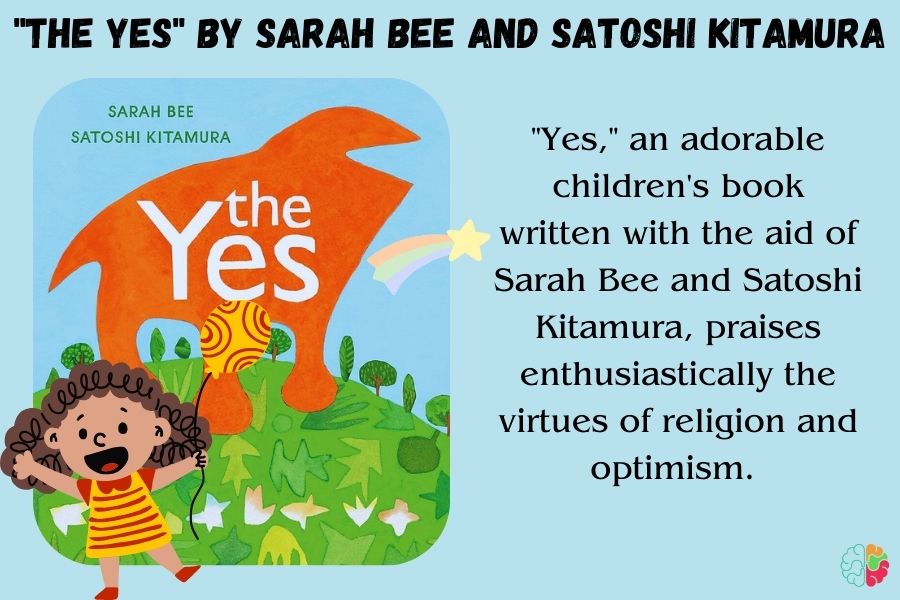 "Yes," an adorable children's book written with the aid of Sarah Bee and Satoshi Kitamura, praises enthusiastically the virtues of religion and optimism. 
The tale depicts a younger female who, with the organization of her dog, embarks on a journey to research the satisfaction that saying "sure" may also offer. 
It has a lovable plot and lovable artwork. With an open mind, they find out their surroundings, mastering new matters and developing sudden perspectives. 
"Yes" aptly captures the transformational impact of adopting an awesome outlook and attempting new activities, permitting more youthful readers to apprehend opportunities that come from the aspect of happiness. 
Children are recommended with the aid of Bee & Kitamura's book to mention their interest and readiness to depart their consolation zone. 
This captivating story serves as a reminder that taking possibilities and accepting invites can open up an international of happiness, mastering, and countless opportunities.
You might also enjoy: 18 Mindset Hacks That Can Change Your Life Forever
42."The Girl with a Mind for Math: The Story of Raye Montague" by Julia Finley Mosca
Julia Finley's book "The Girl With a Mind for Math: The Story of Raye Montague" added the exquisite lifestyles of Raye Montague, a pioneering African-American engineer to younger readers. 
This is a motivational and academic kid's book.
The book follows Montague's increase from an early age with a love of DIY to a pioneer in laptop programming via fascinating memories and beautiful pictures. 
In a time even as there are few possibilities for women and African-American people, Montague is determined to overcome disturbing conditions and meet her ambitions. 
This tale demonstrates her staying power and can pay homage to Montague who contributed to technology and for uplifting subsequent generations. 
"The Girl With a Mind for Math" inspires kids, specifically females, to pursue their passions, find out their competencies, and persevere in the face of difficulties. 
It serves as a motivating reminder that self-control and creativity can get via demanding situations and open doors to fantastic accomplishment. 
43."I Can't Do That, YET: Growth Mindset" by Esther Pia Cordova

This adorable children's book presents the concept of a growth mindset in a plausible and appealing way. 
Through the story of a younger female character named Peri, readers are taken on a journey of self-discovery and resiliency. 
The book teaches children the power of the word "yet" and how it can change their approach to learning and problem-solving. 
The book by Esther Pia Cordova is a helpful tool for parents and educators who want to instill a positive outlook in children by encouraging them to take on challenges, persevere through setbacks, and believe in their capacity to analyze and broaden. 
Thanks to its vibrant illustrations and relevant story, this book inspires young readers to develop a positive mindset toward learning and the idea that they can accomplish something with self-control and hard work.
You might also enjoy: How Do Millionaires Think + 15 Ways To Think Like Them
44."The Great Kapok Tree: A Tale of the Amazon Rain Forest" by Lynne Cherry
A fascinating and instructive children's book called "The Great Kapok Tree: A Tale of the Amazon Rain Forest" by Lynne Cherry demonstrates the value of environmental preservation and the interdependence of all living things. 
It has stunning pictures and moving language.
Other animals approach him as he's sleeping and provide him with explanations about their roles in the environment and what it may take to survive there. 
Cherry's art captures the lovely harmony of the natural world as well as the significant impacts of human activities on the ecosystem. 
Young readers are encouraged to value nature and consider their role in protecting the environment to preserve it for the next generation through this book which tells a story about the beauty of biodiversity.
46."The Three Little Superpigs" by Claire Evans
In this imaginative version of "Three Pigs," the three pig brothers use their own abilities to combat the large wolf. This story considerably helps youngsters develop their imagination. 
"The Three Little Super Pigs" illustrates the value of creativity and invention in problem-solving using teamwork, resiliency, and innovation.
47."Bubble Gum Brain" by Julia Cook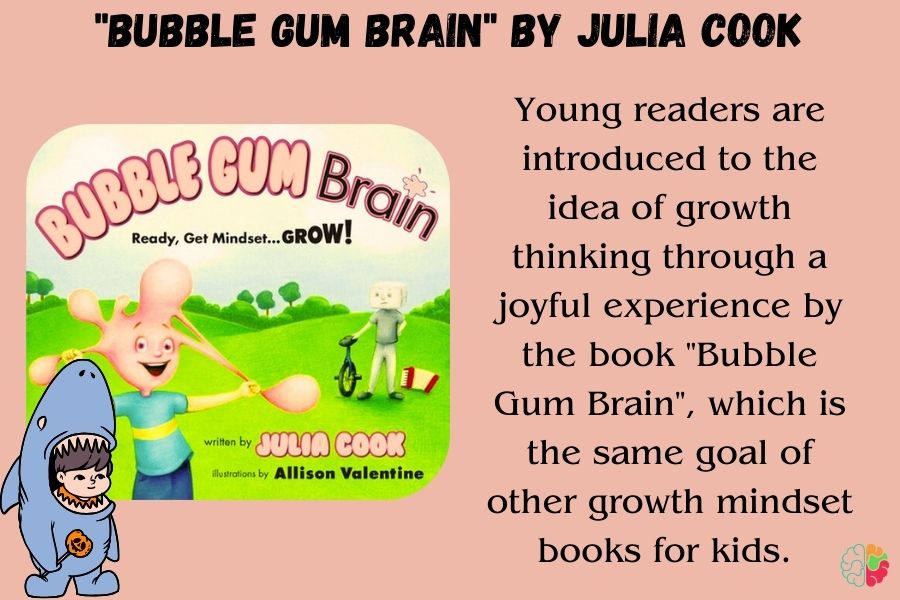 Young readers are introduced to the idea of growth thinking through a joyful experience by the book "Bubble Gum Brain", which is the same goal of other growth mindset books for kids. 
The idea of a "brain bubble" can lead to development and change by using vivid pictures and relevant experiences. 
The narrative teaches children that they will conquer obstacles, learn from their setbacks, and constantly enhance their competencies by having a flexible mindset. 
Children are urged by this book to embrace new situations with an open mind and the conviction that they can always get better.
You might also enjoy: How Mindset Affects Success
48."What Do You Do With an Idea?" by Kobi Yamada
The beautiful metaphorical tale "What Do You Do With an Idea?" honors the capacity for imagination and innovation.
The story of a youngster and their thoughts in the book illustrates the influence of the mind on the world. 
Young people are encouraged to value their own beliefs, to express them, and to be courageous enough to follow their goals.
This book also offers a wide range of gorgeous pictures and inspiring thoughts which give rise to better creativity.
49. Growth Mindset Workbook for Kids: 55 Fun Activities to Think Creatively, Solve Problems, and Love Learning [Spiral-bound] Peyton Curley

The workbook is a fantastic tool that offers beneficial exercises intended to encourage growth thinking in kids. 
With the help of 55 mental exercises, kids can work on self-reflection, gratitude, and positive affirmations. 
The workbook gives kids the skills they need to become resilient, self-aware, and upbeat in the face of difficulty. 
During each lesson, young readers have the opportunity to study principles from development theory and apply them in real-world circumstances.
You might also enjoy: How Do Students With A Growth Mindset See Their Mistakes?
50."Thanks for the Feedback, I Think" by Julia Cook
"Thank you for your feedback, I think" expresses this in a suitable and engaging manner. Successful people understand how crucial it is to accept criticism appropriately. 
The method evolves as the young person matures and has the ability to value and respond constructively to criticism. 
With humor and compassion, the book emphasizes the desire to maintain a positive attitude in search of advice from people around. Young readers learn that criticism is a chance for growth and change thanks to this book.
This is a growth mindset for kids podcast:
Conclusion
As we delve deeper into the beautiful realm of growth mindset books for kids, it becomes abundantly evident that these works have the capacity to shape impressionable minds. 
The writings provide readers with a priceless source of knowledge, kindness, and courage that shed light on the idea that failure is the key to achievement and also foster the belief that meeting challenges is the only opportunity that gives rise to self-improvement. 
Teaching children a growth mindset is a gift that will last a lifetime and society can benefit from the result. 
The flexibility and resilience that are taught in these books become more and more important.
These 50 books offer a range of suitable lessons and insight for readers of all generations, interests, and reading levels.