This collection of Rick and Morty quotes will transport you to a hilarious alternate universe.
This awesome TV show never fails to enchant fans with its distinct mix of sci-fi and humor from ingenious storylines to cosmic escapades.
Let's take a look at some of the most memorable quotes from the ground-breaking cartoon comedy Rick and Morty.
Here I suggest you watch the best scene of Rick and Morty:
The Best Rick and Morty Quotes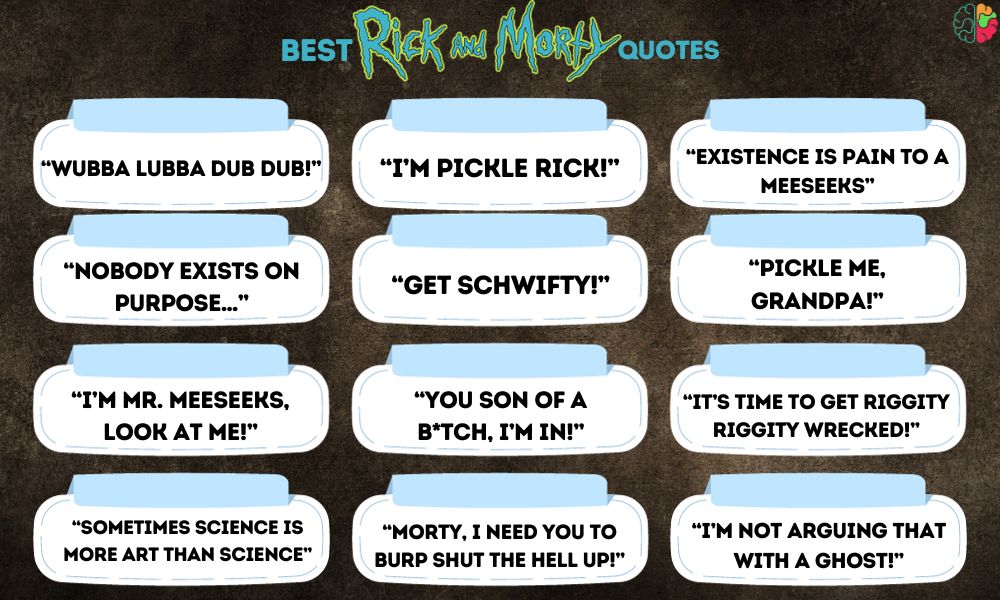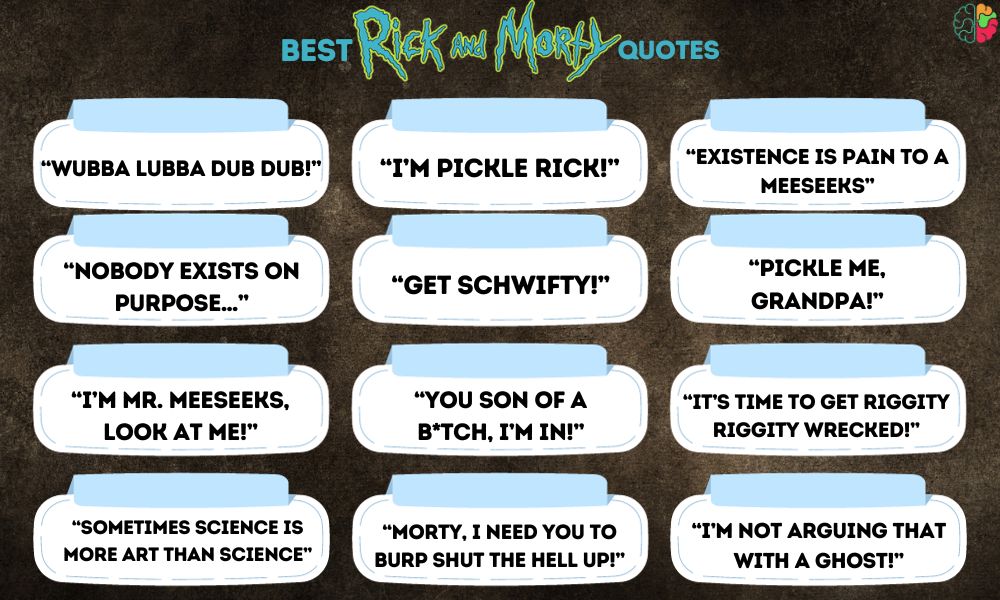 1. "Wubba Lubba Dub Dub!"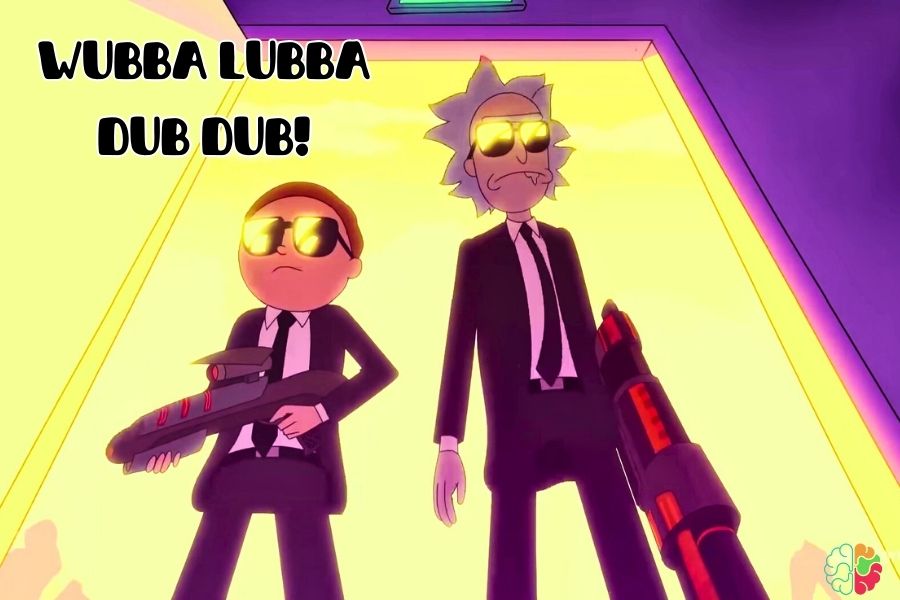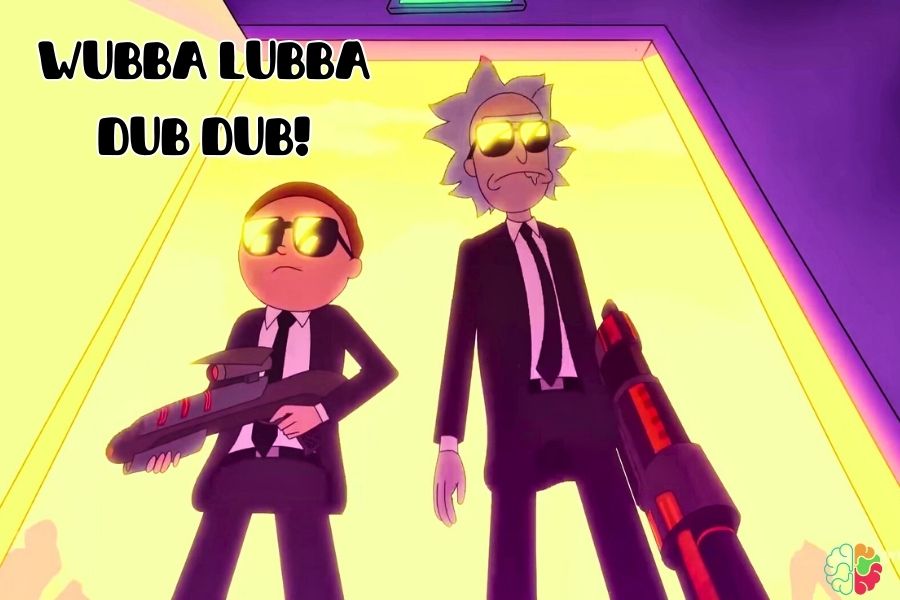 Rick's slogan of choice was one and only.
The phrase "Wubba Lubba Dub Dub!" may appear to be a funny series of noises at first, but its significance is far deeper.
This odd phrase transcends its linguistic roots to capture the entire core of Rick's persona. Under the layers of irreverent comedy, this catchphrase provides a moving window into the complexity of Rick's emotional terrain.
"Wubba Lubba Dub Dub!" is a secret handshake among fans and a sober reminder that even the loudest chuckles can reverberate in the hollow chambers of a soul searching for connection and understanding.
You might also enjoy: 50 Blood In Blood Out Quotes Of All Times [2024]
2. "I'm Pickle Rick!"
The great episode of "Rick and Morty" aptly titled "Pickle Rick" enters the realm of pure creative brilliance and it has since become a memorable point in the annals of the show's mythology.
He transforms himself into a pickle in a technique that only Rick Sanchez's brilliant imagination could come up with.
This bold metamorphosis is a testament to the show's unrelenting boldness to push limits, not just a means of getting out of family counseling.
It is both strange and brilliant of Rick to adopt the shape of a pickle.
3. "Existence is Pain to a Meeseeks"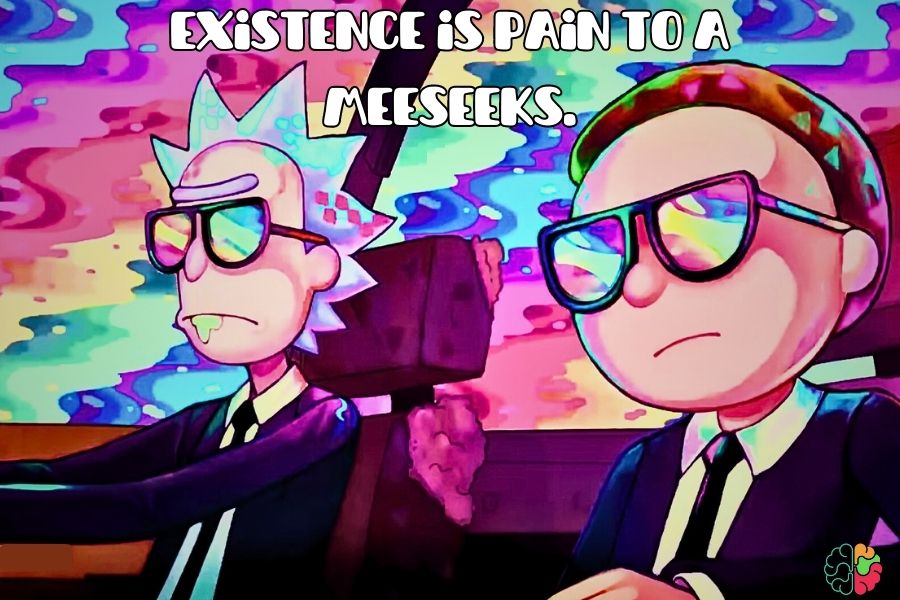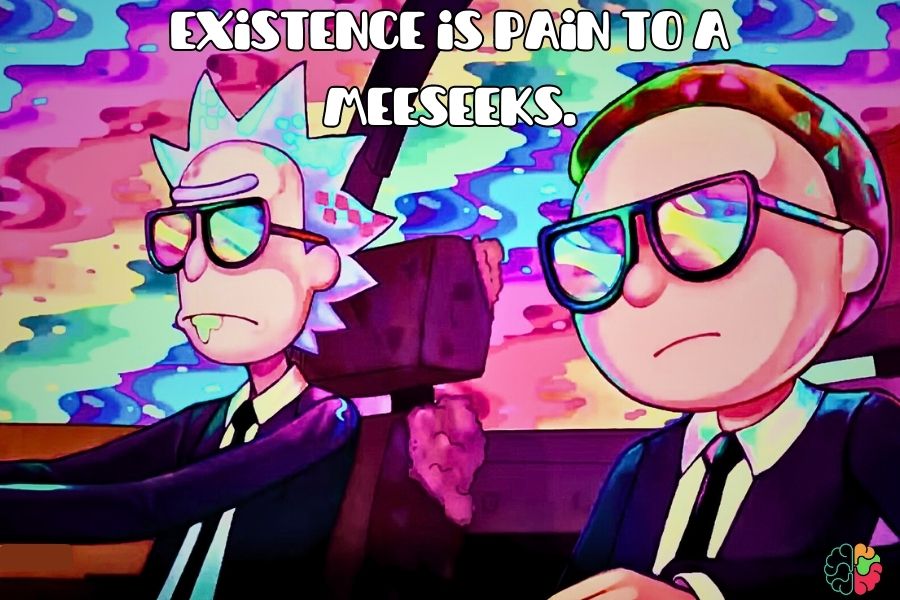 The mysterious and oddly endearing Meeseeks, a creature created with one purpose: to complete chores, are revealed by Morty and Rick in a roller-coaster ride of an episode.
But even the most straightforward intentions can have unforeseen repercussions, as the "Rick and Morty" universe's love of chaos teaches us.
This quote delightfully depicts the existential crisis these creatures are experiencing as they try to make sense of the complexities of life.
You might also enjoy: 35 Eternal Sunshine Of The Spotless Mind Quotes [2024]
4. "Nobody Exists on Purpose…"
Morty finds himself reflecting on the meaning of existence in a rare moment of self-reflection.
This line from Rick and Morty conveys the show's effortless combination of lighthearted fun with profound philosophical contemplation.
It serves as a timely reminder that "Rick and Morty" is more than just an animated sitcom; rather, it's a canvas where the intricacies and peculiarities of the human experience are bravely depicted.
5. "Get Schwifty!"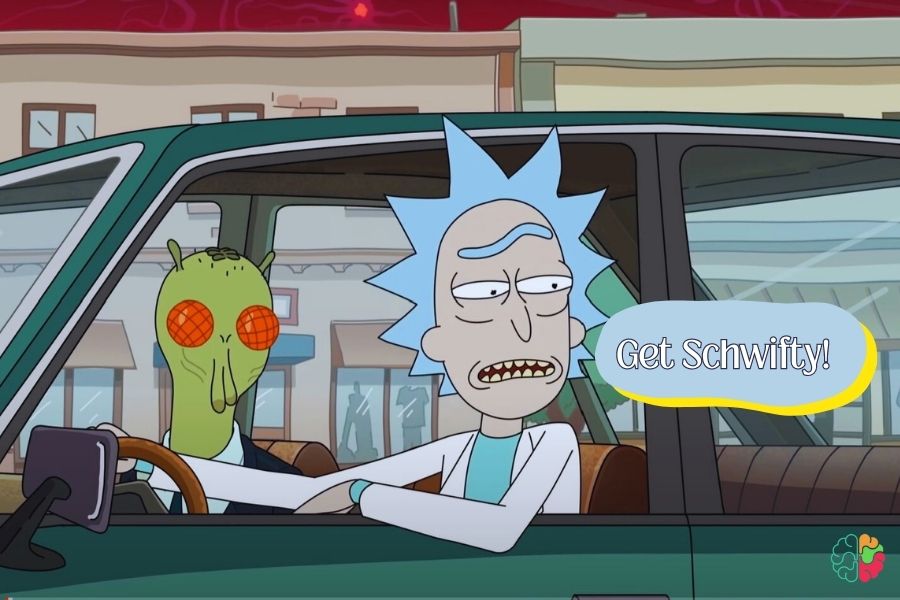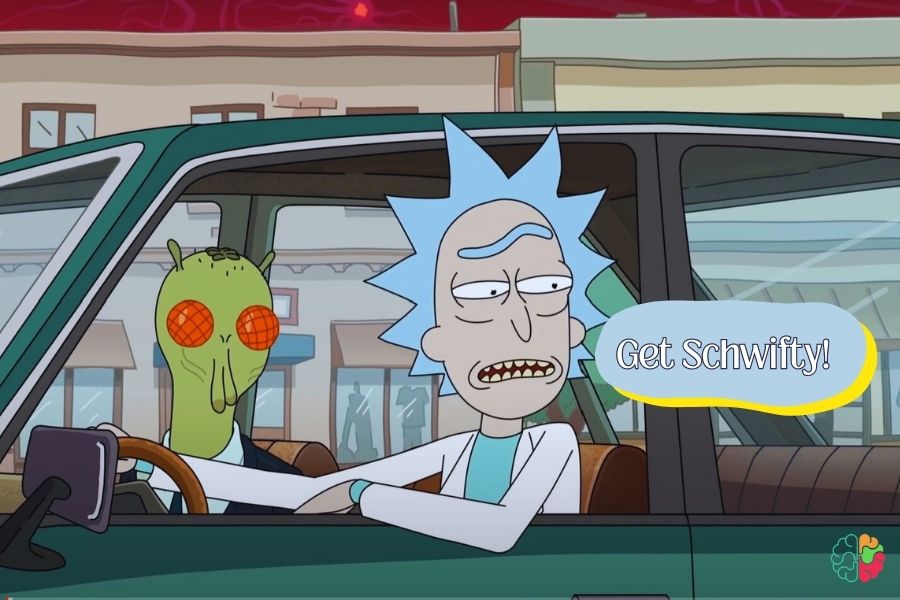 When aliens threatened our world, Rick and Morty found an unexpected solution: singing.
They felt forced to sing a catchy tune in order to preserve the planet.
"Get Schwifty!" wonderfully exemplifies the show's acceptance of the ludicrous, resulting in a humorous and unforgettable musical interlude.
You might also enjoy: Top 25 Itachi Quotes In Naruto Anime [2024]
6. "Pickle Me, Grandpa!"
This piece of commentary is like a nice salute to the famous slogan "Sock it to me!" that we used to hear on the much-loved program "Rowan & Martin's Laugh-In," taking us back to those wonderful golden days of television.
It flawlessly links the present and past eras in the elaborate web of humor that is "Rick and Morty," and is expertly woven into the narrative.
This allusion demonstrates how masterfully the show transforms well-known cultural allusions into something wholly unexpected and novel.
7. "I'm Mr. Meeseeks, Look at Me!"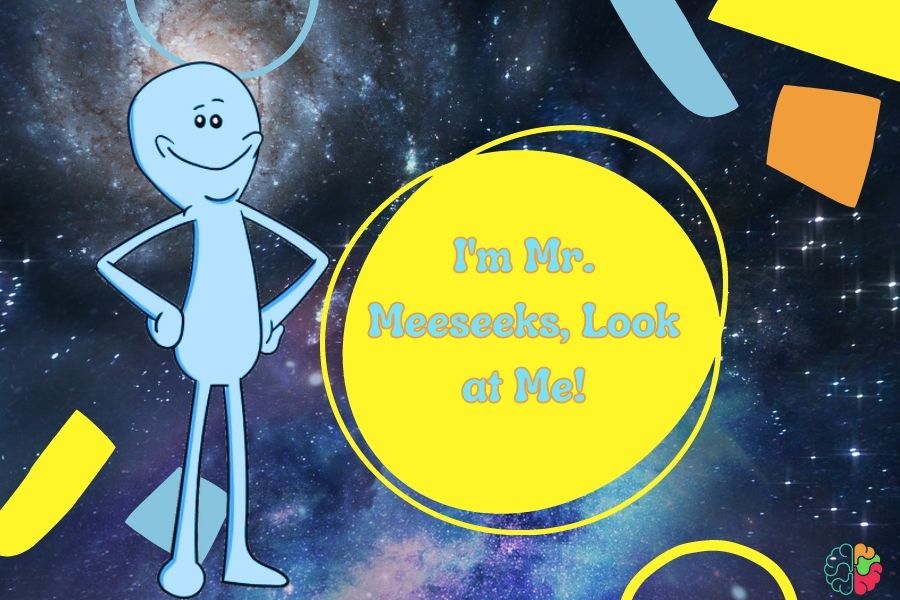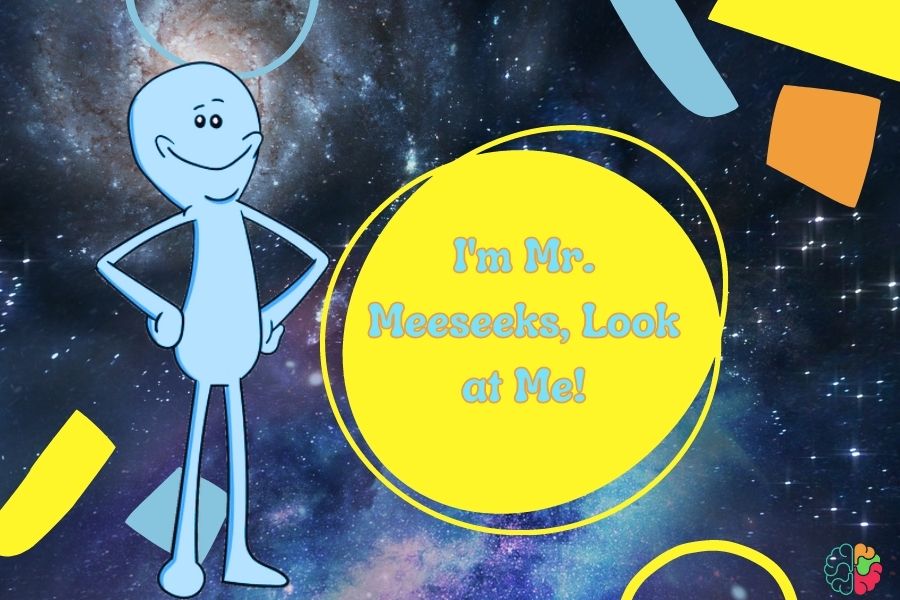 Mr. Meeseeks introduces himself with this unusual phrase while sporting a distinctive appearance and a strong desire to gratify.
The quote perfectly captures the character's distinct personality as well as the humorous situations that arise when he undertakes various jobs.
You might also enjoy: Top 35 MOST Epic One Piece Quotes (2024)
8. "You Son of a B*tch, I'm In!"
This Rick and Morty quotation was used in a scene involving a virtual reality robbery, out of all the ones that have been used.
This system can criticize established customs without losing its distinct sense of humor, as shown by the statement "Get ready for some interdimensional antics, Morty!"
This statement effectively captures the show's irreverent humor and shrewd critique of science fiction and socially acceptable conventions.
9. "It's Time to Get Riggity Riggity Wrecked!"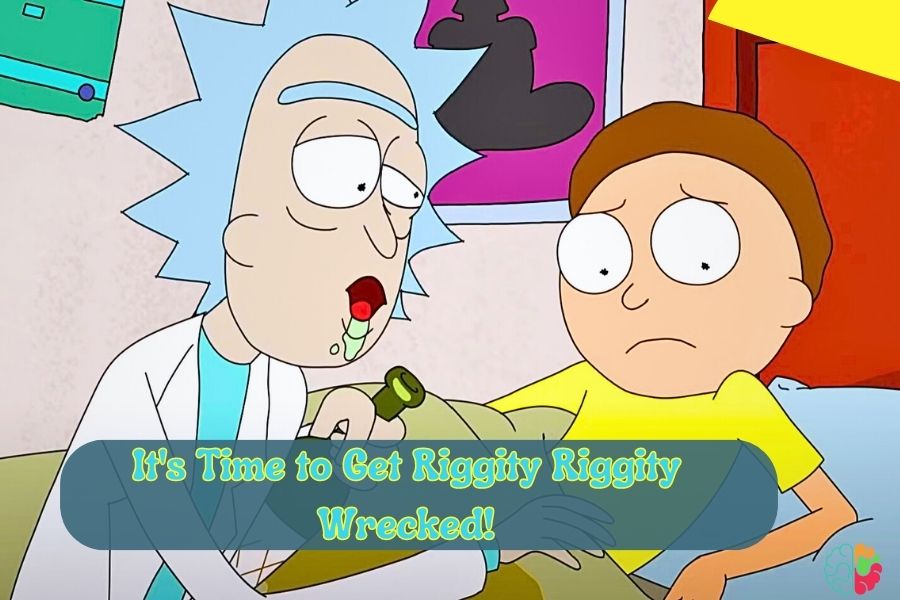 This sentence is uttered by Rick before participating in a drinking event at night when Rick and Morty's spacecraft lands on a post-cataclysmic Earth.
The sentence perfectly captures the show's ability to create memorable dialogues that viewers never forget.
You might also enjoy: 30 Best Kung Fu Panda Quotes To Inspire You
10. "Sometimes Science is More Art Than Science"
In this citation, Rick's pragmatic technique in his research stands out among the intricate scientific concepts.
It highlights how humor brings about a harmony between absurdity and provocative notions.
This comment, a superb demonstration of the show's artistry, showcases the enduring interest of Rick and Morty quotes as they act as gateways to a realm where humor and intellect intersect.
11. "Morty, I Need You to Burp SHUT the Hell Up!"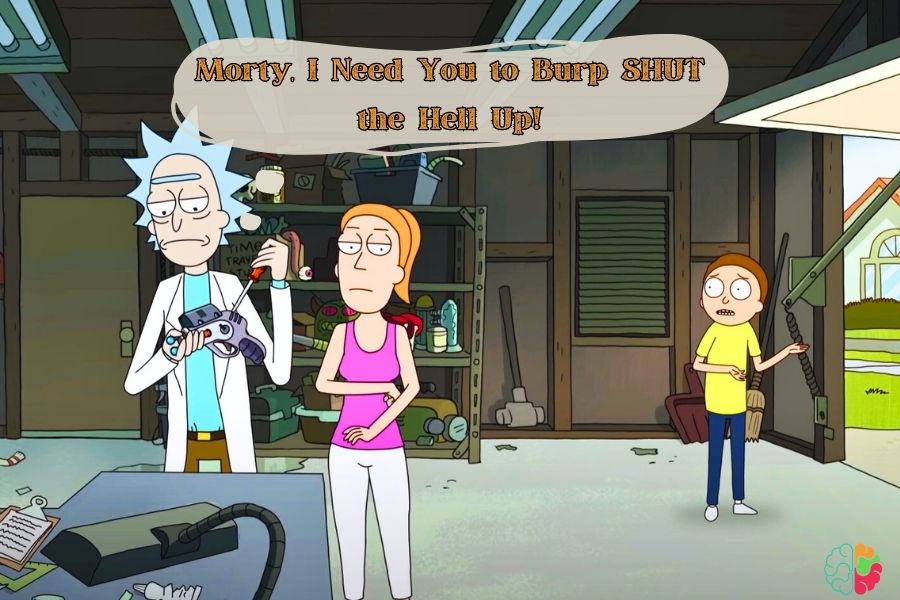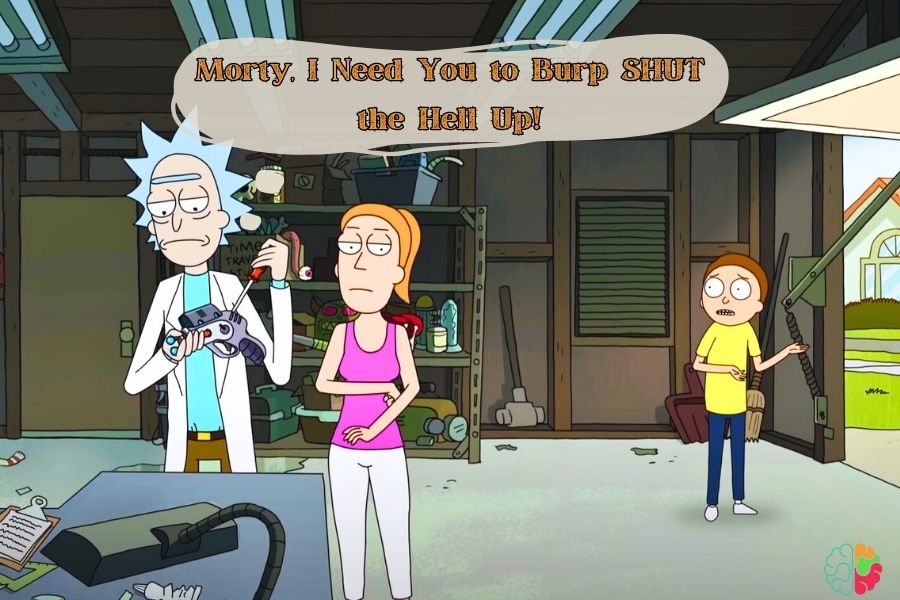 This insightful comment highlights Rick's impatience and provides insight into the elaborate dance that characterizes his relationship with Morty.
When Morty's questions and concerns conflict with Rick's pragmatic attitude, dynamism, a vibrant blend of contrasts, unfolds.
You might also enjoy: Top 20 Best Amine Quotes Of All Times (2024)
12. "I'm Not Arguing That With a Ghost!"
This single declaration demonstrates the show's complete embrace of the strange in the ever-changing realm where the unlikely flourishes.
The phrase is a miniature representation of the show's guiding principles—a tribute to the exceptional transforming into the ordinary with a touch of wit—in the seemingly infinite opportunities.
13. "It's like the N-word and the C-word had a baby and it was raised by all the bad words for Jews."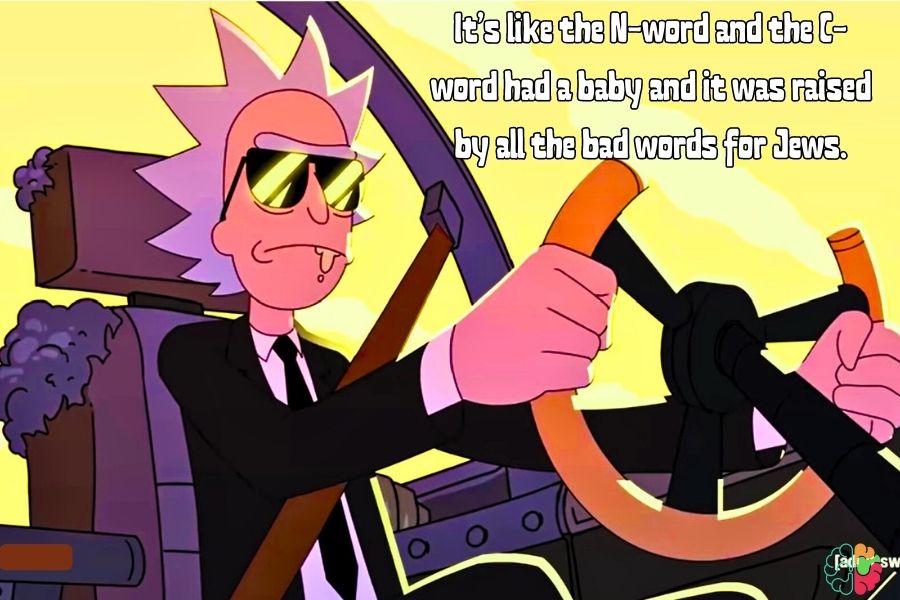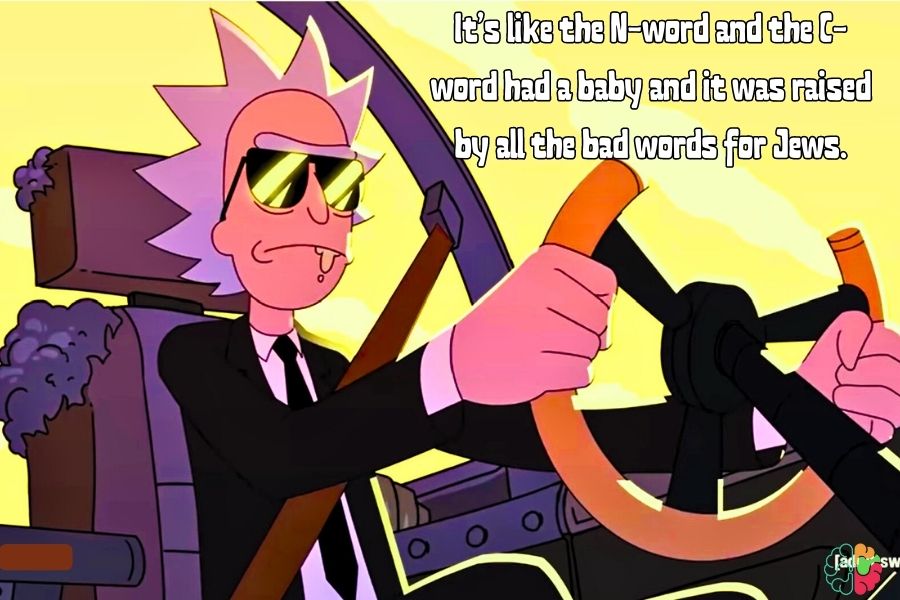 This citation from "Rick and Morty" is the most representative of the show's edgy and irreverent comedy. It's a proof of the show's boldness in venturing which others might hesitate.
The statement sheds light on the characters' uninhibited, often awkward interactions because it skirts the rims of social conventions.
This word deftly weaves laughter, demonstrating the show's precise mix of humor and pain and weaving a tapestry that is thought-provoking and amusing as well.
You might also enjoy: Top 40 Best Anime Quotes Of All Time – 2024 Update
14. "I Don't Like Sending Nudes. They Never Come Out Right."
This quote adopts a comical approach to cutting-edge technology that has affected our daily communication and mocks contemporary technology in a humorous way.
This dialogue is a seamless blend of sharp social criticism and hilarious humor with a deft twist.
15. "Lick, lickity lick my b*lls!"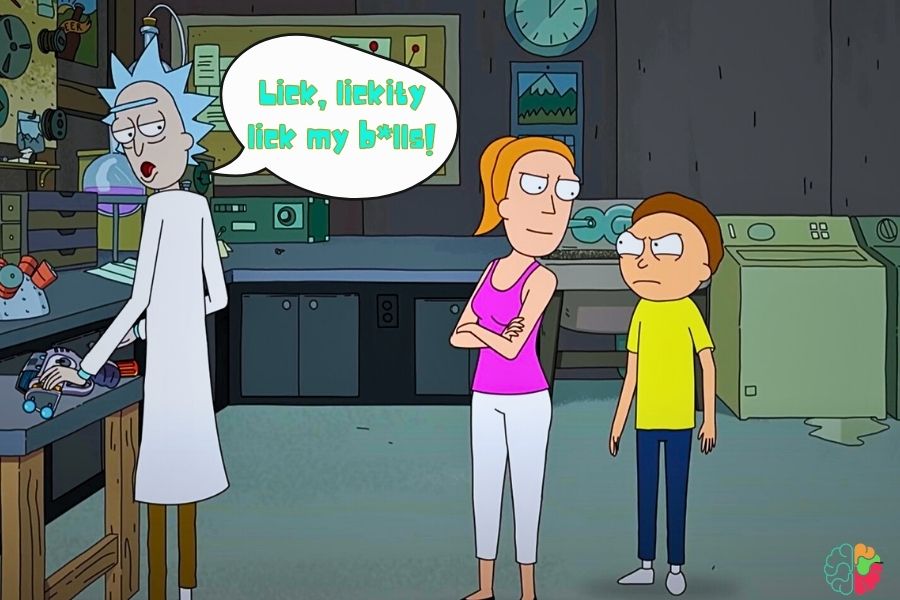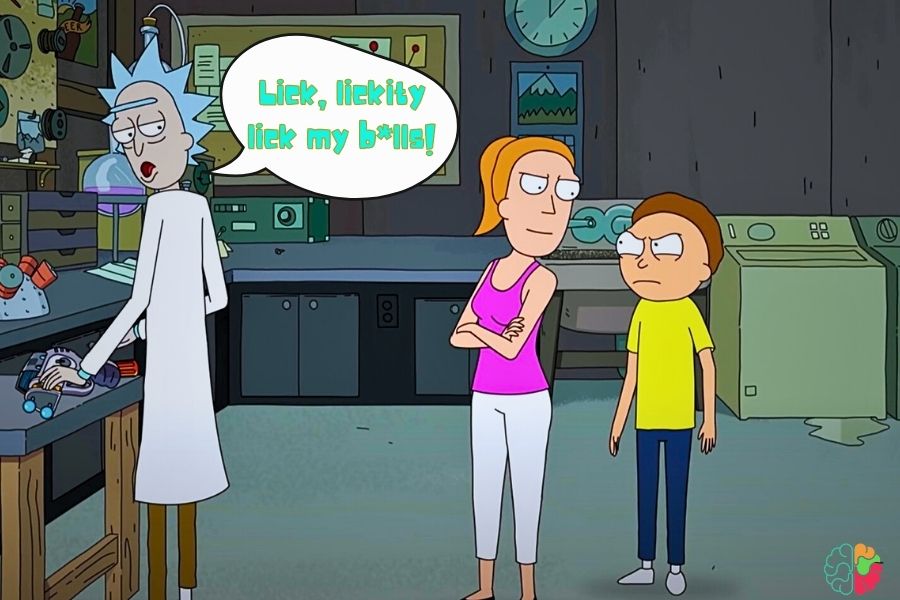 Despite crudeness, this quote serves as a defining instance of "Rick and Morty's" willingness to push the envelope of animation rules.
It is a daring example of the show's adventurous attitude. This declaration boldly goes above the norm, unashamedly defying the repute quo, in a subject in which animations tread carefully.
You might also enjoy: Top 20 Master Oogway Quotes to Inspire You
16. "You Can Run, But You Can't Hide, B*tch!"
This single line expresses the idea of a never-ending chase that spans the very fabric of existence itself over the vast length of a galaxy teeming with countless worlds and realities.
It's a compelling summation of how the series addresses the challenges and complications that arise when a bad guy or opponent repeatedly crosses the multiverse.
This line is a powerful warning that no escape is safe from the tenacious grasp of adversaries, regardless of the shelter sought.
17. "I'm Not What You Would Call a Hero…"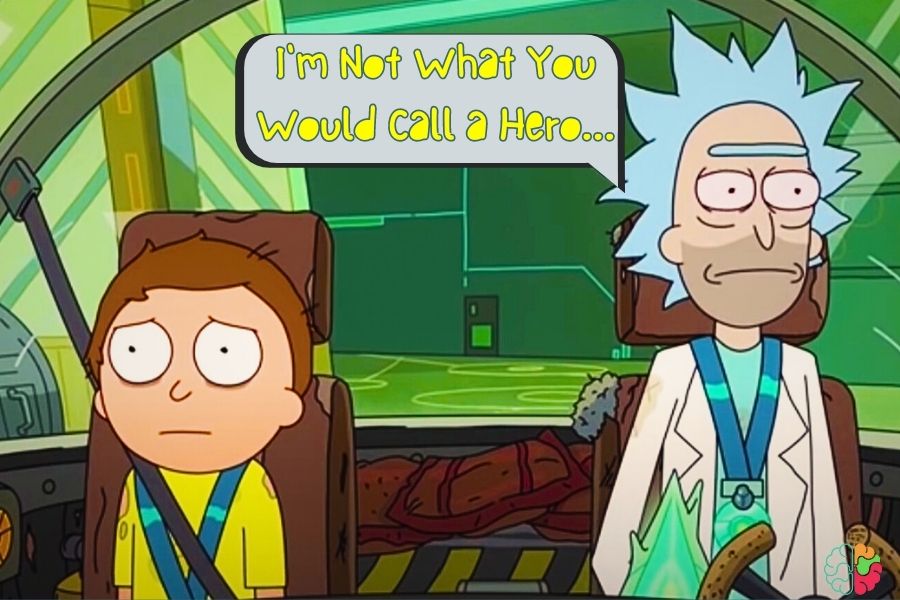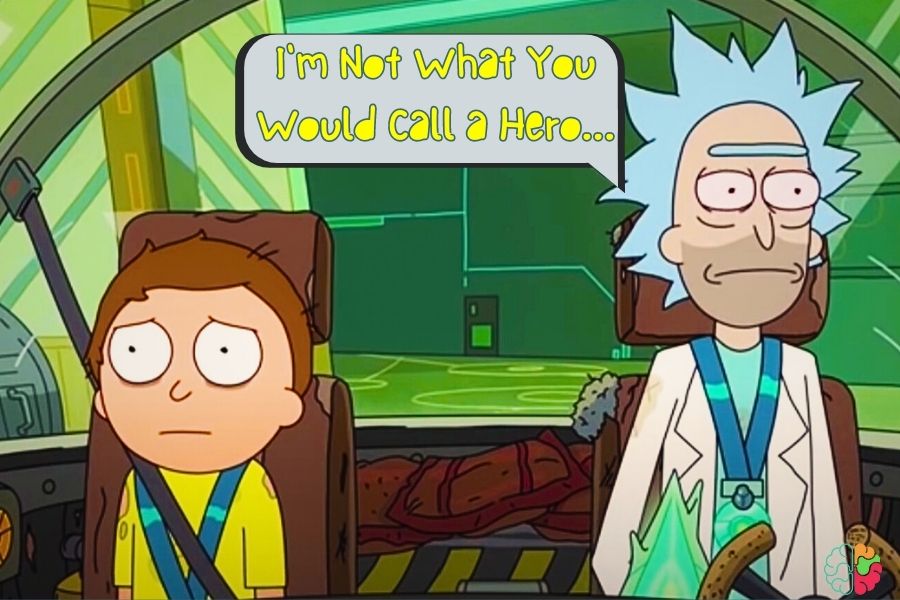 Rick's awareness of himself is evident in this remark.
Because he doesn't conform to the pattern of the usual hero and isn't ashamed to acknowledge his complexity and frailties, his character has greater depth.
This comment is an intriguing example of how Rick's self-awareness, which defines Rick, is displayed.
In a society surrounded by conventional heroic tropes, Rick stands out as a pleasant change of pace.
Unrepentantly, he embraces his own shortcomings and complicated character.
This introspective moment offers his persona a deeper level of depth and enables us to explore the intricacy of his personality hidden beneath the seeming confidence.
You might also enjoy: The 15 Best Inspirational and Motivational Zootopia Quotes
18. "I'm Sorry, But Your Opinion Means Very Little to Me."
Rick's candor is on full display here. This dialogue exemplifies his irreverent and regularly egotistical demeanor and serves as a reminder of his disrespect for different people's opinions.
However, this point of view could be interesting and also practical in some cases.
This Rick and Morty quote illustrates how the show values uniqueness and eccentricity, showing how Rick's inability to sugarcoat his opinions both causes comic conflict and serves as a testament to his unwavering sincerity.
It is hidden among the  Rick and Morty quotes.
19. "I Ain't No B*tch Catcher!"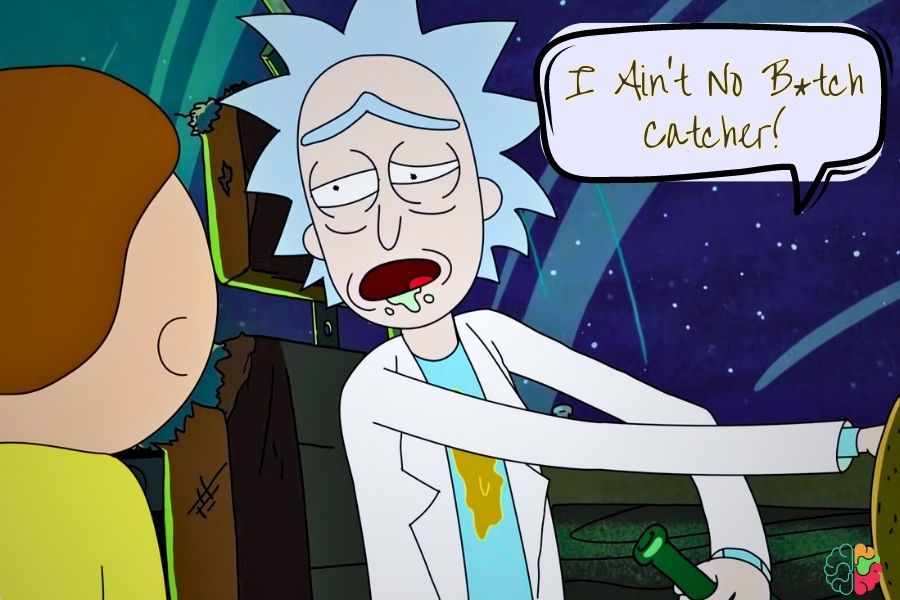 This specific phrase may be found in an episode that cheerfully mocks alpha-male stereotypes as a playful dig at the restrictions of traditional gender conventions.
With a whimsical flourish, it nails the show's penchant for mocking social norms just right.
The expression is meant to be ironic, reflecting how "Rick and Morty" valiantly navigate the continuously shifting landscape of societal expectations amidst the ridiculous antics.
You might also enjoy: The 22 Best And Most Inspirational Uncle Iroh Quotes
20. "Nobody's Special to Him, Summer. Not Even Himself."
This remark demonstrates a fundamentally pessimistic outlook and examines the depths of Rick's character with astounding insight into the complex workings of his mind.
This little but impactful sentence encapsulates Rick's viewpoint in its entirety. It serves as a reminder that there is levity and happiness below.
21. "The Answer Is Don't Think About It."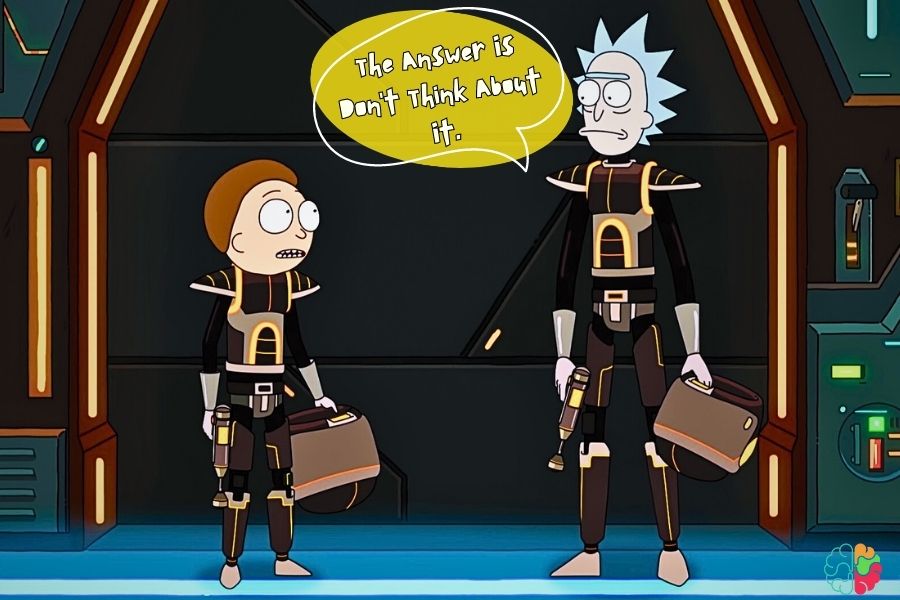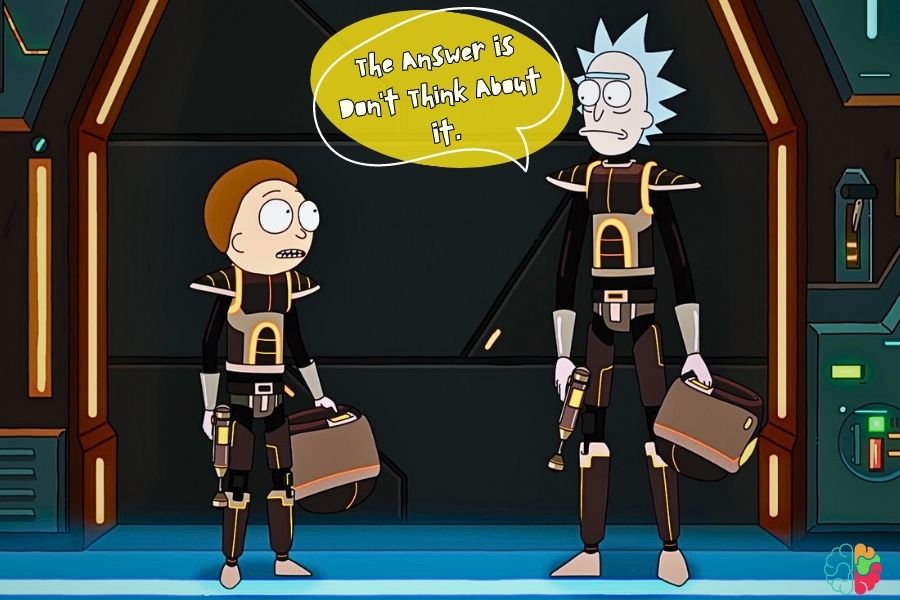 Rick's attitude to life's massive worries generally includes a skillful sidestep, artfully avoiding the swamp of complexity that regularly accompanies them.
In this quotation, his practical approach takes a central stage, demonstrating his skills for avoiding unnecessary difficulties.
It's a good example of his proclivity to reduce the noise and concentrate on what really matters.
You might also enjoy: 45 Best April Quotes To Welcome Spring [2024]
22. "You're Like Hitler, But Even Hitler's Cared About Germany or Something."
This quote in the hilarious tapestry of Rick and Morty shines as an example of the show's daring attitude to humor.
This remark exemplifies the series' potential to merge comedy with history and represent a true dark comedy to its viewers.
This line disrespects Hitler which is understandable and also respects somehow to add humor to humiliation.
23. "What People Call Love Is Just a Chemical Reaction."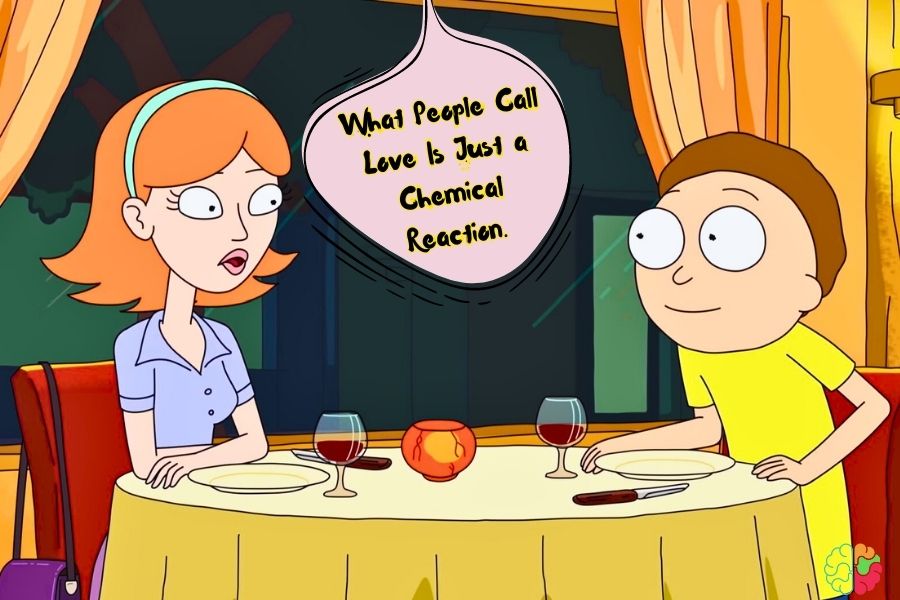 This quote shows Rick's cynicism.
It represents that he tends to rationalize emotions and experiences, even if they lose their significance.
This line stands out in the collection of Rick and Morty quotes as a poignant reminder that Rick's unique viewpoint has a significant effect on his interactions and becomes the essence of the show's identity as well.
You might also enjoy: 50 Onward and Upward Quotes To Rock Your Day [2024]
24. "Weddings Are Basically Funerals With Cake."
This dialogue embedded inside Morty's contemplative comment on weddings is a shining instance of the show's capacity for caustic humor.
It captures the spirit of the series' tendency to lampoon cultural rituals and customs.
The quote offers a cheerful and comedic point of view at the event that marks human tradition.
25. "Morty, the Principal and I Made an Agreement. I Won't Have to Go to School and He Won't Have to Exist."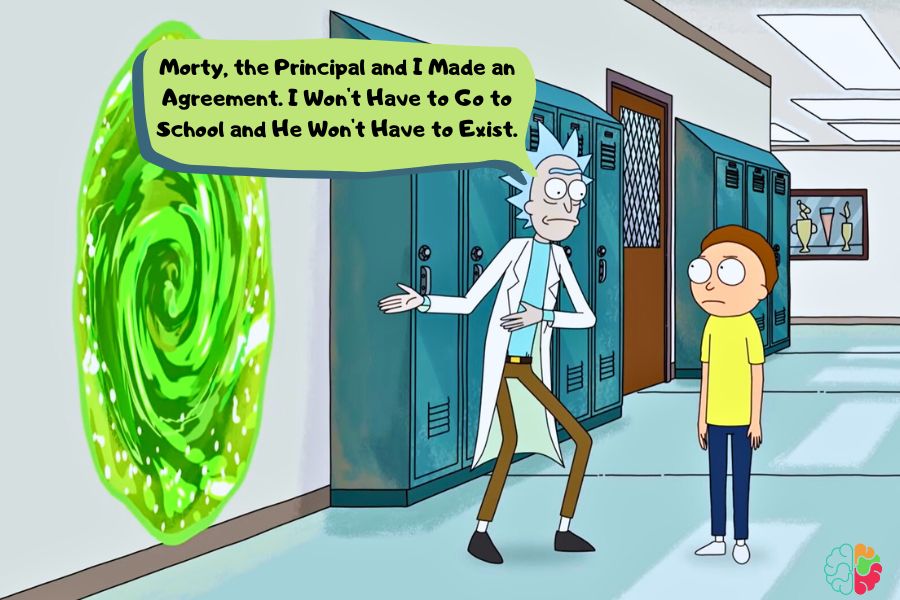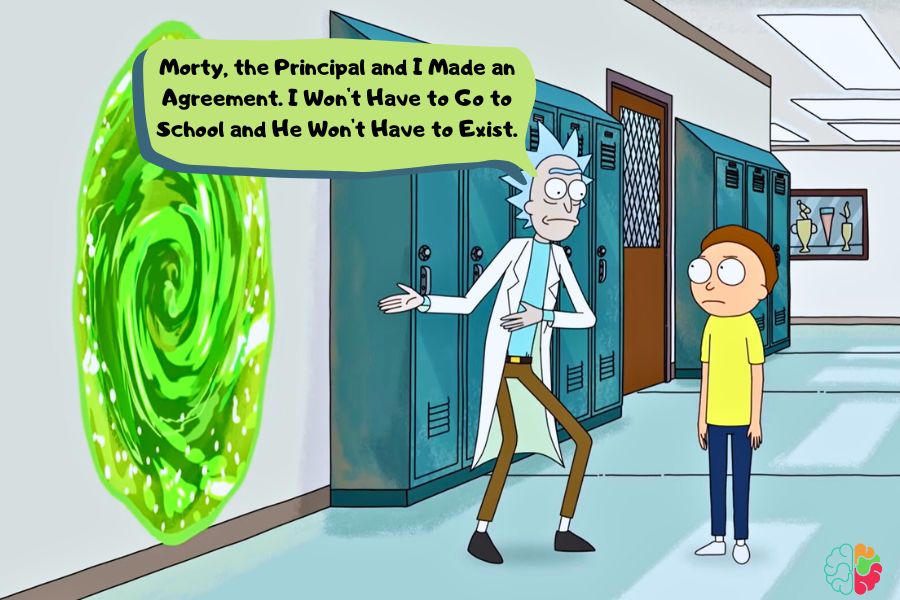 In this quote, Rick manipulates a basic rule of schooling in a deft way.
Rick Sanchez utters words that show his spectacular ability to benefit from manipulating reality with a carefree mindset that defies traditional rules.
This phrase reflects his courageous willingness to push the boundaries of possibility, expressing the core of his character and his amazing power.
You might also enjoy: 45 Best Deep Taken For Granted Quotes [2024]
26. "Don't Break an Arm Masturbating Yourself."
This word serves as an excellent instance of the show's rich tapestry of irreverent and expressing humor, demonstrating the series' ability to defy expectancies and turn in punchlines that echo with unanticipated hilarity. This example which shows the line between ridiculousness and hilarity seems to contain all of the show's distinct comedic ability.
27. "I'm not a hero, I'm a high-functioning burp sociopath. Merry Christmas!"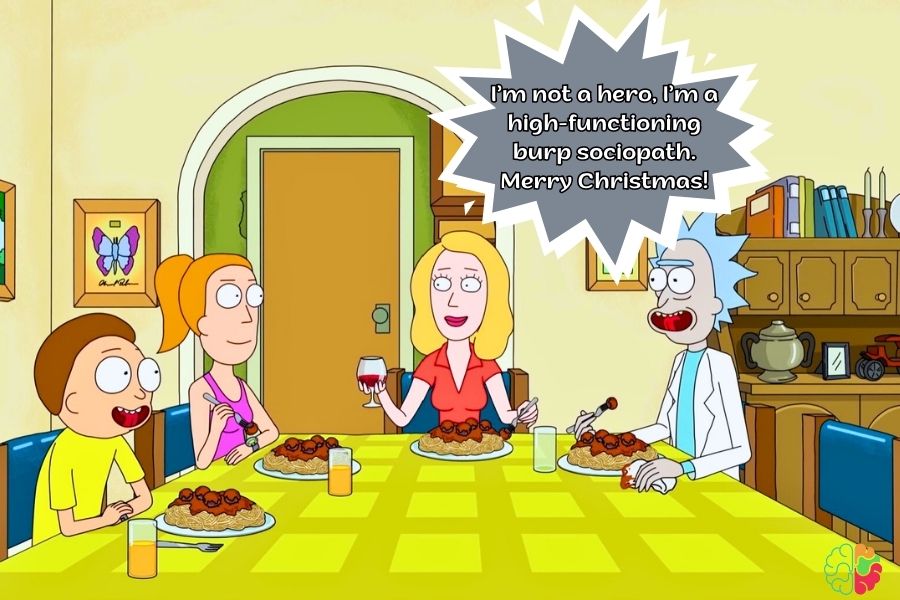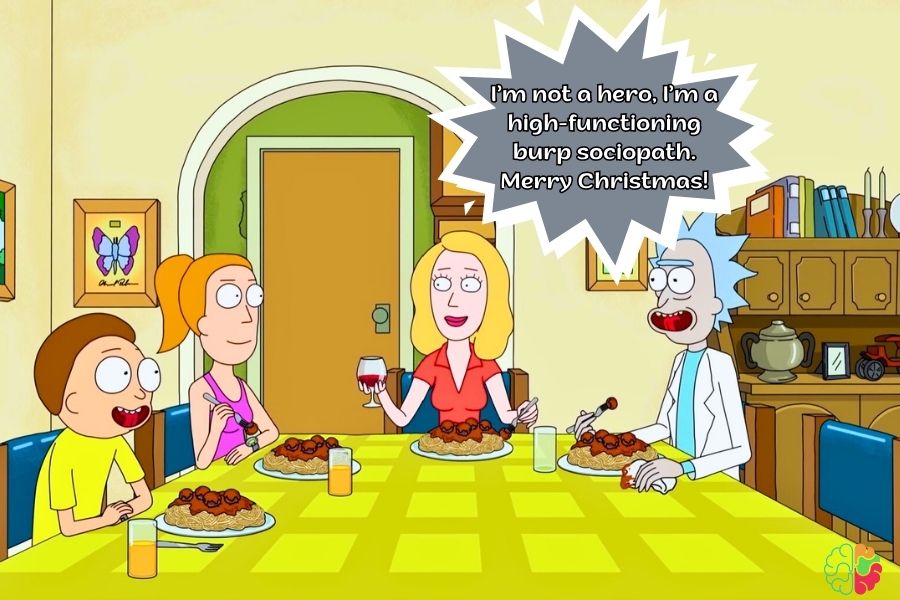 This whimsically sardonic remark which is influenced by Sherlock Holmes' legendary persona is a brilliant depiction of Rick's one-of-a-type persona and unfiltered honesty, even in the midst of a celebratory occasion.
Rick's incorporation of Sherlockian wit not only emphasizes his acute sense of humor but also illustrates his particular approach to social relationships which he easily intertwines mind with joy.
Rick demonstrates his flair for intellectuality and tends to add some fun and laughter to a joyous occasion.
You might also enjoy: Top 45 Relationship Feeling Alone Quotes To Find Hope
28. "I'm Not Looking for Judgment, Just a Yes or No. Can You Simulate a 4-Person Burp Conversation?"
Rick's character begins a journey for help that can only be described as profoundly bizarre within the ageless framework of a scene from the legendary "Rick and Morty" series.
This instance epitomizes the show's constant love of the bizarre and strange better than any other.
In this story, Rick as a unique character asks for help from others to solve a problem that is so absurdly out of the ordinary that it defies explanation.
29. "Wow, I Really Cronenberged Up the Whole World, Huh? You Shouldn't Have Let Me Name the Creatures!"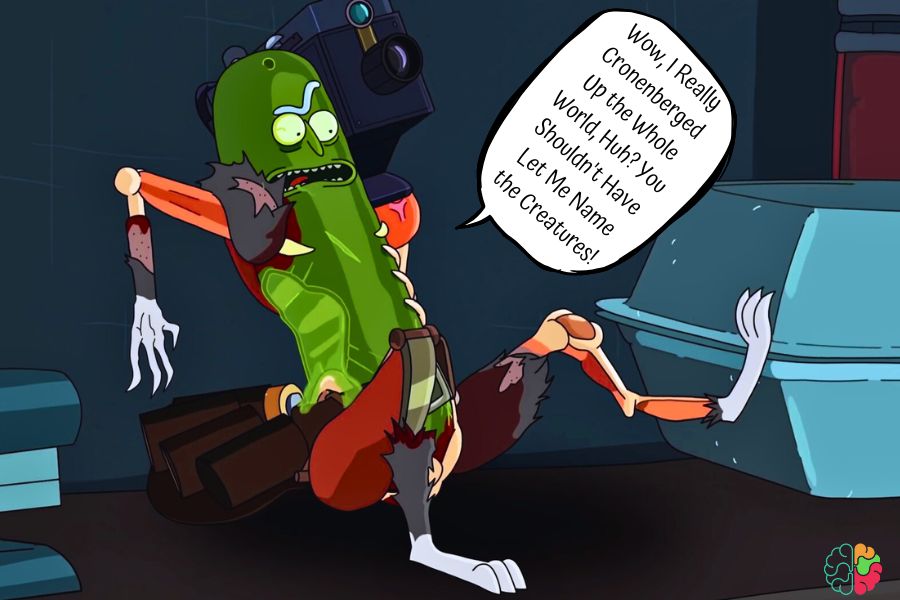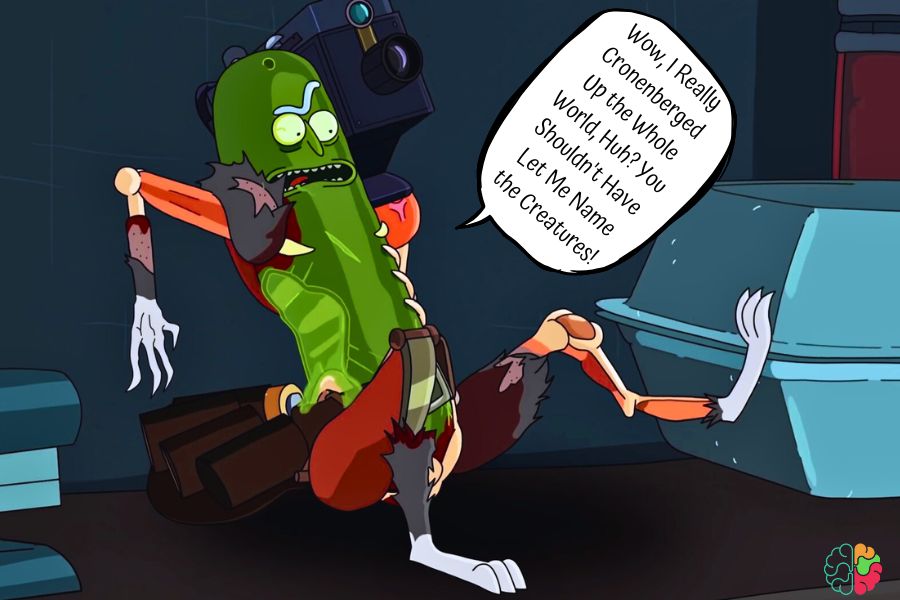 Within the tremendous universe of Rick and Morty quotes, this quote serves as a portal to a memorable episode in which Rick's scientific research went wrong.
Consequently, his mistake resulted in a planet full of mutant and unusual creatures.
This phrase captures the core of that episode and sheds light on Rick's casual temperament and his particular proclivity for addressing problems in unconventional ways.
You might also enjoy: Top 45 Woman Taken For Granted Quotes For Your Love
30. "Lil' Bits! We're Just Tiny Little Songs!"
In a universe where even the most ordinary promotion goes beyond the limits of everyday life, Lil Bits embodies the show's eerie knack for transforming the mundane into a display of uproarious absurdity.
In this peculiar promotion realm where conventions no longer are true, "Lil Bits" showcases the show's exceptional talent for extracting the extraordinary from the commonplace.
31. "They're Not Robots, Morty! It's a Cocky Morty, a Crazy Rick, a Cute Morty…"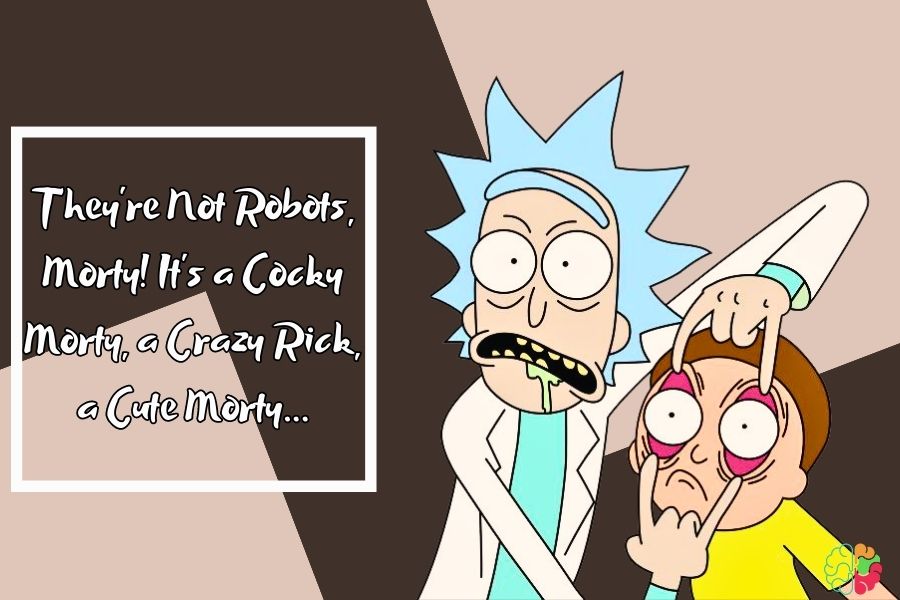 This particular quote emerges as a beacon in an episode rife with clones of the main characters, shining a light on the limitless possibilities weaved throughout the cosmos.
It offers a glimpse into the program's amazing capacity to dissect well-known dynamics and reassemble them in a kaleidoscope of variations.
This statement exemplifies the series' skill in navigating the challenging multiverse, where each option, choice, and result might go down a number of different pathways.
You might also enjoy: 35 Best Badass Women Quotes Of All Time [2024]
32. "There's No Water in a Burrrp Bunless Burger. You Think You Want It, but You Don't."
Rick's sincerity cuts through illusions like a scalpel, leaving no place for deception.
In this quotation, his typical bluntness takes center stage, providing a glimpse into his unique method of dealing with life's quandaries, no matter how insignificant they may appear.
33. "What About the Reality Where Hitler Cured Cancer, Morty? The Answer Is Don't Think About It."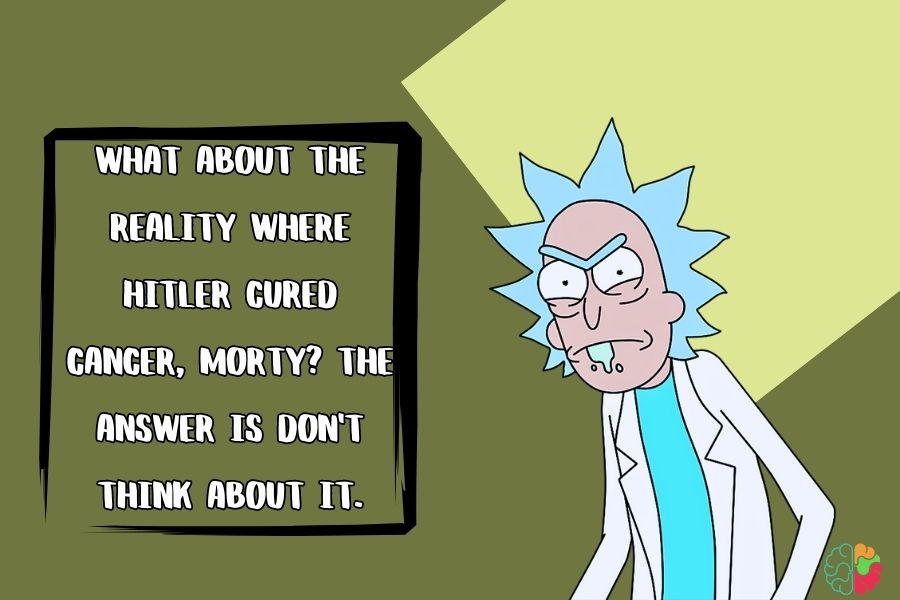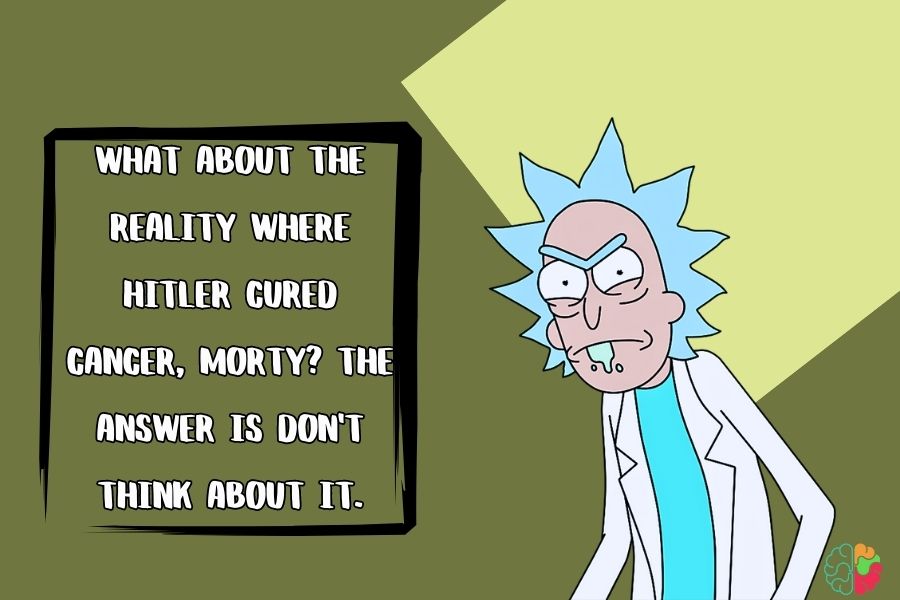 This particular passage captures the essence of Rick's personality within the complex web of Rick and Morty's quotes.
His response to Morty's hypothetical situation offers a rich glimpse into his pragmatism, a quality that permeates every fiber of his personality.
This quotation reveals his deft use of a dismissive remark to nimbly navigate moral minefields.
It's a shining illustration of his unabashed ability to handle the intricacies of life without getting caught up in moral quandaries.
You might also enjoy: Top 30 Andrew Tate Quotes to Empower You for 2024!
34. "I Just Wanted to Die in a Whorehouse."
This phrase, which touches on Rick's often hidden wants and insecurities, gives us an insight into the nuanced nature of his personality.
This line is a sad reminder that beneath the outward display of irreverence is a nuanced, multifaceted person among the chaos of interdimensional adventures and mind-bending ideas.
It serves as a gentle reminder of his humanity and the fact that even the most brilliant minds contain untapped emotional depths.
This quotation serves as evidence of the show's skill in incorporating reflective themes into its humorous fabric, giving viewers a glimpse into the complexity that influences the lives of its characters.
35. "It's Like Inception, Morty, So If It's Confusing and Stupid, Then So Is Everyone's Favorite Movie."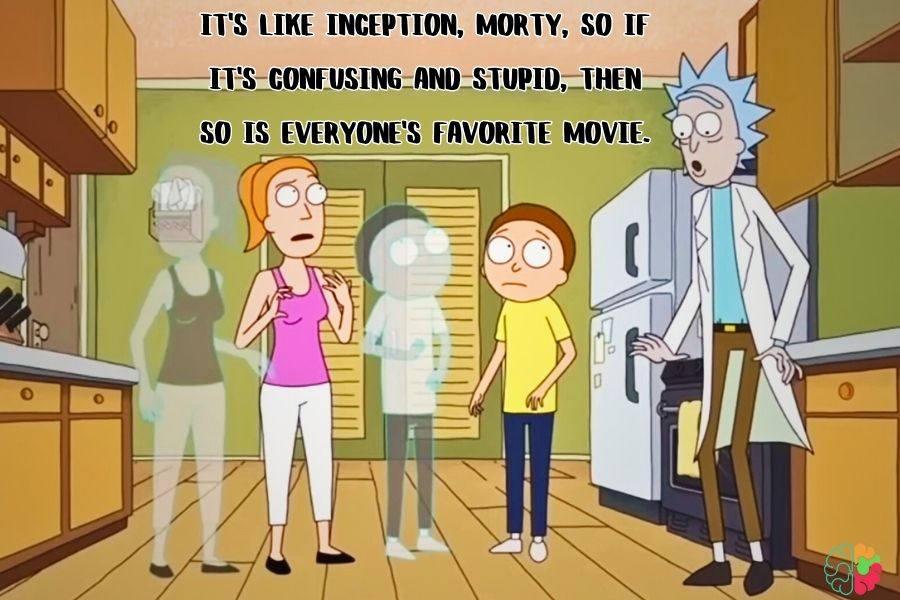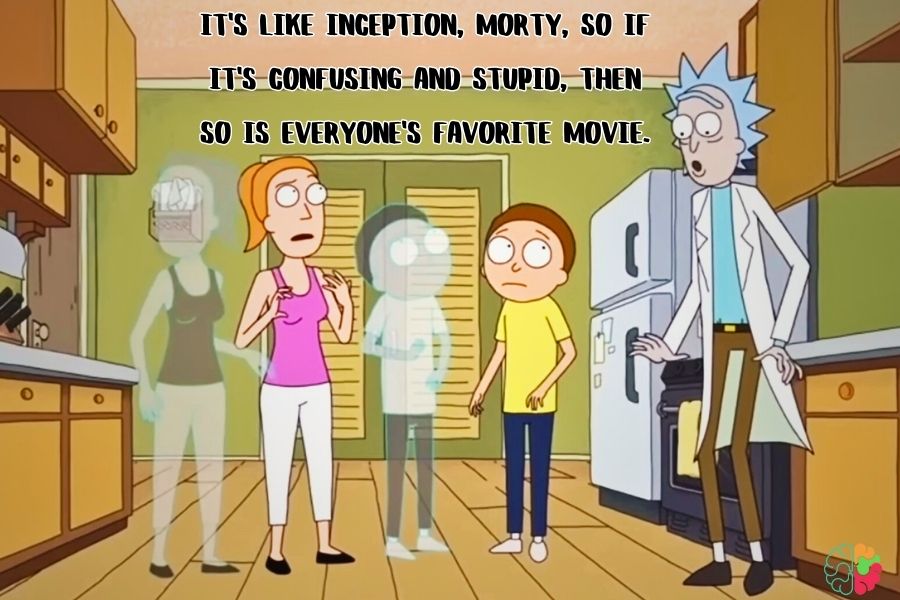 This deft use of Rick and Morty lines is a humorous jab at the rich nature of the film "Inception," successfully showing its multiple layers while underscoring the show's intrinsic knack for building narratives of astonishing intricacy.
This citation draws attention to the show's own ability to travel into the area of sophisticated narratives by weaving in references from Rick and Morty, which relies on complicated and multi-dimensional storytelling.
This mix of humor and knowledge not only highlights Rick and Morty's creative depth but also enables audiences to appreciate the nuanced craftsmanship that both the show and the film demonstrate in their unique storytelling styles.
You might also enjoy: 30 Best Soulmate Quotes You Find Nowhere Else
36. "Boom! Big Reveal! I'm a Burp Carrot!"
This specific sentence beautifully illustrates the show's natural capacity to flip foreseeable events, leaving spectators delightfully caught off guard and inspiring boisterous laughter with yet another example of absurd metamorphoses.
Here, the show's signature mastery of subversion is vividly on display as it deftly tinkers with the accepted conventions of storytelling.
This remark exemplifies the show's mastery of creating laughter through its unpredictability by taking the familiar and twisting it into something unexpected.
It is clear that the show's humorous brilliance depends on its ability to defy conventional narrative trajectories thanks to the well-timed delivery of these unexpected twists, which not only keeps viewers interested but also attests to the producers' keen command of comedic timing.
37. "Get Off the High Road, Summer. We All Got Pink Eye Because You Won't Stop Texting on the Toilet."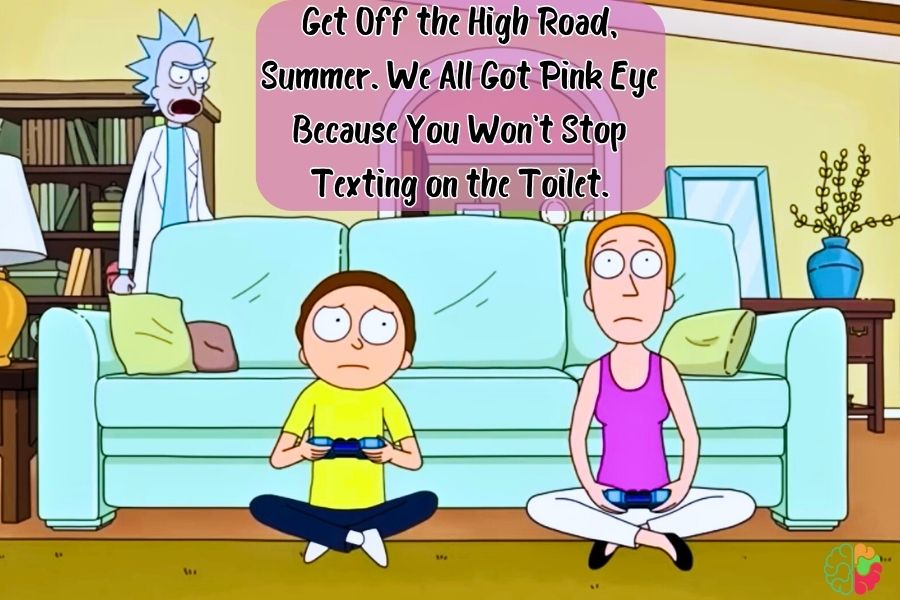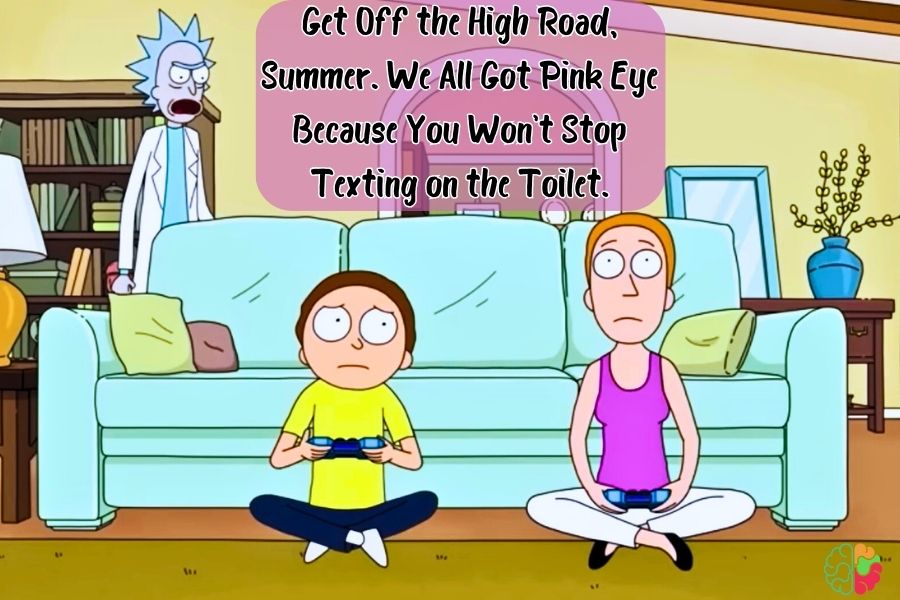 This remark lightheartedly mocks the results of contemporary deeds in interdimensional adventures in a world where the ordinary abruptly transforms into the exceptional.
This statement cleverly demonstrates how regular activities can become bizarre in fantastical interdimensional settings amid the show's continual unpredictability.
The show's ability to discover humor in contemporary practices is demonstrated by the way that the ordinary and spectacular are combined to amuse and provoke thought.
The creators made the astute connection between the fanciful and the relatable, showing that even in the most bizarre circumstances, a sense of familiarity reverberates and causes real laughter.
You might also enjoy: 40 Best Karma Quotes To Unleash the True Power Of Karma
38. "Oh, I'm Sorry. So Now the Burp Vindicators Determine What the Best Superhero Movies Are?!"
This scene skillfully parodies our obsession with superhero movies within Rick and Morty lines, keeping the show's satirical edge.
By delightfully bending the narrative to show exaggerated clichés connected to these blockbusters, it navigates pop culture.
It ties in perfectly with the show's overarching satire, which analyzes contemporary culture while playfully lampooning the superhero subgenre.
The show's reputation for intelligent, irreverent commentary and the authors' cultural expertise are both highlighted by this blend of comedy and criticism.
39. "Summer, Next Time You Try to Kill Someone, Do It Right!"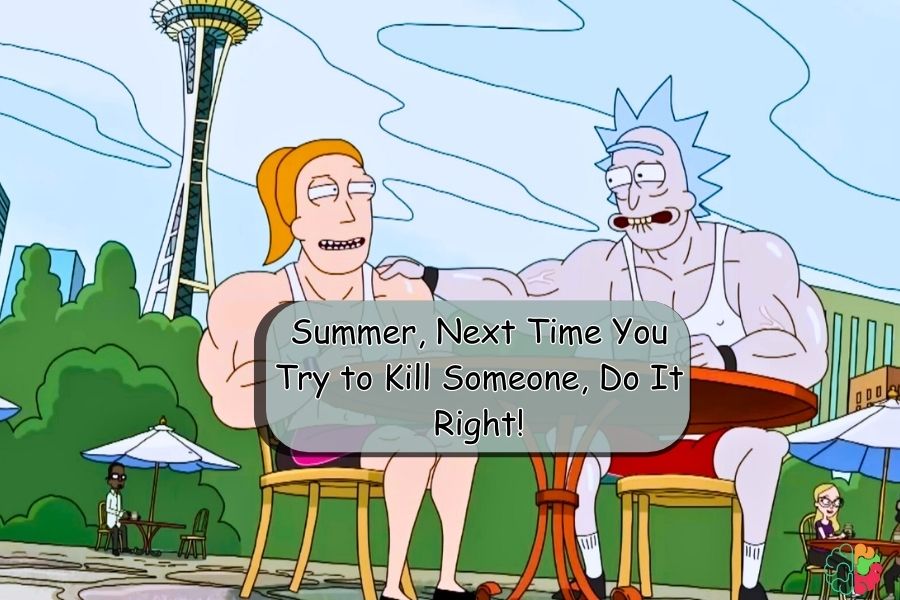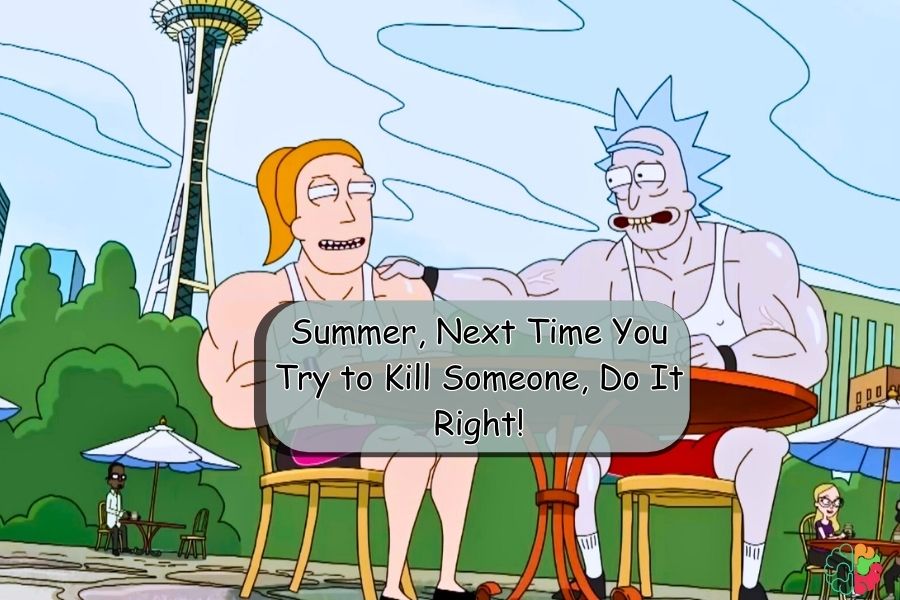 The true nature of dark comedy is skillfully represented in the world of "Rick and Morty" quotes. This piece from the show's tapestry serves as a wonderful example of blending violence and humor in deft ways.
You might also enjoy: Top 25 Bad Bunny Quotes To Inspire Positivity
40. "You Son of a B*tch, I'm Right Here!"
This citation highlights the characters' sincere and courageous attitude to troubles by conflict.
Their company way as they confront demanding situations head-on is revealed which displays the tension. This demonstrates their tenacious nature.
The story connects with their unbreakable spirit and entices the spectator to actively engage in the drama.
I suggest you listen to this podcast if you are a huge fan of Rik And Morty:
Conclusion
The "40 Best Rick and Morty Quotes [2024]" is a tribute to the show's ability to combine humor, philosophy, and originality.
They range from existential reflections to quirky pop culture references. Each quotation offers a glimpse into the characters' mindset and the wit of the writers and also the unique atmosphere of the show that has enchanted viewers.
These statements serve as a reminder of Rick and Morty's potential to offer both amusement and deep thought at the same time and create a comedy of multiverse exploration.
Generally, this animated series is an enjoyable journey through the cosmos and makes you think more deeply about the concept of existence whether you are a die-hard fan or a beginner who just started watching the show.