We frequently find ourselves looking for inspiration and motivation to get through obstacles, accomplish our objectives, or just keep going on in life's ever-evolving path.
Investigating the realm of real inspiring stories is another excellent technique to energize your spirit.
Stories have a special ability to uplift, inspire, and remind us that human tenacity can result in amazing accomplishments even in the face of hardship.
We've collected 20 true motivational stories from many walks of life for you in this compilation, each of which offers a unique viewpoint and a worthwhile lesson.
You will definitely feel more confident in 2024 and beyond after reading these stories of triumph over adversity, perseverance, and steadfast determination.
Let's start on this voyage of inspiration together, then!
Before reading the post, watch this video:
1. The Tale of Nick Vujicic: Defying Limitations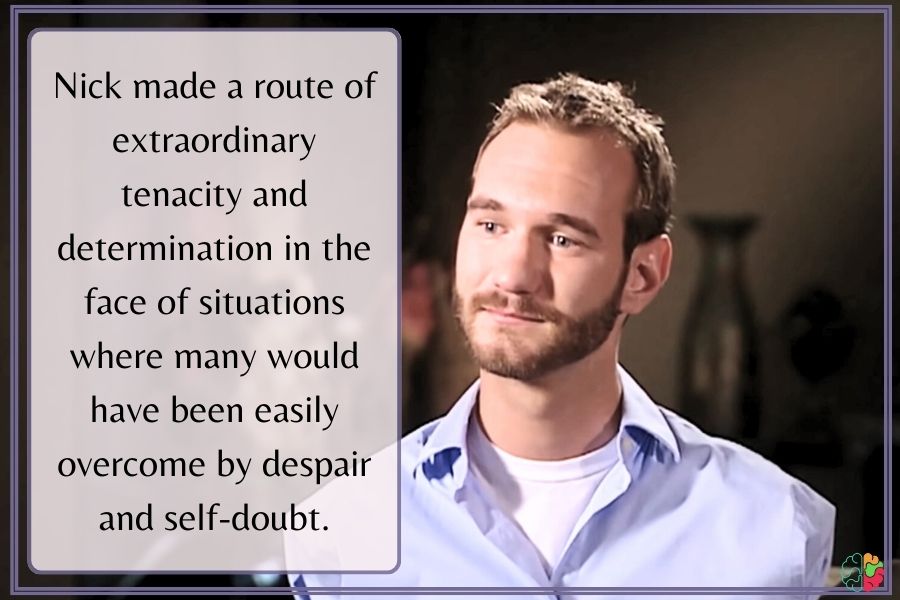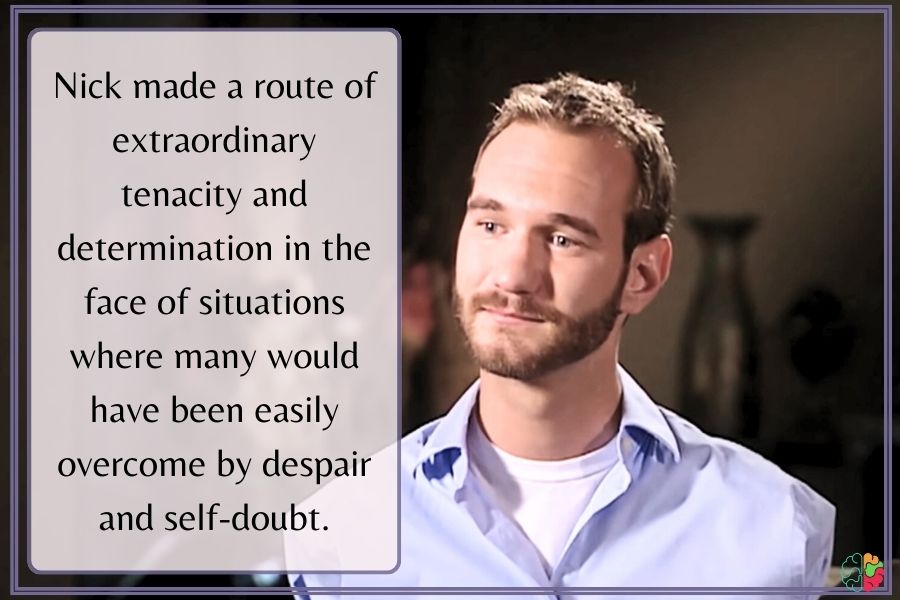 The astonishing life story of Nick Vujicic serves as a timeless example of the incredible strength of the human spirit.
From the moment he was born, he had to overcome physical and mental obstacles because he was born without arms and legs.
Nick made a route of extraordinary tenacity and determination in the face of situations where many would have been easily overcome by despair and self-doubt.
He made the choice to accept his individuality and turn adversity into a chance to motivate and encourage others rather than allowing his physical limitations to define him.
Nick's journey saw him emerge from a childhood characterized by bullying and emotional issues as a well-known motivational speaker around the world.
He set out on a quest to inspire people all over the world with his narrative and the values of self-acceptance, hope, and unshakable resilience.
Nick proves that genuine power comes from inside and is shaped by our thinking and attitude rather than our physical attributes through his contagious optimism and captivating presentations.
He fervently exhorts people to see past their limitations and tap into their innate ability in order to realize their objectives and aspirations.
Nick Vujicic's tale shines as a brilliant beacon of inspiration in a world where self-doubt and uncertainty can loom big.
His powerful message strikes a deep chord within us, reminding us that we have the inner strength to triumph over even the most difficult situations.
Nick shows us that our attitude regarding life's challenges ultimately decides our ability to succeed. His tale inspires us to accept our individuality as well as to use it as a powerful force for transformation and growth.
Nick Vujicic is a living example of the tremendous heights that the human spirit can achieve when strengthened by unflinching determination, limitless hope, and unwavering faith in the resiliency of the human heart.
You might also enjoy: Top 20 Rules Of Life To Have A Happy and Successful Life
2. The Resilience of Malala Yousafzai: Educate to Empower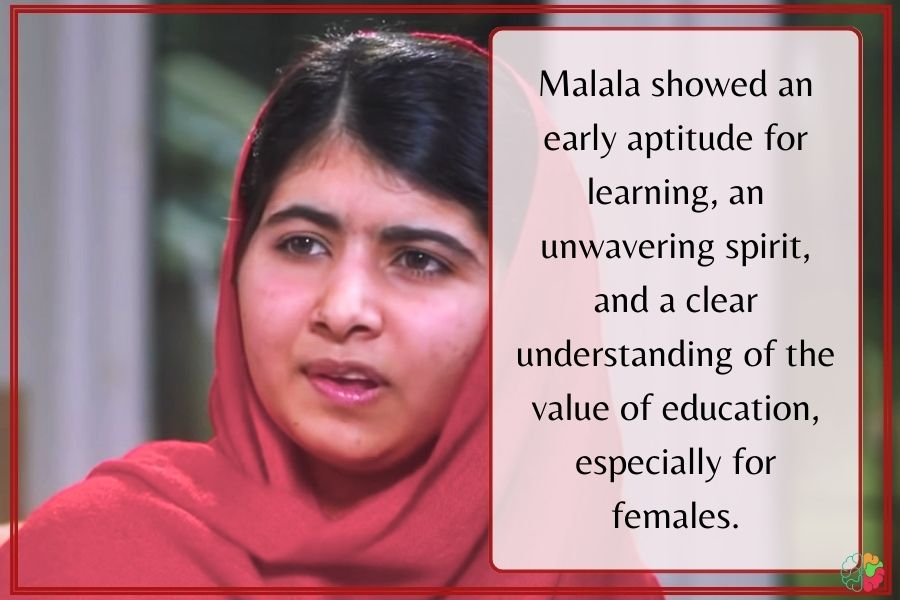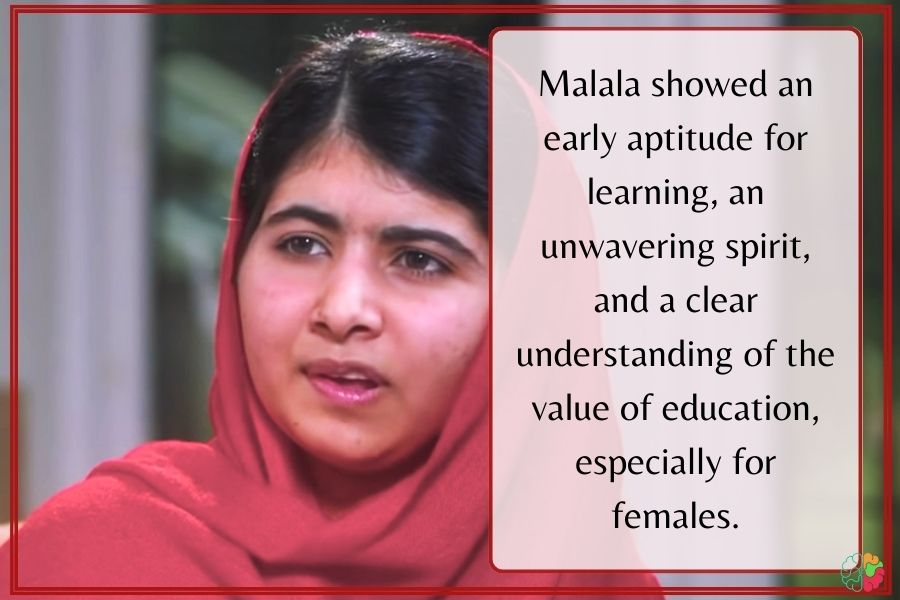 Malala Yousafzai's extraordinary journey demonstrates steadfast courage and an unyielding commitment to education that overcomes even the most formidable challenges.
Her story began in Pakistan's Swat Valley, a region devastated by the Taliban's tyrannical rule, which mercilessly denied females the fundamental right to an education.
Malala's spirit, nevertheless, shone brightly in this hard atmosphere.
Malala showed an early aptitude for learning, an unwavering spirit, and a clear understanding of the value of education, especially for females.
She bravely spoke out against this injustice and became an ardent supporter of girls' access to education despite the serious risks posed by the Taliban's grip on her native country.
Her bravery, however, had serious consequences.
Malala escaped a terrifying Taliban assassination attempt when she was only 15 years old.
She miraculously survived and recovered from this traumatic ordeal with an even deeper drive to support the cause she believed in.
Her fortitude and unwavering dedication to girls' education garnered her international acclaim and admiration.
Malala became the youngest Nobel Prize laureate in history at a historic event, a well-deserved accolade for her hard work.
Her narrative continues to inspire millions of people, both young and old, to support her cause and the larger goal of worldwide education equality.
It serves as a poignant reminder that education is the route to empowerment and that it is a cause worth fighting for even in the face of great peril.
Malala's inspiring path inspires us to consider the transformative power of education highlighting the fact that it may enable people and communities to make beneficial changes in addition to serving as a tool for personal development.
Her life story serves as a monument to the human spirit's resiliency and the unwavering strength of a cause worth fighting for.
It motivates us to speak up, fight injustice, and put in endless effort to bring about a future in which everyone, regardless of gender, has the chance to develop personally and contribute to society in a meaningful way.
You might also enjoy: How To Motivate Teens: Top 15 Tips For 2024
3. The Underdog Triumph of J.K. Rowling: From Rags to Riches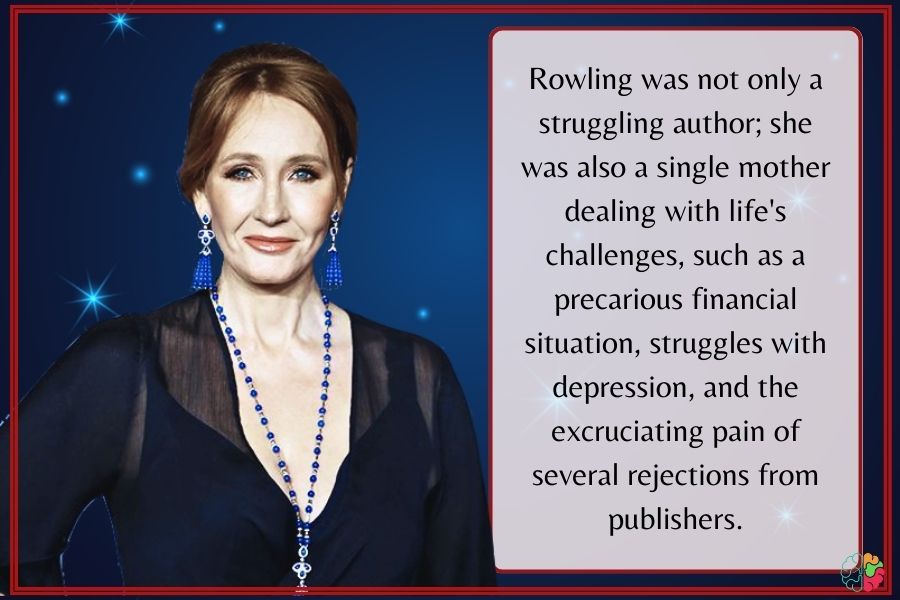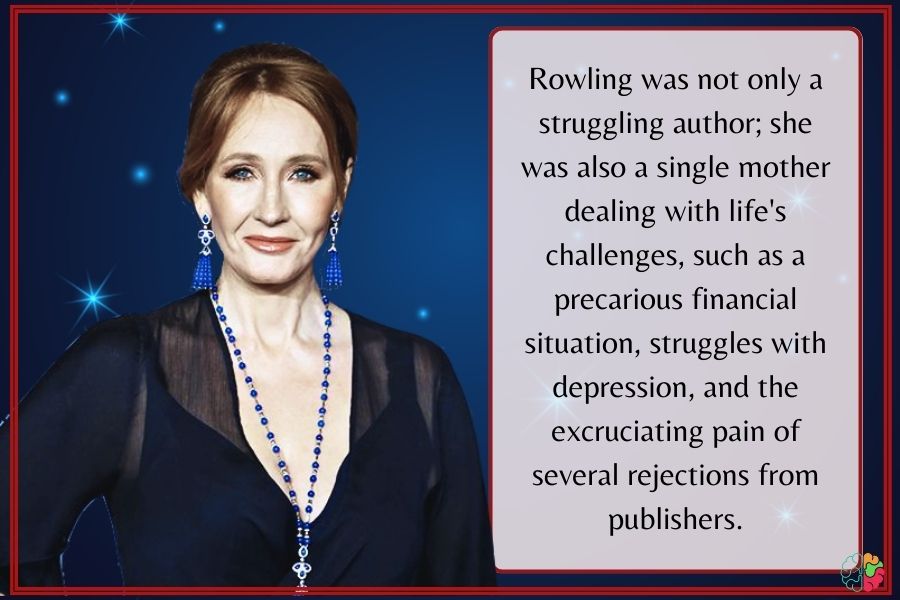 J.K. Rowling's rise to literary fame is a convincing illustration of the strengths of tenacity, creativity, and steadfast faith in one's own artistic vision.
She was plagued by a string of serious disappointments long before she rose to fame as the renowned author of the enthralling Harry Potter books, which would have demoralized most people.
Rowling was not only a struggling author; she was also a single mother dealing with life's challenges, such as a precarious financial situation, struggles with depression, and the excruciating pain of several rejections from publishers.
Despite these formidable obstacles, Rowling was driven by her passion for storytelling and her unwavering belief in the fantastical world she had created.
She poured her heart into building a world filled with witches, wizards, and extraordinary adventures.
The story she created was utterly enthralling and readers all around the world would eventually fall in love with it.
Amazingly, Rowling had many setbacks and disappointments throughout her incredible career as a writer.
Publishers turned down her first Harry Potter book manuscript on a number of occasions.
She resisted giving in, though, to adversity or discouragement. She persisted in conveying the story she was telling because of her tenacity, resolve, and unwavering trust in it.
She aspired to the day when her writing would finally be in readers' hands.
On that particular day, a publishing company named Bloomsbury decided to take a chance on her, a choice that would permanently alter the landscape of contemporary literature.
Rowling's tale serves as a powerful reminder that one's creativity and determination can shine through even the most difficult times in life.
Her experience serves as a reminder of the value of tenacity in the face of persistent rejection and failure.
It communicates a strong message: that success, whether in the field of literature or any other pursuit, frequently requires the strength to endure adversity, remain tough in the face of disappointment, and maintain trust in one's goal.
Her path from the depths of financial hardship and mental turbulence to the summit of literary achievement provides young authors and dreamers with immeasurable encouragement.
It is a gripping story that demonstrates how, despite obstacles in the way, dreams may become realities with steadfast dedication to one's trade and a brilliant imagination.
Rowling's life narrative encourages us to foster our creative impulses, persevere in the face of setbacks, and ultimately, by sheer willpower, transform our most valued goals into glorious successes.
You might also enjoy: Miles Fairchild And Everything You Need To Know About Him!
4. Arunima Sinha's Ascent: Conquering Everest and Beyond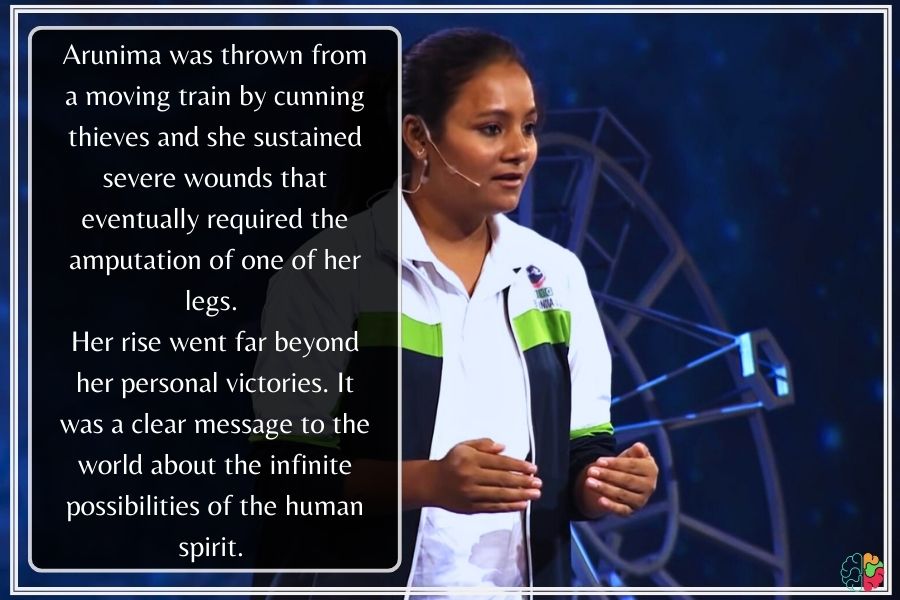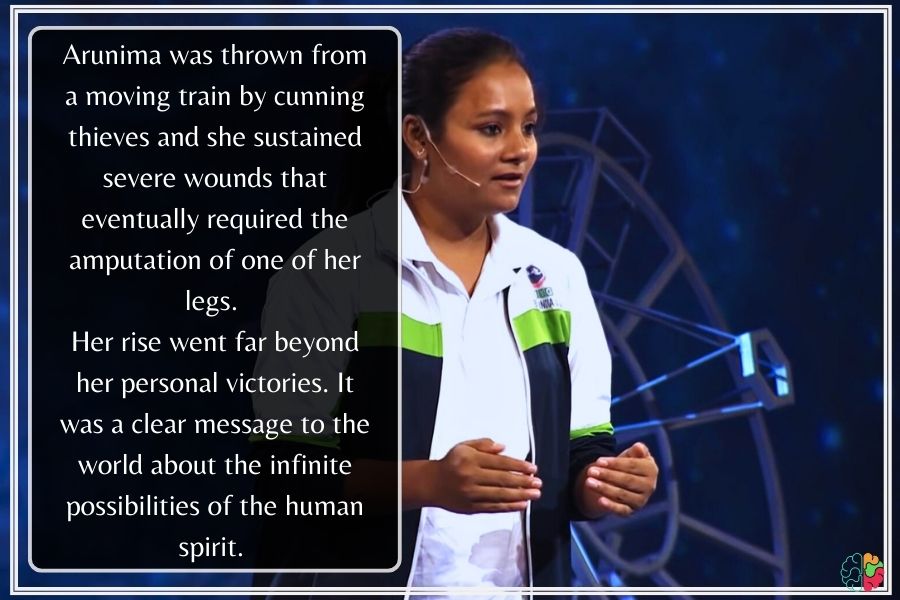 Arunima Sinha's extraordinary life story is a powerful testament to the indomitable spirit inherent in every human being.
Before her life-changing journey, Arunima was a former national-level volleyball player in India, a woman with endless athletic aspirations and dreams.
However, fate takes an unexpected turn when she faces a life-changing tragedy that will reshape her life forever.
Arunima was thrown from a moving train by cunning thieves and she sustained severe wounds that eventually required the amputation of one of her legs.
Many people may have seen this as an insurmountable challenge, but Arunima refused to allow this tragic occurrence to define her or set the boundaries of her potential.
Instead, she turned the excruciating agony and annoyance that inevitably came with such a radical change in her life into a steadfast drive to accomplish something truly exceptional.
With a burning desire to prove to herself and the world that adversity can never extinguish her fortitude, Arunima set her sights on the highest peaks on earth, Everest.
Armed with her prosthetic leg and undying will, she embarks on a monumental journey to conquer the world's tallest mountain.
Her rise went far beyond her personal victories. It was a clear message to the world about the infinite possibilities of the human spirit. 
You might also enjoy: Top 50 Happy Memes To Rock Your Day (2024)
5. The Unwavering Courage of Arvind Kejriwal: A Common Man's Political Journey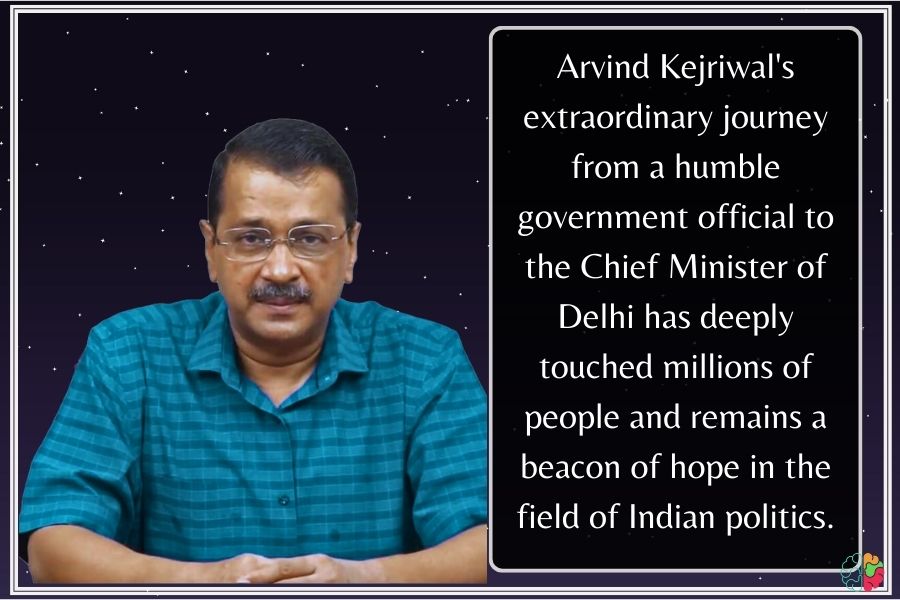 Arvind Kejriwal's extraordinary journey from a humble government official to the Chief Minister of Delhi has deeply touched millions of people and remains a beacon of hope in the field of Indian politics.
His first professional career was in the civil service, in which he contributed to the administration and leadership of the country.
However, as his career progressed, he began to realize the degree of corruption and inefficiency plaguing Indian politics and governance. 
A turning point in Kejriwal's life occurred as a result of this insight. He made a drastic choice to follow a different route out of frustration with the system's pervasive problems.
Kejriwal entered the complicated realm of Indian politics, starting a journey marked by an unrelenting quest for accountability, openness, and good governance.
The founding of the Aam Aadmi Party (AAP), a game-changing moment in Indian politics, was central to Kejriwal's political purpose.
Through the AAP, he hoped to empower the average man and usher in a new era of governance.
His ambition was to create a political body that would emphasize regular folks' well-being and interests over established political interests.
You might also enjoy: I Don't Have The Motivation To Write My Essay , What To Do Now?
6. The Iron Will of Michael Jordan: Basketball's Greatest Legend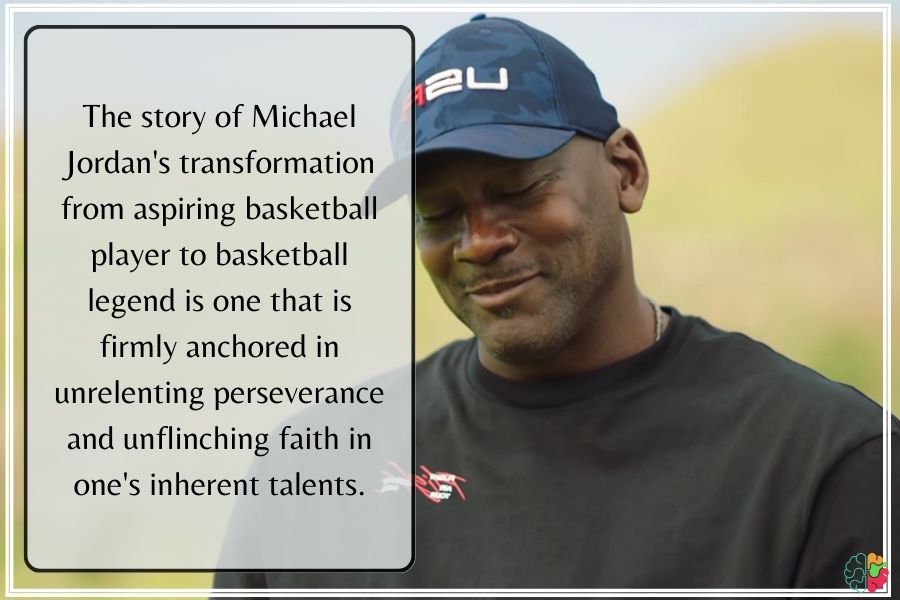 The story of Michael Jordan's transformation from aspiring basketball player to basketball legend is one that is firmly anchored in unrelenting perseverance and unflinching faith in one's inherent talents.
His first journey into basketball was fraught with difficulty, as he had to deal with the disappointment of getting cut from his high school squad.
But it was just this defeat that stoked his raging obstinacy.
Jordan's story centers around his unwavering dedication to self-improvement.
This commitment laid the groundwork for his development from an aspirational athlete to one of the greatest sports figures of all time.
He understood that achieving success requires overcoming obstacles rather than being handed it on a plate.
Jordan's path serves as a powerful reminder that success, in any field, frequently comes to those who are prepared to put up the effort and persevere despite hardships.
His unwavering pursuit of excellence on the basketball court not only brought him many victories and honors but also provided countless people with plenty of motivation.
Most importantly, Michael Jordan's career serves as a valuable example of what success really means.
It underlines how tenacity, persistence, and a constant quest for development are also important components of success in addition to natural skill.
Whatever one's chosen career path—sports or any other endeavor—Jordan's narrative inspires everyone to have faith in their innate potential and work tirelessly to realize their most cherished ambitions.
His accomplishments serve as a living example of how the human spirit can soar to incredible heights when it is inspired by a tireless desire for self-improvement.
You might also enjoy: 30 Best and Inspirational Elliott Hulse Quotes
7. The Artistic Resilience of Vincent van Gogh: Starry Nights and Inner Demons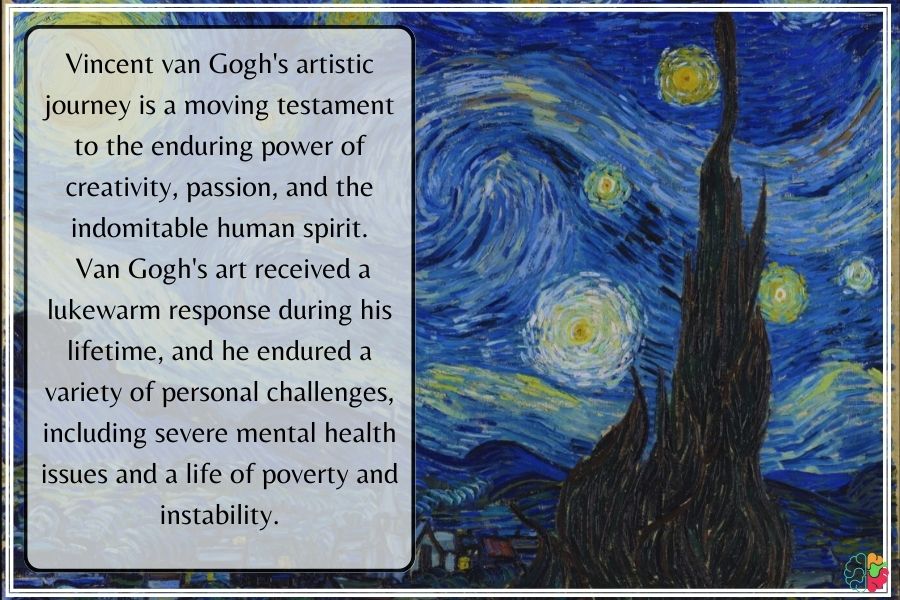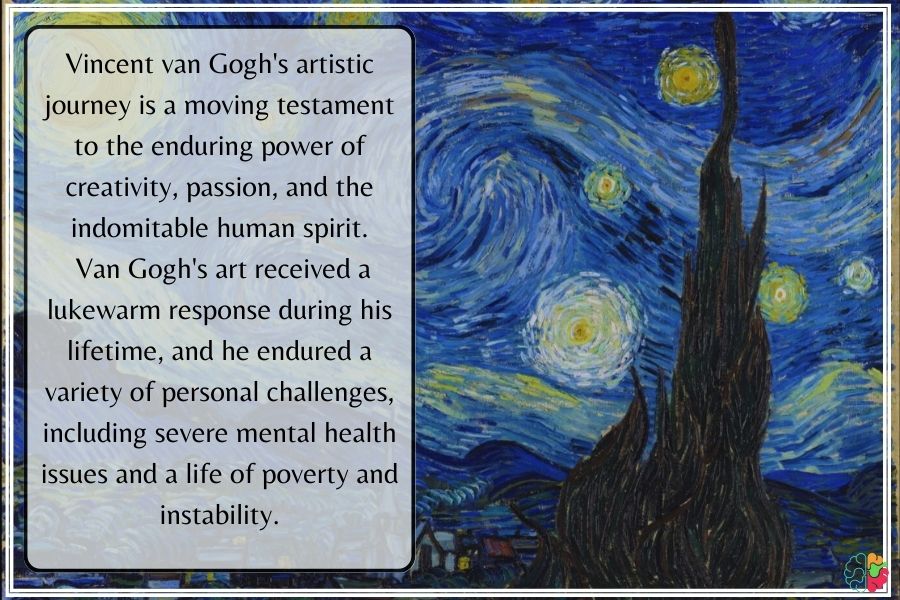 Vincent van Gogh's artistic journey is a moving testament to the enduring power of creativity, passion, and the indomitable human spirit.
Van Gogh's art received a lukewarm response during his lifetime,  and he endured a variety of personal challenges, including severe mental health issues and a life of poverty and instability.
But it was his unwavering dedication to his artistic pursuits that shone brightly even in the darkest of times. 
In spite of the ups and downs of his life, van Gogh's commitment to his art never wavered. It served as a solid anchor.
He carried on producing masterpieces that would come to be regarded as some of the most important items in the history of art.
His works were a reflection of his inner turmoil, frequently acting as an unadulterated outlet for the powerful feelings and intricate ideas that constantly raced through his head.
The life of Vincent van Gogh serves as a potent reminder of the unquenchable creative fire that burns within every human soul.
He sought refuge and catharsis in his art, even when the public didn't completely understand or appreciate it.
His canvases turned into a haven where he could transform his suffering and ardor into enduring works of art that would eventually capture the attention of art enthusiasts all around the world.
The importance of following one's emotions despite resistance or indifference from others is highlighted by the posthumous acknowledgment of van Gogh's genius.
His life's tale encourages us to embrace the fundamental worth of self-expression, cultivate and enjoy our inner creativity, and use art or any other kind of personal expression as a means of consolation and healing.
Whether or not the world fully understands or supports our artistic tendencies, Vincent van Gogh's lasting legacy inspires us to persevere through our personal struggles and continue to pursue them.
It is evidence of the boundless creative potential that exists inside the human soul and is just waiting to be discovered, realized, and celebrated, regardless of any barriers that may get in the way.
You might also enjoy: How to Use Dark Motivation to Grow Success
8. The Trailblazing Journey of Amelia Earhart: The Sky's No Limit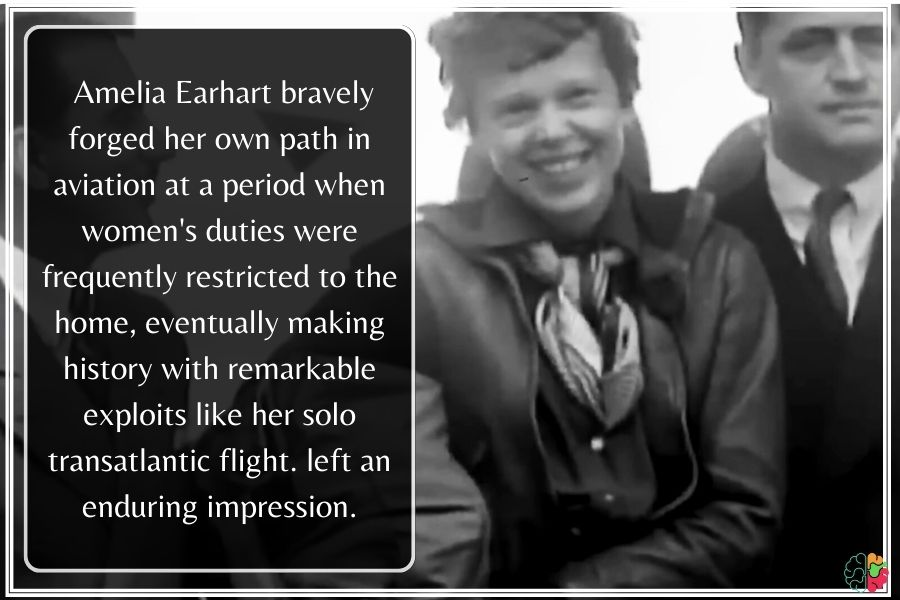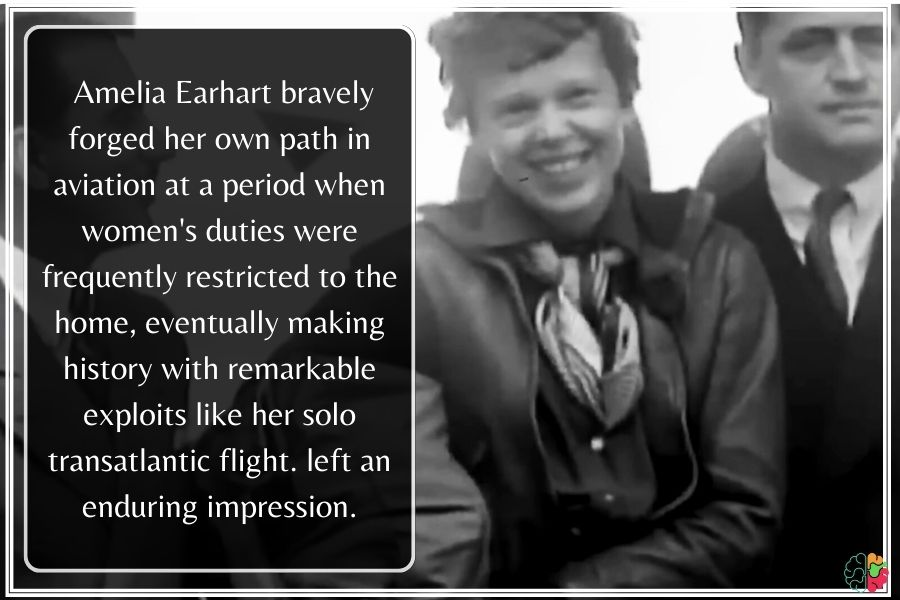 The strict gender conventions and expectations of her period were broken by Amelia Earhart's remarkable flight career.
She bravely forged her own path in aviation at a period when women's duties were frequently restricted to the home, eventually making history with remarkable exploits like her solo transatlantic flight. left an enduring impression.
The life of Amelia Earhart is a monument to the great strength of bravery, tenacity, and the daring to defy convention and pursue one's ambitions.
She yearned for the limitless freedom of the skies and was dissatisfied with the traditional duties that were set forth for women during her period.
Her path serves as a motivating illustration of how the human spirit can surpass constraints imposed by gender, background, or societal expectations.
The message Amelia Earhart gives everybody, especially women, is what makes her legacy particularly empowering.
She exhorts people to follow their goals and aspirations without consideration of limitations associated with gender.
Her story serves as a reminder of the value of questioning preconceptions and societal standards by demonstrating that anyone can surpass anticipated boundaries and achieve their goals.
A powerful call to action for all who dare to dream, Amelia Earhart's life is an inspiration.
When it comes to pursuing one's passions and objectives, her tale inspires people to think that anything is possible.
She acts as a source of encouragement and inspiration, showing us that we can attain new levels of personal and professional success if we have the steadfast resolve and the guts to challenge the status quo.
You might also enjoy: 7 Unbelievable And True Inspiring Stories of Mercy
9. The Tenacity of Mahatma Gandhi: A Leader of Nonviolent Revolution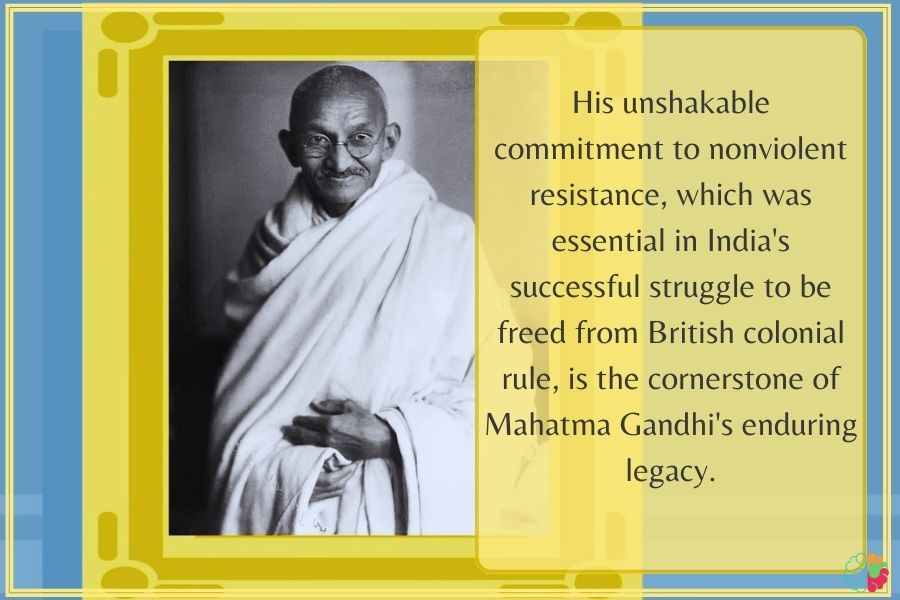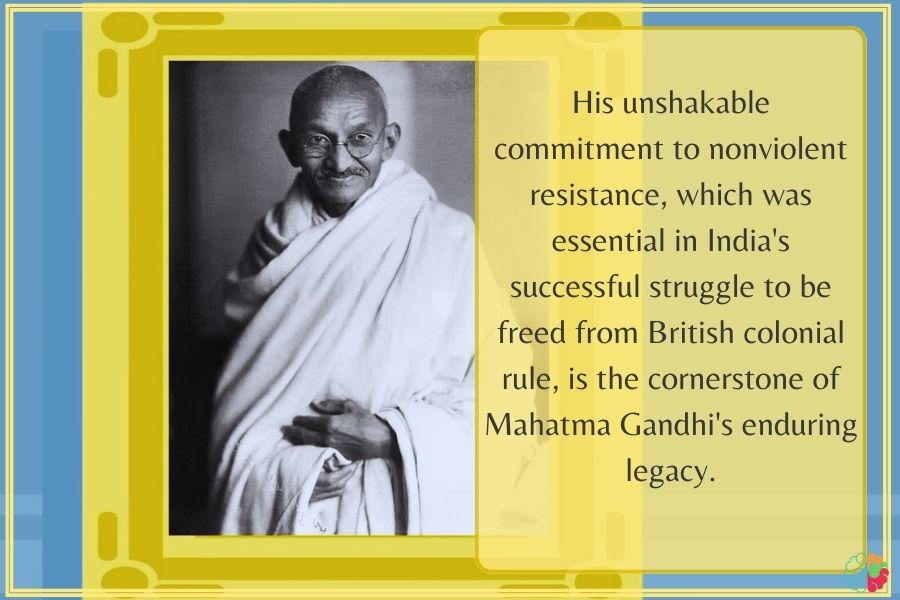 His unshakable commitment to nonviolent resistance, which was essential in India's successful struggle to be freed from British colonial rule, is the cornerstone of Mahatma Gandhi's enduring legacy.
His life is undeniable proof that, in the face of oppressive forces, nonviolent methods and unwavering dedication to a cause may have a big impact. 
Gandhi's trip serves as a striking reminder of the transformative power of nonviolence and civil disobedience as effective tools for sparking social and political change.
His unshakable devotion to ideas of justice, equality, and freedom inspired countless people to join the battle for India's independence and, more broadly, for social justice.
Gandhi's legacy inspires us to fight for what is right and just. His life narrative serves as a poignant reminder that change may be achieved peacefully, even in the face of the most obstacles and repressive regimes.
He is a ray of hope for individuals who want to make a difference in their communities and, indeed, the globe.
Gandhi left behind a legacy of steadfast belief in the strength of group action, justice, and the search for the truth.
His path serves as a reminder that nonviolent resistance is an effective strategy for getting over even the most difficult challenges.
It inspires us to keep pushing for change by nonviolent means and to steadfastly uphold the ideals of justice, equality, and human rights despite any difficulties or roadblocks we may face along the way.
You might also enjoy: Top 20 Inspirational Anne Of Green Gables quotes
10. The Empowerment of Oprah Winfrey: From Poverty to a Media Mogul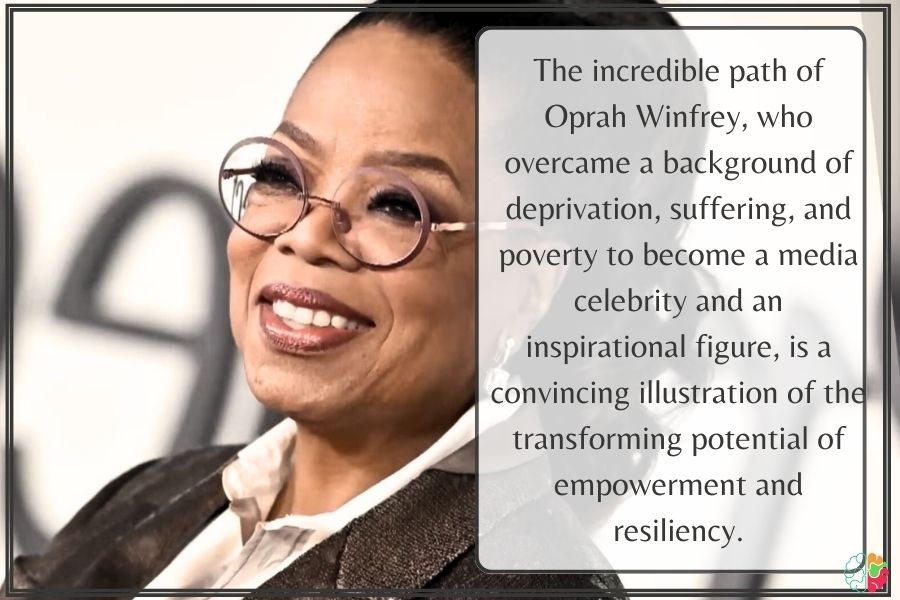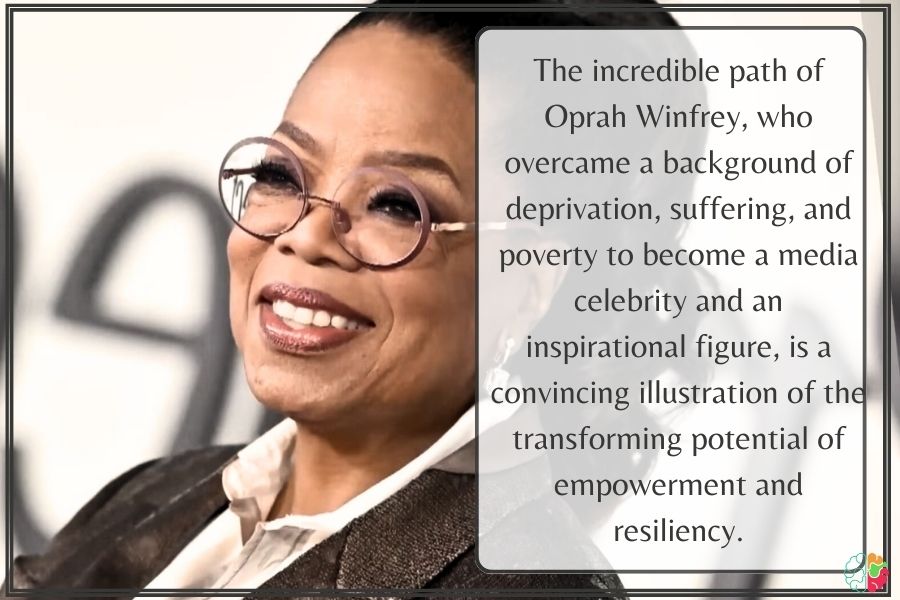 The incredible path of Oprah Winfrey, who overcame a background of deprivation, suffering, and poverty to become a media celebrity and an inspirational figure, is a convincing illustration of the transforming potential of empowerment and resiliency.
Her early background and terrible childhood stand in stark contrast to the legendary talk show host, actress, and media tycoon she has become today.
Oprah Winfrey had several difficulties throughout her life, including deprivation and abuse. Her unflinching will and steadfast confidence in herself, though, are what genuinely distinguish her.
She was inspired by these attributes to not only overcome her difficult circumstances but also to leave behind a successful and influential legacy.
Oprah's journey is an inspiration to all, reinforcing the idea that personal growth and success can come from even the most difficult and challenging situations.
Her message is clear, That each of us has the potential to reach for the stars, regardless of our background or past experiences.
Oprah teaches us that with determination, a clear vision for life, and unwavering belief in your abilities, you can overcome adversity and find a path to achieving your dreams.
Even so, Oprah's influence goes beyond her outstanding career and personal accomplishments.
It emphasizes that empowerment comprises more than just achieving financial success and also includes finding one's voice and the enormous influence it may have on motivating, encouraging, and empowering others.
Oprah's tale is a steadfast example of how each of us has the power to make a difference in the lives of those close to us as well as our own.
You might also enjoy: Top 30 Robert Kiyosaki Quotes That Can Change Your Life
11. The Extraordinary Optimism of Anne Frank: A Beacon of Hope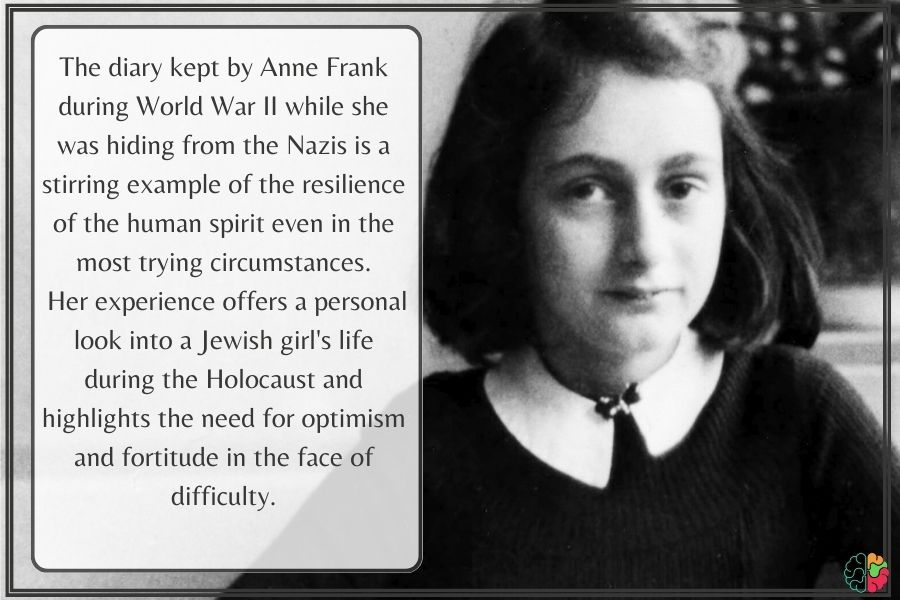 The diary kept by Anne Frank during World War II while she was hiding from the Nazis is a stirring example of the resilience of the human spirit even in the most trying circumstances.
Her experience offers a personal look into a Jewish girl's life during the Holocaust and highlights the need for optimism and fortitude in the face of difficulty.
Despite the terrible circumstances, Anne's diary is brimming with her hopes, aspirations, and faith in humanity.
Her unflagging optimism serves as a potent reminder that even in the most difficult circumstances, hope can triumph.
The tale of Anne Frank inspires us to maintain optimism and faith in humanity's inherent goodness.
Her enduring legacy serves as a constant reminder to value the freedoms and opportunities we enjoy and to speak up against injustice and discrimination.
You might also enjoy: The 15 Best Inspirational and Motivational Zootopia Quotes
12. The Inspirational Battle of Lance Armstrong: A Triumph Over Cancer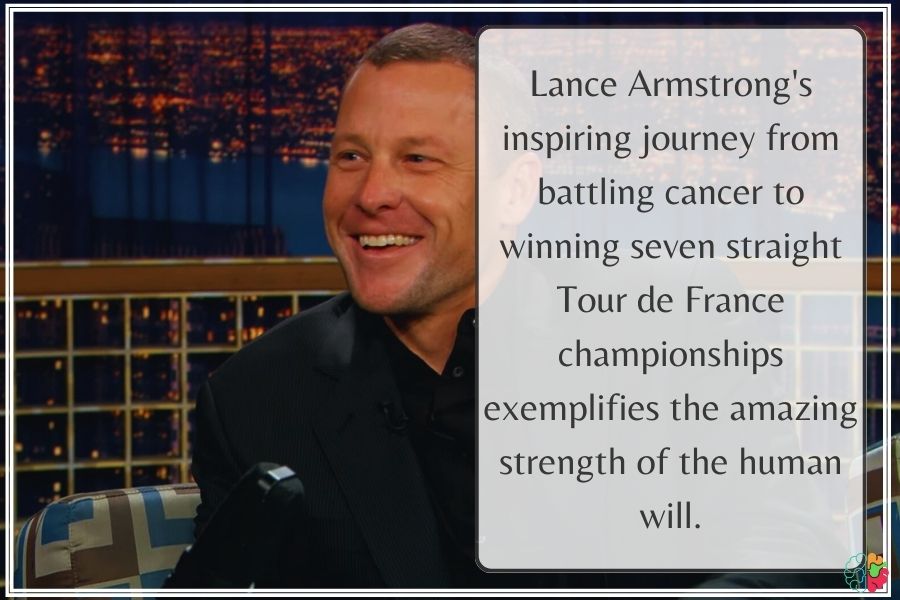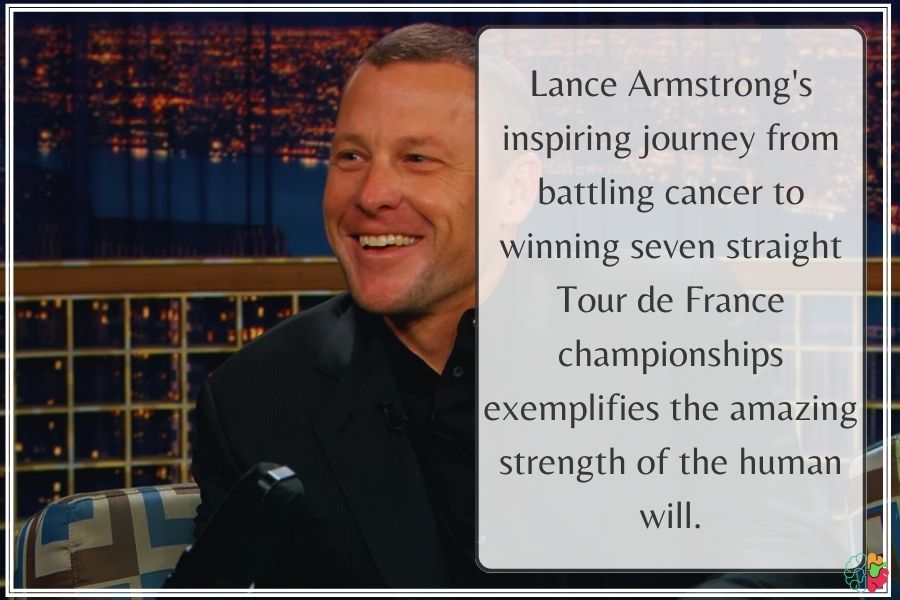 Lance Armstrong's inspiring journey from battling cancer to winning seven straight Tour de France championships exemplifies the amazing strength of the human will.
Armstrong fought the battle of his life after learning that he had advanced testicular cancer that had spread to his lungs and brain.
But Armstrong resisted giving in to the illness. He received aggressive therapy, such as chemotherapy and operations, and beat cancer.
Not only did he live, but he also went back to cycling professionally and excelled at it like never before.
The life of Lance Armstrong serves as a stirring example of how the human spirit can triumph despite even the most grave obstacles.
His journey encourages us to fight through hardship by showing how persistence, tenacity, and the refusal to give up can produce amazing victories in the face of overwhelming difficulties.
You might also enjoy: How To Avoid Negativity & 15 Effective Ways
13. The Entrepreneurial Spirit of Steve Jobs: Apple's Visionary Co-Founder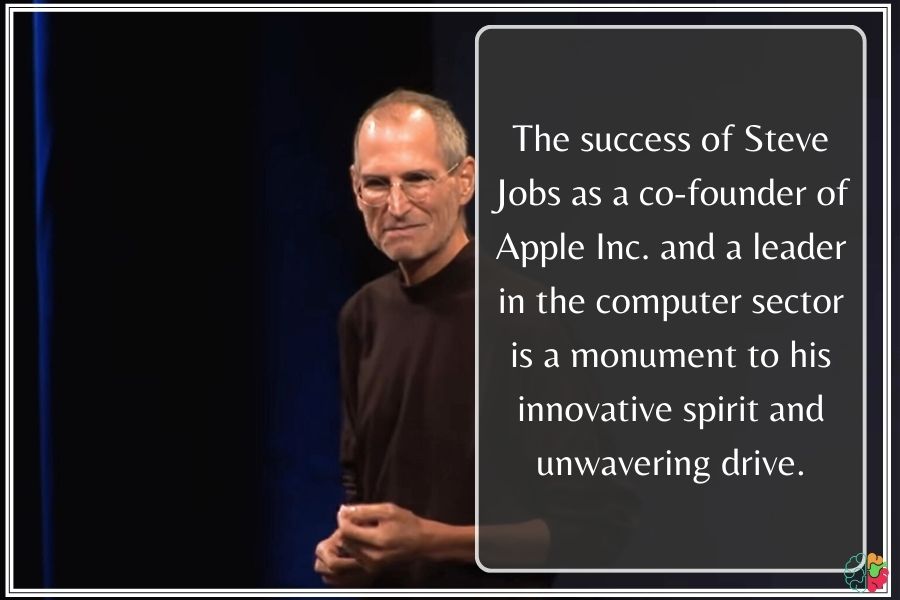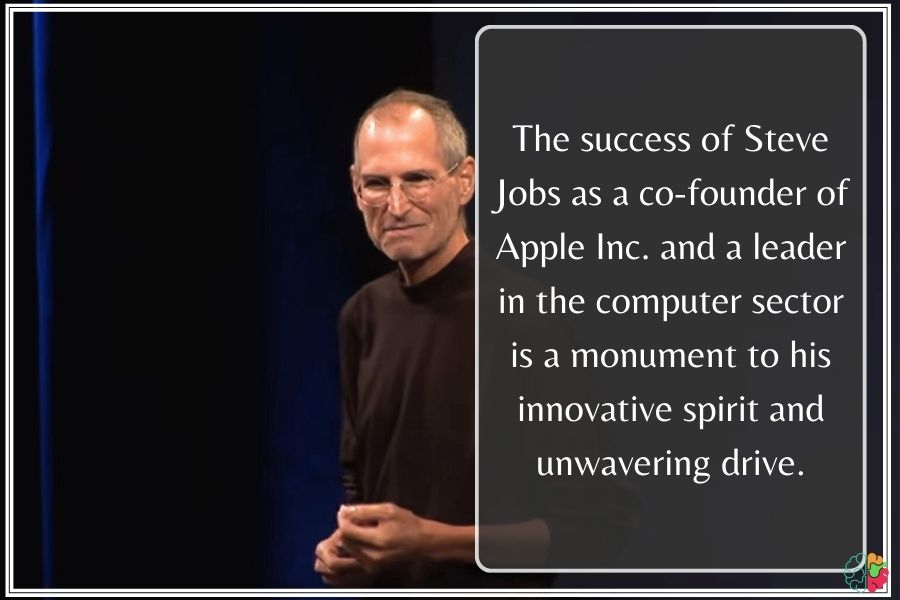 The success of Steve Jobs as a co-founder of Apple Inc. and a leader in the computer sector is a monument to his innovative spirit and unwavering drive.
His tale entails not just the development of profitable items but also the revolutionization of entire markets and the alteration of lifestyles.
In the garage of his parents, Jobs co-founded Apple, introducing ground-breaking devices like the Macintosh computer, iPod, iPhone, and iPad.
He has a history of constant invention and disruption that has pushed the limits of what technology is capable of.
We are motivated to think creatively, pursue our passions, and aim for perfection by Steve Jobs' journey.
No matter what line of work we are in, his legacy inspires us to embrace change and use our creativity to have a positive impact on the world.
You might also enjoy: The 9 Keys To Have A Motivated Mindset
14. The Unbroken Spirit of Bethany Hamilton: Surfing with One Arm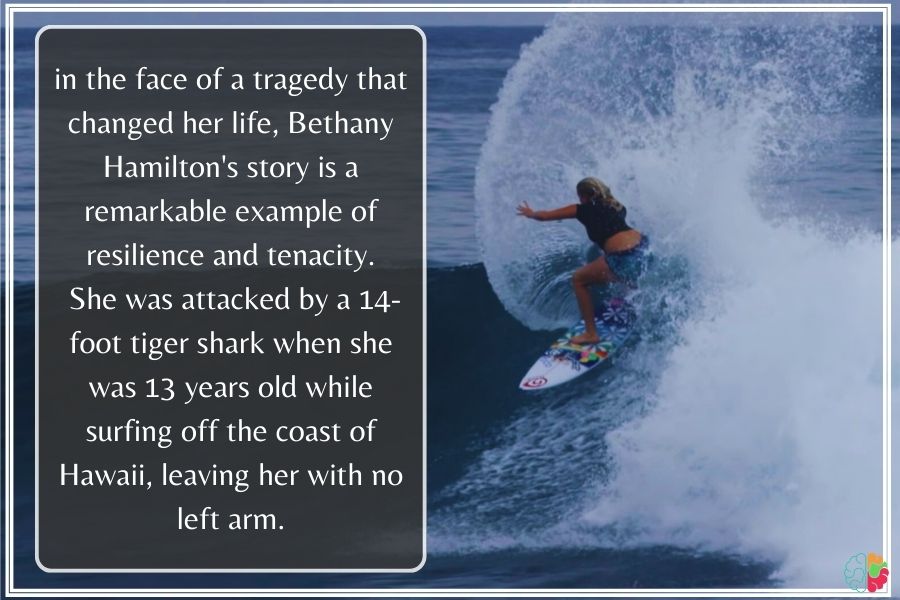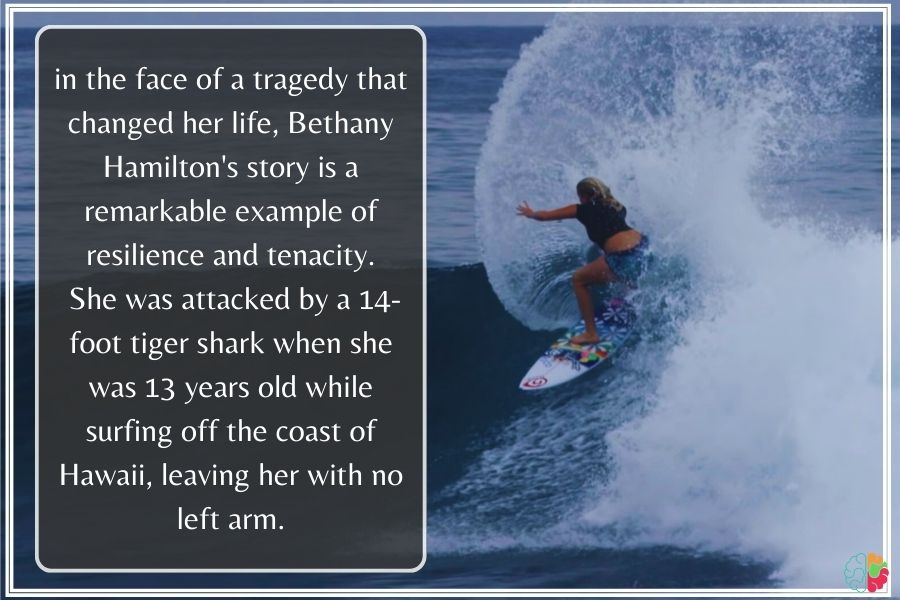 In the face of a tragedy that changed her life, Bethany Hamilton's story is a remarkable example of resilience and tenacity.
She was attacked by a 14-foot tiger shark when she was 13 years old while surfing off the coast of Hawaii, leaving her with no left arm.
With amazing perseverance and the help of her family, Bethany chose to continue her love of surfing rather than give it up.
She then turned pro at surfing and used her experience to motivate countless people.
By showing us that we can prevail over apparently insurmountable obstacles with the correct mindset and unflinching dedication, Bethany Hamilton's tale inspires us to overcome hardship.
Her example inspires us to strive for our goals despite challenges and to see challenges as chances for personal development.
You might also enjoy: 8 Reasons Why Success Is The Best Revenge in 2024
15. The Trailblazing Journey of Marie Curie: A Pioneer in Science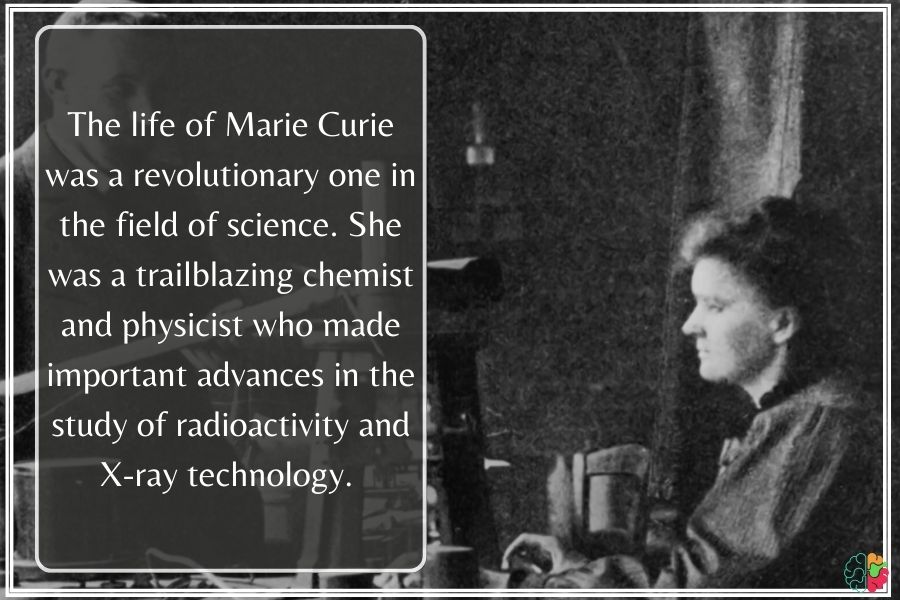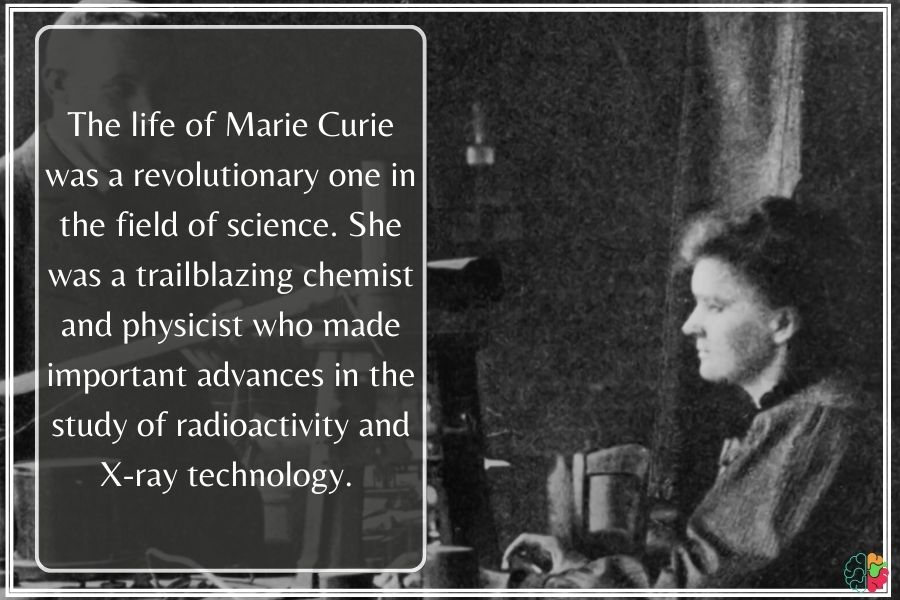 The life of Marie Curie was a revolutionary one in the field of science. She was a trailblazing chemist and physicist who made important advances in the study of radioactivity and X-ray technology.
The only person to have won the Nobel Prize in two distinct scientific categories, she was the first woman to do it.
Marie Curie's steadfast commitment to her study produced ground-breaking findings despite suffering gender prejudice and having few resources.
Her experience serves as a monument to the strength of tenacious research and a burning desire to change the world.
Marie Curie's path inspires us to aggressively follow our passions and serves as a reminder that neither gender nor cultural expectations should ever hold us back from reaching our full potential.
Her legacy serves as a testament to the value of tenacity and the extraordinary impact that scientific discovery can have on society as a whole.
16. The Humanitarian Legacy of Mother Teresa: Serving the Destitute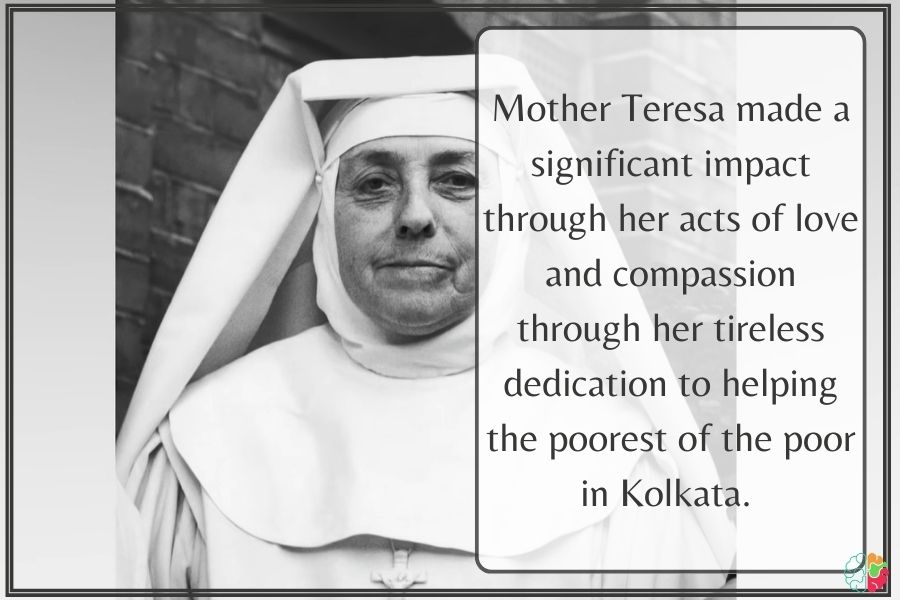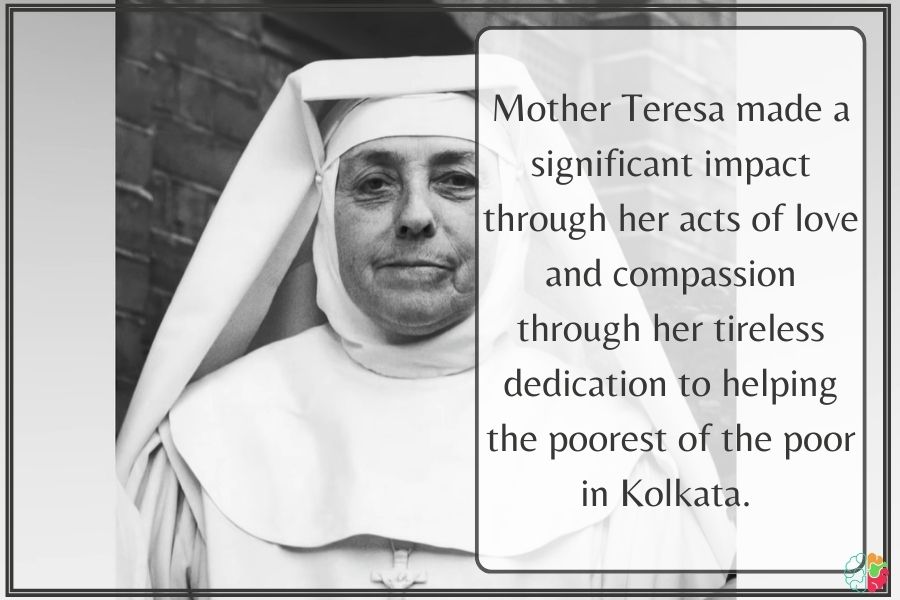 Mother Teresa made a significant impact through her acts of love and compassion through her tireless dedication to helping the poorest of the poor in Kolkata.
She begins her journey when she decides to live among the poor slum dwellers after leaving the convent.
 She dedicated her life to caring for, nurturing, and helping those left behind and in need.
His incredible humanitarian efforts earned him the Nobel Peace Prize and his work inspired many people to support his cause.
 Mother Teresa's life inspires us to perform acts of kindness and selfless service to improve the lives of others.
His legacy reminds us that even the smallest acts of kindness have the power to dramatically change the course of events. 
17. The Courage of Captain Chesley Sullenberger: The "Miracle on the Hudson"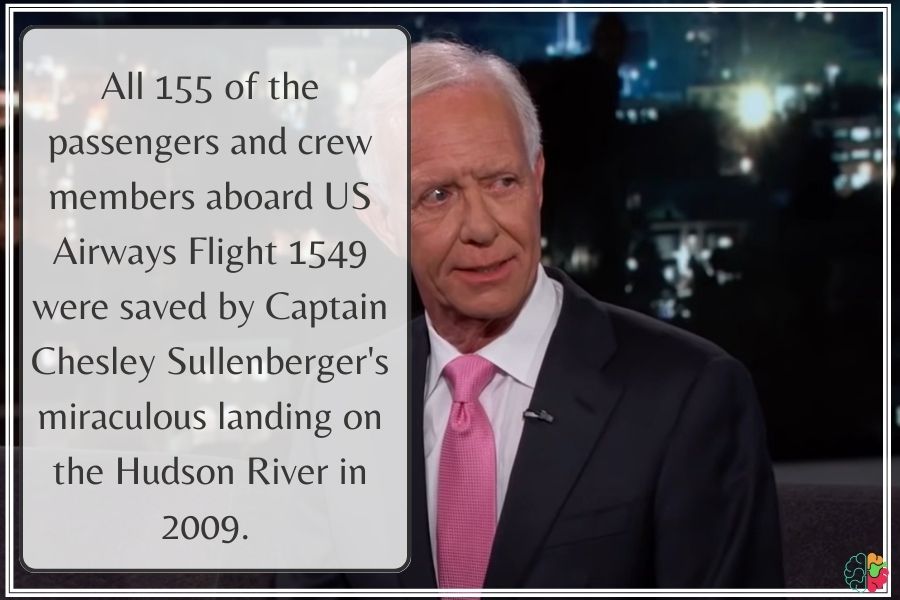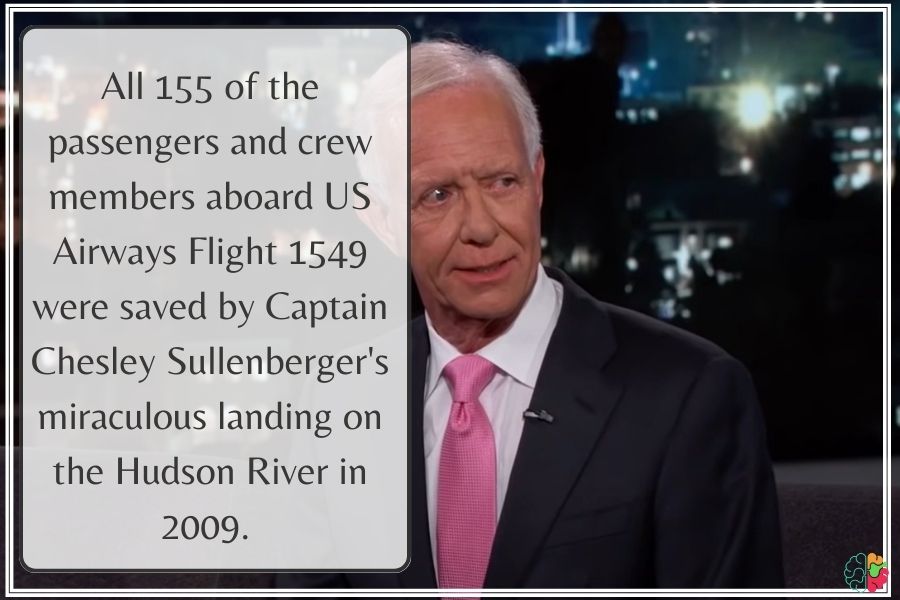 All 155 of the passengers and crew members aboard US Airways Flight 1549 were saved by Captain Chesley Sullenberger's miraculous landing on the Hudson River in 2009.
He acted bravely and quickly under pressure to avert a major catastrophe.
Sullenberger's story is an example of bravery in a time of need. Despite the dire circumstances, he maintained his composure, kept focused, and made split-second choices that saved numerous lives.
His deeds aroused respect and appreciation everywhere.
The experience of Captain Sullenberger inspires us to remain cool under pressure and make brave choices in the face of difficulty.
His narrative inspires us to be ready and resilient in our own lives by serving as a reminder that heroism can occur in the most unexpected situations.
18. The Visionary Tenacity of Elon Musk: Revolutionizing Space and Transportation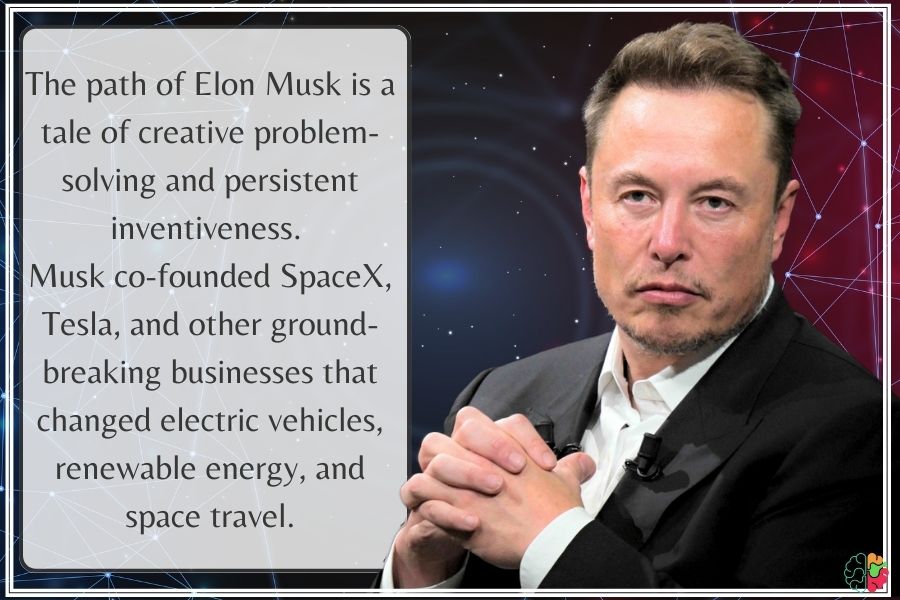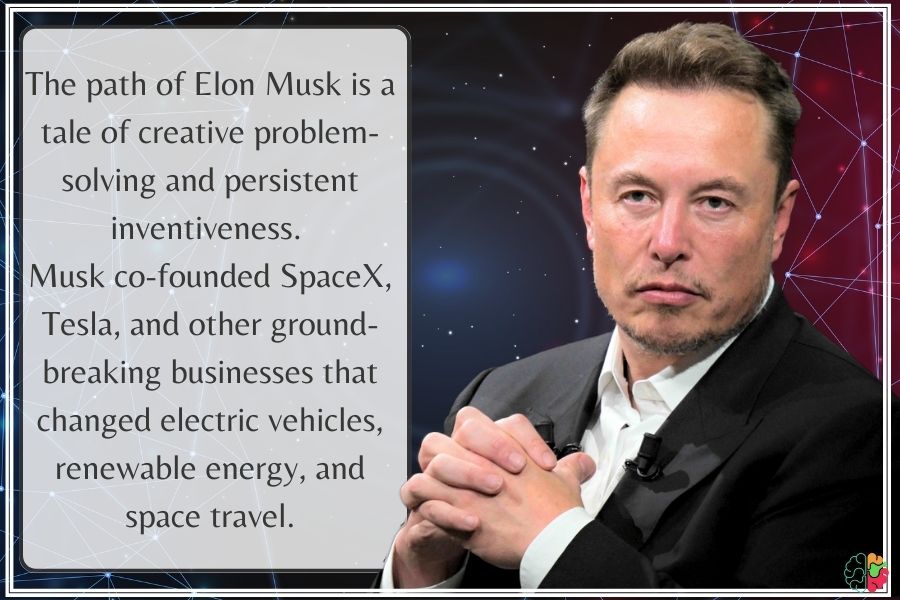 The path of Elon Musk is a tale of creative problem-solving and persistent inventiveness.
Musk co-founded SpaceX, Tesla, and other ground-breaking businesses that changed electric vehicles, renewable energy, and space travel.
Its history is marked by audacious objectives and a commitment to solving some of the most significant global issues, including interplanetary colonization and climate change.
Musk's accomplishments have changed entire industries and shown the ability of private businesses to effect significant change.
Elon Musk's path encourages us to use original thought, embrace innovation, and work to find answers to the world's most important issues.
His tale demonstrates how, if we have a clear goal, we can effect significant change and make a lasting influence on the world.
19. The Inspirational Paralympian: Tatyana McFadden's Unstoppable Drive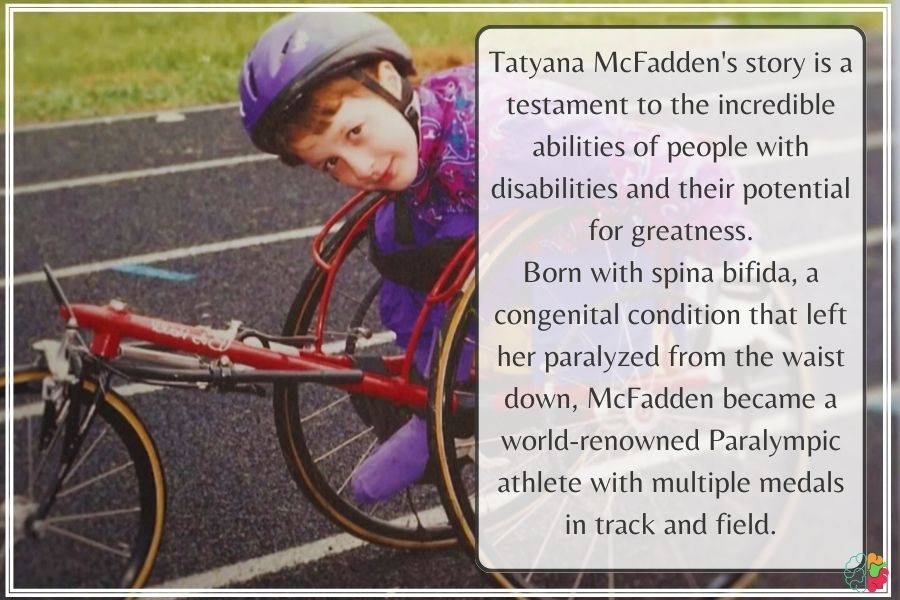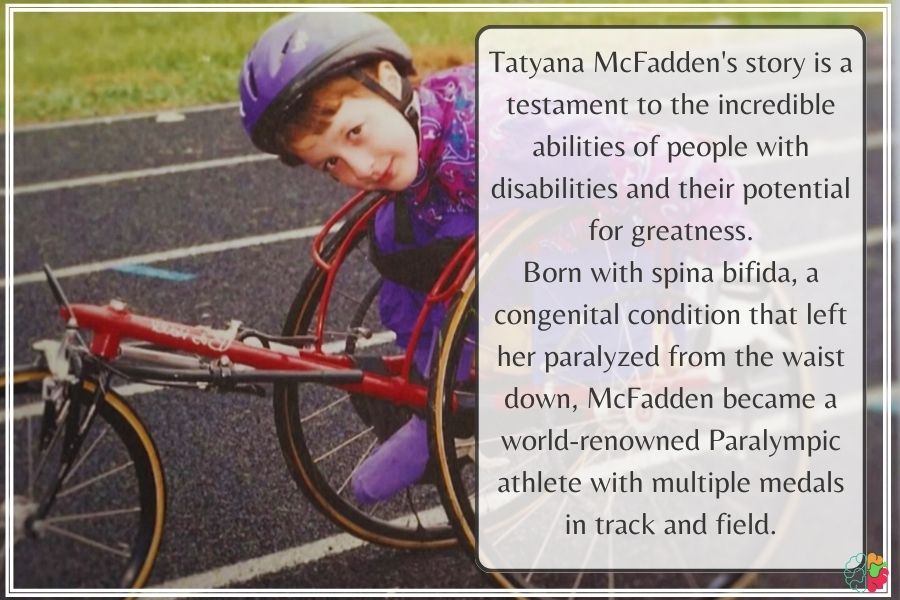 Tatyana McFadden's story is a testament to the incredible abilities of people with disabilities and their potential for greatness.
Born with spina bifida, a congenital condition that left her paralyzed from the waist down, McFadden became a world-renowned Paralympic athlete with multiple medals in track and field.
His journey proves that a physical disability does not limit a person's ability to succeed.
McFadden's relentless determination, athletic talent, and commitment to excellence have made her an inspirational figure for disabled people and athletes around the world.
The life of Tatyana McFadden inspires us to strive for greatness in all aspects of our lives and to overcome preconceived notions of what is possible.
Her path shows that obstacles can be conquered and that, no matter the difficulties we encounter, we can accomplish our goals with commitment and unshakable drive.
20. The Environmental Advocate: Greta Thunberg's Fight for a Sustainable Future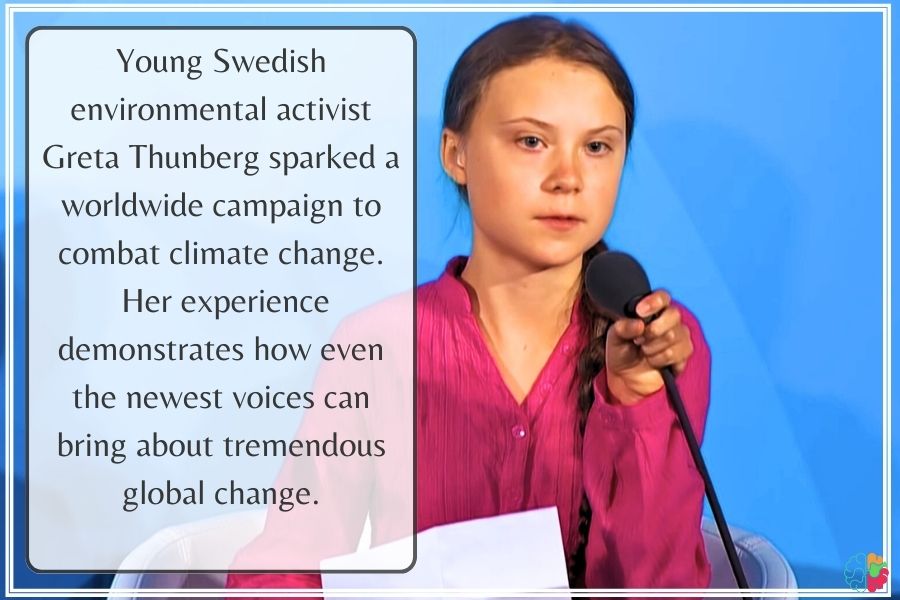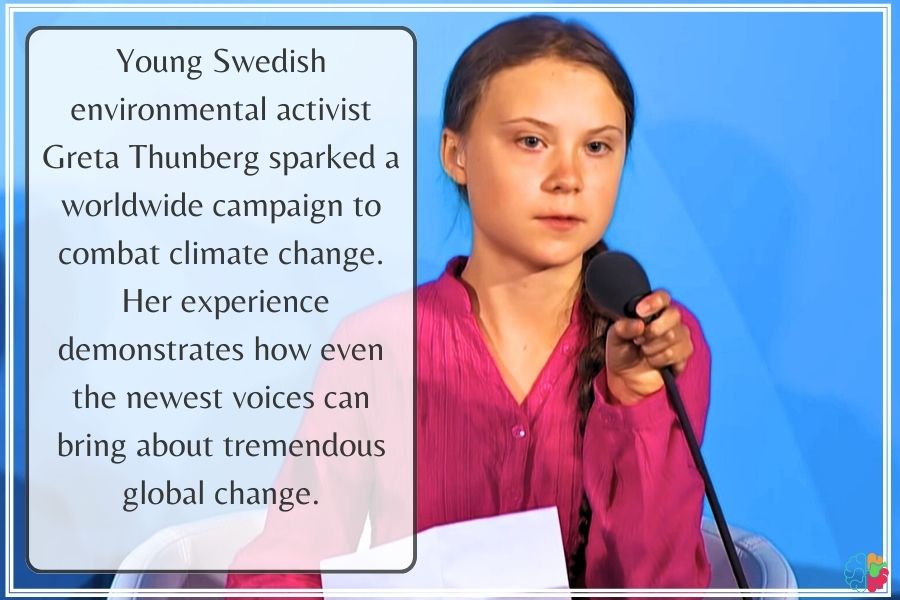 Young Swedish environmental activist Greta Thunberg sparked a worldwide campaign to combat climate change.
Her experience demonstrates how even the newest voices can bring about tremendous global change.
Greta started skipping class at the age of 16 to protest the government's lack of response to climate change.
Millions of young activists joined her cause after her one-woman protest soon expanded into a global movement.
Greta has become a representative of the youth-led climate movement thanks to her stirring speeches and dedication to holding global leaders responsible for the environmental problem.
No matter our age, Greta Thunberg's story inspires us to utilize our voices and deeds to effect change.
Her experience serves as a reminder that, when motivated by passion and a desire for a better society, even the smallest voices may have a profound impact.
Here I have a suggestion for you: listen to this podcast and learn what you need:
Conclusion
These inspirational tales of tenacity, tenacity, inventiveness, and compassion are more than just anecdotes; they are sources of inspiration.
These inspiring people's experiences serve as a testament to the human spirit's capacity for triumph over hardship, grandeur, and a lasting impact on the world.
The indestructible spirit of Nick Vujicic, Malala Yousafzai's persistent dedication to education, and Elon Musk's imaginative thinking are just a few examples of people whose tales demonstrate the strength of the human spirit and the ability of each of us to make a difference.